The agenda for the World Trade Organization's (WTO) highest-level meeting, which unfolded last week, was considerable. After forgoing meetings for the past five years, the issues piled up for this year's ministerial conference, the twelfth meeting of its kind.
Trade ministers descended on Geneva for a marathon of negotiations, extended for two extra days after negotiators reached an impasse. Two issues that were top of the agenda and faced significant obstacles until the eleventh hour—food security and fisheries subsidies—delivered outcomes that reflect a recognition of the shared global challenges WTO members face in both responding to food crises and ensuring the sustainability of fish stocks, which the world's poorest countries rely on. The high standard disciplines that have emerged from the fisheries negotiations are particularly remarkable and suggest the WTO negotiating function has found its sea legs. The progress made during talks related to both issues should be welcomed, but the work that will be required in order to implement the new rules and expand commitments in the future still lies ahead.
Trade ministers descended on Geneva for a marathon of negotiations, extended for two extra days after negotiators reached an impasse
Food Security
Food supplies have faced considerable disruptions due to the COVID-19 pandemic, mostly due to policies put in place to stem the spread of the virus. Inflation has also contributed to rapidly increasing prices of food worldwide. This is all exacerbated by the Russian war in Ukraine, which has put noticeable pressure on agricultural commodity markets since both countries play an important role in the global food supply and together account for 12 percent of the share of food, measured in calories, that is exported to other countries. Russia provides 25.8 percent of the share of global wheat and edible oil exports, including sunflower and rapeseed oils, and Ukraine provides 11.4 percent. As the war continues, countries that rely on these exports, in regions such as the Middle East and North Africa, will face growing food insecurity. Many countries turned to export restrictions in response to this crisis, making matters worse. It is in this context that the WTO Director-General Ngozi Okonjo-Iweala called on members in her MC12 opening remarks to allow "the free flow of food and agricultural inputs, especially for humanitarian purposes."
There were two issues up for negotiation on the issue of food security, one specific, and one broad. The first is a binding decision to not curb exports to the United Nation's World Food Program (WFP). Here, members pledged not to prohibit or restrict exports for purchases by the WFP to ensure the steady supply of its humanitarian aid. India had initially opposed curtailing any export restrictions, arguing that some countries need such policies to address domestic food shortages. Egypt and Sri Lanka also declared their opposition but did so because of their concerns as net-importing countries for food—countries that import more than they export. These disagreements were addressed with a provision in the decision stating that a commitment to prohibit export restrictions to the WFP would not run counter to actions taken to ensure domestic food security. With the International Monetary Fund reporting that 30 countries currently impose food export restrictions, this new commitment could help ease the impact of those measures on humanitarian food aid.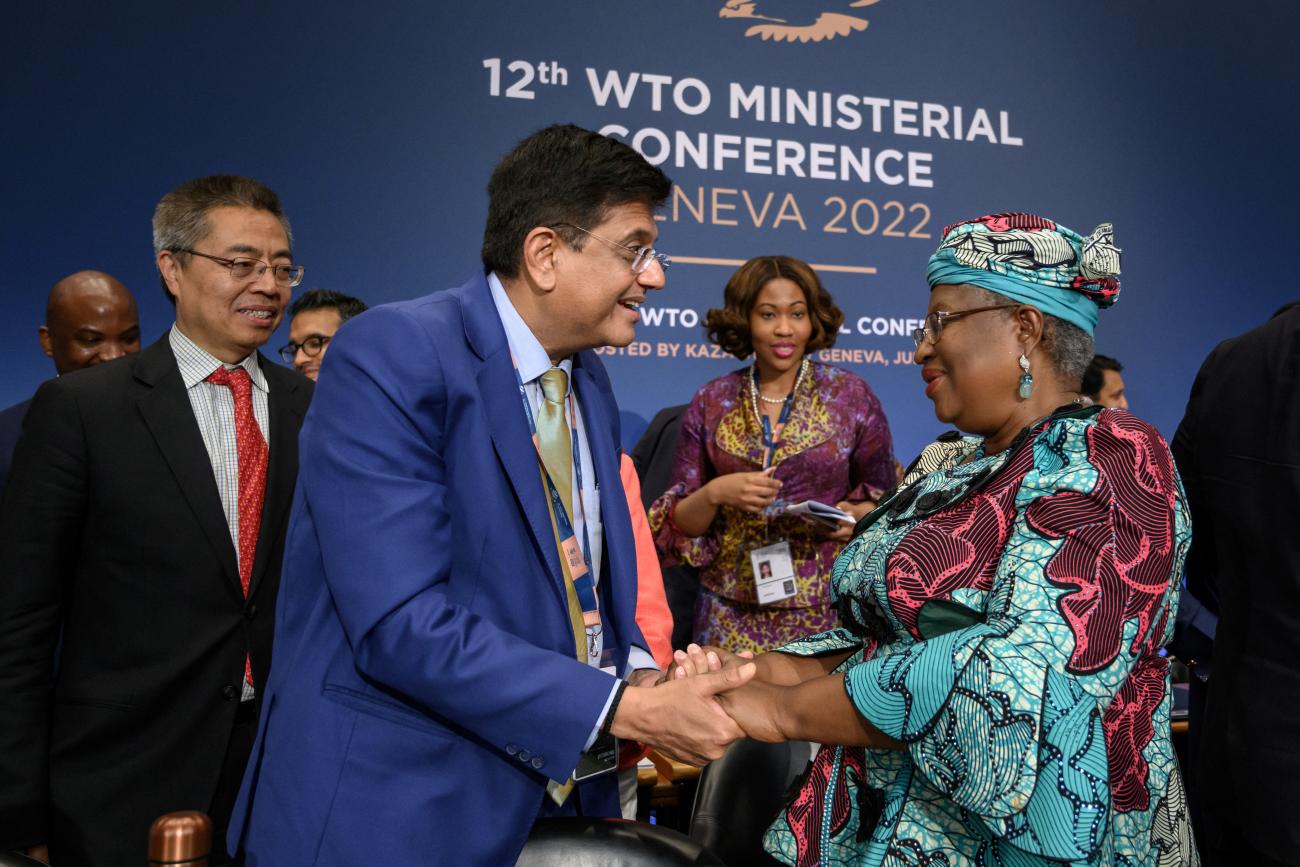 The second topic of negotiation was a broader declaration on the WTO's emergency response to food insecurity. This declaration acknowledges the role that trade can play in reducing hunger and improving food security worldwide. It also urges members to make best endeavors to avoid imposing trade restrictions on food, which disproportionately affect least-developed and net food-importing developing countries. For example, the declaration states that members should take actions with an awareness of their impact on other countries' access to food and "ensure that any emergency measures introduced to address food security concerns shall minimize trade distortions as far as possible; be temporary, targeted, and transparent; and be notified and implemented in accordance with WTO rules."
Overall, this declaration is the result of hard-fought compromises and aims to improve both transparency in the actions members take on trade in food as well as to kick-start a broader dialogue on the WTO's role during food crises. Though it does not result in any binding commitments, it reinforces the need to continue to work cooperatively to address current and future food security challenges.
Fisheries Subsidies
WTO negotiations on fisheries subsidies have sought to generate new rules to prohibit and reduce government support for the fisheries industry that contribute to the overexploitation of fish stocks worldwide. Subsidies can take many forms, such as direct transfers or fiscal measures, and can include support for the purchase of fuel, vessel modernization, income support for vessels or operators, and price support for catches. These talks have been ongoing for twenty years, but they received renewed attention at the eleventh ministerial conference (MC11) in Buenos Aires in 2017. Motivated by the United Nations Sustainable Development Goal 14.6, which called for an end to certain forms of fisheries subsidies by 2020, WTO members set out to create comprehensive and effective rules on fisheries subsidies by their next scheduled ministerial meeting in 2019. The COVID-19 pandemic prevented the 2019 meetings from taking place, but WTO members continued to make progress on a deal.
Over 30 percent of the world's fish stocks are exploited at biologically unsustainable levels, and matters will only get worse without rules to promote more sustainable management practices and to rein in subsidies that contribute to depletion of ocean life. Last week, trade ministers agreed to a deal on fisheries subsidies that does three major things: it prohibits subsidies for fishing vessels or operators that engage in illegal, unreported, and unregulated (IUU) fishing; prohibits subsidies that go toward fishing of overfished stocks; and prohibits subsidies for fishing and fishing-related activities on the high seas. Importantly, the agreement identifies a new set of actionable subsidies subject to dispute settlement.
30 Percent
Over 30 percent of the world's fish stocks are exploited at biologically unsustainable levels
The new disciplines could go a long way toward improving current subsidies regimes and ensuring that government support is transparent. For example, members must notify the WTO of subsidies provided toward fishing vessels and operators, including the type of activities for which it is provided. In these notifications, efforts must also be made to provide information on the status of the fish stock for which the subsidy is provided, any relevant conservation measures in place for that stock, data on the fish catch by species or group of species, and the capacity of the fleet receiving the subsidy. This matters because it will shed light on global fishery subsidization practices and help members identify issues where further cooperation and new rules may be needed.
Recognizing the challenge of implementing robust fisheries management practices, WTO members agreed to also create a voluntary funding mechanism for developing countries and least developed countries to assist them in meeting these new obligations. Developing countries generally receive substantial flexibility in applying WTO rules, and in the fisheries agreement, they have a two-year phase in period to meet the commitments. This new funding mechanism can help assist these countries in this implementation process.
The agreement is the first critical step to establishing additional rules on fisheries subsidies, particularly those that contribute to overcapacity and overfishing. These negotiations are incomplete because India objected to disciplines on these subsidies, for which negotiators had drafted a 7-year phase-out period. India claimed this was not enough and demanded a 25-year phase out. But given the urgency of reducing subsidies for overcapacity and overfishing, such a long phase-out period would significantly reduce the environmental impact of the agreement.
In efforts to prevent the collapse of the entire deal, negotiators left out these disciplines and agreed to expand the mandate for negotiations for up to four years. If comprehensive rules cannot be agreed upon by that time, the agreement will automatically expire. This deadline could provide the necessary pressure for members to iron out disagreements over the scope and content of exceptions to the agreement.
Despite this hang-up, the fisheries agreement is still a resounding success because it signals that the WTO can address issues at the intersection of trade and the environment, and in particular, engage in negotiations in which the primary focus is on improving sustainability. This paves the way not only for broader disciplines on fisheries subsidies in the coming years, but also for future discussions on trade and environmental issues, such as plastics pollution.
Agricultural discussions at the WTO are always tense. That an outcome was achieved in Geneva last week is a welcome change. The conclusion of an agreement on fisheries subsidies and a commitment to tackle food insecurity show that WTO members can break the deadlock.