In the town of Marakissa in Gambia there was a time when trachoma, the leading infectious cause of blindness globally, affected 65 percent of young children. But in 2021, after decades of global public health efforts, the World Health Organization (WHO) validated Gambia for eliminating trachoma as a public health problem, the third African nation to do so.
Trachoma is one of the enduring neglected tropical diseases (NTDs)—a group of parasitic, viral, fungal, and bacterial infections—that infect more than one billion people globally. It spreads from person to person and through infected flies, and thrives in areas with water shortages and poor sanitation.
Efforts to eliminate trachoma in Gambia spanned the public and private sector, across diverse government ministries, and involved the support and efforts of community health workers. These groups demonstrated a steadfast and sustained commitment to providing financial resources and expertise, working with the people of Gambia to achieve what was once thought impossible. Their success now provides a roadmap for other parts of the world.
This breakthrough has brought a better quality of life for children and adults who no longer live at risk of trachoma and its related disabilities, including constant pain, blindness, and a devastating financial burden. Generations of Gambians—many who live in some of the most underserved communities worldwide—can now live healthier lives and in turn, better support their families.
65 Percent
There was a time when trachoma affected 65 percent of young children in Gambia
A Model for Elimination
Reaching trachoma elimination in Gambia, and in Ghana before it, has taught us that both local government investments and multi-sector collaboration are key to addressing factors that lead to infection.
The WHO's SAFE (Surgery, Antibiotics, Facial cleanliness, and Environmental improvement) strategy addresses both prevention and treatment, but its comprehensive approach requires a coordinated effort and resources. Gambia's successful adaptation of the SAFE strategy relied on strong partnerships across sectors, including the Ministry of Health, Ministry of Education, Department of Community Development, Department of Water Resources, Sightsavers, Pfizer, the International Trachoma Initiative, the Medical Research Council, London School of Hygiene and Tropical Medicine, WHO, UNICEF, and Gambian communities.
The Ministry of Health, partnering with Sightsavers, invested in the training of eye health workers, namely senior ophthalmic medical assistants, community ophthalmic nurses, and cataract surgeons, and deployed them across the country. These surgeons were trained and supplied with surgery kits that enabled them to conduct screenings in schools and communities across the country to detect and manage cases of active trachoma and trichiasis—a condition where eyelids turn inward and lashes scrape the eyeball, causing great pain, corneal ulcers, and irreversible blindness unless treated.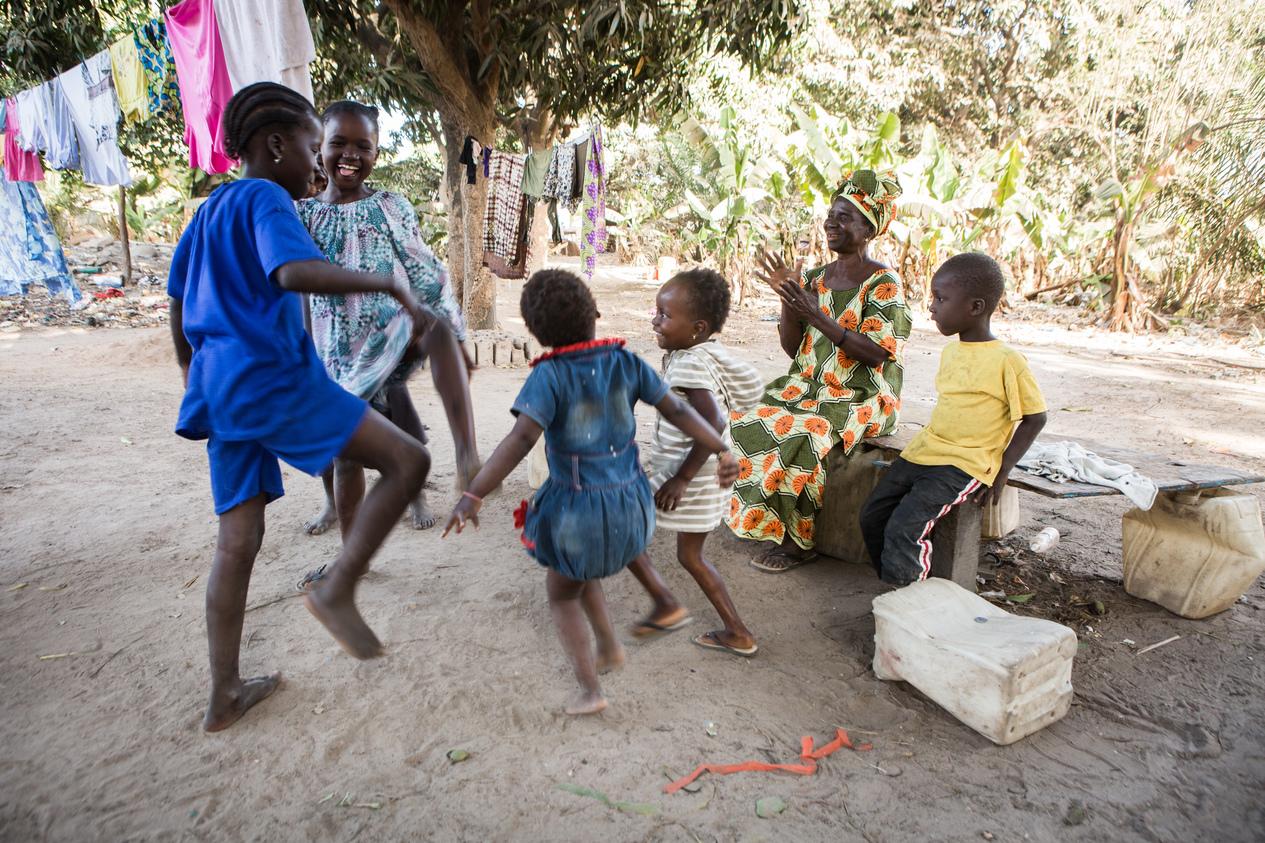 Community health navigators also played a pivotal role, connecting communities and medical providers. These individuals have a greater understanding of local communities and can connect with them at a deeper level to encourage action. They take a preventive approach, employing health messaging that resonates and encourages referrals for treatment.
Strong community engagement and support was similarly essential when trained surgeons arrived. Village health workers and community-based volunteers (called "nyateros," meaning "friends of the eye"), and teachers supported trachoma screening activities and referrals for ongoing medical treatment for patients with eye problems. Awareness efforts were simultaneously launched in schools and communities using a mix of radio, television, posters, billboards, and traditional community communicators who helped spread the word house-to-house, often using drums and instruments to draw attention.
While each country and community is unique, success in Gambia has brought hope to other countries working toward elimination of NTDs. It also demonstrates that private-public collaborations are effective and that success in other countries is within reach.
There is no quick fix for eliminating trachoma
A Long-Term Health Investment
There is no quick fix for eliminating trachoma. And long-term commitments from global donors and partners have been essential for driving steady but persistent gains—ones that have a lasting impact.
Gambia hosted much of the early research into the disease, but it was the antibiotic donation program led by the International Trachoma Initiative (ITI) that created a turning point. Treatment with oral antibiotics through mass drug administrations helps clear C. trachomatis infections and plays an essential role in controlling transmission in areas where the disease is endemic.
Since its founding in 1998, ITI has provided support to national ministries of health and governmental and nongovernmental organizations, implementing a comprehensive approach to fight trachoma.  More than 850,000 doses of Pfizer's antibiotic have been donated to Gambia, and support from donors like the Bill & Melinda Gates Foundation has further enabled large-scale implementation of integrated treatment programs.
These programs supported education and behavior changes, including frequent hand washing to prevent transmission, antibiotic treatment to clear infections, surgical interventions to repair damage, and environmental improvements to reduce the long-term potential for reinfection. UNICEF's work to increase access to water, hygiene, and sanitation reduced pathways for bacteria to spread. The WHO provided further technical direction and research institutions helped monitor progress.
At local and national levels, these multi-sector, multi-national, and decades long commitments contributed to the successful elimination of trachoma as a public health problem in Gambia and strengthened health systems for the future. Investments in environmental improvements—including water and sanitation—helped meet a basic human need and lessen the risk for a host of infectious diseases. Upskilling health-care workers supported the creation of a workforce that can now better respond to other public health challenges.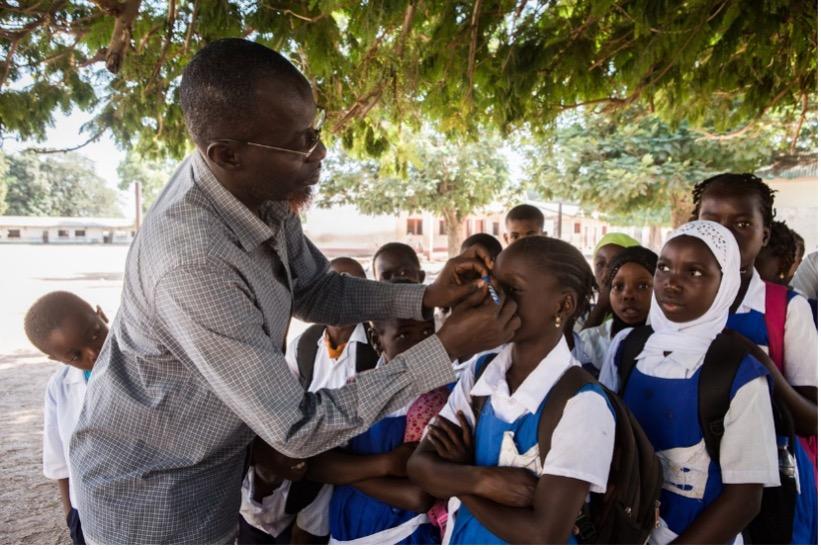 Looking Ahead: The End is in Sight
Success in Gambia took many years to achieve and was only made possible with strong community participation, national leadership, and long-term commitments and investments from global partners. Global efforts, according to the WHO, dramatically reduced the number of people at risk of blindness from trachoma from 1.5 billion in 2002 to less than 137 million in May 2020—a 91 percent decrease. Additional African countries including Benin, Burkina Faso, Burundi, Chad, Malawi, Mali, Mauritania, Senegal, and Togo, are also nearing elimination.
The COVID-19 pandemic and recent cuts in global aid, however, threaten decades of progress in these countries. Now is not the time to take our foot off the proverbial gas pedal. Our progress to-date shows that achieving global elimination is possible.
While governments and donors must rightly balance the critical nature of a multitude of simultaneous public health challenges and priorities, the momentum in the fight against trachoma has taken decades to build and it is critical to see this preventable disease's total elimination through to the end.