On Friday, March 11, the UN Security Council convened to review Russian Federation claims that Ukraine is making biological weapons with U.S. support. If Ukraine indeed had a biological weapons program, it would be in violation of its obligations under the Biological and Toxin Weapons Convention (BWC). The BWC bans its 183 parties from the development, stockpiling, acquisition, retention, and production of biological agents and toxins for anything except peaceful purposes.  
During the Security Council meeting, Russia's ambassador to the United Nations, Vasily Nebenzya, asserted that U.S. support has allowed Ukraine to operate a network of roughly 30 laboratories to experiment with high-threat pathogens, based on a claim of "facts discovered during Moscow's special military operation in Ukraine." The claim states that "an emergency clean-up was undertaken by the Kyiv regime of the traces of a military biological programme funded by the United States." UN representatives dismissed any factual basis for Russia's claims, and other BWC parties spoke to the lack of convincing evidence. The U.S. Department of State issued a press release reminding stakeholders that this is not the first time Russia has used such tactics. The only member to entertain Russia's claim was China, which indicated a need to address Russia's concerns with the provision of comprehensive clarification and verification. This request falls in line with China's support of Russia, taking its side in the conflict and abstaining from UN voting involving Russia. 
Understanding the World Health Organization's Recommendations 
What catalyzed these allegations? A recent report that the World Health Organization (WHO) had advised the government of Ukraine to destroy biological samples housed in its laboratory facilities provided fuel for a long-running disinformation campaign. Russian sources claimed falsely that Ukraine (and other former Soviet states) are covering up offensive biological weapons programs that were started with U.S. funding. The Russian Federation insinuated that the very suggestion that samples need to be destroyed is evidence of an illegal program. In fact, the WHO recommendation to destroy samples is standard practice when the physical integrity of a high-containment biomedical research facility is threatened—a very real concern in Ukraine given the threat of direct physical attack or diversion of control to Russian forces.
Spurious allegations about Ukraine's biological laboratories and the pathogens they house clearly aim to obfuscate any analysis of the threats posed by direct violence against the facilities. They also distract from the fact that Russian President Vladimir Putin himself has overseen the development of biological agents in violation of the BWC and divert attention from necessary discussions about the very real risks posed when laboratory infrastructure and operations are compromised. Despite widespread skepticism, there may be real and lasting impacts from the Russian allegations and misinformation that will be important to address. 
The WHO acted prudently in recommending that laboratories in Ukraine destroy samples of pathogens that could cause disease if inadvertently released. It provided an explicit recommendation to public health laboratories across the country to destroy high-consequence biological agents safely and securely to avert any risk of "accidental spill" if facilities came under attack or were taken over by Russian forces. The fact that the WHO made this request has been twisted to imply that the specialized UN agency was aware of illicit activities. But standard operating procedures recommend that laboratories consider safely destroying pathogen samples when facing possible breaches of physical integrity, whether from a natural disaster or deliberate threat.
Laboratories in the United States made similar calculations when facing the possibility of catastrophic damage during Hurricanes Sandy and Katrina. Laboratories in areas under direct Russian attack in Ukraine face imminent risks of damage to the physical and engineering systems that help protect against inadvertent releases of pathogens stored on-site if first-line protections are compromised. A secondary risk is that, if in control of Ukrainian laboratories, Russian forces might mishandle samples, threaten staff, or distort their findings to justify their own violations of BWC—deliberately undermining norms around the development and use of biological weapons.  
Equating the presence of pathogen samples with nefarious intent is dangerous and false
The Crucial Role of Laboratories
Laboratories play a critical role in national, regional, and global health, and require the housing of biological samples. Public health and animal health laboratories enable early warning for disease outbreaks at the local, national, and regional levels. Functional national laboratory networks are critical for the detection and confirmation of notifiable priority diseases that require prompt public health action (such as measles, tuberculosis, or anthrax) and the identification of emerging or novel diseases. Laboratories provide information that is essential to the understanding and management of cases of diseases. They serve both to protect lives and to determine whether outbreaks should be reported to the WHO under the International Health Regulations (IHR) or to the World Animal Health Organization (OIE) to alert other countries of diseases that might spread across borders.
Laboratories require control strains of pathogens to maintain quality control in testing and often preserve isolates and patient samples for long-term studies. Equating the presence of pathogen samples with nefarious intent is dangerous and false. Current approaches for understanding how specific pathogens cause disease and developing medical countermeasures require work with pathogen samples. 
Laboratories implement biosafety and biosecurity procedures as essential public safety functions. These procedures are implemented at the facility level to protect those working in the laboratories from unintentional or accidental exposure to pathogens and to prevent the loss, theft, misuse, diversion, or intentional release of pathogens and toxins. The U.S. government, through its Cooperative Threat Reduction (CTR) Programs at the Departments of State (DoD) and Defense, work with partner nations to support and build capacities to secure pathogen collections and strengthen laboratory infrastructure to support timely, reliable, and safe testing during public health events. DoD's CTR Program has partnered with Ukraine's Ministry of Health (MOH) since 2005 on projects to strengthen disease surveillance, laboratory security, and pandemic response. Additional support to Ukraine MOH has been provided by the Centers for Disease Control and Prevention, the WHO, and others to strengthen laboratory and surveillance capacities—capacities that have been leveraged during the response to COVID-19. These technical partnerships are not unique to Ukraine and have been promoted through health security frameworks such as the Global Health Security Agenda (GHSA). 
Assaults on Ukraine's health infrastructure and civilian population create new vulnerabilities for disease emergence and spread. The United Nations High Commissioner for Refugees (UNHCR) estimated that by March 18 Russian attacks on Ukraine had forced more than 3.2 million people to flee the country and displaced nearly 2 million more people within Ukraine's borders, creating the largest humanitarian crisis the European continent has seen since World War II. The WHO has documented at least 45 attacks on health-care centers since March 18, not only killing and injuring civilians but denying access to critical health services.
Ukrainians now face the stress of displacement, destruction of infrastructure (leading to the lack of safe drinking water, sanitation, and nutrition), and erosion of health systems. This places the population of Ukraine at risk of infection from emerging and re-emerging infectious diseases and from long-term consequences of disrupted preventive and treatment services. The laboratory infrastructure required to detect the most imminent threats to public health so that scarce resources can be focused on where they are needed most to prevent and respond to outbreaks (whether natural, accidental, or deliberate) is under direct and indirect attack by Russian forces when most needed for the crucial response to an evolving health emergency in Ukraine.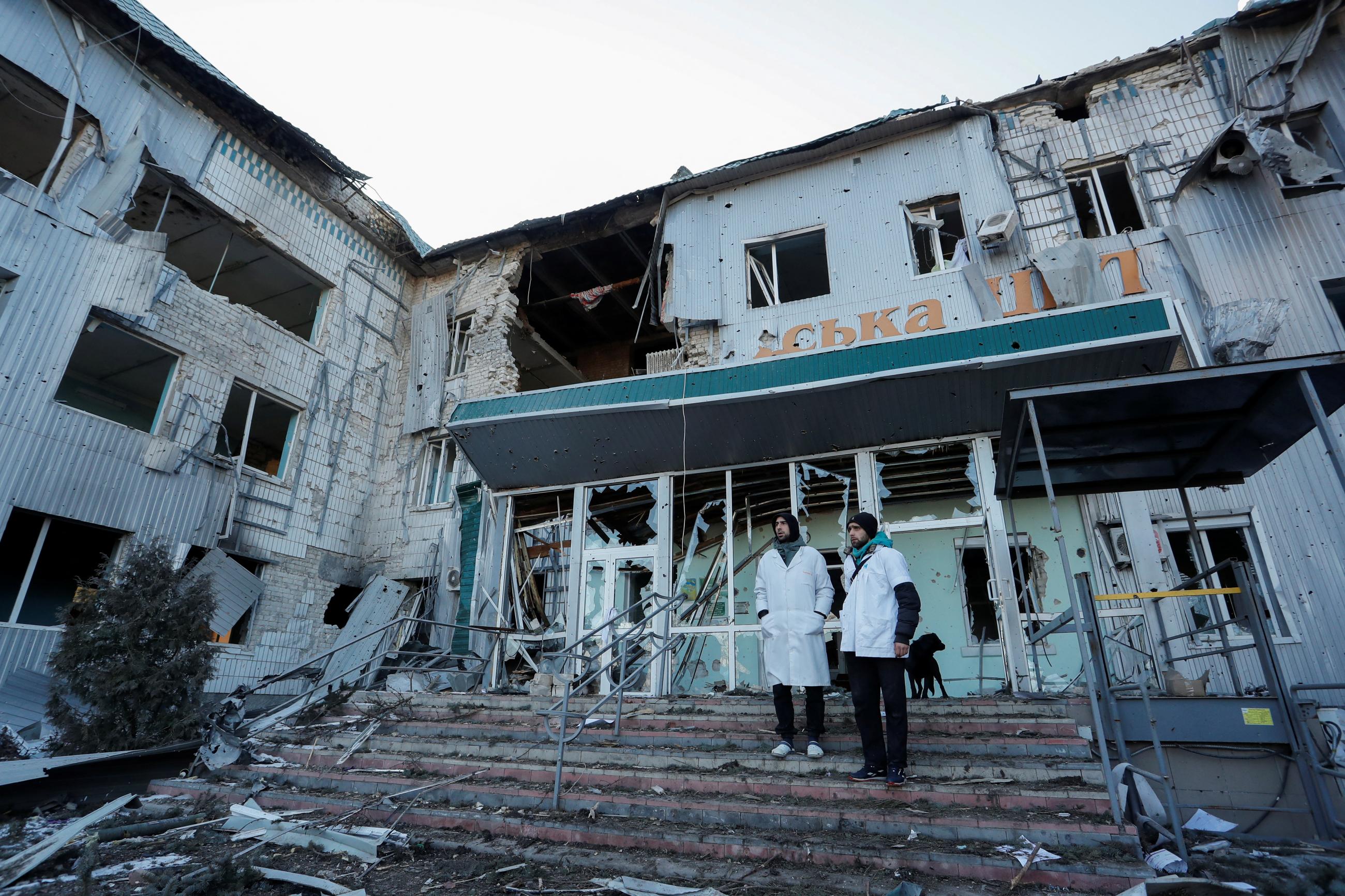 Attacks on a nation's health system disrupt access to emergency care, long-term care for patients with chronic conditions, maternal and child care, and prevention services (such as screening and vaccination) that help curb the spread of infectious diseases. Access to health services, supplies, and essential medicines will be in short supply across Ukraine for the near term. Even before the invasion, Ukraine was facing serious public health challenges, with some of the highest rates of HIV and tuberculosis in the region. COVID-19 vaccination rates have hovered at about 35 percent. An outbreak of vaccine-derived polio began in October 2021, and a mass polio vaccination campaign targeting 100,000 vulnerable children had to be put on hold following the invasion.
Crowding of vulnerable individuals while sheltering in place or on the move provides ample opportunities for transmission of polio, tuberculosis, COVID-19, and other infectious diseases. Limited clean water and sanitation resulting from direct attacks to public service infrastructure can allow life-threatening food- and waterborne illnesses to spread. In a functioning health system, public health laboratories support rapid detection of health risks and threats to allow rapid response. Undermining the laboratory system in Ukraine perpetuates a humanitarian and health crisis and requires neighboring countries to escalate their own vigilance for disease threats, even while scaling up health services to meet the needs of incoming refugees. 
Russia's spurious allegations about Ukraine and biological weapons have been appropriately met with outrage by most of the international community, but they are even more abhorrent than they appear. With their attacks on Ukraine's laboratories and public health capabilities, Russia is not only worsening a health security crisis, with consequences that will extend far beyond Ukraine's borders, but it is also shamelessly exploiting the media and public's lack of understanding about biosafety, biosecurity, and safe laboratory practices to distract from the consequences of its actions.