As of mid-2022, it is estimated that 103 million people worldwide were forced to leave their homes because of insecurity, conflict, and climate-related issues. That's one in every 78 people. The United Nations High Commissioner for Refugees (UNHCR) has predicted that these unprecedented levels of displacement will continue to grow.
Massive displacements have had knock-on effects on health systems in the countries where  displaced peoples have settled. The COVID-19 pandemic and Ebola outbreaks have added to the pressure-cooker state of many health care systems. With the world's least developed countries providing asylum to 22 percent of displaced people, the goal of Universal Health Coverage (UHC) might appear insurmountable. Progress toward everyone receiving the health services they need, without suffering financial hardship, is painfully slow.
100 M
By mid-2022, more than 100 million people worldwide were displaced
The aspiration behind ensuring "health for all" is to lift people out of poverty and protect communities against public health crises. However, we will never achieve this if we can't give health care access to those on the edges of society—including displaced people.
The fight against neglected tropical diseases (NTDs) provides a clear example of both the challenges and possible solutions for reaching displaced people living in camps, as new research recently published by the Royal Society of Hygiene and Tropical Medicine shows.
NTDs are a group of debilitating, sometimes fatal, diseases that impact the most marginalized communities globally. But they can be prevented and treated, and in many cases, they can be eliminated. The benefits of tackling NTDs ripple through society, alleviating poverty as more people can resume economic activity and attend school, and this ultimately makes countries' health systems stronger.
"Leave No One Behind"
The World Health Organization's (WHO) 2030 NTD elimination roadmap places the Sustainable Development Goal principle of "leave no one behind" at its core—and it seeks to improve coverage and equity across NTD program activities. Displaced populations are highlighted as an at-risk group, often excluded from treatment and services for a myriad of reasons. People are more at risk in overcrowded settlements with inadequate sanitation.
This poses a critical question for the people designing national NTD programs: how do we make sure that programs include people who are harder to reach? Elimination of diseases such as trachoma, river blindness, and lymphatic filariasis is achievable and nations are already crossing this threshold. Gambia, Ghana, and Malawi have all eliminated trachoma as a public health problem and this year, Togo became the first country to eliminate four NTDs. But programs need to be created that reach everyone, not just some.
In Nigeria, the refugee population is steadily climbing due to conflict in Cameroon. In January 2022, 73,000 Cameroonian refugees were living in Southeastern Nigeria; by August, this figure climbed to 82,000. The crisis has led to the establishment of camps for refugees and internally displaced persons (IDPs) in Benue State. Ignoring this growing population—excluding them from efforts to fight NTDs such as schistosomiasis, lymphatic filariasis, and river blindness—would undermine the national NTD strategy, and derail elimination efforts by Nigeria's Ministry of Health.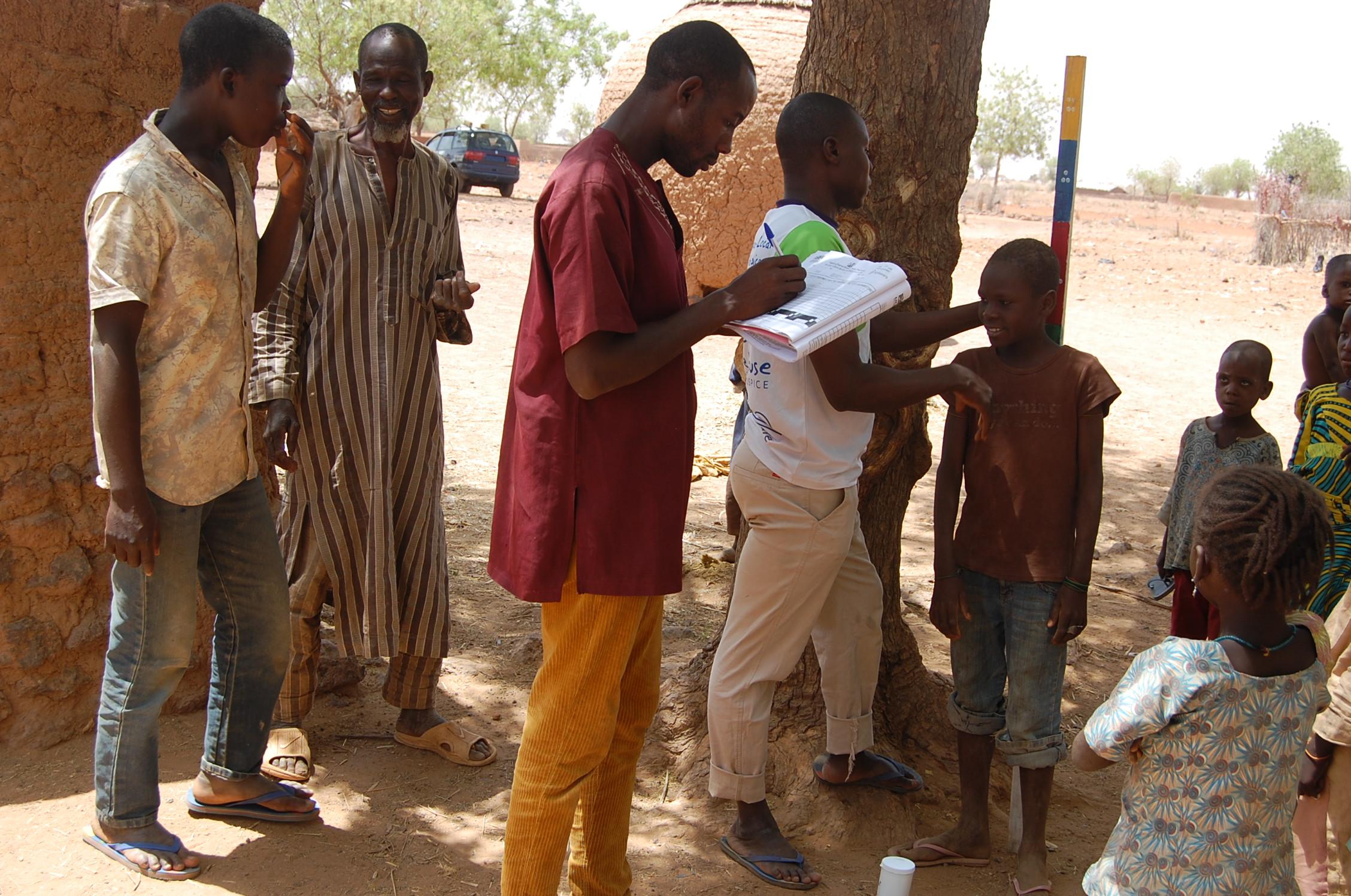 Putting Displaced People on the Map
In 2018, an NTD program lead by non-profit Sightsavers, and funded by UK Aid, started looking at which groups might potentially be left behind during mass drug administration activities to treat NTDs. This led to the identification and mapping of all camps for internally displaced people and refugees. Collecting up-to-date data is key in planning any health program that aims to target displaced populations.
The Benue State NTD program trained state officials to supervise mass drug administration in all camps. These were overseen by health workers already based in the catchment areas for the camps. People from the community were trained to distribute medication and educate people in camps about the importance of health monitoring and reporting. Partnering with community-based organizations that have access to camps, and with people within the community, ensured that everyone eligible received treatment.
As a result of the mapping activities and the establishment of key partnerships on the ground, the program in Benue State has delivered NTD treatments in all seven internally displaced person camps and one refugee camp. Going forward, the program will continue to work with internally displaced person camps and refugee representatives to jointly plan for greater inclusiveness and accessibility to services and treatments. Making sure that no one is left behind will reduce the number of people in this region of Nigeria who are affected by life-limiting diseases. This is a vital step toward the elimination of NTDs.
As we work to bridge the gap between NTD activities and displaced people, it's clear that we also need to investigate the social and environmental factors that stop NTD treatments from reaching everyone. These are often difficult to model using traditional epidemiological methods or relying on quantitative data, so other innovative approaches and tools are needed.
NTD interventions for displaced populations are often not considered public health priorities
Learning from Niger
There were an estimated 245,000 refugees in Niger in 2020, due to ongoing conflict within the Sahel and Lake Chad Basin regions. As is the case in Niger, refugees often live in isolated areas with limited access to public health facilities. They are often forced to stay in overcrowded settlements lacking suitable sanitation, which can heighten the risk of exposure to NTDs. There is also a risk that the movement of large groups of people can introduce new NTDs where they were previously not prevalent.
Research from Niger—a project led by the SCI Foundation—explored ways to improve access to preventative chemotherapy treatment for NTDs among the country's refugee population. From July 2020 to May 2021, researchers conducted in-depth interviews with national and frontline stakeholders from the UNHCR, Niger's Ministry of Health, and NGOs—including health workers; water, sanitation, and hygiene (WASH) experts; and program managers. The project sought to identify the organizational, socioeconomic, informational, and environmental factors that directly or indirectly impact refugees' access to preventive treatment for NTDs.
The data collected were organized to enable thematic analysis and revealed a number of key barriers including a lack of NTD-focused activities around WASH, limited mapping capacity to determine treatment provision, security concerns, some people rejecting treatment due to lack of information, and a lack of suitable monitoring tools to determine who had been treated.
This modeling has enabled Niger's national NTD team to develop recommendations so that future programm have the greatest chance of success in serving this marginalized group. Key partnerships with other humanitarian NGOs and WASH players should improve information dissemination, the quality of data collected, community ownership, and ultimately the successful impact of the treatments.
Data collection and analysis, partnerships, community empowerment, and the use of creative tools and approaches are essential for NTD treatment coverage in displaced populations. Alongside this is the clear need for NTD programs to better understand the impact of conflict situations, natural disasters, and other emergency situations on vulnerable communities.
It's also starkly clear that NTD interventions for displaced populations are often not considered to be public health priorities. Within humanitarian contexts, we need to ensure that displaced populations are not left behind. This echoes the call for the integration of NTD programming into national health systems from the WHO 2030 roadmap.
Without a commitment to "leave no one behind," NTD elimination agendas will fall short, and we will lose ground in the fight against these debilitating diseases.