To watch "Flee" is to stop breathing for an hour and a half. The animated documentary film slowly and achingly unravels the life story of 30-something Afghanistan-born Amin Awabi and his experience as a refugee, beginning in his boyhood and melting into his teen years.
Now living in Denmark, Amin lies back on a purple and red patterned rug, closes his eyes, and is coaxed by his friend and filmmaker Jonas Poher Rasmussen to recount his story. You travel with Amin from his boyhood home in Kabul, at which time his father is imprisoned by the Mujahideen and then disappears, onto a flight to Russia where he lives illegally for years in a kind of purgatory with his siblings and mother, rarely going out for fear of capture by corrupt police. There they wait while his older brother in Sweden gathers enough money to hire human traffickers to transport them to his home in Scandinavia. After one failed attempt, finally, his brother manages to hire a Russian trafficker who sends 16-year-old Amin (alone) to Denmark, not Sweden.
Amin lies back on a purple and red patterned rug, closes his eyes, and is encouraged by filmmaker Jonas Poher Rasmussen to recount his story
Amin lives in Denmark for years, pretending to have no family because the human trafficker who navigated his solo exit from Russia to Denmark advised him to tell any authorities he encounters that his entire family is dead, or risk being shipped back to Afghanistan.
The tone of the film is part confessional and part therapy, as Amin reveals truths and horrors no child should have to witness, details of his life he has never shared before.  Amin's experiences as a young refugee—but more precisely, as a human—grip your heart and squeeze. You simultaneously want to click the off button and watch on, in the hope that he will eventually be reunited with his family, eventually reclaim the innocence of his childhood, flying kites in Kabul and wearing his sister's nightgown around town, making people laugh.
One other theme running quietly through the film is Amin's slowly-growing awareness that he is attracted to men—from an early crush on Jean-Claude Van Damme (a poster on the wall of his childhood room winks down at him at one point), to an attraction he feels for another teen boy he travels with when he's trafficked to northern Europe, to finally admitting he doesn't like girls to his older siblings.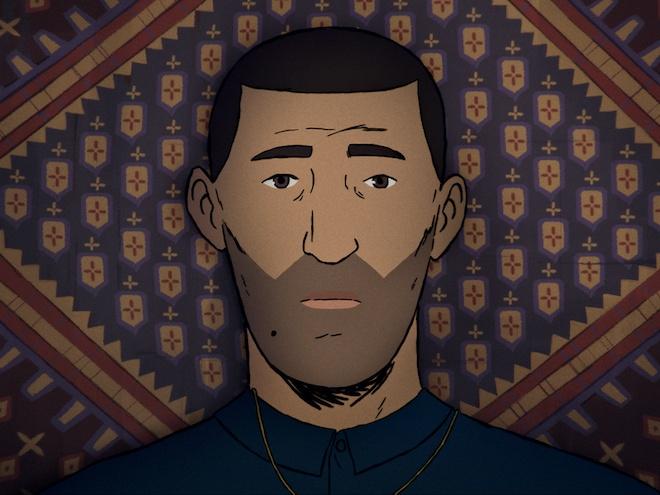 The documentary's visual palette is muted, gray—a collage of several animation styles and archival news footage—and its soundtrack is thick with the strains of lonely violins. The pace is slow, not for those who crave action and the cherry reds and taxi-cab yellows of a Wes Anderson movie.
While incredibly captivating, it's an incredibly difficult film to watch. Over and over Amin's story reminds you that there are millions of individual refugee stories like his—many of them involving children. According to the UN Refugee Agency, there are nearly 26.4 million refugees around the globe, and half are under the age of 18. They are people displaced by civil war, famine, climate change—catastrophe. Amin's story highlights how refugees are repeatedly met with walls as they seek safe haven, treated like criminals, and torn apart from their loved ones. The film drives home the loneliness, loss of trust, and loss of dignity people who are displaced endure multiple times over. It questions policymakers, police, and coastguard officials, those who are supposed to have our backs, but especially the backs of the most vulnerable people.
26.4 M
There are nearly 26.4 million refugees around the globe
Throughout the movie, it's not unusual to catch yourself repeatedly leaning forward—but into what? Perhaps the answer lies in Kasper, Amin's present-day boyfriend. Kind and quiet, at times we see Kasper with his feet up watching television in their shared home, cooking, teasing Amin for being prickly. Amin resists committing to choosing a house when Kasper drags him out to see properties in the countryside outside of Copenhagen. But slowly, throughout the movie, as Amin begins to tell his story, sharing it with Kasper, too, he realizes he has found that which has been elusive for 20 years. Home.
Kasper is waiting for Amin at the airport at the end of the film (and everyone knows people who love you meet you at the airport) and he drives Amin out to a home he has purchased with a peaceful waterfront view. They wander to the back door, out onto the deck and embrace, then they head into the lush garden to find raspberry bushes. So much of the film is painful, but that makes the end all the sweeter, because it suggests hope.
Flee was released in select theaters in the United States on December 3, 2021. It will be more widely released on January 28, 2022.