For twenty months, multiple groups around the world supported what was originally a bold proposal from South Africa and India—the TRIPS waiver. Proposed in October 2020, it essentially sought to ensure that intellectual property barriers would not block access to lifesaving COVID-19 vaccines and treatments, among other technologies, and that these lifesaving medical products would be treated as global public goods, not as commodities to be manufactured, priced, and distributed at the whims of private profiteers.   
It was supported by one hundred countries, sixty-five co-sponsors (member states of the World Trade Organization), Nobel laureates, the director general of the World Health Organization (WHO), head of UNAIDS, faith leaders, trade unions, health groups, the African Union, researchers, scientists, economists, activists as well as politicians in Ireland, the United Kingdom, Canada, New Zealand, Australia, and it was even supported by the European Parliament among others.  
The waiver proposal was prompted by the immense likelihood of human suffering in this pandemic, and because of the prior knowledge and experience of how selfishly governments and companies protected intellectual property monopolies in a previous epidemic (HIV/AIDS), which at the time, had deadly consequences. Sadly, the same cycle of greed and death has come to pass in the COVID-19 pandemic. 
Sadly, the same cycle of greed and death in the HIV/AIDS epidemic has come to pass in the COVID-19 pandemic
The waiver proposal sought to temporarily lift the rules governing intellectual property in a pandemic (not just patents) and to even the playing field to scale up much needed manufacturing of timely lifesaving technologies, to prevent, diagnose, treat, and manage COVID.  
Throughout the time that the waiver proposal was on the WTO table awaiting negotiation—all of twenty months—in low- and middle-income countries, we lived through acute waves of infections, illness, and death with dire socioeconomic consequences and without timely access to the very best advances in scientific knowledge. In the case of vaccines, vaccine apartheid, and now, treatment apartheid, too. 
The waiver proposal generated unprecedented global support for a proposed new way of managing intellectual property (IP) in a global pandemic, but it also attracted various blockers, attackers, and detractors who refused to even temporarily consider lifesaving medicines and vaccines as public goods, opting instead to continue down the path of commodification and excessive profit. So much so that at first it was (incorrectly) claimed that it would make no difference at all to manufacturing in low- and middle-income countries, that these countries had no manufacturing capacity, and that it would harm innovation and negatively affect IP rights. And later again, it was argued that the waiver was not needed at all.
Over time, the detractors' narrative changed and openly blocking the proposal became the norm—despite earlier claims that "it would make no difference."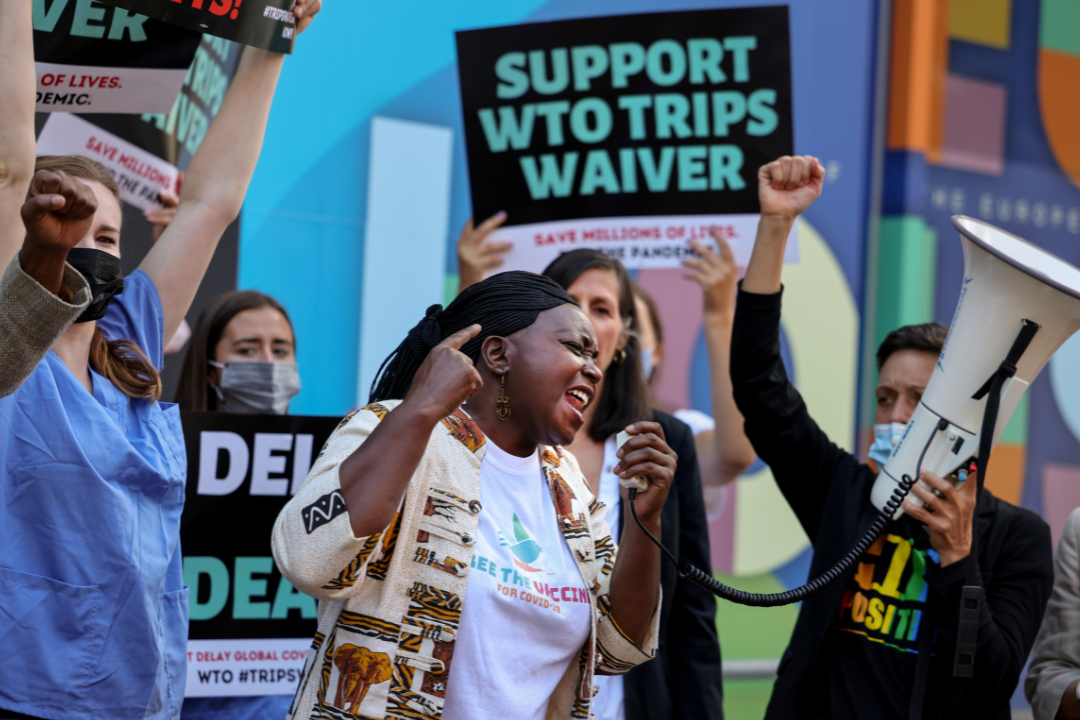 This self-defeating approach that prioritized property rights over public health and human needs in a pandemic heavily influenced the way governments in the high-income countries, and their trade delegations and representatives at the WTO, articulated a set of arguments to fight the proposal at all costs, whilst appearing to be supportive of "equity" and pledging "solidarity" with drip feed donations and carefully curated social media messaging. The United States, Germany, Switzerland, the United Kingdom, and France need special mention. In 2021, these countries did not prioritize a decision on the waiver proposal at the WTO, delayed and prevented textual negotiations, and did not take the requests made by low- and middle-income countries in the TRIPS waiver into account. 
So aided by a highly profitable and powerful industry, and influenced by its considerable financial muscle and billions in quick profit, high-income countries proposed two very specific and particular take-it-or-leave-it counter proposals. These counter proposals (from 2021) basically form the bedrock of the deal that was agreed to at the WTO meeting on June 17, 2022 as part of several WTO trade packages.  
The first counter proposal in early 2021, from the United States, was couched as a concession focusing on the need for equity. It was framed as President Biden's support for a waiver—but only for vaccines. 
The second counter proposal came from the EU. Promoted as all-knowing and benevolent, it was framed as a revelation—that what low- and middle-income countries (including former colonies) needed was not what those very countries' governments had requested in the initial TRIPS Agreement, but rather, what the EU believed they needed. According to the EU, this meant, to make use of the existing and inefficient flexibilities in the current TRIPS Agreement. Or, in other words, state issued compulsory licenses against a patent holder, with a payment of royalties, in a time of a public health emergency, with limits and rules on imports and exports.  
Portraying a compulsory license as constructed in the TRIPS Agreement as a perfect and generally used flexibility is a ruse. The compulsory licenses mechanism requires repeat government action to address patent barriers on a product-by-product basis and involves several procedural steps which often take time to achieve. But most importantly, it falls short of the freedom to operate—which manufacturers should have to address time sensitive supply constraints during a pandemic. In addition, at times, when used by low-income countries, compulsory licenses have attracted threats of trade pressure, trade sanctions, and even legal action—at great cost to public health, human lives, and trade and political relations.  
South Africa, India, and other countries spoke out against compulsory licenses at the WTO in early 2021: "We heard the refrain from the EU and others that the TRIPS Agreement is fit for purpose and its flexibilities are usable without limitation or any problem. We once again contest this notion." 
High-income countries delayed and prevented textual negotiations and took it upon themselves to decide what low-income countries needed
While compulsory licenses are indeed used by powerful and wealthy northern countries—such as in the United States, Canada, and Germany, among others—it is not something low- and middle-income countries are allowed to invoke with the same ease. In South Africa, even with an enabling constitution post—1994, and at the height of the AIDS crisis, the government never issued a compulsory license on a pharmaceutical product. For this reason, the EU way was not a genuine commitment to finding common cause, nor rooted in solidarity.
Throughout this time, while politicians from EU countries were promoting the voluntary sharing of knowledge, the private manufacturing industry flatly refused to even enter the WHO COVID-19 Technology Access Poll (C-TAP) or to cooperate with the WHO mRNA Vaccine Technology Transfer Hub. The WHO's director general stated recently that not a single vaccine manufacturer has shared knowledge with the WHO's C-TAP—a technology sharing pool established in and for this pandemic. 
At the very same time that the EU was pushing compulsory licenses as the solution to the pandemic's IP crisis, two processes seeking compulsory licenses were being resisted in Canada and the Dominican Republic. One involved Johnson & Johnson, the Canadian government, and Biolyse, a vaccine manufacturer in Canada, for supplying Bolivia. The second involved Pfizer, on Paxlovid, for supplying the Dominican Republic.
These processes have been heartbreakingly slow and disappointing. In the Dominican Republic, Pfizer stated that its human rights (as a company) would be infringed if a compulsory license was issued against it, while taking out full-page ads in the New York Times announcing its "lodestar" equity. 
The reason why the EU and United States positions are relevant is because this past week, the WTO announced a decision on the TRIPS negotiations—not a comprehensive TRIPS waiver—that mirrors these U.S. and European demands. The deal is limited to only aspects of vaccine patents, albeit with the lifting of export restrictions and allowing any proportion of vaccines to be exported (but not all technologies); and the deal mainly restates the flexibility around the use of a compulsory license, already existing in the TRIPS Agreement, and addresses patent rights only (not trade secrets, confidential information, and technical know-how).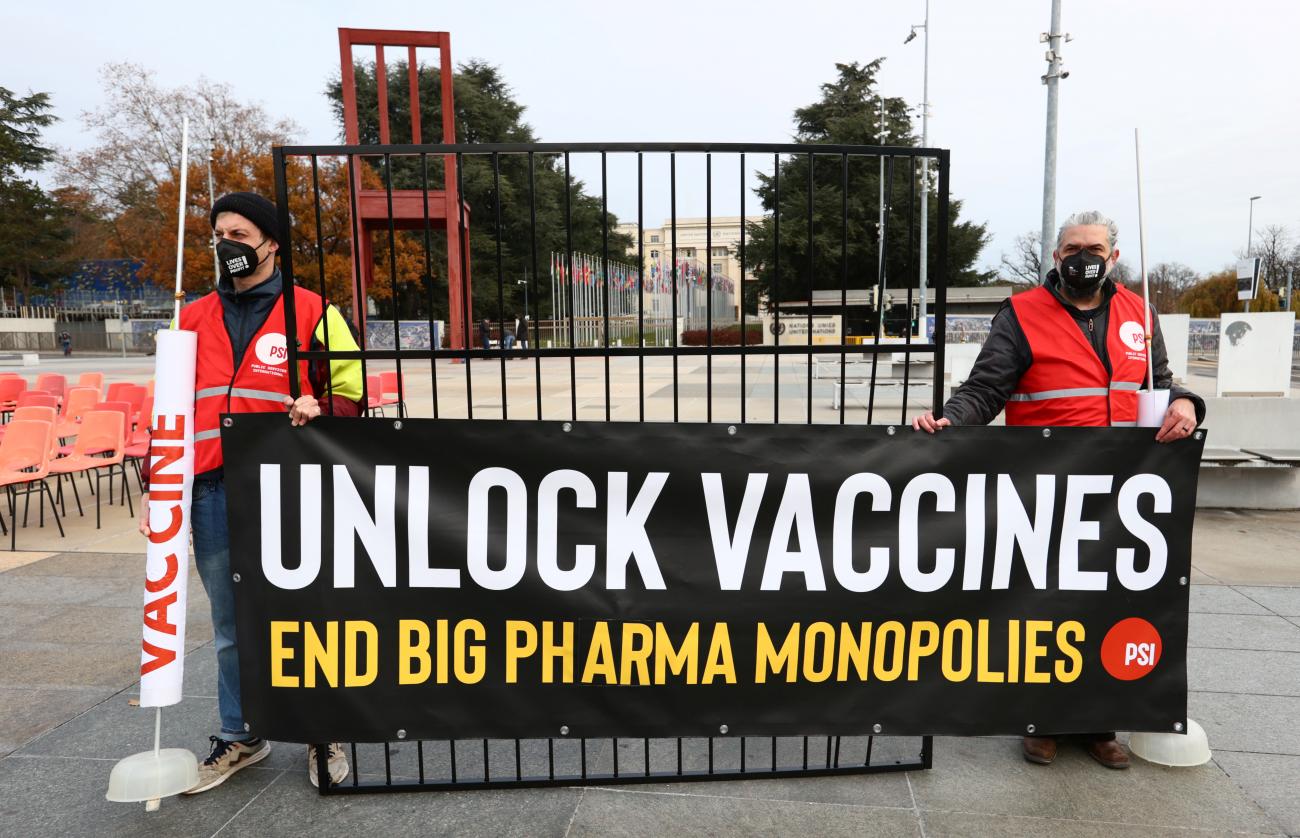 In fact, the WTO deal also bizarrely asks developing countries with manufacturing capacity to opt out—something China has agreed to do. The EU led an attempt to tailor export rights under a compulsory license has added new requirements with respect to vaccines exported under the deal (on notification and anti-diversion) that are not even in the TRIPS agreement.  
That is, it. It is not unprecedented, it is not a great deal, it is not a TRIPS Waiver. Far from it. The deal offers very little by way of a true relaxation of IP rules in this pandemic: there is no waiver of IP, and no immediate consideration of other technologies. Basically, it is such a weak deal that some groups have argued it constitutes a slap in the face of poor countries, and Doctors Without Borders, the global medical humanitarian group, described it as a "devastating global public health failure."
The WTO is notorious at missing deadlines and its multilateralism prioritizes the wants of high-income countries over their low- and middle-income counterparts, even in the midst of a global pandemic. Fifteen million deaths later, alongside unprecedented global condemnation of vaccine and treatment apartheid, and the hoarding of knowledge fuelled by pandemic profiteering, what countries now have on the table is the outcome of warped multilateralism—a decision not based on equal negotiating power. 
Essentially, the United States and the EU, with the WTO, have pushed their preferred way forward, mostly to protect self-interests at the expense of true democratic consensus. The WTO is so beholden to those interests that consensus was forged through an exclusionary process that involved what TWN describes as small group configurations (Green Rooms), which were the privileged format in which all negotiations took place, including those on the ministerial outcome document. This seeks to normalize the continued commodification of life saving medical technologies, and also to normalize unequal power relations.
It is unclear which LMIC will be the first to use the deal, when and how it will use it, and for which vaccine
As TWN explained, it was "highly challenging for developing countries and least developed countries to effectively take part in the negotiations on key documents that would shape the future of the organization and the multilateral trading system." 
Here, the WTO took on a specific role to advance the EU and U.S. interests just a few weeks back—its secretariat proposed what is now commonly called the leaked text (March 2022)—eventually tabled as the DG's text, on May 3, 2022. Both texts, rather unsurprisingly, contained all the limits and elements that the EU and United States had pushed for—which by now, seemingly, South Africa and India agreed to, despite not publicly endorsing those texts. The net result is a WTO deal rammed through at the Ministerial Conference alongside other WTO packages and a geo-political mini-showdown between the United States and China on eligibility (that is, which country can and cannot make use of the deal). 
What is unclear is which LMIC will be the first to use the deal, when and how it will use it, and for which vaccine. It's also unclear whether that country will take initiative as a sovereign state to address treatment and diagnostic access gaps or wait for the WTO to spend months delaying that discussion too.  
Critically, audiences are not privy to what South Africa and other low-income countries will do in response to the deal–as they have not shared their plans with the world, but South Africa has a lot at stake. It is backing the WHO mRNA Hub based in Cape Town, whose work could be hobbled without speedy executive action on the part of the South African government to override current patent barriers imposed by private companies and the WTO.
Now that this WTO decision is in place, and the South African Minister of Trade, Industry and Competition even conceded that it was "not first prize," people in South Africa eagerly await his action plan to see how South Africa will take advantage of deal and implement overdue and necessary patent law amendments for domestic benefit. (South Africans have waited years for lawmakers to remove apartheid era restraints and TRIPS plus provisions from our IP laws). Any patent barriers standing in the way of the work of the mRNA Hub should be immediately removed through executive action.  
It is within the South African government's sole power to attain that "first prize" deal by writing the maximum of all available public health flexibilities into its law. There should be no excuse for anything less. But that requires strong political leadership and putting the people of South Africa first, and for the United States, United Kingdom, European Union, and other big players in the industry, to not block and interfere with domestic law reform processes in South Africa.