A small kingdom of about two million residents, Lesotho is the only nation in the world that lies entirely above 1,000-meter elevation. In the vast Maloti Mountains landlocked by South Africa, villages are connected by pony trails and the country's more than 30,000 shepherds dot the remote landscape. 
These shepherds—known locally as "herd boys"—include young men and boys as young as five-years-old who are sent into the mountains for months at a time to tend to herds of cattle, sheep, or goats, moving from pasture to pasture with their livestock. This semi-nomadic lifestyle can make it difficult for them to access education, social services, and health care. 
Phakane Makhakhane from Malealea, a village in southwestern Lesotho, has been a horse guide for tourists since 1997. Before guiding, he was a herd boy from age 17 to 22. 
"A long time ago, we would find medicine ourselves from the plants in the mountains," Makhakhane said. "Now, we take a horse to come down and see a doctor. Sometimes the doctor goes up the mountain to see the shepherd."
This Indigenous knowledge about traditional medicine has been passed down through generations of herd boys—information on how to take care of themselves and their animals in an environment with few resources. 
Coming down the mountain could take the young shepherds days to reach the nearest town with a doctor. Makhakhane remembers feeling scared one time when he was sick with the flu and rode for a day and a half to reach a doctor.
"Yeah it's hard, but we have to," Makhakhane said about riding a horse down rough terrain while ill.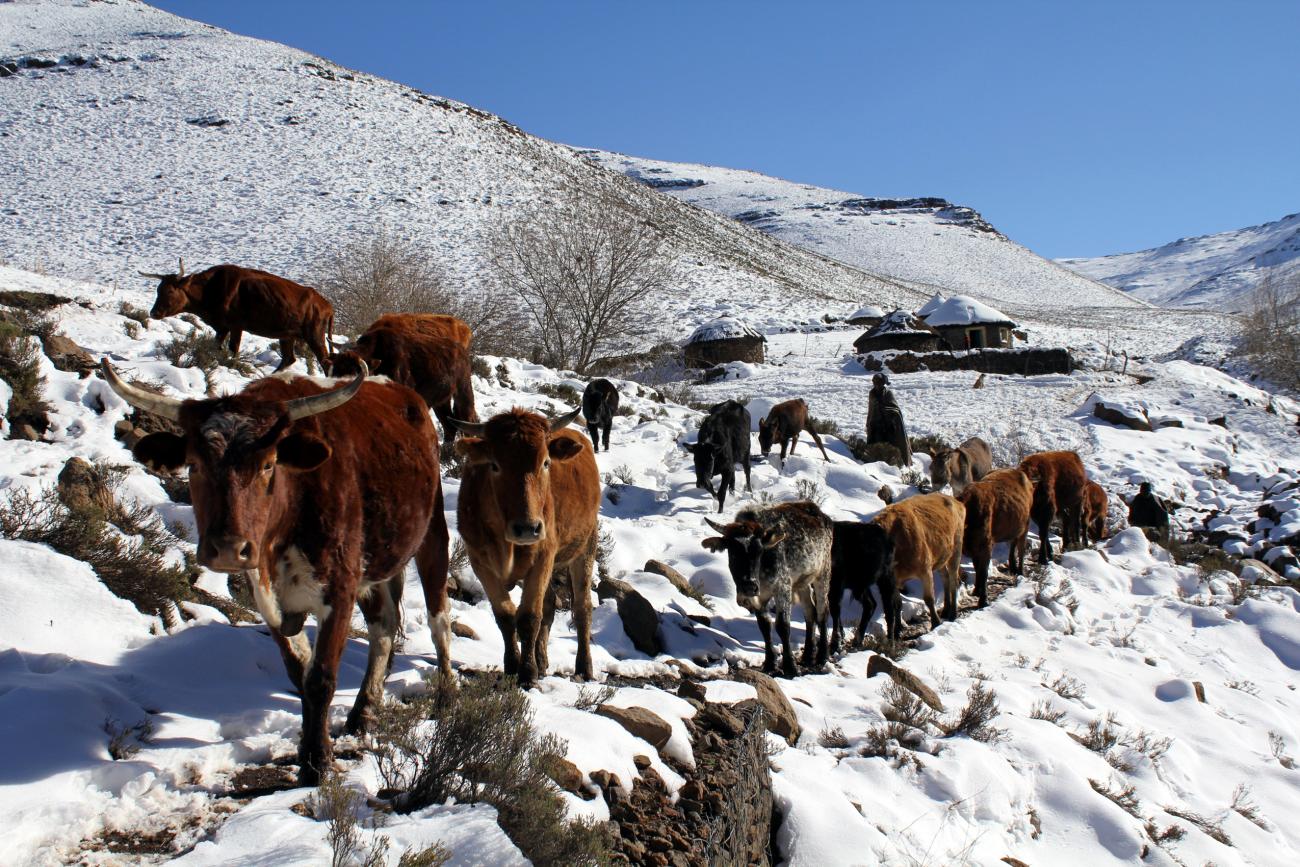 Becoming a Herd Boy 
A 2021 UNICEF report found that more than 45 percent of the child population in Lesotho is multidimensionally poor, defined by UNICEF as suffering "deprivation in three or more dimensions," such as water, sanitation, and housing. Poor families often send their boys off to work as shepherds to help provide for the family.  
The first day on the job for a herd boy consists of someone who knows the routes showing him the way. After one practice run, the herd boy is sent to do his job alone. Even young boys tend not to get lost because as young kids, they were allowed to go into the mountains on their own, only coming back to eat when they were hungry, Makhakhane said. 
"We travel around 20 to 30 kilometers a day," he said. "A donkey brings our food and we go up the mountain to get water. We also get milk from goats on the mountain."

In these backcountry conditions, they eat only twice a day and survive on little food by urban standards. At night, the herd boys find shelter in "motebos," basic rondavel shelters built next to a stone enclosure for their animals. A nation with largely no fences in sight, the land belongs to no one and everyone.  
In Makhakhane's time as a herd boy, they didn't have cell phones to call for help when they had a medical emergency.  
"When they have the problem, they have to make a big fire and light two fires at different places at night [so people can see they need help]," he said.  
Five to six years ago, it became common for herd boys to bring a cell phone into the mountains. With no sources of electricity, the herd boys carry small, portable solar power banks to charge their phones. 
As of 2021, about 80 percent of the country has a cell phone subscription, and phone companies have rolled out popular mobile financial services like M-Pesa that have grown to over one million users in Lesotho—making transferring money between any two cell phones as easy as dialing a payment number.
Some public health programs in Lesotho, including the National Tuberculosis Program, have tapped into the proliferation of cell phones in rural Lesotho to communicate lab results with patients. Other efforts, such as mHealth, try to leverage mobile health technology to improve HIV outcomes in the region. 
Health Services Geared Toward Herd Boys 
Sister Constance Leuta—who goes by Sister Connie and is part of the Sisters of Good Shepherd Congregation—is a nurse clinician at St. Leonard Health Centre in Semonkong, about 120 kilometers away from the capital city of Maseru.  
"Anyone can come for services, but our focus is on the shepherds," she said. "We have access [to them] through the Good Shepherd Night School."
Between 7:00 to 9:00 p.m. after the shepherds are back from work, health-care workers from St. Leonard meet the shepherds at their night school and offer health education and individualized services for anyone who comes. 
"We routinely give, to those who are here at the school, health education directed toward prevention of illnesses," Sister Connie said. "Topics such as STD prevention and management, voluntary male circumcision, good hygiene, oral health, COVID-19 prevention, and vaccination [are covered]."
They also offer HIV/AIDS counseling and testing services; antiretroviral therapy (ART) for those who are HIV positive; psychological counseling and support; and tuberculosis screening, prevention, and education, along with other outpatient services.
For herd boys who may not know about the health services that are available, their families and support network in the village will often inform them. 
"Herd boys go to the mountains seasonally for a few months and then come down to the villages," Sister Connie said. "They are part of us here in the village."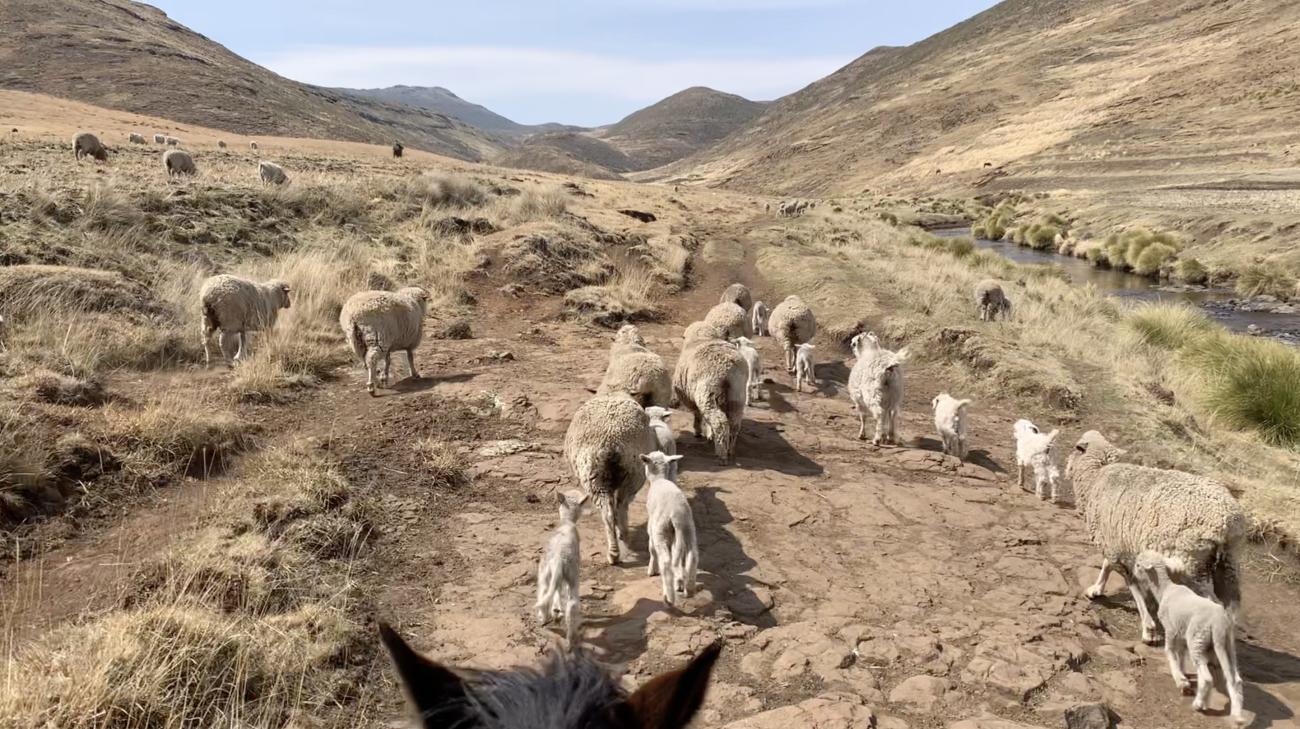 Unlike Lesotho's herd boys, some nomadic groups in Tanzania and Kenya move as a family unit. But the Basotho, people who have inhabited Lesotho for nearly 2000 years, herd boys don't have the guidance of their families or the socialization with their peers, and are left alone at a young age. Issues of widespread violence and sexual assault, with herd boys being the perpetrators, emerge due to patriarchal norms and a lack of supervision and education. 
Programs run by organizations such as the United Nations Population Fund have targeted the herd boy population to educate them on respect, autonomy, and communication to decrease gender-based violence and prevent HIV transmission. At over 25 percent, Lesotho has the third highest HIV prevalence rate in the world. Gender-based violence is a significant driver of the HIV epidemic and women have significantly higher rates of HIV as a result. 
Tailoring Health Care to Nomadic and Semi-Nomadic Groups
50 million
In Africa, 50 to 100 million semi-nomadic or nomadic people account for about half of the global nomadic population.
In Africa, there are an estimated 50 to 100 million semi-nomadic or nomadic people who account for about half of the global nomadic population. Some of these nomadic communities, like those in Timbuktu, Mali, have some of the highest infant mortality rates in the world—upwards of 191 per 1000 births.  
Because herd boys in Lesotho are semi-nomadic rather than fully nomadic, they have greater access to health care than some other groups like the 25,000 Nyangatom nomadic pastoralists on the border of Ethiopia and South Sudan. 
For those nomadic pastoralists who have no fixed domestic unit, a study in the American Journal of Tropical Medicine and Hygiene characterized this group as the world's "hardest-to-reach and least served populations" who are often excluded from survey data. The study emphasizes the importance of "designing health systems and implementing longitudinal health surveillance for underserved mobile groups."
When the Basotho herd boys are back from the mountains, health-care workers at St. Leonard Health Centre ask them for feedback about what they want to learn and what services they need. 
"Sometimes we are covering certain topics but realize that they themselves want to cover something else," Sister Connie said.
Upon request from the herd boys, St. Leonard is putting together a course on administering first aid in the backcountry.  
"They requested to be equipped with knowledge on first aid so that they will be able to help one another if they are in any trouble," Sister Connie said. 
EDITOR'S NOTE: Visit our "Frontiers" series page to learn more about global health and the deepest realms of the sea, space, the Arctic, and more.