In 2020, Vietnam was one of the world's few pandemic success stories. From January 2020 until the end of June 2021, the country of roughly 96 million people recorded just under 17,000 COVID-19 cases and 81 related deaths. It's economy grew by 2.9 percent last year, one of the few in Asia that did. The ruling Vietnamese Communist Party (VCP), which for years had promised to deliver a "responsive government," received widespread praise for its competent and uncharacteristically transparent handling of the crisis.
"Vietnam took the pandemic threat seriously from the get-go, likely because it shares a border with China"
Shutdowns and Restrictions
Vietnam took the pandemic threat seriously from the get-go, likely because it shares a border with China and experienced the SARS and 2005 avian flu epidemic. Before most other Asian countries, in the first months of 2020, it shut its borders, closed schools, restricted free movement and deployed an effective track-and-trace system. According to the Oxford Covid-19 Government Response Tracker, which compares policy measures that governments have taken to tackle COVID-19, Vietnam had among the world's most stringent measures in early 2020. In April last year, Vietnam reached a "stringency level" of around 96.3, with 100 being the most stringent. Since then, it has rarely fallen below 50.
But this year, as of October 13, Vietnam has recorded more than 849,000 cases, and saw a spike in July; the rising number of cases has been greatly exacerbated by the spread of the more contagious Delta variant. August 26 saw a peak of new daily infections in Vietnam at 16,083—roughly the same as the total number of cases Vietnam recorded between January 2020 and July 2021, according to Our World In Data. Another factor that may be influencing the upswing in cases: Vietnam has been slow to roll out its vaccination campaign. As of October 4, just 36 percent of the population had received one vaccine dose, and only 11.8 percent were fully vaccinated, one of Southeast Asia's lowest rates.
The epicenter of the crisis has been Ho Chi Minh City, Vietnam's largest city and main commercial hub. Though it is home to only a tenth of Vietnam's population, it is estimated to account for over half of all infections and almost 80 percent of deaths. On July 9, the authorities imposed Directive 16, a harsh lockdown measure that closed most businesses and entertainment venues and imposed stay-at-home orders on the city's nine million residents. An estimated 130,000 troops were deployed to the city to enforce the restrictions, with hundreds of barricades erected at provincial border points to stop travel. Other parts of Vietnam also imposed strict measures.
"Living With COVID"
The communist government reckoned its "zero-COVID" policy could work again, just as it had in 2020. For instance, when a wave of infections spread in July 2020 after the coastal city of Danang re-opened up to domestic tourists, strict lockdowns quickly flattened the curve. But as infection numbers increased this year, Prime Minister Pham Minh Chinh signaled in early September that the government was considering a shift.
"We cannot resort to quarantine and lockdown measures forever, as it will cause difficulty for the people and the economy," he said. "The COVID-19 pandemic is evolving in a complicated and unpredictable manner and may last for a long time." After this, Chinh and other senior party officials increasingly made references to having to "live with COVID."
Eighty-One
From January 2020 through June 2021, Vietnam recorded only 81 COVID deaths, then everything changed
On September 25, the government's National Steering Committee for COVID-19 Prevention and Control, headed by Chinh, agreed to end many of the strictest measures. Chinh was quoted as saying that the infection spread has been controlled in "most of the country." Indeed, rates had begun to flatten. The number of new daily cases peaked on August 26 at 16,083. But it decreased to 9,706 by September 25, when the decision was made, and down to 4,363 on October 6, about the same rate recorded in early July at the beginning of the surge, according to Our World In Data.
Concerns were raised about the mental and physical health of residents forced to undergo stay-at-home restrictions. Reports suggest that the local authorities in Ho Chi Minh City struggled to provide food and daily essentials, breeding frustration toward the Communist Party. Recent years have seen increased numbers of public protests against the authorities, as well as outright anti-communist agitation, which has forced the government to attempt a more transparent and responsive approach to public complaints as well as a crackdown on many dissenting voices online, including on social media.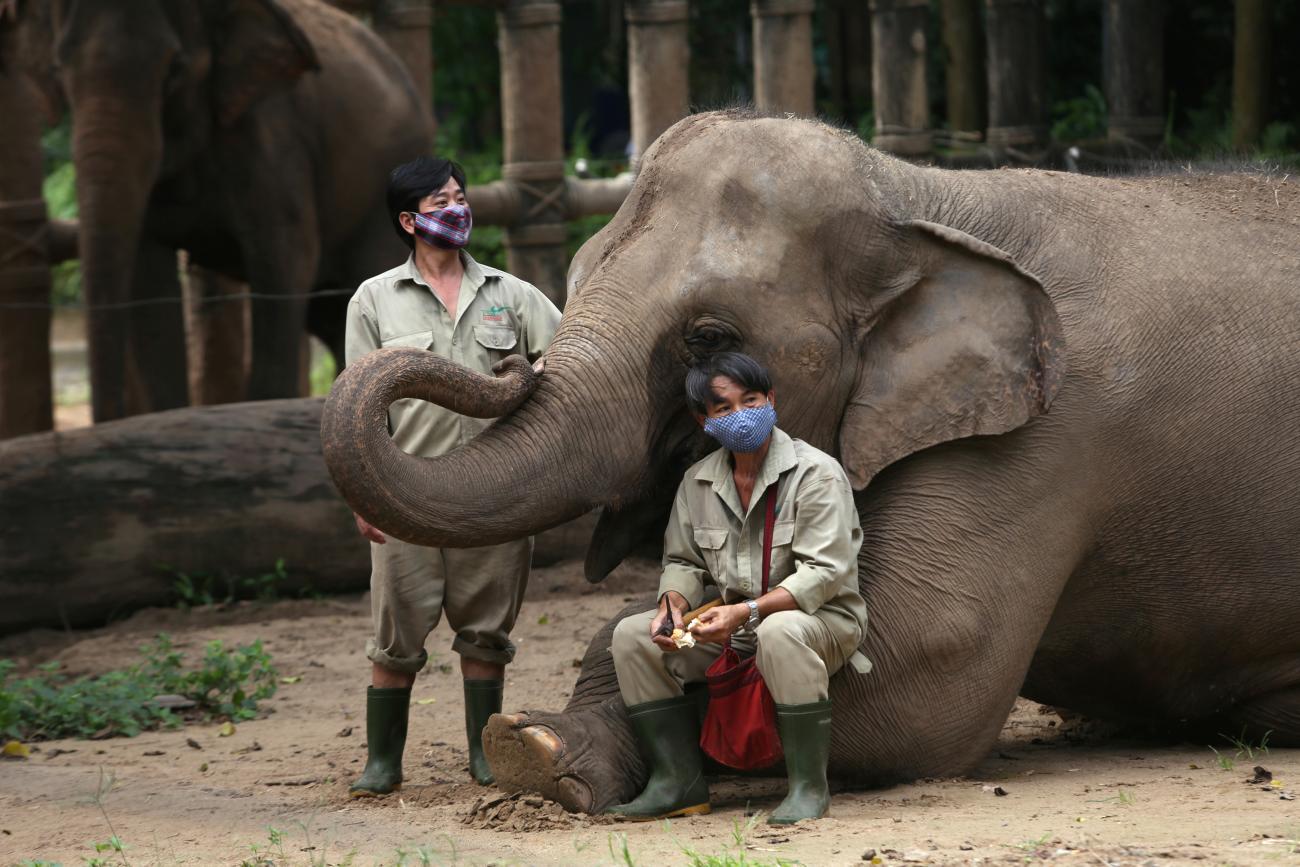 Economic Anxiety
Perhaps the most important motivator for the change in policy was economic concern, since the strict lockdowns meant hundreds of factories closed and employees struggled to travel to their workplaces. The General Statistics Office announced on September 29 that the country's GDP diminished by 6.17 percent between July and September, the first quarterly decline seen since 2000. Major investors, including U.S. tech-giant Apple and South Korea's Samsung, have said that production-line problems in Vietnam will delay the release of their new smartphones. (Samsung produces half of its smartphones in Vietnam and its subsidiary is the country's largest company.) Foreign businesses began warning in late July that they could be forced to pull investments from Vietnam if conditions didn't improve. Around the same time, international media reports suggested that Vietnam could forever lose its reputation as a key investment hub in Asia if the lockdowns lasted for much longer.
The capital Hanoi, which has seen relatively few COVID-19 cases, began to loosen lockdown measures in mid-September. On the evening of September 30, the Ho Chi Minh City authorities formally lifted Directive 16, allowing residents to leave their homes and many businesses to reopen. Since October 1, hundreds of thousands of people are believed to have left the city to return to their rural hometowns, although travel between provinces hasn't formally been allowed. In many ways, this was to be expected. The city's residents had spent almost three months at home, many losing their jobs and unable to afford daily necessities. Many are migrants from the countryside and returning to one's rural hometown has long been a way for the Vietnamese to cope in times of crisis.
"There is concern that lifting measures could lead to another surge of infections, especially because Vietnam has a very low vaccination rate"
But there is the concern that lifting measures could lead to another surge of infections. Nationally, Vietnam has a very low vaccination rate. While an estimated 99 percent of the Ho Chi Minh City's adult population has received at least one dose of the vaccine and 60 percent are fully vaccinated, just 13.7 percent of the population in nearby Dak Lak province has received one dose. Because of the discrepancy in vaccination rates, and with these provinces no longer isolated, it is likely that some returnees will transmit the virus.
Vaccine Challenges
So far, the number of new cases hasn't risen since the most restrictive measures were relaxed. In fact, it fell by around a third between October 1 and October 6. But this may be because of the greater difficulty in testing as the lockdowns ended and as people now move around more freely. That said, there are indications that the worst may now be over. The rate of daily COVID-19 vaccine doses administered per 100 people is now quickening, after a brief blip in late September. According to a Reuters analysis, an average of 878,941 doses have been administered each day over the past week, at which rate it will take 22 days to vaccinate 10 percent of the population. As such, it could take nearly another three months to fully vaccinate half of the country's population.
Most economic forecasters contend that Vietnam's GDP will surge by around 6 percent in 2022, back to near pre-pandemic rates. Vietnam's state-run media has presented the Communist Party's decision to end the "zero-COVID" approach as a sign that it is responsive to the demands of the Vietnamese people and business community. 
Because Vietnam is a one-party state and overt expressions of dissent are heavily repressed by the authorities, it is difficult to know the true thoughts of most of society. But political commentators say that public frustration has soared this year and the VCP will have an uphill battle to restore the trust it earned for its actions in 2020.
This year's weaker than expected economic performance, normally the VCP's main source of legitimacy, will be a factor. A UN Development Programme  study conducted last year found that household per capita income in October 2020 was lower than in December 2019 by 14.5 percent. Some 63 percent surveyed households said they were affected financially by the pandemic. The percentages are almost certainly much larger now after three months of strict lockdowns.
And now that some normalcy is returning, the Communist Party may face even more pressure to explain its failures. Some commentators say the poor vaccination rate stems from the widespread anti-corruption campaign launched by party chief Nguyen Phu Trong since 2016, which has seen hundreds of party officials disciplined and some jailed for financial mismanagement. Increasingly risk-averse, decision-makers were wary in early 2021 of joining other countries in paying sellers' prices for vaccines, in case they were disciplined at a future date for paying over the odds.
Hubris is another possible reason. In early 2021, when Vietnam had relatively few infections and the pandemic appeared under control, instead of bidding for vaccine imports, government officials said they wanted to create their own COVID-19 vaccines, a way of boosting the country's nascent pharma-tech sector.
If excessive confidence was a motivating factor in why Vietnam lost control of the pandemic, the country is now likely to have a much clearer picture of its capabilities. It waits to be seen whether the government will respond to another uptick in infections by imposing stringent lockdowns again. Yet there does appear to have been a sea change in Hanoi's thinking and "living with COVID" has replaced "zero-COVID" as the Communist Party's mantra.