Originally coined a century ago, the term smog described a combination of smoke and fog. But scientists have since gained more knowledge about the chemical processes that result in smog—the thick, hazy layer of air that blankets some cities, towns, and rural areas. Comprised mostly of ground-level ozone and particulate matter, it is a form of air pollution that can seriously damage respiratory health.
The World Health Organization estimates that air pollution kills millions of people each year. But it does not affect the world equally. People living in cities in low- and middle-income countries—including Bangladesh, India, China, and Pakistan—suffer most from poor air quality.
Scientists know that vehicle emissions, industrial pollution, and solvents used to manufacture plastics, textiles, and agricultural products contribute to smog, as well as particulate matter from fires, construction, and power plants. This knowledge should, in theory, make curbing smog a no-brainer. But policies to address sources of smog and reduce pollution are often politically unpopular or unenforced.
To call attention to the global problem of smog, we've compiled a gallery of images featuring major cities that suffer from high levels of smog and other types of air pollution.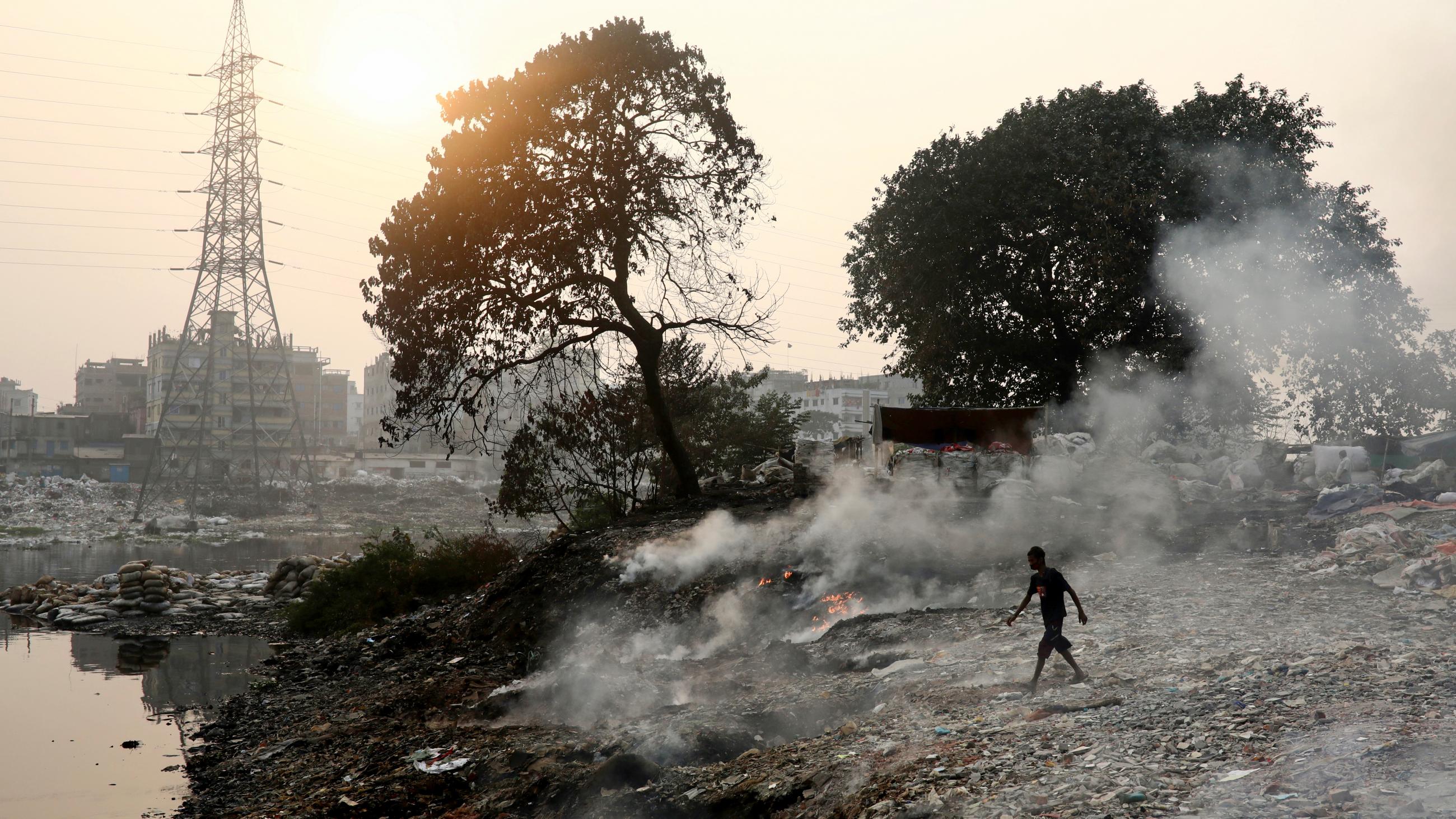 Dhaka, Bangladesh
People in Dhaka contend with severe air pollution for most of the year. While the monsoon rains bring some relief during the summer, air pollution levels are highest during the winter months.
A man walks through smoke rising from burning waste in Dhaka on December 22, 2020.
REUTERS/Mohammad Ponir Hossain
New Delhi, India
New Delhi consistently ranks among the cities with the worst air quality in the world. Last November, air quality was so poor that authorities closed schools. A recent report by the Energy Policy Institute at the University of Chicago suggests air pollution could reduce life expectancy of city residents by nine years if nothing is done to reduce it.
In a November 19, 2021 photo, a man works along the banks of the Yamuna River on a smoggy morning in the city of New Delhi, India.
REUTERS/Anushree Fadnavis 
Jakarta, Indonesia
In September 2021, an Indonesian district court found Indonesian President Joko Widodo and other high-level officials negligent concerning the issue of air pollution in Jakarta, after residents of Jakarta filed a suit against the officials in 2019.
In an August 2021 photo, a fisherman stands on a wooden boat as smog cloaks high rise buildings along the north coast of the city.
REUTERS/Willy Kurniawan
Skopje, Republic of North Macedonia
Skopje's high air pollution level in the winter months puts its residents at greater risk of respiratory diseases, including COVID-19. In this October 2020 photo, the city's buildings are shrouded in a blanket of smog.
REUTERS/Ognen Teofilovskithe
Tehran, Iran
A man surveys a smoggy view from a lookout point above Tehran following an increase in air pollution in the city, on November 24, 2021.
Majid Asgaripour/WANA via REUTERS 
Belgrade, Serbia
In November of last year, residents of Belgrade took to the streets to protest the Serbian government's inadequate response to high levels of air pollution.
In the photo, a man walks under the Brankov Bridge amidst dense fog and smog in Belgrade, on January 15, 2020.
REUTERS/Marko Djurica 
Lahore, Pakistan
Lahore's smog problem has grown steadily worse over the years, but it reached a crisis last November as Lahore repeatedly ranked as the most polluted city, according to Swiss climate group IQAir.
People walk in a park amid dense fog and smog in Lahore on December 21, 2019.
REUTERS/Mohsin Raza
Bangkok, Thailand
One of the causes of severe air pollution in Bangkok is the practice of burning sugarcane as a harvesting and clearing method.
Pictured, a farmer burns a sugarcane field at night to avoid arrest by authorities who banned the practice to help curb smog in Suphan Buri province, north of Bangkok, Thailand. The photo was taken on January 20, 2020.
REUTERS/Chalinee Thirasupa
Beijing, China
Smog in Beijing has improved since 2014 when the Chinese government enacted significant measures to reduce smog after its successful bid to host the 2022 Winter Olympic Games. In spite of this progress, the prevalence of fine particulate matter, which leads to harmful health outcomes, is six times greater than the target set by the World Health Organization.
In the photo, a man walks in the Sanlitun shopping district of Beijing on a polluted day in November 2021.
REUTERS/Thomas Peter
Mexico City, Mexico
The geographical location of Mexico City exacerbates its levels of air pollution. Located in a valley surrounded by mountains, it's harder for pollutants in the air to disperse.
A man works on a garbage dump as black smoke rises in the background on the outskirts of the city, on April 27, 2020.
REUTERS/Carlos Jasso
Ulaanbaatar, Mongolia
Air pollution in Ulaanbaatar is exacerbated by frigid temperatures, sometimes dropping as low as -40°F. People rely on coal to heat their homes, the cause of 87 percent of the air pollution in Mongolia.
Women walk amid smog in Sukhbaatar district of Ulaanbaatar on January 31, 2019.
REUTERS/B. Rentsendorj
Kolkata, India
People hold electric candles as they take part in a campaign to raise awareness about air pollution in Kolkata, on November 12, 2019.
REUTERS/Rupak De Chowdhuri
Krakow, Poland
Historically, Polish cities have had some of the worst air pollution in the European Union, but Krakow has actually seen some improvement in its air quality over the past few years. In 2019, Krakow banned the use of solid fuels in stoves, fireplaces, and boilers.
The photo shows smoke over ArcelorMittal steel plant in Krakow, Poland, on August 15, 2019.
Agencja Gazeta/Adrianna Bochenek via REUTERS
Kathmandu, Nepal
A girl holding a balloon looks toward the sky during a smoggy day in March 2021 when the government ordered schools to close for four days after the air pollution climbed to hazardous levels.
REUTERS/Navesh Chitrakar
Karachi, Pakistan
A woman walks past a cloud of smoke emanating from a smoldering pile of rubbish along a road in Karachi, Pakistan, on October 13, 2021.
REUTERS/Akhtar Soomro