When I sat down to lunch in the beautiful outdoor cafeteria with Adda Ireba at the brand-new Rwandan Institute for Conservation Agriculture (RICA), Adda told me she'd been on a path to medical school. Then she heard about a new university that wants to change the trajectory of agriculture in her country; to rebrand and promote it as a profession with a focus on innovation and leadership development. She knew it was the direction, albeit unexpected, that she wanted to take. Her parents, admittedly, didn't "get it." But, she says, now they do.  
While on vacation in Rwanda, I had the privilege of visiting RICA, a genuinely forward-thinking university. Its new facility, new faculty, new crops, and students are impressive. This highly selective school is currently focused on Rwandan students, and Adda is among the top students chosen from across the country who will be the first class to graduate. She is the second of six children and grew up in Musanze, Rwanda's fourth largest city and the gateway to the famed mountain gorillas of Volcanoes National Park. Other than her father's small backyard vegetable garden, she did not grow up involved in agriculture (her father is a driver).  
Agriculture is fundamental to Rwanda. Its agriculture sector employs 85 percent of the Rwandan workforce and accounts for 36 percent of the Central African country's GDP. RICA's accelerated eleven-month schedule is intense and earns students a bachelor of science in conservation agriculture compressed into three years. Conservation agriculture is a way of farming that promotes long-term soil health, plant biodiversity, and resilience to heat and drought—which help improve water and nutrient efficiency and increase crops. Its lower energy requirements also help to reduce greenhouse gas emissions. 
Rwanda's agriculture sector employs 85 percent of the Rwandan workforce and accounts for 36 percent of its GDP
RICA is academically rigorous, highly experiential, and physically challenging. Soil, seed, animals, and water provide a real-world science lab. Students harvest and slaughter what they grow and "sell back" the fruits of their labors to the school, which ends up on cafeteria plates. Students learn about increasing crop nutrition, quality, and yields; water conservation and management; economics, data, sales, and marketing; and they incubate entrepreneurial ideas and invent new products. Adda is leading an organic pesticides research project and says she is enjoying her "Plant-Soil Relations" class this term. The toughest class so far, she says, was in her first term, "Introduction to Agricultural Mathematics."
Like any new project, RICA is not without hiccups. Students are grouped in dorms and each dorm gets a small plot of land for experimentation. A great idea, except the enticing biodiversity of food was a bounty for what became a very well fed and exploding vervet monkey population, which decimated the experimental plots. 
Monkey business aside, RICA could also prove to be an asset to critical global water issues, from inadequate water, to depleted water resources, to poor water resource management. Agriculture's crops and livestock are tremendous water hogs and sources of water pollution, and need urgent reform. Sustainable water management is prioritized at RICA. RICA also combines conservation agriculture with the World Health Organization's One Health approach which recognizes human, animal, and environmental health are inextricably linked.  
Addressing Africa's Agriculture Challenges
"Education is a big, big component here in Rwanda because we want to get as many skills as possible into the agriculture community," says Gerardine Mukeshimana, Rwanda's Minister of Agriculture and Animal Resources. Mukeshimana holds doctoral and masters degrees in plant breeding, genetics, and biotechnology from Michigan State University.  
Initially, "a new school wasn't on the horizon, but came as the solution" as Mukeshimana and other public and private sector experts in Rwanda worked with U.S. philanthropist Howard Buffett, a farmer who has long been involved in development in Africa. They conducted research before deciding RICA was the way to go. Mukeshimana says they identified the needs to "professionalize the agriculture sector" and "find a new way of reaching and building the future generation to lead a new generation of agriculture in Rwanda."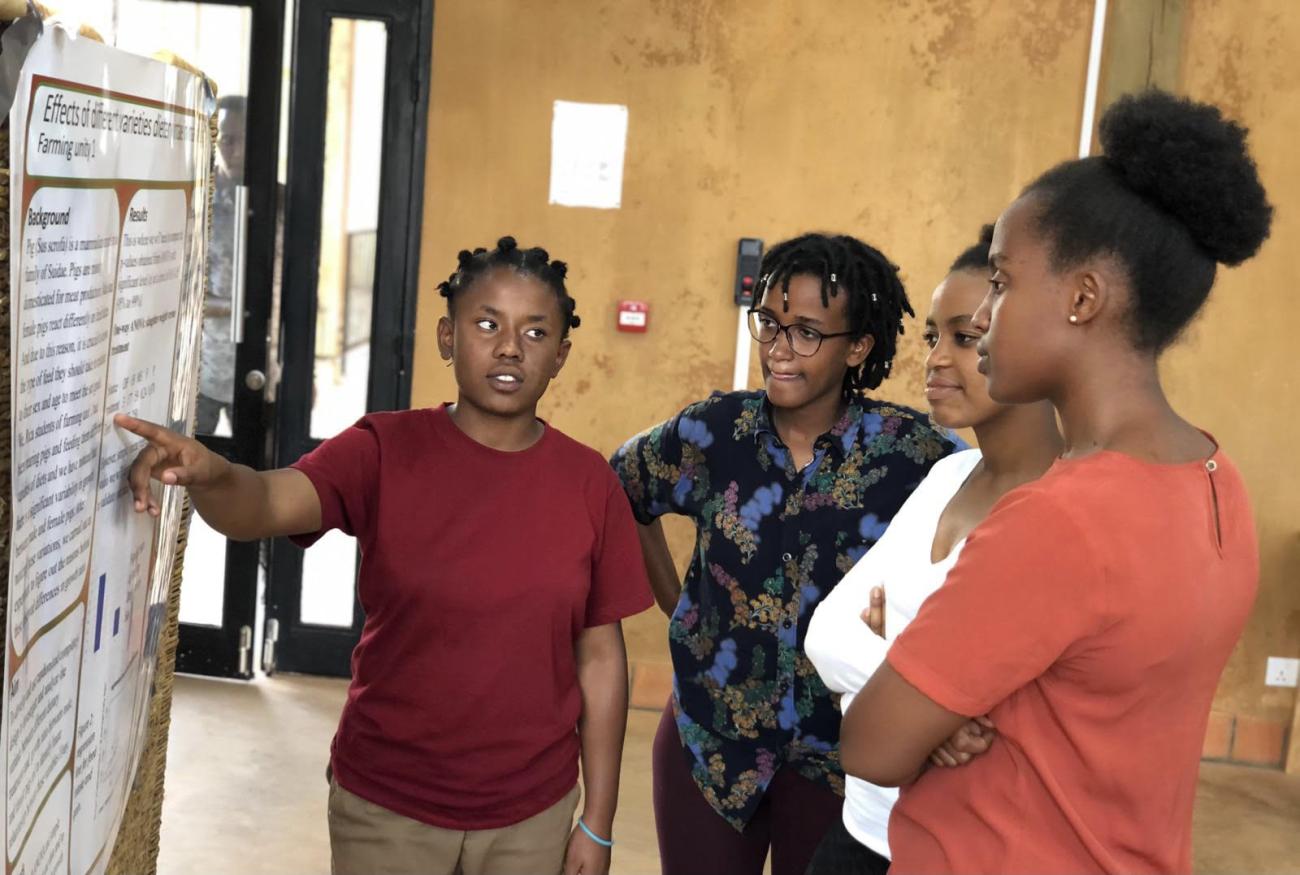 RICA's goal is greater farming innovation and efficiency, resulting in improved food, water, and economic security for Rwanda—and beyond. "The elderly and the least fortunate are the ones feeding Africa," says Mukeshimana, who wants to see Africa Feeding Africa and is working on an initiative by that name.  
Mukeshimana offered up a list of necessities that can be met by the ripple effect of improved farming and water management, including bolstering women. In Rwanda, gender equality is constitutionally provided for throughout all government efforts. "You can't develop a country leaving half the population out," she notes. 
According to the UN Food and Agriculture Organization (FAO),  women comprise an averrage of 43 percent of the agricultural labor force in low-resource countries, almost 50 percent of which are in sub-Saharan Africa and Southeastern and East Asia. If women farmers had the same access to farming resources as men, they could increase farm yields by 20-30 percent, and lift 100-150 million people out of hunger, according to FAO.  
RICA has the full support of the Rwandan government which donated the land for the school—1,300 hectares (3200 acres) about an hour drive south of Kigali, Rwanda's capital city. The Howard Buffett Foundation paid for construction of the sustainably built solar-powered campus which operates off-the-grid, and is funding its operation for its first ten years, including full scholarships for every student in its first three graduating classes, regardless of need.  
Given the centrality of water needs across Africa, irrigation development is a high priority for the Rwandan government and is an area of deep expertise for Richard Ferguson, the school's first vice chancellor. Most of the school's leadership is Rwandan, but Ferguson, on the edge of retirement from the University of Nebraska, talked it over with his family and now he and his wife, Teresa, find themselves living a long way from Nebraska.  
"It's a tremendous opportunity. It's not often one gets to build an institution," he says. "That's a luxury."
43 Percent
Women comprise an average of 43 percent of the agricultural labor force in low- and middle-income countries
The 252 Rwandan students who will be enrolled in RICA over its first three years may feel like a small number, but "there is high anticipation for RICA's graduates," says Ferguson. They have the potential to sustainably impact an entire nation and quite probably beyond, as they become farm consultants, scientists, educators, data experts, and entrepreneurs.  
Funder Howard Buffett says, "We need RICAs of the world to help do local research to help local farmers. We can't come in with radical change. Long-term programs are what help you learn and make change."
Traveling Rwanda, you really can feel an optimism and entrepreneurial spirit among Rwanda's younger generation. RICA's first class will graduate in August 2023 and Adda will be among them.  
"I want to change the narrative of agriculture," she says, and empower small farmers with new agricultural technologies "to overcome food insecurity in Africa through providing research and extension services." 
As we wrapped up lunch (delicious by the way), we agreed that what Adda is really doing is public health. When she graduates, she'll be on the forefront of helping generations raise more plentiful and nutritious food, with sustainable water practices, for greater profit, resulting in healthier families.