It's hard to imagine recommending a movie that largely takes place in hospital waiting rooms and cafeterias inside a nondescript, state-run medical facility, but that's exactly what you can expect in the new film ORDINARY LOVE (Bleeker Street, 2020), from husband-wife director pair Lisa Barros D'Sa and Glenn Leyburn and screenwriter Owen McCafferty.  
Academy Award winner Liam Neeson and Oscar nominee Lesley Manville both give outstanding performances
This powerful film depicts the harrowing experience of Joan, a middle-aged woman undergoing breast cancer treatment with the support of her husband Tom. It owes its success in part to McCafferty's thoughtful, semi-autobiographical script, which was obviously informed by his own familiarity with modern breast cancer treatment after his wife Peggy was diagnosed and treated for breast cancer a few years ago. But much of the credit for the success of the film should also go to its veteran stars, actor and Academy Award winner Liam Neeson (Schindler's List) and Oscar nominee Lesley Manville (Phantom Thread), who both give outstanding performances.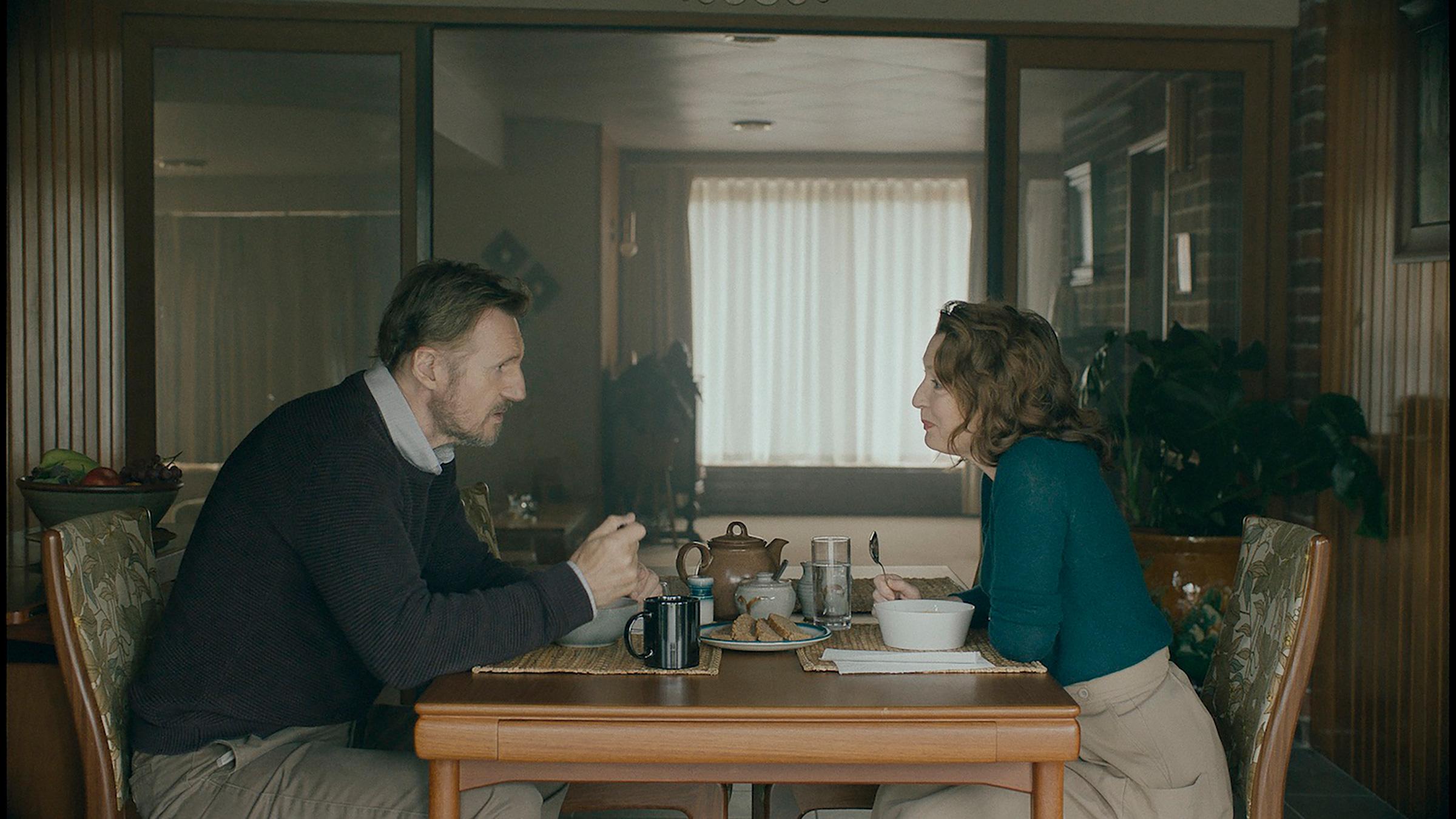 From the beginning of the film, we are shown a contemporary Irish couple who, as the title suggests, are ordinary in every imaginable way—comfortable but not rich, driving a sensible station wagon, arguing about which juice to buy at the supermarket, wearing fitbits and taking a regular walk every evening, leaving the Christmas decorations up too long, and forgetting to feed the goldfish.
1 in 8
About one in eight women will develop breast cancer in their lifetimes
The movie explores what happens when you introduce cancer into this ordinary life and builds its tension around the incredible uncertainty the two face following her cancer diagnosis, her suffering through a grueling year of surgery and chemotherapy, and all the dehumanizing indignities of a baroque and impersonal health care system they endure along the way.
Although the film focuses narrowly on what one modern woman in contemporary Ireland endures, it makes no pretense at uniqueness. Many women (and some men) deal with similar diagnoses, both in Ireland and around the world. About 1 in 8 women will develop breast cancer in their lifetimes, and it is the most common cancer in women worldwide and the second most common cause of cancer overall, accounting for about 12 percent of all new cancer cases.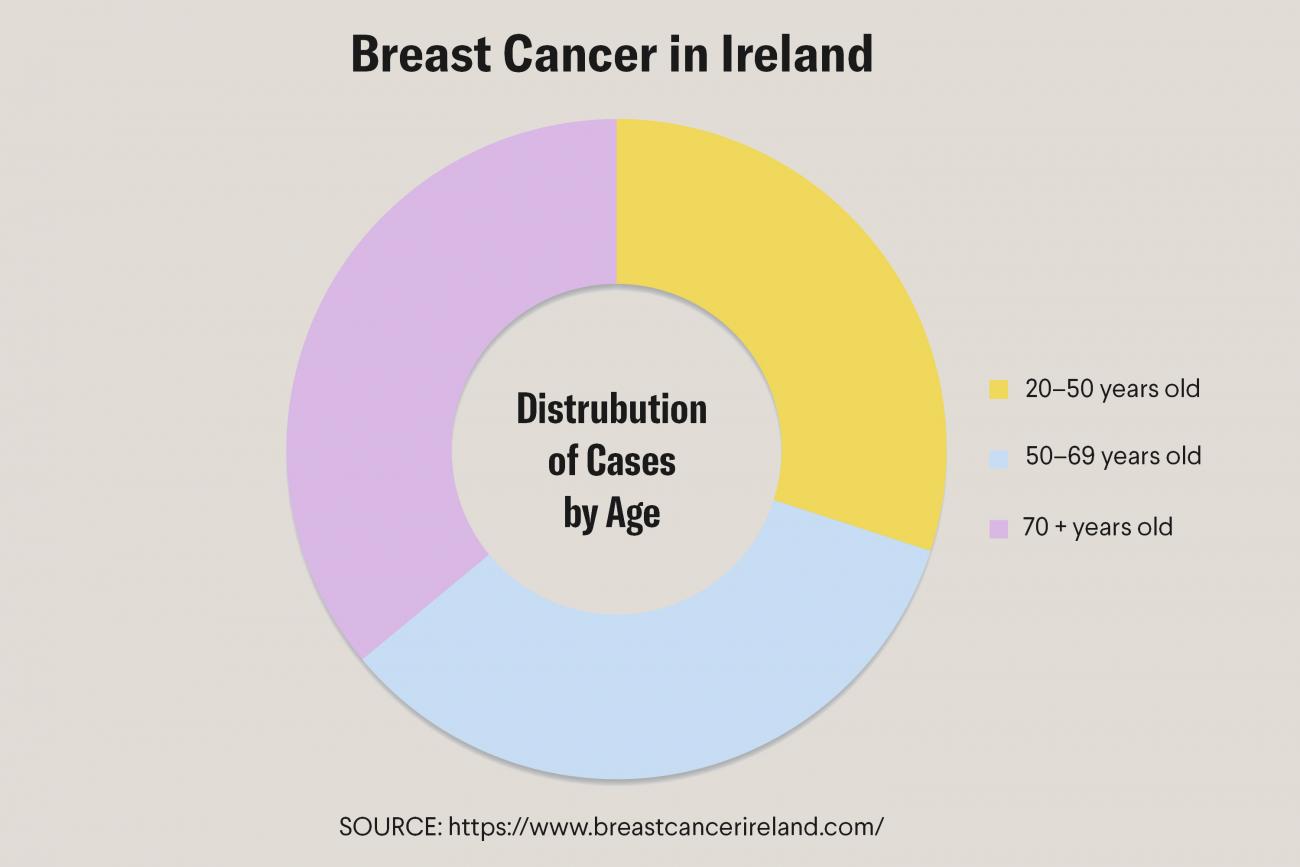 What is unique about the movie is that it's not really about cancer so much as it's about what people talk about and how they behave when confronted with cancer. The real drama is Joan confronting her own fear, the main tension is between her and Tom, and cancer is the 800-pound gorilla in the room throughout the whole movie.
"Hospitals remind me of death," Tom says.
"Lovely," replies Joan.
"You know what I mean," he says.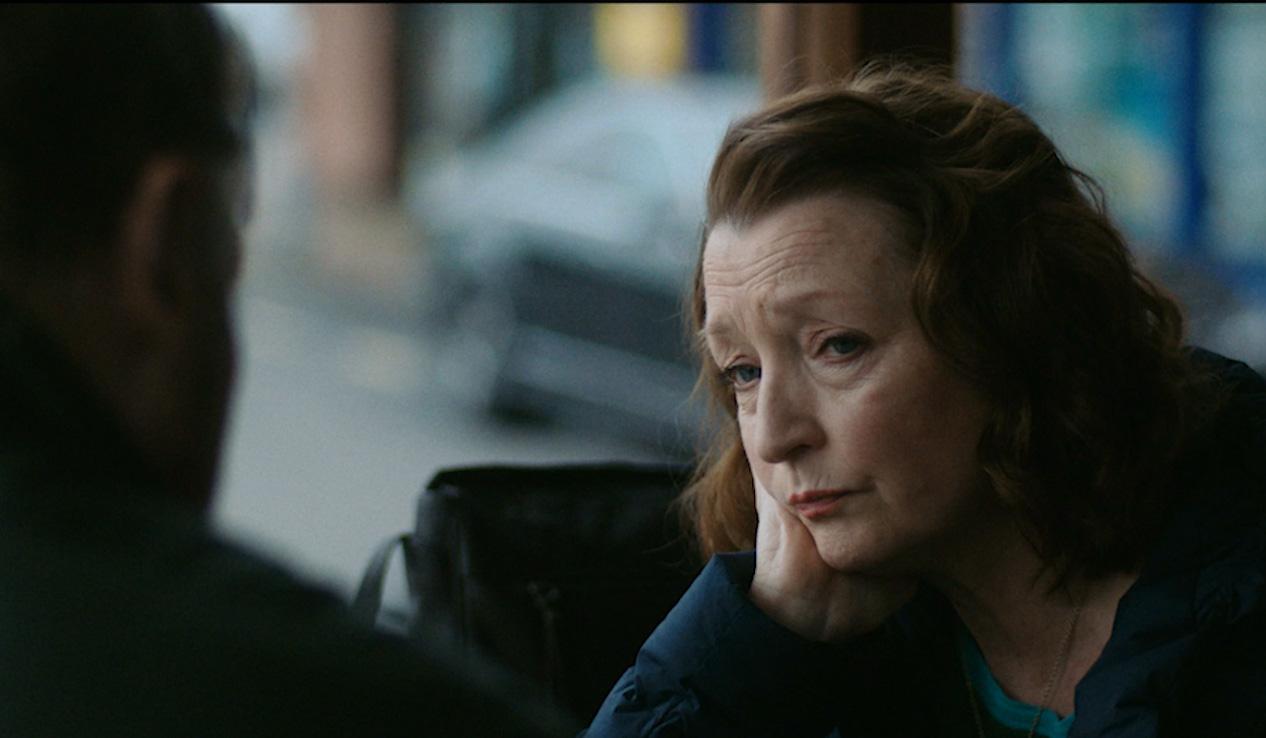 Some of the scenes in the film are excruciating to watch—the punch of the biopsy needle or the press of the mammogram machine—and that seems to be exactly the filmmakers' point. Squeamish viewers need not be concerned, however. We are spared graphic scenes of gore in surgery or other graphic depictions in favor of a more poetic treatment through the camera.
The filmmakers use long lenses and tight focus to pull in on Manville's face as she conveys an ocean of emotion with a simple wince. They depict powerful visual imagery, at times perhaps taking inspiration from real life, such as when a nurse marks Manville's bare breast with a bright red "X" from a sharpie.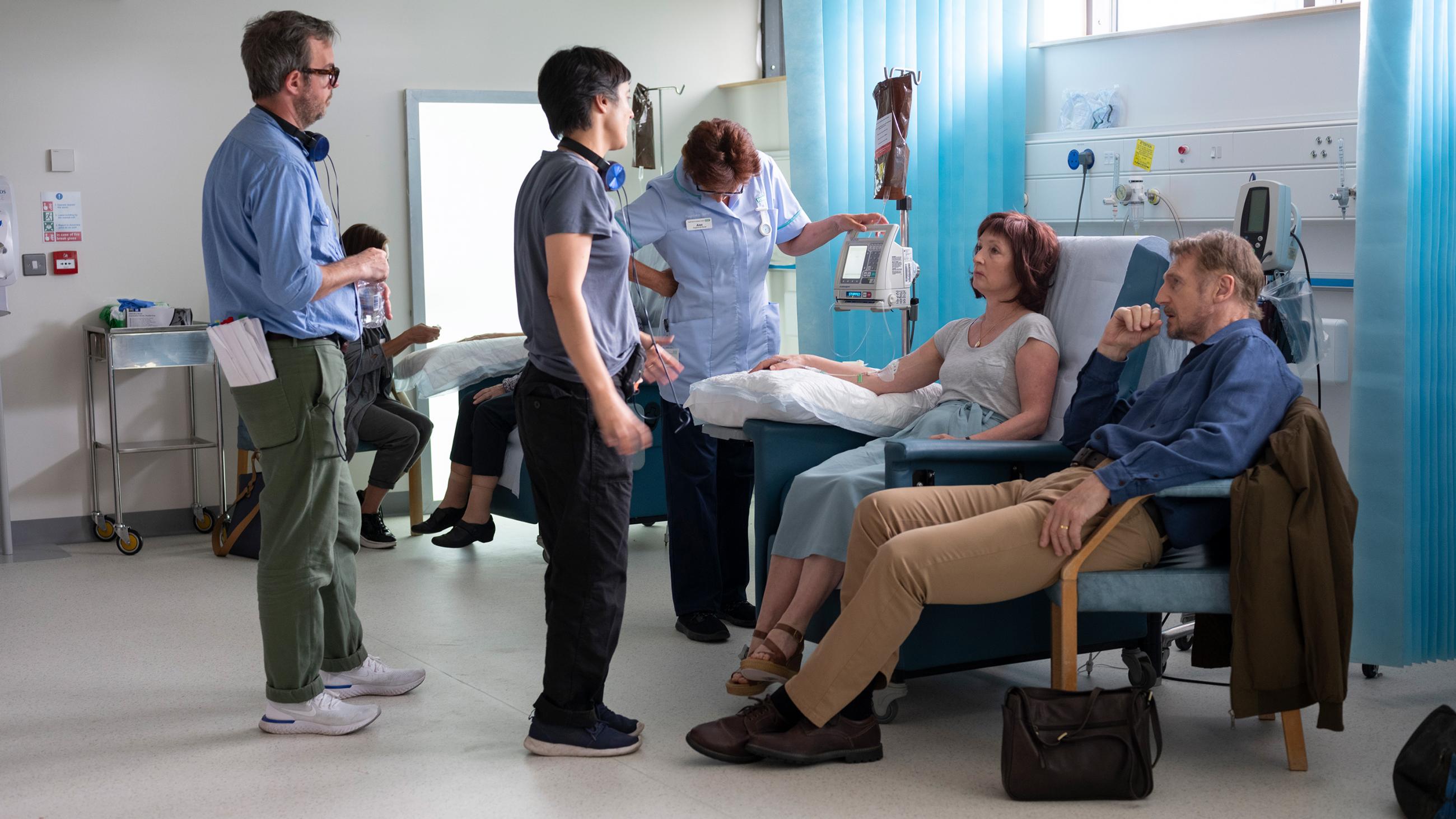 Other times they use more creative, allegorical devices. Surgery is depicted in a dream sequence as a creepy train ride. A mammogram is given a visually striking treatment as Manville silhouetted against a brilliant blue background. The color blue is used creatively throughout the movie in lighting and set design. In one scene there is blue light bathing Joan inside the donut of a CT scanner. In another she is wrapped in pink sheets at home before the camera cuts to her bathed in blue sheets at the hospital.
The movie is something of a stinging indictment of the impersonal nature of modern medicine and the sometimes astounding uncertainty of modern science
There's an element of freshness in the acting as well as the cinematography. In preparing for the role, Mansville said she sought to maintain the authenticity of Joan's experience by doing very little preparatory research, as she normally would for any other role. "Everything that happens to Joan happens to her for the first time," Mansville said in a statement released to the press. "What I did look into was how women feel after chemo and the loss of their hair. I spoke to many people and did some reading up on that."
However esthetically stylized it is, the movie is also something of a stinging indictment of the impersonal nature of modern medicine and the sometimes astounding uncertainty of modern science. Tom complains you can never get a straight answer from the doctors. Several times he and Joan become frustrated trying to read the tea leaves of vague consultations. "If it were good news, she'd be back right away," Joan says. They wait. When she receives a preliminary risk assessment of 3 on a scale from 1 to 5, the two characters are left with no guidance by the doctors to argue what that means—is 3 closer to 1 or closer to 5?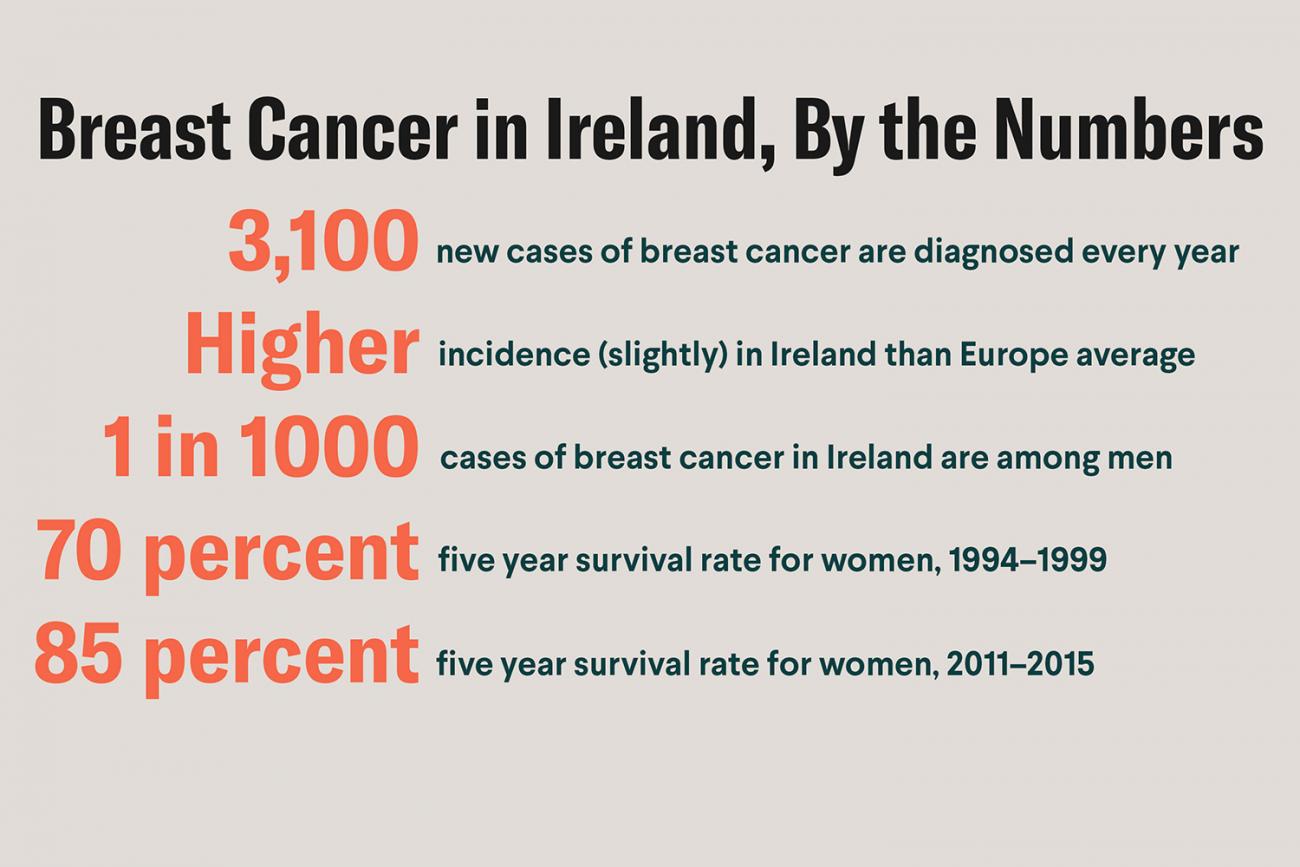 We see the institutional nature of Ireland's large, national modern health care system on full display. There are random, computer-generated appointment letters. Some of the doctors seem to lack compassion even when they are doing the right thing—such as when her surgeon offers Joan the cold assurance of being willing to discuss, "of course," her options for reconstruction.
Caring for a loved one with cancer can exact a heavy physical and psychological toll
A parallel narrative in the film depicts Neeson's struggle. He gives an equally powerful portrayal of a family caregiver, an experience that can be grueling in its own right. Caring for someone with cancer in a non-professional capacity is basically a full-time job—and is hugely expensive. Quite aside from direct or indirect medical costs, the cost to the caregiver of looking after a loved one can average upwards of $4,809 per month, according to a recent McGill University study. The largest amount of this cost goes to time spent. A National Cancer Institute study a decade ago found that on average providing care for all types of cancer consumed an average of 8.3 hours a day for caregivers over the course of 13.7 months.
Caring for a loved one with cancer can exact a heavy physical and psychological toll. Between 40-76 percent of cancer caregivers suffer significant insomnia, and data shows they are more prone to distress, depression, and other psychological illness—especially people who care for family members with advanced stages of cancer.
We see this psychological distress hinted at in the film when Neeson's character starts smoking and increases his drinking. The stress also boils over into fights between Tom and Joan.
"We're both going through this," Tom says at one point.
"No we're not," snaps Joan.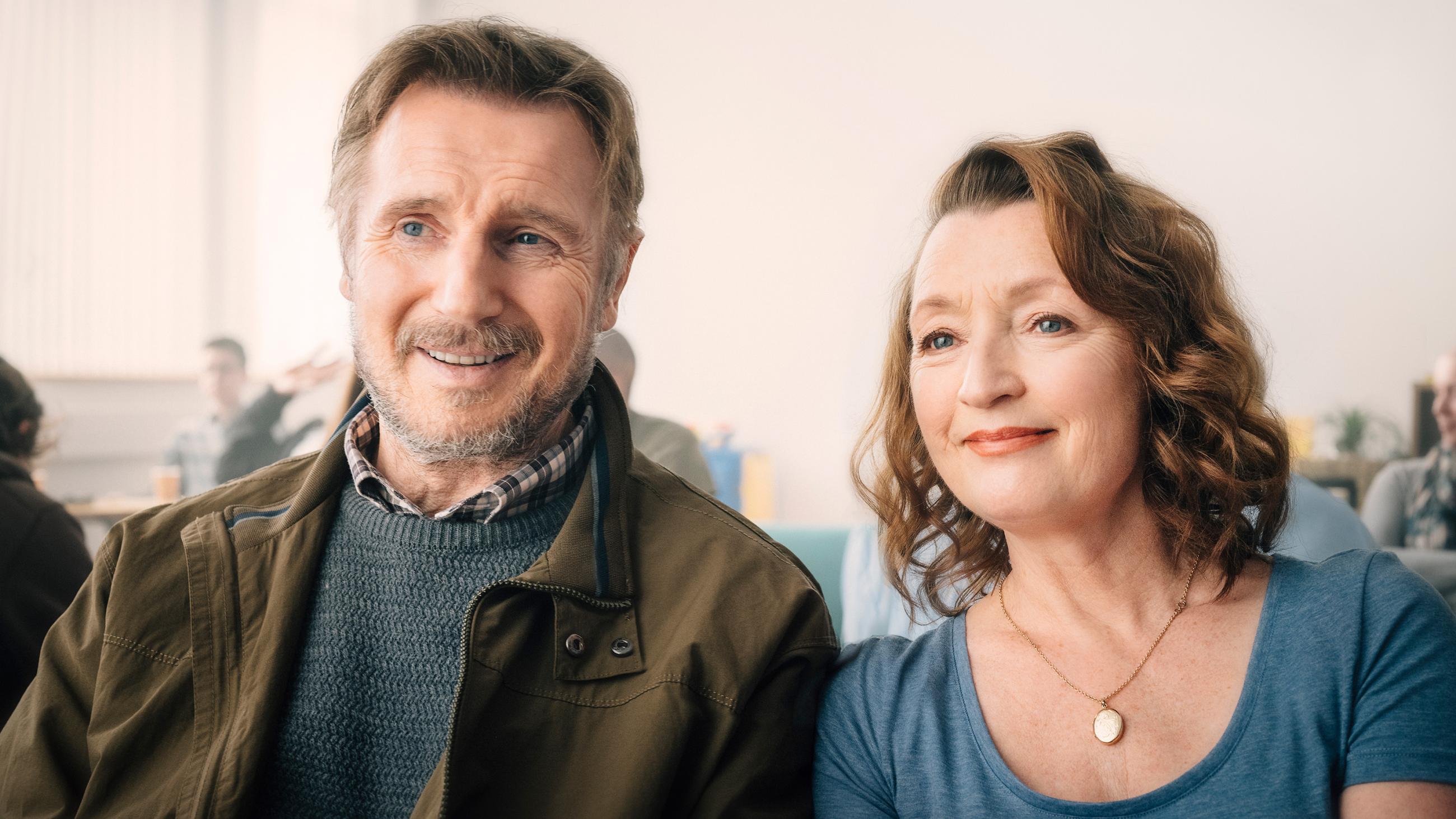 Reflecting on the role, actor Neeson said in a statement released to the press, "I've never done a film where the couple are so closely embroiled in each other's lives and emotions and have been through quite so much together."
It's the love of two people who give everything to each other, despite all life throws at them, and through it all are able to preserve hope
Some other things the movie does very well are showing the bonds of camaraderie and compassion that emerge between strangers suffering the same sorts of illness. This has been depicted powerfully before in movies about other diseases, like AIDS (The Philadelphia Patient, And the Band Played On). The movie also accurately depicts women of all ages being treated alongside Joan in the clinic, including a woman who appears to be in her twenties. That rings true statistically. Of 3,100 new cases of breast cancer diagnosed annually in Ireland, some 30 percent are in women between the ages of twenty and fifty. (See pie chart in this story above).
In the end, what the movie does best is to betray its own title. We are told that this is an ordinary love, but we don't buy it. Ordinary love withers and dies. Instead what we find through the experience, this cancer year, is something more extraordinary—something that endures. It's the love of two people who give everything to each other, despite all life throws at them, and through it all are able to preserve hope.