In the movie 1917 (Universal Pictures, 2019), one of this year's Oscar favorites, audiences get a rare glimpse of the horrors of war, following a soldier in what looks like a long, single shot through the trenches of the western front in World War I. Despite a fresh and compelling cinematography and tight story arc, however, the film is somewhat conventional in its narrative. It's an epic tale of bravery and misery in times of conflict told—as war stories almost always are—from a young man's perspective.
The film proves the potential for a single filmmaker with an inexpensive, point-and-shoot camera to reach a pinnacle of artistic expression
The film For Sama, a Channel 4 News/ITN Productions/PBS Frontline's award-winning documentary, stands in stark contrast to that well-worn voice. Also nominated for this year's Oscars—for feature-length documentary—it provides a perspective of the bravery and hardship experienced in an active war zone told from a woman's perspective. Winner of the coveted L'Oeil D'Or ("Golden Eye") prize for best documentary at the 2019 Cannes Film Festival, as well as the Grand Jury Award for best documentary feature at the 2019 South by Southwest Film Festival, the film is a remarkable achievement for filmmaker Waad al-Kateab (who shares directing credit with Edward Watts). It proves the potential for a single filmmaker with an inexpensive, point-and-shoot camera to reach a pinnacle of artistic achievement.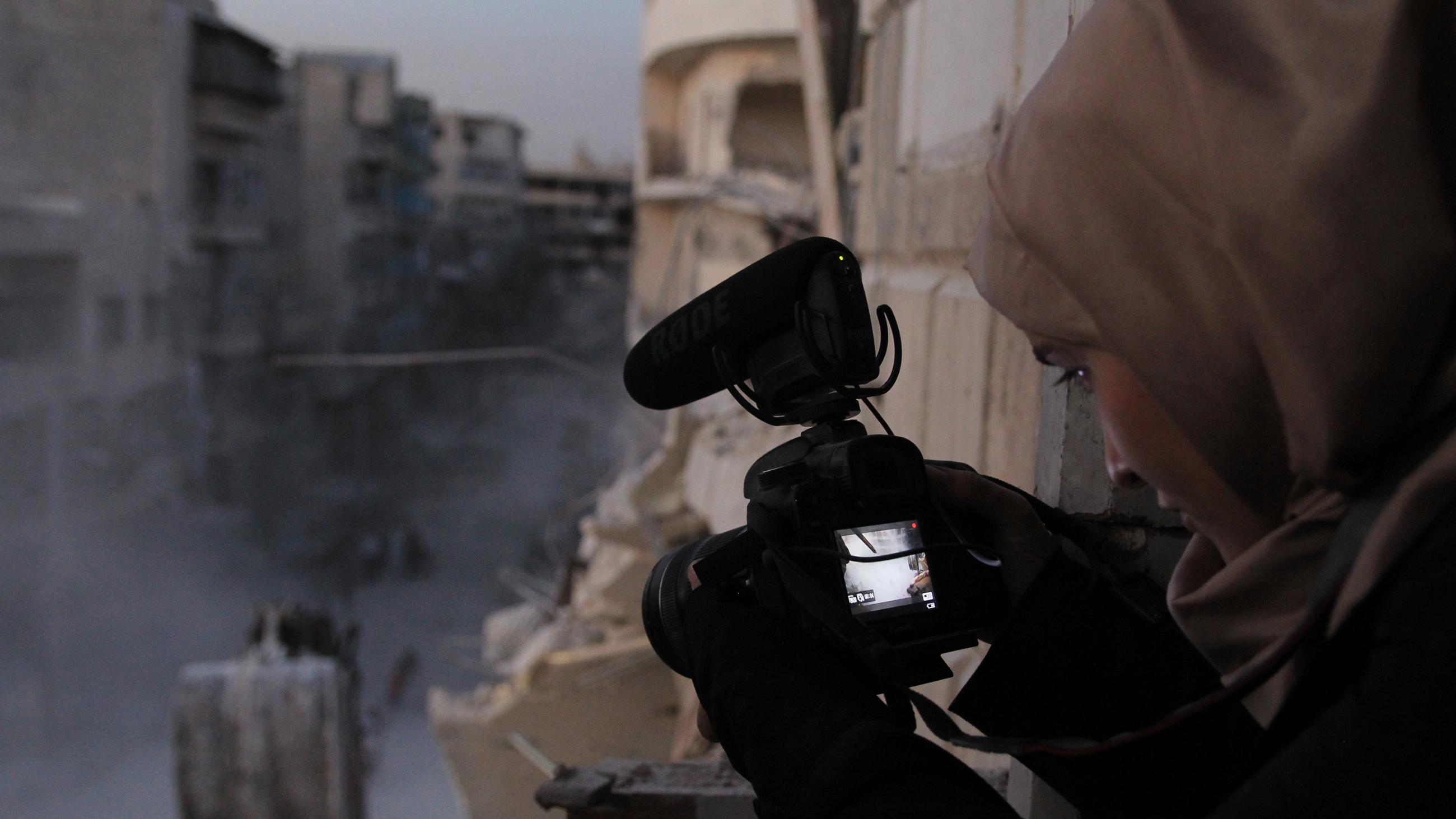 Filmed almost entirely in Aleppo, Syria from 2012–2017, the movie chronicles al-Kateab's life as a young mother in and around a city hospital where her husband is a doctor. Shot in an autobiographical style, the film depicts her love, marriage, pregnancy, and her daughter's birth against the backdrop of the uprising against Syria's Bashar al-Assad government during that time period. It gives a gruesome glimpse of what it's like to raise a small child during a prolonged siege in a city that ultimately falls to military forces.
For Sama bills itself as an "intimate and epic journey into the female experience of war," and on that claim it does not fail to deliver. Even though it's shot mostly with a hand-held camera, it feels epic because of the way it thrusts the viewer into Aleppo. Audiences will feel at times like they are on the front lines, looking out for snipers and hoping the next bomb falls no closer than the last.
The film succeeds the most where it juxtaposes ordinary maternal happiness with extraordinary bravery amidst conflict-ridden horror
The immediacy of the story gives the viewer a natural intimacy with filmmaker as she moves from being college student, to activist, to journalist, to young mother, and finally refugee. The film eschews most of the common conventions of modern war documentaries. There are no interviews with experts or famous people. There's no B roll of news footage showing tanks rolling, political leaders at press conferences, or people in the streets. We see no maps or illustrations outlining the progress of the war. There are no staged re-enactments of events or cutaways to the director talking about what was happening while she was filming. Instead, all we see is what the filmmaker and her daughter saw—an immediate, first person, unscripted, and claustrophobic encounter with bloody war.
The immediate and raw feel of the footage can also make the film unforgiving at times. People are introduced and interviewed in one scene only to be discovered killed in the next. Some we never see again—or learn what becomes of them. We see footage of helicopters dropping barrel bombs, dead bodies dredged from a river, children choking from what we're told was chlorine gas, mothers crying over dead children, and several aerial shots showing the sarcophagal wreck of a city Aleppo has become.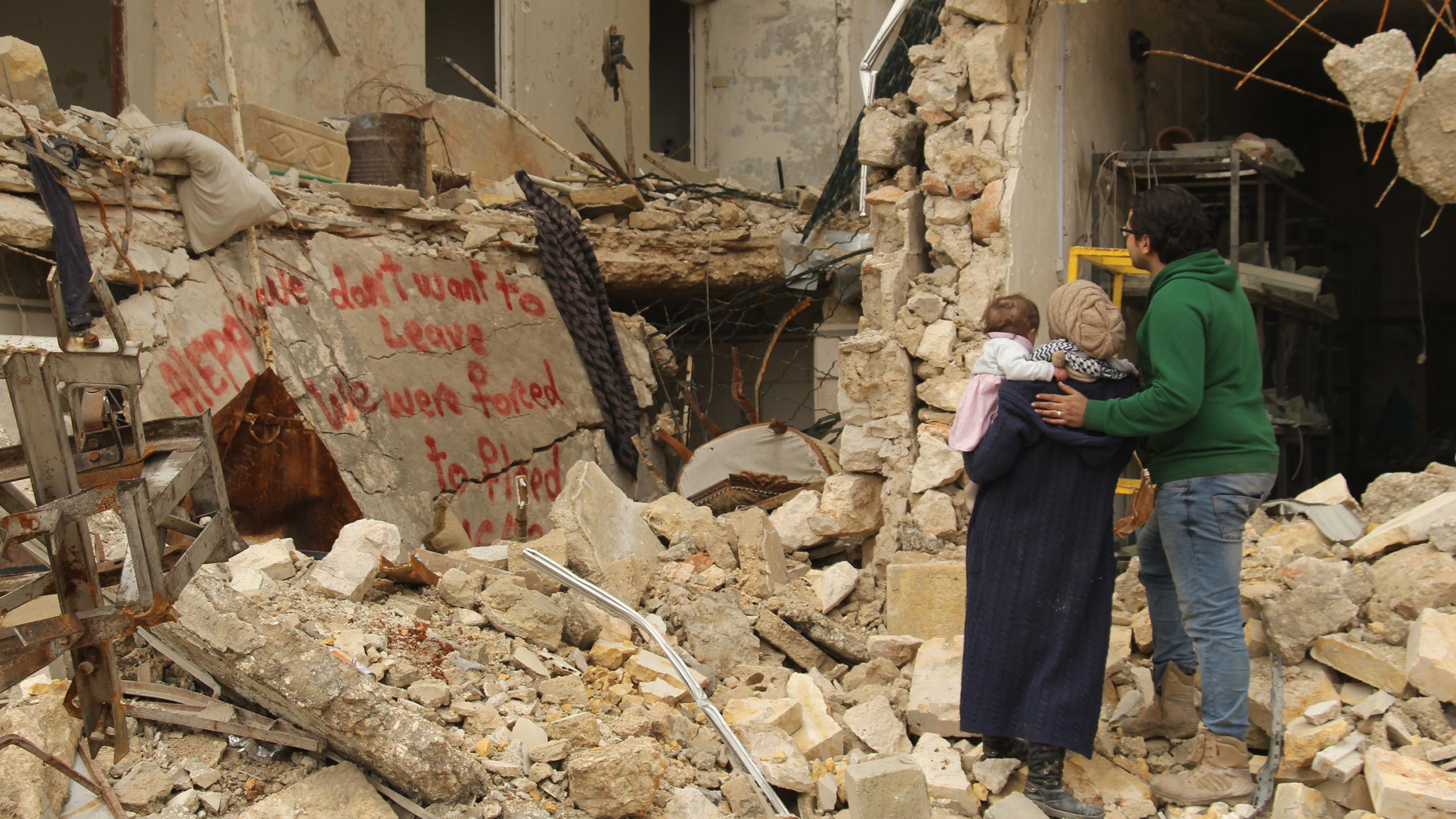 The film jumps around in time somewhat, and in other documentaries, such a lack of linearity would be an unwelcome distraction. But in this film, depicting a motherhood in pieces actually works. Between the scenes of cold destruction and gruesome death, we get warm snapshots of life that appear almost normal. We see the filmmaker dancing at her wedding, get excited over the results of her home pregnancy test, delight while looking at her first ultrasound, pose for a selfie wearing an oversize shirt with the words "Coming Soon" printed across the belly, and cry tears of joy upon while holding newborn Sama for the first time.
The film succeeds the most where it juxtaposes ordinary maternal happiness with extraordinary bravery amidst conflict-ridden horror. In one scene, reminiscent of the device Soviet film director Mikhail Kalatozov's employs in his 1957 noir masterpiece The Cranes are Flying, we see shots of the filmmaker at home in her nice walled garden—and then later shots of the same garden covered by dust and bombed out by shelling.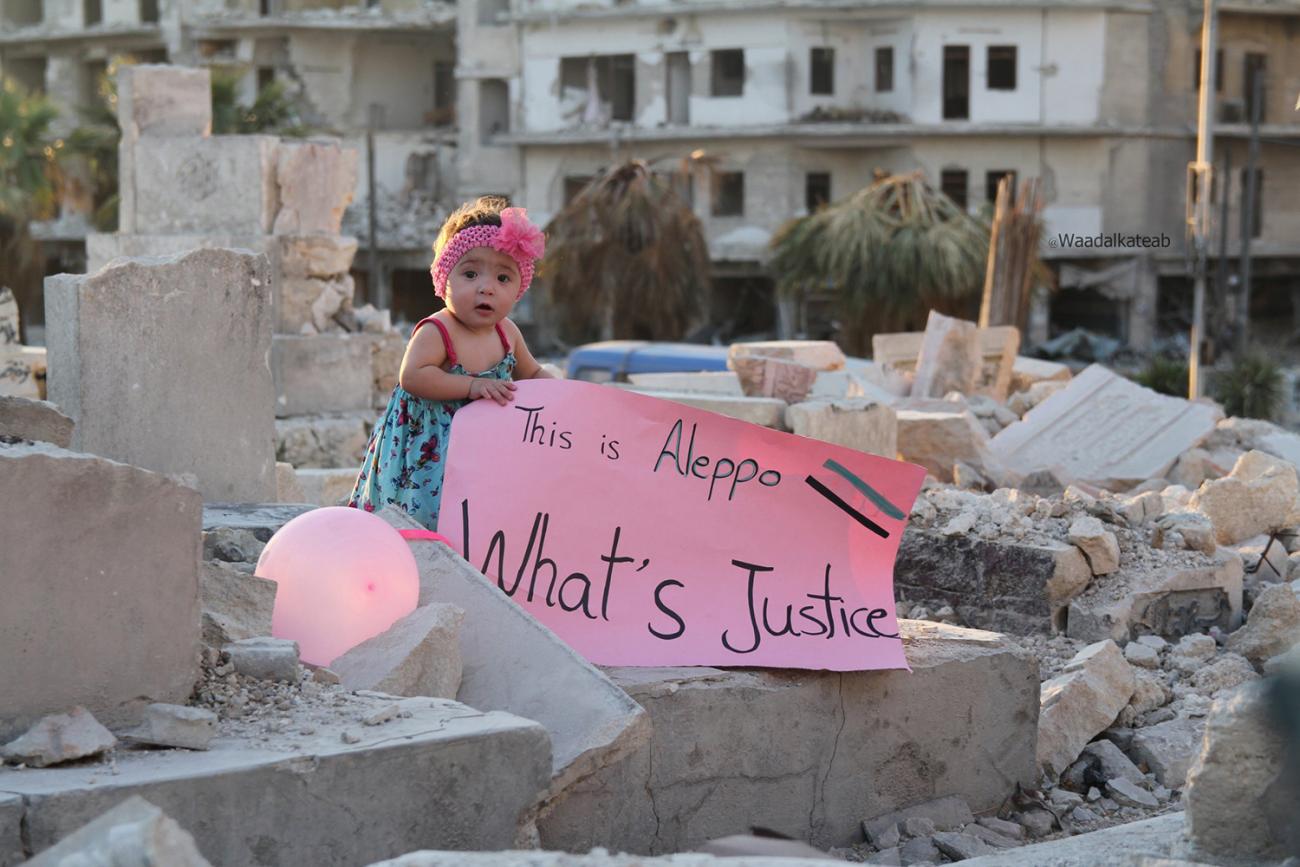 In other scenes the contrast is more immediate. Children play in bomb craters. They laugh as they slather bright colored paint on burned-out busses. A father plays peekaboo with his child in a bomb shelter. A mother sings nursery rhymes while ducking from snipers. Several people warm their hands on an unexploded ordinance that has just smashed through their building. We see Sama's makeshift nursery, which is carved out of a corner of the hospital stacked with sandbags. "We do our best to make it feel like home," the filmmaker says.
In her unflinching autobiographical film, Waad al-Kateab depicts a strange and dangerous early motherhood full of fear, hope, and horror.
Moments like those are why this movie succeeds, and they serve as a powerful example of how the generation-old digital revolution is alive and well in documentary filmmaking today. What that revolution promised us more than anything else was simplicity: the ability for a single artist to lead her audience skillfully down a long road to witness her journey at its most raw and compelling and make great art on the absolute cheap. In her unflinching autobiographical film about motherhood, Waad al-Kateab does just that—depicting a strange and dangerous early motherhood full of fear, hope, and horror.
The film saw a small theatrical release in select cities the United States and around the world in 2019 and is now airing on PBS in the United States and Channel 4 in the United Kingdom.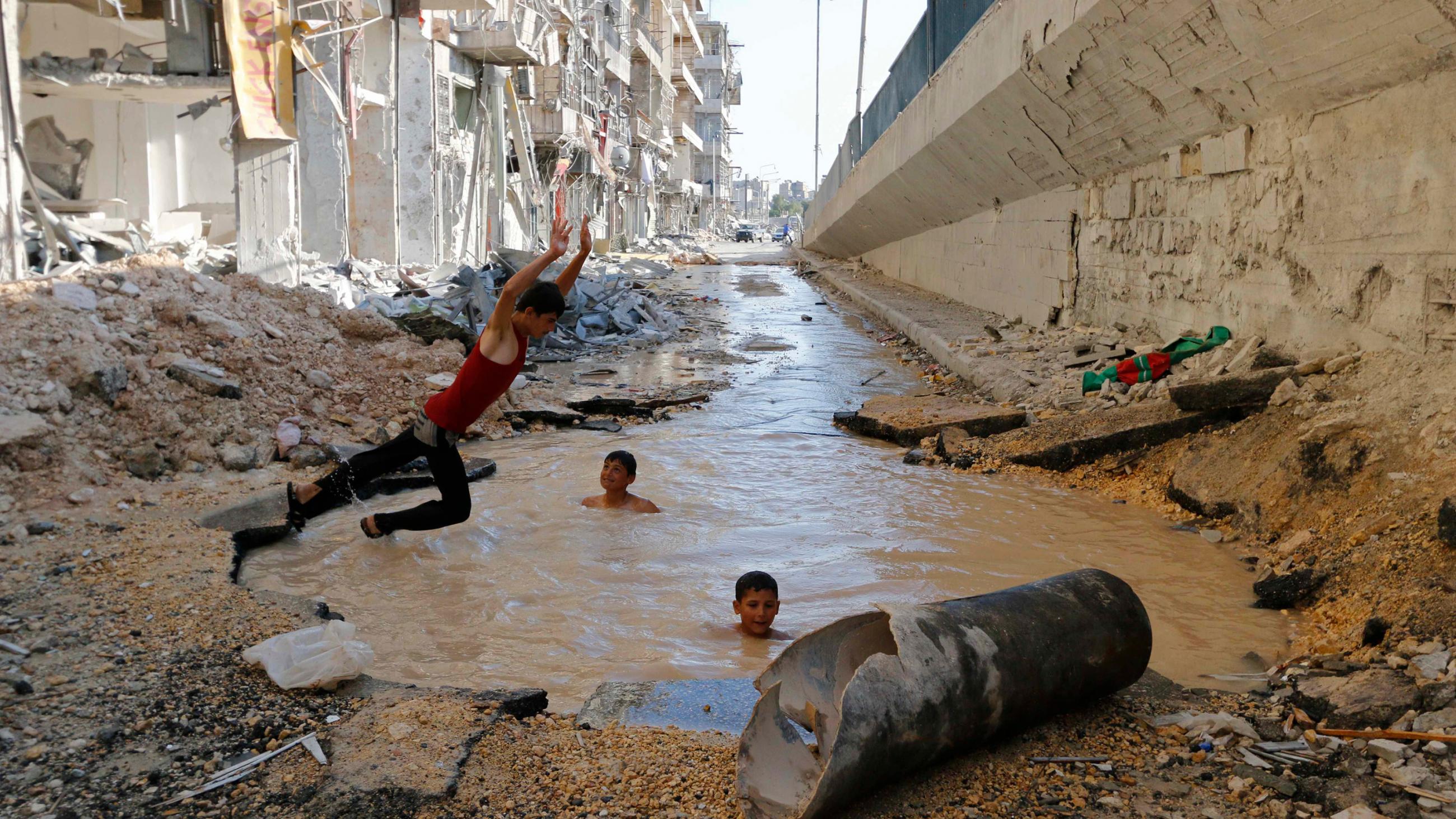 WARNING TO VIEWERS: For Sama contains decidedly mature content, depicting events taking place in and around a hospital during the Syrian Conflict. The film includes extensive footage of actual emergency medical responses during wartime, which is not suitable for all viewers. People who are squeamish or faint-hearted may find it very hard to watch at times. Several scenes show gravely wounded people, some undergoing surgery and others suffering massive amounts of bleeding. The film makes references to torture and murder, and there are gruesome shots of dead bodies. It also depicts multiple scenes of deeply traumatized, grieving people who are screaming inconsolably for lost loved ones, and these are deeply disturbing and difficult to watch.