When the COVID-19 pandemic hit, economic and emotional turmoil were palpable inside America's grocery stores. Grocery store aisles were barren and fears of contracting the virus were compounded by overcrowded stores with long wait times. To stay safe and avoid the chaos, shoppers began looking for alternatives to in-store shopping. Grocers nationwide responded by expanding their availability of online shopping, adding delivery models, and offering curbside pick-up.
Despite tremendous growth of online grocery shopping during the pandemic, disparities exist
From November 2019 to November 2021, Walmart's online sales grew by 87 percent, while Amazon experienced a 200 percent increase in profits during the pandemic, partially due to Amazon food purchases. A nationally representative survey found 34 percent of households reported grocery shopping online more since the beginning of the pandemic and 60 percent of these households planned to continue shopping online after the pandemic ends.
Though consumers started shopping online to avoid contracting the virus, online shopping has other benefits as well; consumers prefer the convenience and diverse food options provided by online shopping, suggesting this pandemic trend is here to stay.
Despite the tremendous growth of online grocery shopping, uptake is not universal. Significant disparities exist in who is using the service and who is allowed to use the service, resulting in inequitable access. For example, households with college-level education or higher are more likely to shop online than households with an education of high school-level or less, while households with children are more likely to shop online compared to households without children. And many households with low-income that participate in federal nutrition assistance programs such as the Supplemental Nutrition Assistance Program (SNAP) and the Special Supplemental Nutrition Program for Women, Infants, and Children (WIC) do not have equitable access to online grocery shopping. This inequity impacts a large portion of America's population, as roughly 1 in 8 people depend on SNAP and almost half of all infants depend on WIC for nutrition assistance each month.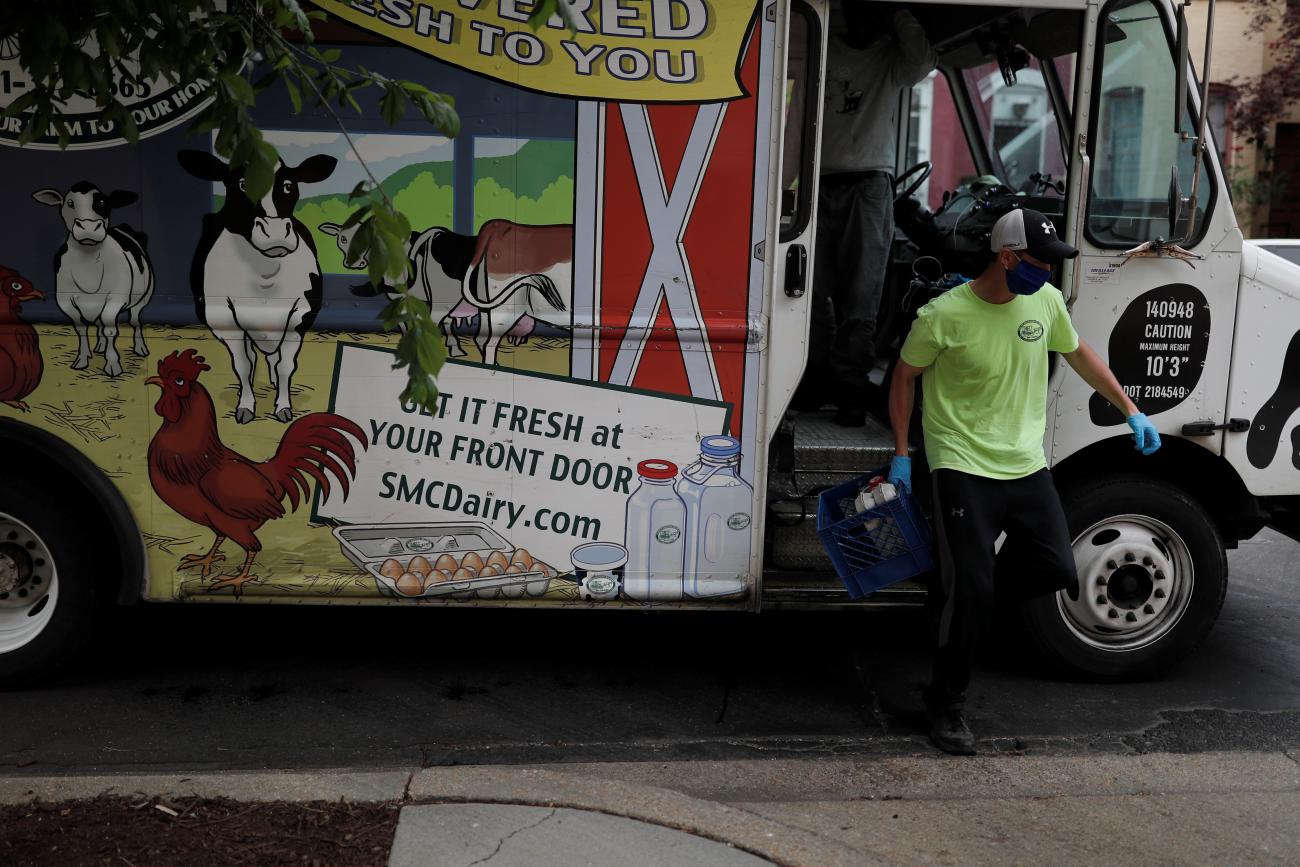 Limitations of Online Shopping for SNAP and WIC Participants
The SNAP program provides 42 million Americans with an Electronic Benefit Transfer (EBT) card that can be used to purchase groceries at authorized stores. To be eligible, one must meet certain minimum requirements including having a gross monthly income at or below 130 percent of the federal poverty line. The USDA SNAP Online Purchasing Pilot (OPP) allows SNAP recipients to order and purchase groceries online using their EBT card. However, this benefit is not equitably available or utilized by all SNAP participants. Personal, structural, and financial challenges create barriers to uptake among SNAP shoppers. For example, few independent grocers have the financial or technical resources necessary to enroll in the OPP. This leaves some communities, who are underserved by major retailers, commonly in rural areas, without access to online shopping. Plus, SNAP shoppers may have unreliable internet access, low digital literacy, or lack secure delivery locations necessary for online shopping and delivery such as individuals who are homeless or living in emergency housing.
Over 6 million women, infants, and children receive a nutritious supplemental food package, breastfeeding promotion and support, and nutrition education through WIC. To be eligible, one must be a woman (pregnant, breastfeeding, or postpartum), infant, or child that meets the income requirement and is at "nutrition risk" as determined by a health professional. Due to federal regulations, WIC participants are not currently allowed to purchase foods online using WIC benefits. This denies WIC participants the full benefit of online ordering and purchasing, as they must still pay in-person at grocery pickup. Until online purchasing is available to WIC participants, grocery stores in Tennessee and Oklahoma have been piloting a WIC online ordering model that provides WIC participants the opportunity to place an online grocery order through a retailer's website or mobile app and then pick up and pay for that order using their WIC benefits at the store. Some documented challenges to using the WIC online ordering model include inability to identify WIC benefits items in the online shopping platform and lack of access to appropriate digital devices. However, compared to shopping in-person, online ordering provides convenience and ease, especially for pregnant women and those with young children.
34 Percent
34 percent of U.S. households report grocery shopping online more since the start of the pandemic
Equitable Access to Online Shopping
Opportunities exist to support equitable uptake and expansion of online grocery shopping access for SNAP and WIC participants. First, improving benefit adequacy is one of the most critical steps in increasing SNAP effectiveness. In October 2021, the maximum SNAP benefit amounts increased by 21 percent, but evaluations are needed to determine if the benefit increase is sufficient. Several policy changes are recommended for supporting healthy food access and nutrition security in the SNAP Online Purchasing Pilot including:
• Provide technical and financial assistance to increase participation of diverse retailers
• Subsidize or eliminate online purchasing and delivery fees
• Expand broadband services
• Strengthen health promotion requirements for authorized retailers
Investments in WIC online shopping are underway, with Walmart recently joining a pilot for WIC online ordering that will allow WIC participants in Washington State and Massachusetts to make online transactions using their WIC EBT card. Until online purchasing is available to all participants using WIC, online retailers can support online grocery ordering with in-store or curbside payment by utilizing a "click and collect" model. This model has been found to be feasible and acceptable by both WIC retailers and WIC participants. Future efforts needed to expand availability and access to WIC online ordering include federally permit online transactions using WIC benefits, encourage widespread adoption of Click and Collect model among WIC vendors, reduce or eliminate delivery fees, clearly label WIC-approved items online, and support research efforts that identify strategies to optimize the WIC online shopping experience and barriers to utilizing WIC online ordering among vendors and customers. To improve the safety of online grocery shopping, it is critical that privacy safeguards are in place to protect families from unfair and manipulative marketing practices in the online retail space.
While online grocery ordering expanded during the COVID-19 pandemic as a means to maintain social distancing and keep families safe, it is now a trend that will last long after the pandemic ends. But currently, online grocery ordering is still a luxury that is not accessible to all people in the United States, especially those who utilize SNAP and WIC. Promoting the equitable uptake and expansion of online ordering in the SNAP and WIC programs is a feasible tool for supporting food access and nutrition security for families with low-income who may benefit the most from these services.