COVID-19 has wended its way into every corner of life, including the military, from bases to the front lines.
With tensions heightened in Ukraine over a possible Russian conflict, concerns about COVID-19's impact on troops is high. Not just in Ukraine, but across the globe, the pandemic has changed the conversation around military preparedness and challenged and reshaped military relations within countries and between nations.
Defense spaces have also served as proving grounds for medical innovation. For instance, in many countries, the armed forces have been at the forefront of vaccine development, administration, and other pandemic aid. And personal protective equipment has become an indispensable part of many military uniforms. 
Our slideshow shows some of the ways COVID-19 and militaries have collided. 
COVID-19 and Armed Forces Around the World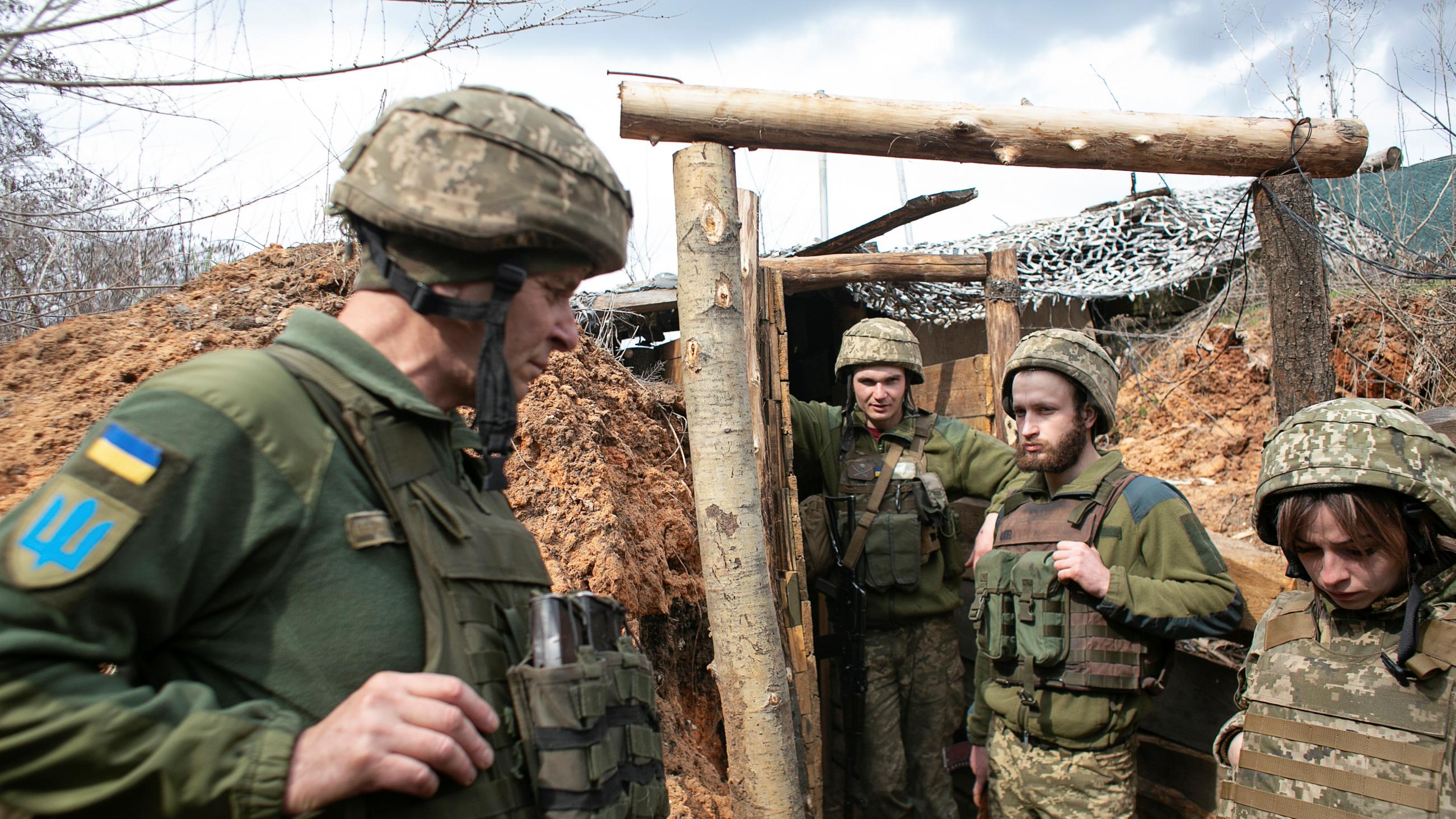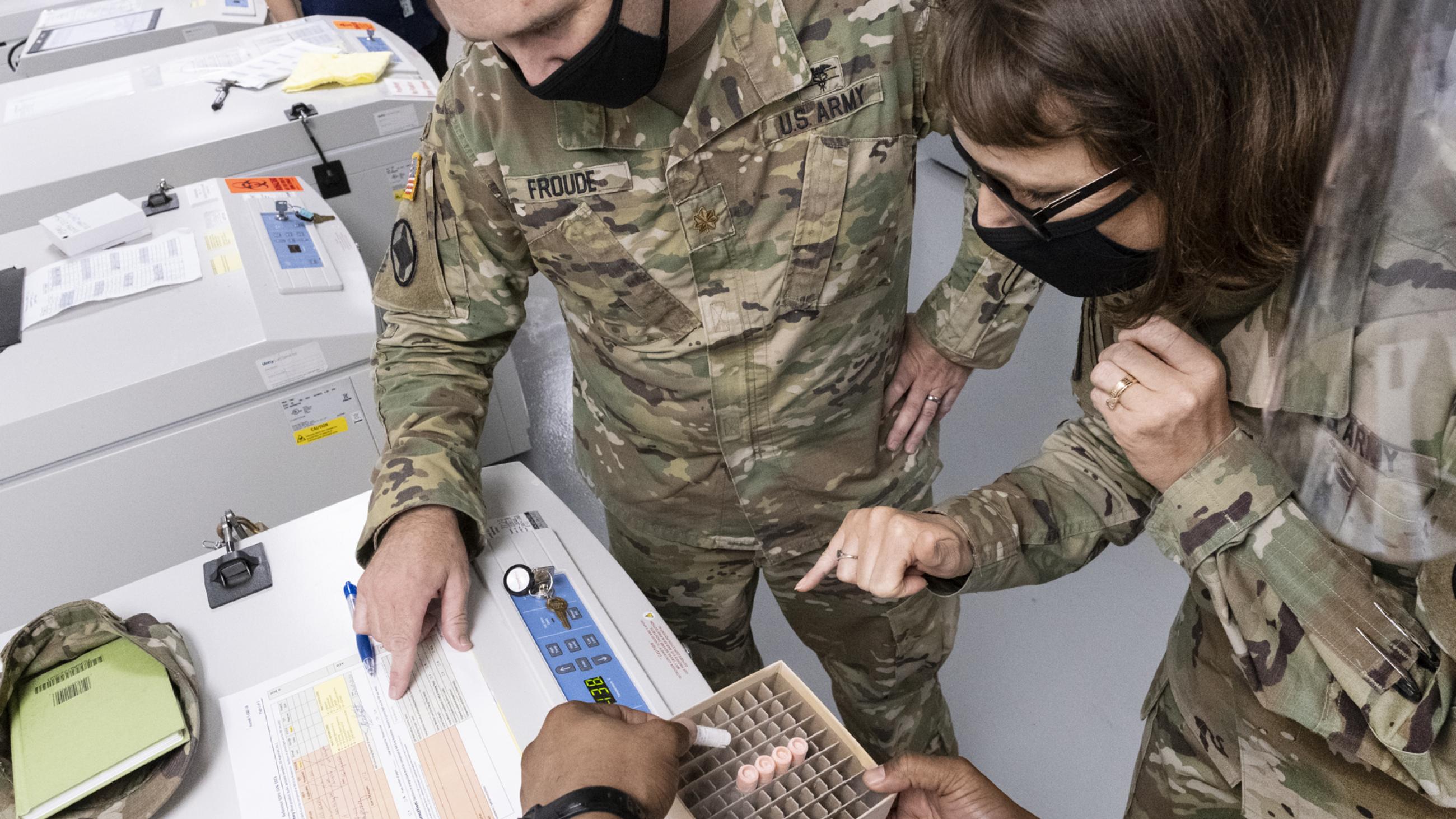 Uganda
Uganda's military has been criticized for excessive use of force and violence against civilian populations. But the country's inter-agency COVID-19 task force, which is led by the army, has made strides in military-civilian relations by establishing hospital facilities and successful treatment of COVID patients.
Here a young woman receives relief food during a government distribution exercise for civilians affected by lockdowns, a measure to prevent the spread of COVID-19, in Kampala on April 4, 2020.
REUTERS/Abubaker Lubowa
China
China's CanSino COVID-19 vaccine, developed in partnership with the People's Liberation Army (PLA), was one of the first vaccines available, and PLA soldiers were among the first to receive it. China has ramped up its recruitment of scientists and medical researchers as part of its efforts to modernize its military.
In the photo, medical personnel with the PLA Air Force arrive at Wuhan Tianhe International Airport following a COVID-19 outbreak in Wuhan, China, on February 17, 2020.
China Daily via REUTERS
Ukraine
When Ukraine received its first COVID-19 vaccines in February 2021, soldiers and medics were designated a priority vaccination group, but many of them refused the vaccine, citing insufficient information. False stories circulated by Russian media of Ukrainian soldiers dying after getting vaccinated may have also contributed to their hesitancy.
Here members of the Armed Forces of Ukraine gather at fighting positions on the line of separation near the rebel-controlled city of Donetsk, on April 15, 2021.
REUTERS/Anastasia Vlasova
Tunisia
In July 2021, Tunisia's military health service was tasked with administering vaccines, in particular to those who lived in difficult-to-reach rural areas, as Tunisia grappled with what was then one of Africa's most severe COVID-19 outbreaks.
Here Colonel-Major Dr. Adel Alamri gestures as people receive the COVID-19 vaccine inside a primary school in Jendouba.
REUTERS/Jihed Abidellaoui
France
In April 2020, nearly a third of sailors aboard France's Charles De Gaulle aircraft carrier were infected with COVID-19, forcing an early end to its Atlantic deployment. Serious COVID-19 outbreaks have also occurred on U.S., Philippine, South Korean, and Dutch naval vessels, forcing sailors into quarantine and disrupting their activities.
In the photo, the Charles De Gaulle is docked at the Naval base in Toulon following a large outbreak of the coronavirus disease.
REUTERS/Eric Gaillard
United States
At the nexus of defense and medical technology is the U.S. military whose scientists are developing a vaccine to combat all COVID variants. Russia's army is also continuing to pursue vaccine development, including one in the form of chewing gum.
Here scientists at the Walter Reed Army Institute of Research in the United States remove cell material from liquid nitrogen storage to use in the manufacture of vaccines.
DVIDS/Shawn Fury
China & Myanmar
China has been providing vaccines and other COVID-related aid to both Myanmar's military junta and the rebel groups the Myanmar authorities are trying to combat—in an effort to prevent COVID-19 from spreading across its border with Myanmar.
Members of the People's Defence Force (PDF) cross a muddy path at a training camp in an area controlled by Karen rebels in the Karen State of Myanmar on September 10, 2021.
REUTERS/Independent photographer
Mexico
In many countries, the military has been the main institution responsible for administering COVID-19 vaccines. In addition to executing vaccine drives, the Mexican military also intercepted a plane carrying fake Sputnik V vaccines to Honduras and collaborated with the Russian authorities to investigate the fraud.
Here a Mexican marine soldier carries a cooler containing doses of the Sputnik V COVID-19 vaccine in Xochimilco on the outskirts of Mexico City.
REUTERS/Edgard Garrido
Japan
Tensions flared between Tokyo and Washington after Japan experienced a surge in COVID-19 cases attributed to soldiers on U.S. military bases. Japan had hoped to keep infection rates low with a near-total ban on non-citizens entering the country, but their efforts were frustrated by a loophole that allows U.S. soldiers to travel directly into and out of Japan on military vessels and bypass the usual immigration checkpoints.
Here U.S. Marines arrive at the Marine Corps Air Station in Iwakuni, Japan.
DVIDS/Jeremy Graham
Myanmar
In Myanmar, the military has led the charge when it comes to the country's vaccine rollout, but there have been many difficulties stemming from distrust of the military government, clashes between the armed forces and health-care professionals, and harsh COVID-19 measures that prioritize security over public health.
In the photo, Burmese military officers receive the AstraZeneca Covishield COVID-19 vaccine ahead of the new parliament opening.
REUTERS/Thar Byaw
Brazil
In April 2021, Brazilian President Jair Bolsonaro asked the military to quell social unrest related to the COVID-19 pandemic. At the time, Brazil was experiencing one of the highest fatality rates from COVID-19 worldwide.
Here a supporter of Bolsonaro talks with a Brazilian soldier during a protest against the country's Supreme Federal Court, in front of the army headquarters in Brasilia on June 14, 2020.
REUTERS/Adriano Machado
India
When India's health-care system was overwhelmed by COVID-19, India's armed forces stepped in to help manage the crisis and enforce lockdowns.
Here a soldier stands on guard stands during a twenty-one-day nationwide lockdown to limit the spreading of COVID-19, in Ghaziabad, on the outskirts of New Delhi, on March 28, 2020.
REUTERS/Anushree Fadnavis
Russia
COVID-19 vaccination is not compulsory for Russian service members, but Russia's Ministry of Defence announced in May 2021 that 800,000 of its 850,000 active military personnel had been vaccinated (not including conscripts or military reserves).
Here Russian service members participate in joint military drills involving Russia, Uzbekistan, and Tajikistan, at the Harb-Maidon training ground, located near the Tajik-Afghan border in the Khatlon Region of Tajikistan.
REUTERS/Didor Sadulloev