Which countries will have the highest mortality from COVID-19 come September 1, 2021? The numbers may surprise you. 
When we took an initial look at total COVID-19 deaths recently, our Institute for Health Metrics and Evaluation forecast showed that the countries with the largest epidemics include India, the United States, Brazil,  Russia, and Mexico. This forecast took into account our estimates for deaths that have gone unreported. The percentage of deaths missing from official statistics in these five countries ranged from 31 to 82 percent. 
But when looking at COVID deaths in another way—per 100,000 people—a very different picture emerges. Countries in Central Asia, and Central and Eastern Europe rise to the top with Azerbaijan, Kazakhstan, Bosnia and Herzegovina, Kyrgyzstan, and Belarus topping the list. In Azerbaijan, Kazakhstan, Kyrgyzstan, and Belarus, fewer than 10 percent of COVID-19 deaths have been reported. In Bosnia and Herzegovina, less than half of deaths are included in official statistics. 
Low testing rates help explain the missing deaths. In many countries, a positive PCR test—a COVID-19 test that detects genetic material of the virus using a lab technique called polymerase chain reaction—is required to record COVID-19 as the underlying cause of death. In all of these countries, IHME estimates that PCR testing detected fewer than 15 percent of cases. In Bosnia and Herzegovina, prohibitively expensive testing fees (between $100 and $120 per test) could also help explain the missing deaths, as many people were unable to afford tests. 
What are the factors driving these large epidemics? Low mask use in some countries has played a role. Also, in Kazakhstan and Belarus, levels of human contact (measured by mobility) remained close to normal during recent COVID-19 surges, facilitating transmission of the virus. Policymakers in Bosnia and Herzegovina loosened gathering restrictions, as well, allowing bars and restaurants to remain open amid a winter surge. Additionally, the country's main ski resorts were fully open last December. In Belarus, officials denied the threat of COVID-19 early in the pandemic, dismissed it as a "psychosis," and did not implement restrictions to prevent the spread of the virus. 
Another factor that is increasing the death toll is a lack of access to vaccination. The first vaccinations in these countries began rolling out only recently. For example, in contrast to most countries in Europe, where vaccination began in late December 2020, Bosnia and Herzegovina first procured vaccines in late March 2021, making it more vulnerable to the B.1.1.7 variant-fueled surge that began in January. In a matter of three months, between February and May 2021, deaths from COVID-19 roughly doubled in Bosnia and Herzegovina. 
Between February and May 2021, deaths from COVID-19 roughly doubled in Bosnia and Herzegovina
Since receiving vaccines from COVAX on March 25, Bosnia and Herzegovina has obtained additional vaccines from Serbia, Turkey, China, and most recently, the European Union in the form of donations. On a positive note, IHME projects that infections and deaths will decline between May and July. Starting in August, however, our statistical model indicates that infections are likely to creep back up given that we've found COVID-19 transmission increases during the fall and winter months, similar to patterns seen with other respiratory diseases, such as pneumonia. Next winter, Bosnia and Herzegovina could experience another large surge in deaths. IHME projects that just around 15 percent of the population will have received one dose of a COVID-19 vaccine in the country by September 1, 2021, meaning that many people remain at risk for infection, particularly when it comes to variants.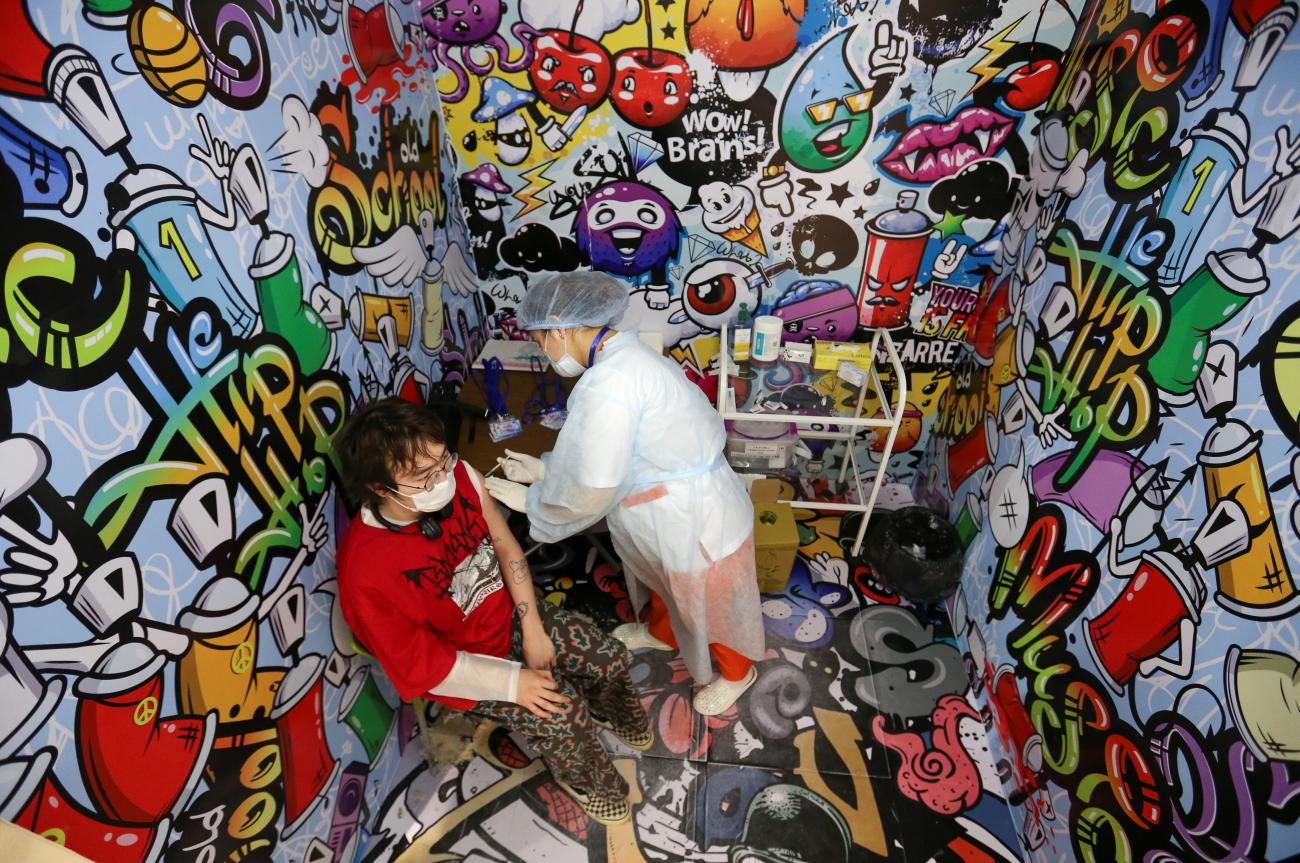 Acquiring additional vaccines and continuing to increase vaccine confidence will be essential for saving lives. Also, since mask use in Bosnia and Herzegovina has never risen above 50 percent, increasing the use of masks and limiting social gatherings is another public health intervention that can prevent a higher death toll in the country. 
Similarly, in the other four countries that are projected to have the highest total death rates by September 1, 2021— Azerbaijan, Kazakhstan, Kyrgyzstan, and Belarus—scaling up vaccination as fast as possible before the winter approaches and promoting mask use will be critical in blunting new surges. Both vaccine access and vaccine hesitancy present challenges for these countries. Unfortunately, similar to Bosnia and Herzegovina, vaccination coverage is likely to be very low in Kazakhstan—IHME projects only around 20 percent of the population will receive a first dose of a COVID-19 vaccine by September 1, 2021. Azerbaijan, Kyrgyzstan, and Belarus are projected to fare better on vaccination, with between roughly 30 and 45 percent of the population receiving a first dose by the first of September. Still, these levels of vaccination are low. 
50 Percent
Mask use in Bosnia and Herzegovina has never risen above 50 percent
Now that we've gained a more accurate understanding of COVID-19's toll, we see significant epidemics that have largely been hidden from the world's view. In these countries, vaccinating the most vulnerable populations (people over 65 years, persons with disabilities, and those with chronic conditions) before the winter surge will be critical for preventing an even larger death toll. In addition, strong public health measures—including increasing mask wearing in public next fall and winter, and using social distancing mandates as needed—will bolster these countries' defenses against COVID-19 as vaccination continues to ramp up. As many high-income countries continue to procure more vaccines, it is vital to ensure equal access for low- and middle-income countries. The longer we delay vaccine access to less wealthy nations, the longer it will take to reach a global recovery from this pandemic.
ACKNOWLEDGMENTS: The authors would like to thank Professor Christopher Murray for his input on the analysis; Rebecca Sirull, Erin Frame, and Spencer Pease for fact checking; and William Dangel for his feedback on the article. 
EDITOR'S NOTE: The authors are employed by the University of Washington's Institute for Health Metrics and Evaluation (IHME), which produced the COVID-19 forecasts described in this article. IHME collaborates with the Council on Foreign Relations on Think Global Health. All statements and views expressed in this article are solely those of the individual authors and are not necessarily shared by their institution.