Which countries will have the highest mortality from COVID-19 come January 1, 2022? The numbers could surprise you. 
When we took an initial look at total COVID-19 deaths, our Institute for Health Metrics and Evaluation forecast showed that the countries with the largest epidemics since February 2020 include India, the United States, Brazil, Russia, and Mexico. This forecast took into account our estimates for deaths that have gone unreported. The percentage of deaths missing from official statistics in these five countries ranged from less than 5 percent to 84 percent. 
Bulgaria, Bolivia, Lithuania, Eswatini, and Peru. In many of these countries, large numbers of COVID-19 deaths are missing in official statistics. In Bolivia, Lithania, and Eswatini, fewer than 40 percent of COVID-19 deaths have been reported. In Bulgaria, less than 60 percent of deaths are included in official statistics. In stark contrast, most COVID-19 deaths are included in official statistics in Peru (more than 90 percent)—the country revised upward its official COVID-19 death estimates in May 2021 based on advice from scientists in Peru and abroad. 
Low testing rates help explain the missing deaths. In many countries, a positive PCR test—a COVID-19 test that detects genetic material of the virus using a lab technique called polymerase chain reaction—is required to record COVID-19 as the underlying cause of death.
What are the factors driving these large epidemics? Bulgaria and Lithuania are in the middle of a Delta variant-fueled COVID-19 surge. The daily death toll from COVID-19 began to rise in August 2021 as the seasons began to change—COVID-19 transmission tends to increase during cooler months. Bulgaria's current surge in deaths is the largest it has seen to date. In both countries, the percentage of people wearing masks is substantially lower than in November of last year, and in-person social interactions, as measured by mobility, are much more frequent. 
Vaccines have been a particular challenge in Bulgaria, where less than a quarter (22 percent) of the population has been vaccinated against COVID-19. In comparison, on average, around 65 percent of people in the European Union are fully vaccinated. In Bulgaria, both major media outlets and politicians have circulated misinformation about COVID-19 vaccines, and the campaign to promote vaccines has faltered amid lack of funding.
Vaccination in Lithuania is slightly lower than the European Union average—60 percent of people are fully vaccinated. As COVID-19 surges, both Lithuania and Bulgaria are trying to persuade more people to get vaccinated through vaccine passports, which limit access to public venues such as shopping malls and restaurants. Lithuania is also offering payments of 100 Euros to people 75 years and older who get vaccinated or receive their booster dose, and has tightened entry restrictions for travelers who are not vaccinated against COVID-19.
While the surges in Bulgaria and Lithuania should peak soon, increasing mask use and persuading more people to get vaccinated are vital for saving lives and easing the intense burden on the health-care system.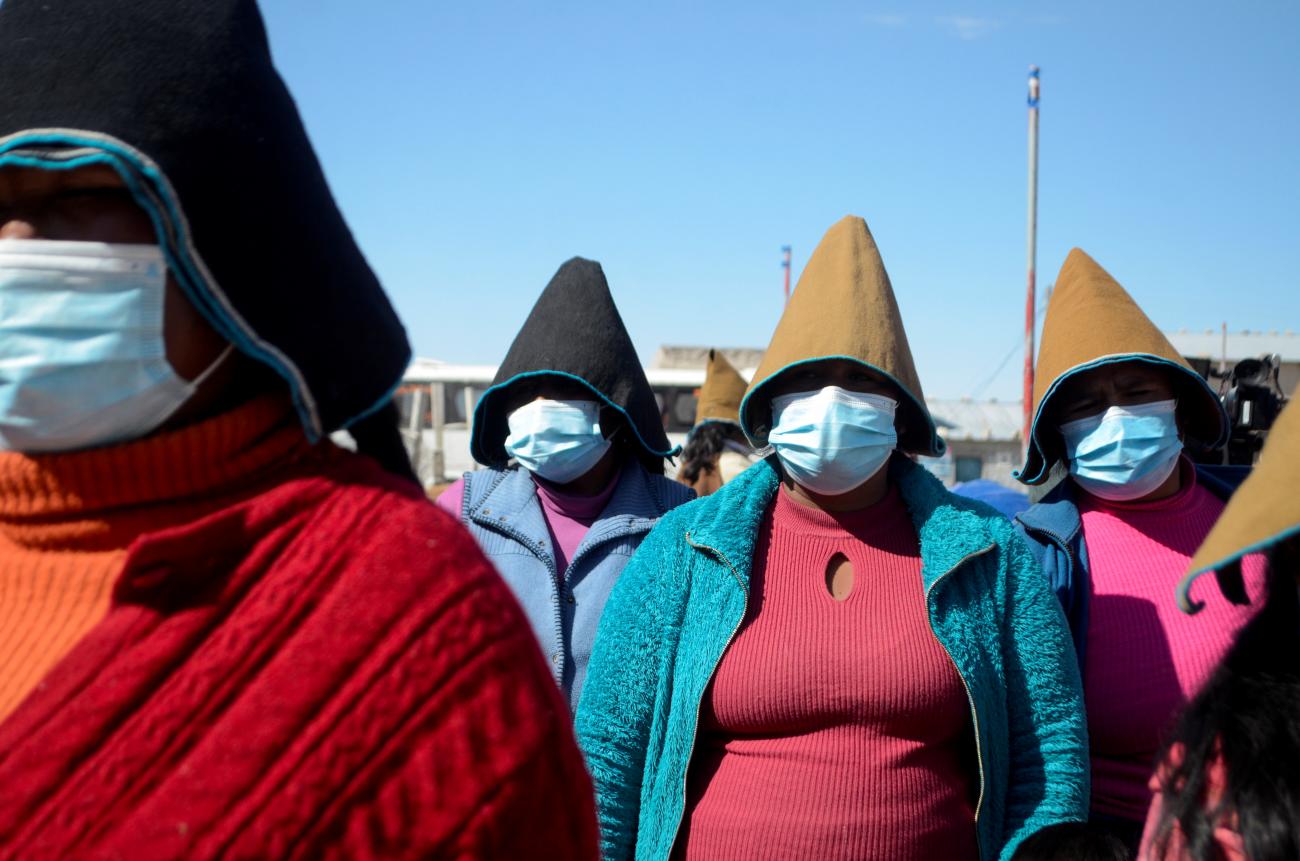 Bolivia, Eswatini, and Peru Experienced Sky-High Epidemics
Among the other three countries that IHME projects will have the highest COVID-19 death rates in the world by January 1, 2021—Bolivia, Eswatini, and Peru— the largest COVID-19 surges occurred in the past. In these countries, COVID-19 transmission has now hit all-time lows—fortunately, IHME's forecasts do not predict any major surges through March 1, 2021.
In Bolivia, the highest death tolls from COVID-19 occurred during its fall and winter seasons. Bolivia lost the most lives to COVID-19 early on in the pandemic during the winter of 2020. Its second-largest surge occurred in the fall and winter of 2021 (May to July 2021), fueled by the Gamma variant first identified in Brazil. The Gamma variant also drove the largest COVID-19 surge in Peru that lasted from January to July 2021. In both countries, mask use has remained high, exceeding 70 percent, preventing an even larger number of fatalities. However, in Peru, in-person social interactions (mobility) have been substantially lower for longer compared to Bolivia, which helps explain why Peru's COVID-19 epidemic has been smaller.
Low access to vaccination contributed to the large number of deaths in Bolivia and Peru. For example, when Bolivia's surge began in May of 2021, less than 3 percent of people in the country were fully vaccinated. Similarly, when Peru's surge peaked in April 2021, only roughly 1 percent of people had been fully vaccinated.
1 Percent
When Peru's surge peaked in April 2021, only roughly 1 percent of people had been fully vaccinated
Like Bolivia and Peru, lack of access to vaccines contributed a recent surge in Eswatini. When the number of daily deaths began to climb in late June 2021 as the Delta variant took hold, only 1 percent of people were fully vaccinated. Lower levels of mask wearing have also facilitated the spread of COVID-19—just over half of people regularly wear masks in the country.
HIV also likely plays a role in the heavy toll of COVID-19 in Eswatini. Recent research indicates that people living with HIV are at a higher risk of dying from COVID-19. In Africa, the countries that are projected to be hit hardest by COVID-19 are those with the highest prevalence of HIV, including Eswatini, Lesotho, and South Africa.
Encouragingly, since the COVID-19 surges hit Bolivia, Eswatini, and Peru in 2021, the number of people who are fully vaccinated in these countries has increased. In Peru, nearly half of people are fully vaccinated; in Bolivia, it's one-third. In Eswatini, thanks in part to the United States donating 300,000 doses of the Johnson & Johnson vaccine in July, more than one-fifth of people are now fully vaccinated. Still, low vaccination levels, particularly in Bolivia and Eswatini, make these countries vulnerable to potential future surges, especially if a new, more transmissible variant emerges. Additional surges could occur as people's immunity from vaccination or natural infection weakens over time, and people gather for holiday celebrations in December and January.
Now that we've gained a more accurate understanding of COVID-19's toll, we see significant epidemics that have largely been hidden from the world's view. As high-income countries continue to stockpile and waste lifesaving vaccines, it is vital to ensure equal access for low- and middle-income countries. The longer we delay vaccine access to less wealthy nations, the longer it will take to reach a global recovery from this pandemic.
EDITOR'S NOTE: The authors are employed by the University of Washington's Institute for Health Metrics and Evaluation (IHME), which produced the COVID-19 forecasts described in this article. IHME collaborates with the Council on Foreign Relations on Think Global Health. All statements and views expressed in this article are solely those of the individual authors and are not necessarily shared by their institution.