Anna Makievska has joined the civilian defense against Russia's war in Ukraine. But not by building Molotov cocktails or helping to pile sandbags.  
By baking bread and keeping people fed.  
Makievska is the head baker and co-founder of Bakehouse, a prominent sourdough bakery in Kyiv. Normally, you'd find her at work in an impeccably refurbished warehouse space overseeing the work of eighty bakers and serving 1,500 customers per day.  
But all of that changed when Russian troops attacked on February 24. Only when Makievska heard the first explosions at 5:00 a.m. did she believe the talk of an invasion. She began packing her family's things and calling around to friends, urging them to leave. Two hours later she was in the car with her husband Valeriy and daughters Varvara and Mariia.  
63 Percent
63 percent of retailers and traders in Ukraine reported difficulties providing access to food items to the population
They arrived at the Moldovan border two days later. Because men between the ages of 18 and 60 had been forbidden to leave Ukraine, Makievska was forced to choose between staying in a besieged country with her husband and leaving on foot in the hope of safety for her children. In the end, they said an excruciating goodbye, and Makievska crossed the border with her kids. "My eight-year-old daughter carried the luggage," she says, "because I needed to hold the baby. I was heartbroken." 
Through a network of volunteers and donors—the Moldovan woman who took them home and cooked them soup, the Airbnb host in Romania who filled their apartment with food and offered to let them stay for many more days than they'd paid—Makievska and her daughters made their way safely to Portugal to reunite with other family members who'd fled there from Ukraine.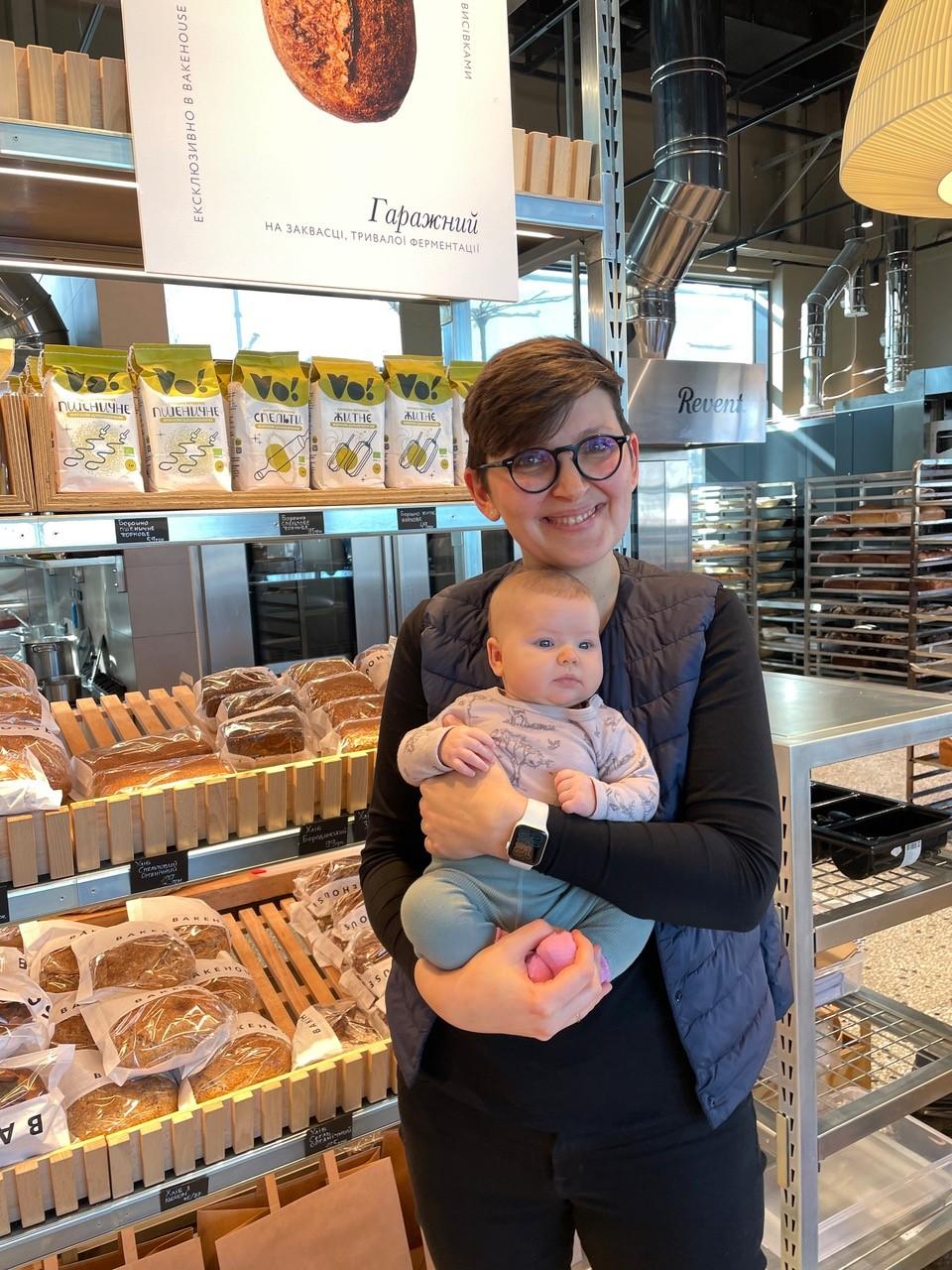 But others chose to stay behind. On the day of the invasion, she told her night bakers to go home and attend to their personal needs.  
They refused.  
For three days they went to work to make loaves for humanitarian needs. In the first days of the war, Bakehouse teamed up with Kyiv Volunteer, a loose association of thirty or forty restaurants that established six kitchens around the city to provide free meals to elderly residents. Bakehouse supplies its bread. And there are the loaves that go to hospitals, and even to the army. Upwards of 650 loaves per day, all told. The day we spoke, her bakers had scrambled to make an additional 100 loaves for survivors in the Kyiv suburb of Bucha, who faced thirty-three days of starvation under Russian occupation and witnessed the torture and execution of 412 civilians. Ukrainian officials have recently filed criminal charges against ten Russian soldiers for these deaths, making this the first move to investigate Russian war crimes.  
In addition to feeding those directly involved in the war, the bakery was forced to relocate due to the fighting. Just before the war, Makievska had the opportunity to build the place of her dreams. Her company bought the old Tetra Pak warehouse, with soaring ceilings and room for six-meter-high windows. They opened their new space in October 2021 and operated for four months before Russian tanks arrived. Tall windows and open spaces are a liability in war, so they shuttered the building and went back to work in their old basement location.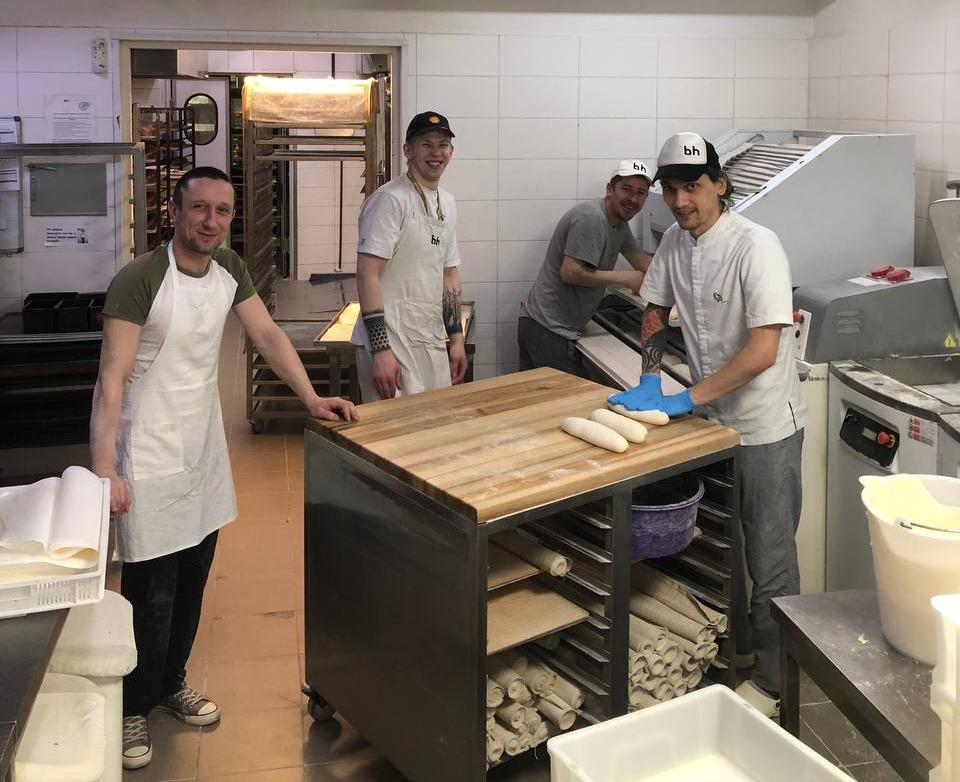 In early March, they learned their warehouse had been destroyed by targeted Russian shelling. Makievska believes that the warehouse was targeted on purpose as part of a Russian campaign to attack grocery stores and damage food supply. Nationwide, 63 percent of retailers and traders reported difficulties providing access to staple food items to the population. The loss of the warehouse and the 15 million euros worth of goods it stored was a major financial setback for Bakehouse, which has to pay its staff and suppliers despite the added difficulties of war.  
But Makievska is undeterred. "When you produce food, you don't have a choice," she says. "You cannot just close. Where would people get food?" 
Eventually, the Bakehouse staff realized other customers still wanted to buy fresh bread, so they opened the store again, and those sales helped keep the production line running. 
Then something unexpected arrived in the form of a message from fellow baker Jon Przybyl, who owns Proof Bakery in Mesa, Arizona. The two had met in the United States several years earlier at a bread conference. Makievska says when the invasion happened, she received messages from people around the world, but her friend Jon was the most persistent.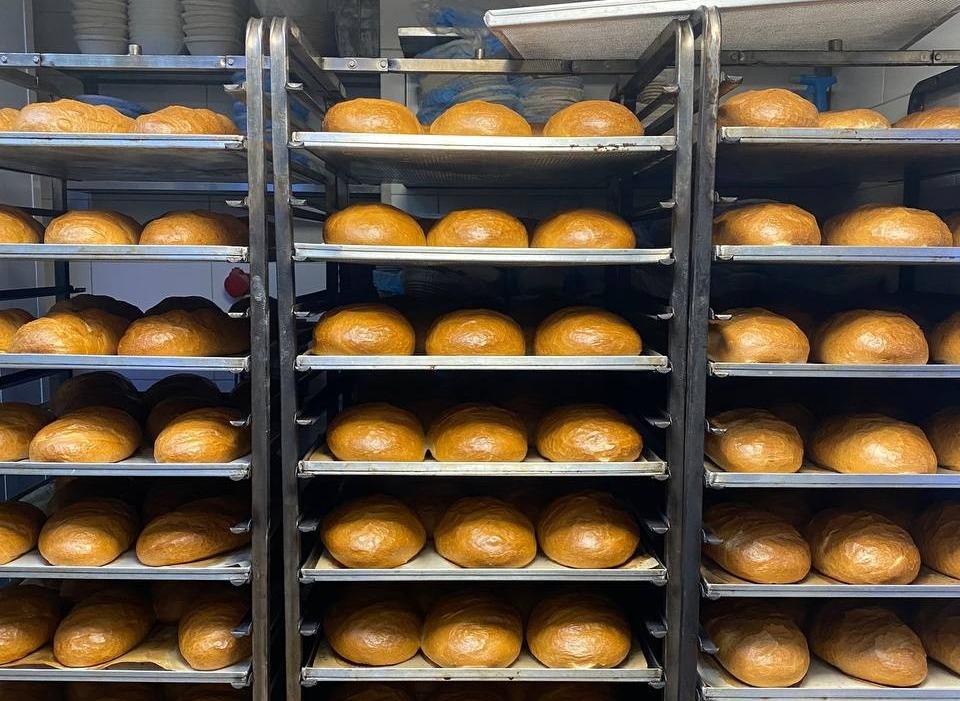 Przybyl floated the idea of a GoFundMe campaign. He had seen the bread community come together before to support his own bakery and believed it would do so again for Makievska.  
Makievska was nonplussed. "I was concerned this was something strange, maybe. We do not usually do this in Ukraine," she laughs. "And never for business."  
Coming up to the end of its first two months, the campaign has already raised more than $190,000. Przybyl has since moved the goalpost to $500,000. While the dollar figure is overwhelming—the money is paying her bakers and helping her buy ingredients. Makievska says what's even more impressive is the number of individual donors: 1,600 and counting.  
Przybyl is buoyed by the campaign's early and sustained success. "It's an incredible show of solidarity," he says. "We're often absorbing news through mass headlines, how many people died, or what atrocity happened yesterday. But I think we all relate to the idea of needing food, especially in difficult times."  
40 Percent
40 percent of Ukrainians will face food shortages by the end of the summer, and nearly two-thirds by the end of the year
When it comes to food security, Ukraine has a difficult road ahead, as Russia's war threatens to upend this year's harvest. Like Makievska and her bakers, Ukrainian farmers continued their vital work despite conflict, sowing 2.5 million hectares of spring crops as of April 21, or 20 percent of the expected area. Ukraine's Ministry of Agriculture estimates that areas of intense conflict could see a drop of 70 percent of the sowing area, especially since much of Ukraine's farmland must now be demined before it can be safely tilled. The Food and Agriculture Organization estimates that 40 percent of Ukrainians will face food shortages by the end of the summer, and nearly two-thirds by the end of the year. 
Makievska and her team of bakers are doing all they can to feed their community. Today, Makievska is working on getting settled in Portugal with her two young daughters, waiting for the day they can get home to Kyiv and to Valeriy. Although she can't be at Bakehouse in person, Makievska still oversees operations through phone calls and messages from her refuge in Portugal, with support from Pryzbyl's worldwide network of donors. 
"I know the power of a community bakery," Pryzbyl says. "We live in an increasingly fragmented world and bread is the antithesis to that. It's a bridge." 
Makievska illustrates. "In Ukraine we say, 'I was eating just bread and water.' And it means that bread is for everyone. So even if you have nothing, you have at least a piece of bread."