South Africa's Afrigen Biologics has an innovative partnership with Belgian group, Univercells, which is paving the way for the development of the first African-owned mRNA COVID-19 vaccine. It could provide a new blueprint for health-care innovation and global access to biologic drugs and vaccines. 
South Africa's Afrigen lab, home to the World Health Organization's (WHO) health care-focused Technology Transfer Hub, recently launched a three-part training program for over a dozen partner countries ("spokes") across Africa, Asia, Eastern Europe, and Latin America, to share know-how about the development of its novel mRNA COVID-19 vaccine. As of October of this year, scientists from six countries had completed training at Afrigen's facilities which will be followed by a transfer of technology and capacity building in the commercialization of vaccines. Afrigen's training program signals a new phase in health-care innovation in low- and middle-income countries (LMICs), one focused on knowledge sharing and capacity building. 
The management of the COVID-19 pandemic has shone a stark light on the failure of vaccine equity and international solidarity. After more than two years of the COVID-19 pandemic, data from WHO shows that vaccination rates stagnated across large parts of Africa in the second half of 2022. Failure by Western governments and large pharmaceutical companies to promote vaccine equity highlights the need for a new model of vaccine development and manufacturing that promotes self-sufficiency and resilience in Africa, and is adapted to local manufacturing capabilities. To this day, Africa produces only about 1 percent of the vaccines it administers. The remaining 99 percent are imported.
1 Percent
To this day, Africa produces only about 1 percent of the vaccines it administers. The remaining 99 percent are imported
LMICs' challenges accessing COVID-19 vaccines have prompted the WHO, research and development (R&D) laboratories, and advocates for greater access to biological drugs and vaccines to foster a partnership that seeds and builds local manufacturing capacity in LMICs. Launched on June 21, 2021, and hosted in Afrigen's offices in Cape Town, the Technology Transfer Hub aims to promote information sharing and capacity building among LMICs in the development, manufacturing, and distribution of mRNA vaccines.  
Afrigen and Univercells' agreement will increase LMICs' self-sufficiency in the management of disease outbreaks and will address specific regional needs, but it could also provide a long-lasting blueprint for health-care innovation, manufacturing, and distribution across LMICs worldwide which could be replicated for other epidemics and illnesses.  
Through its partnership with Univercells, Afrigen has managed to address the major challenges that have hampered the rollout of COVID-19 vaccines in Africa and LMICs, including the lack of local cost-effective solutions for production and the need for cold or super cold chains for vaccine storage.  
This model is adapted to de-centralized manufacturing, tailored to the needs of LMICs, and is easily scalable so that it can be deployed quickly and efficiently across diverse LMICs. The mRNA technology will minimize the need for cold or super cold chains and make vaccines more easily storable in countries that lack infrastructure for cold or super cold chains technology. 
COVID-19 has acted as a turning point and has revealed the need for open access to biological drugs and vaccines. Without local vaccine development and production, most African countries and LMICs are unable to access much-needed vaccines and remain at the mercy of unreliable imports. This dependence has had a significant human cost. There are multiple signs that the push for vaccine equity and self-sufficiency is under way. The African Union's objective is to develop, produce, and supply more than 60 percent of the vaccine doses required on the continent by 2040. The African Development Bank has also committed $3 billion in funding over the next decade to boost the manufacturing of African pharmaceuticals. Afrigen's model, which promotes open biologics and information, is a milestone toward achieving self-sufficiency for LMICs.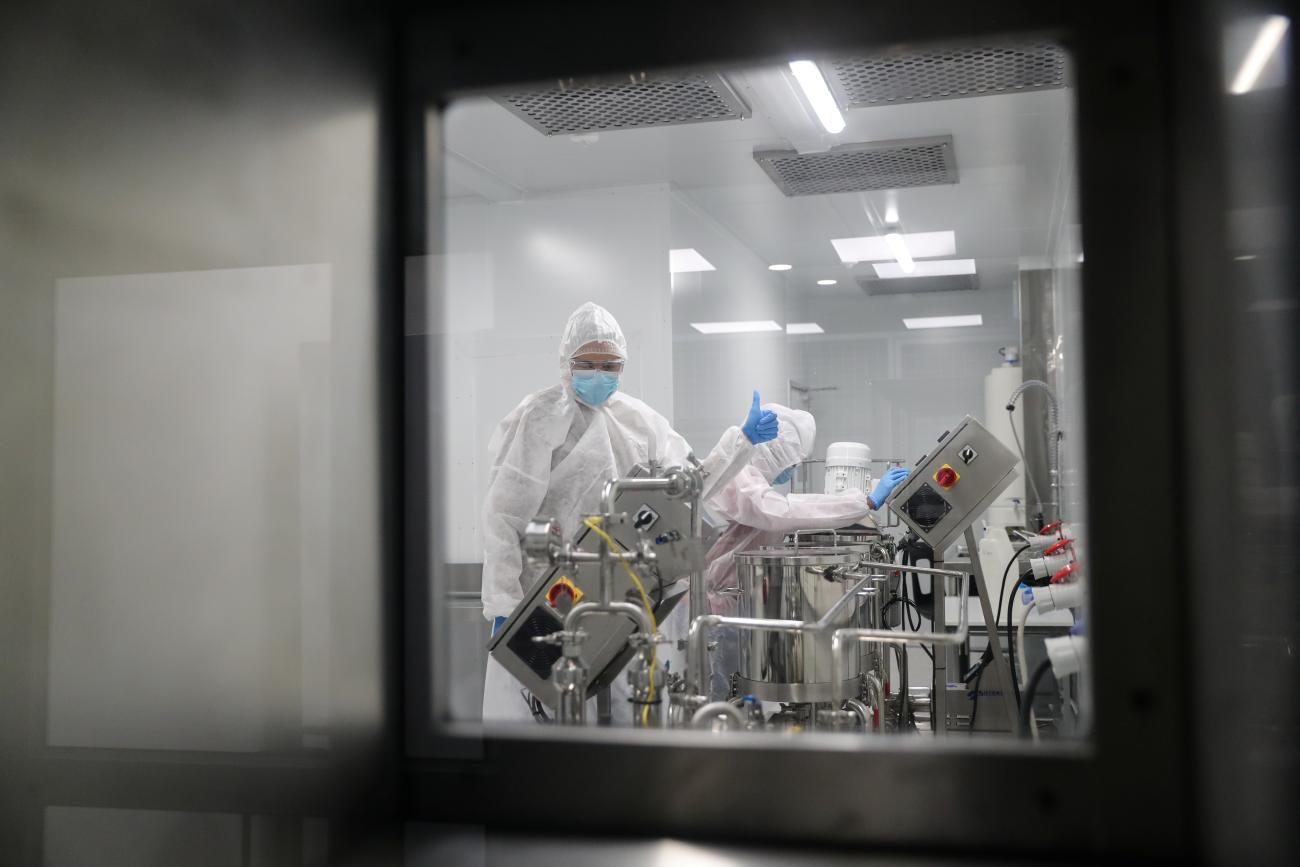 With animal studies for the vaccine under way, and as Afrigen's training program gathers pace, several factors will be decisive in the vaccine's long-term success. Buy-ins from governments and policymakers across the region will ensure access to the vaccine. Local NGOs will also play a critical role in ensuring vaccine accessibility. At the height of the pandemic, NGOs like Amref Health Africa and the Africa Health Organization were instrumental in boosting vaccine rates and promoting vaccination among local populations in Kenya, Malawi, Tanzania, and Uganda.  
Finally, protecting the vaccine's intellectual property will also be critical for long-term production. COVID-19 vaccine producer Moderna's decision to sue Pfizer for alleged infringement of vaccine patents has set a concerning precedent for Afrigen's vaccine. While Moderna has vowed not to enforce vaccine patents across dozens of LMICs, members of the Afrigen hub's "spokes" are based in countries not covered by the Moderna pledge. Concerns, therefore, remain about Moderna's ability to challenge Afrigen.  
Legal and health advocacy groups in South Africa have urged President Ramaphosa to reform the country's patent law to protect the Technology Transfer Hub. As the hub hopes to replicate its model of vaccine development and manufacturing beyond COVID-19 to cover other infectious diseases, it needs to ensure it is protected from legal action that could, in a worst-case scenario, halt its work. 
The Technology Transfer Hub's success in establishing a blueprint of vaccine development and production adapted to LMICs' needs has raised hopes for greater and fairer access to biological drugs and vaccines and shown that LMICs can challenge big pharmaceutical company monopolies in high-income countries when it comes to global vaccine supply chain and knowledge sharing.  
Afrigen is a firm case study for the believers of open biologics. It has demonstrated that it's possible to share know-how and engage in technology transfer to seed the biologics sector in LMICs. It's a win-win situation for the international health ecosystem. As the vaccine continues to go through trial, Afrigen and the hub's mission have made one thing clear: LMICs will no longer be at the back of the vaccine queue.