Pishu village was on the brink of abandonment. Located deep in the Himalayas in India's Zanskar Valley, at 3,600 meters it is one of the highest places on earth inhabited by humans. It is also experiencing some of the most dramatic impacts from climate change.
The rapid melting of glaciers, retreating snowlines, and erratic snowfall in Zanskar are leading to a water crisis. For Pishu, 2018 was a particularly bad year. There was so little irrigation water, villagers could not grow crops and lost much of their livestock.
"We are the worst compared to other villages facing water scarcity," explained Dolkar, a 60-year-old woman from Pishu.
They knew if they did not act soon, the village, established almost one thousand years ago, would be gone. Working closely with glacier conservationist Lobzang Wangtak and his nonprofit trust, Navikarana, residents of Pishu crafted an ambitious plan. They would use solar energy to lift water over a kilometer from the Zanskar River to the village reservoir. The project was a success. Water flowed into the reservoir again, averting disaster for Pishu.
5 Percent
Only 5 percent of total climate finance has gone toward climate change adaptation
As the situation in Zanskar illustrates, climate change is impacting communities now. Much of the discussion and funding so far have focused on reducing greenhouse gas emissions. Only 5 percent of total climate finance has gone toward climate change adaptation— adjustments in ecological, social, or economic systems in order to address actual or expected effects of climate change. While there is an urgent need to drastically cut greenhouse gas emissions, global and national institutions must also support climate-vulnerable communities to adapt. They have had the least to do with creating the problem but are bearing the brunt of the consequences.
Community-led solutions will be crucial for successful adaptation. The effects of climate change will not be uniform. Based on environmental and socioeconomic conditions, different locations will experience very different impacts. Adaptation needs to be tailored to local circumstances. Communities and local organizations are in the best position to lead these efforts. They understand the unique challenges they face, as well as which solutions will be most successful.
Artificial Glaciers, Ice Stupas, and Solar Water Pumps
Climate innovation is not new to Zanskar. Communities there have built artificial glaciers and ice stupas to address the worsening water shortages for irrigation.
Pioneered by a local retired engineer, Tsewang Norphel, artificial glaciers are created by diverting near-freezing stream or spring water behind stone dams. As water hits the dam, it spreads, loses its energy, and turns into ice. Ice stupas are similar in concept; piped water sprinkled over a structure creates a conical mass of ice. Both these techniques involve tapping into surplus water during the autumn and storing it as ice throughout the winter. The ice thaws out in the spring and is used for the critical first irrigation after seeds are planted in April.
In Pishu, however, neither technique would work. Both rely on stream or spring water from glacial runoff. The glaciers above Pishu had already melted away. The plan to use solar energy to pump water to the village reservoir was years in the making. With abundant sunshine and cold temperatures, Zanskar is an ideal location for solar energy. It is becoming a common way to provide electricity in homes. But using panels to pump water had never been tried.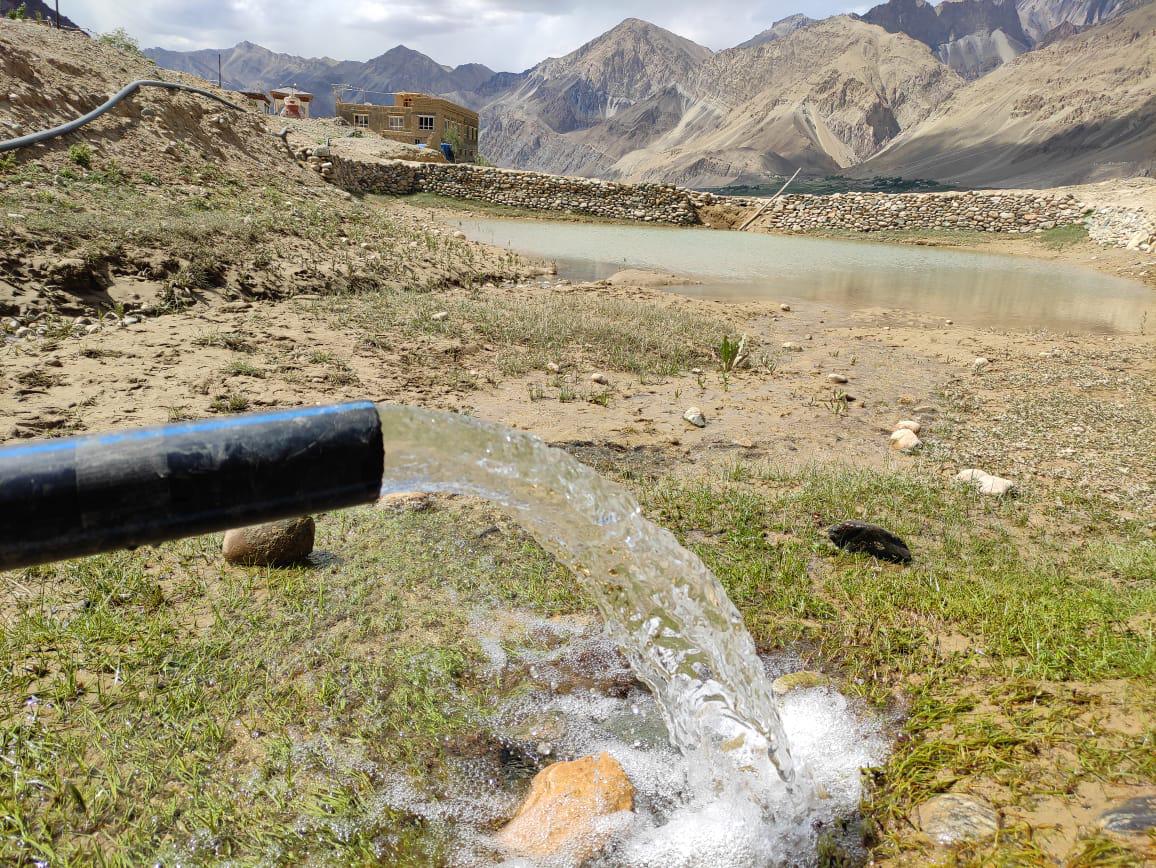 Cost was one of the main barriers. The supplies alone for the project in Pishu cost roughly $27,500, much more than the community could afford. Fortunately, Navikarana was able to raise funds from donors in India and the United States to pilot this project, including a large contribution from the Honnold Foundation.
The supplies arrived in the late spring once the snow melted from the mountain passes. The community immediately went to work, and by June, the first water began to fill the reservoir.
"We could not believe it because we had never seen it before," described an excited Gyatso, a villager from Pishu.
Pumping water through solar energy appears to be another innovation that will help Zanskar adapt to climate change. There are also potential ways this technology could be used to reduce glacial loss. Combined with concepts from artificial glaciers, water could be lifted and sprinkled on glaciers in the autumn months to regenerate ice over the winter.
After the project's success, many other villages in Zanskar have contacted Lobzang on how to implement similar efforts in their communities. We estimate 90 percent of villages in the region are close enough to a river for it to be feasible. However, communities in Zanskar currently lack funding to scale this solution throughout the region.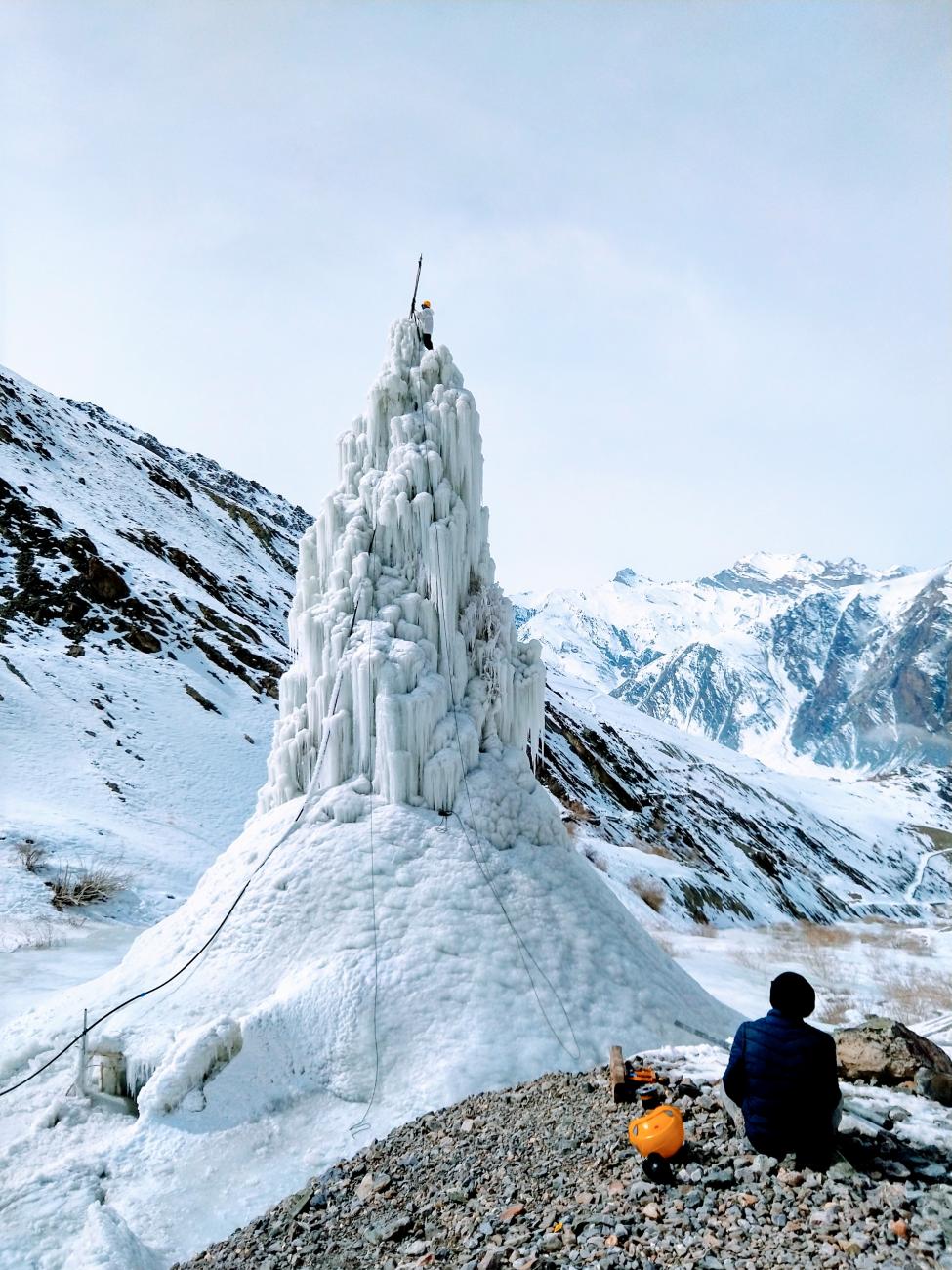 Elevating Adaptation
Zanskar is simply one example of what communities around the world are facing—heat waves, melting glaciers, droughts, wildfires, and rising sea levels. Even if we were able to eliminate all greenhouse gas emissions today, the amount we have already released into the atmosphere has baked in warming for decades.
Existing funding for climate adaptation falls far short of what is needed. Public adaptation financing totaled $30 billion in 2018. A ten-fold increase is required by 2030 to meet global costs, according to the UN Environment Program Adaptation Gap Report.
This is not an argument favoring adaptation over reducing emissions. Both are critical and intertwined. The more greenhouse gases we emit, the harder it will be to adapt. In Zanskar, without reducing global emissions—and soot from local dirty fuels—glaciers will continue to rapidly melt. But without funding for adaptation, communities already on the edge will be forced out of their villages.
Even if we were able to eliminate all greenhouse gas emissions today, the amount already released into the atmosphere has baked in warming for decades
Adaptation is also going to require innovation. Some, such as developing climate-resilient crops or improved water and sanitation infrastructure, can be achieved at the international or national level. However, communities and local organizations are best-suited to drive many of these efforts. How climate change will affect each community is too varied for a global or national institution to understand in sufficient detail. Communities are the experts in their own circumstances and their expertise should be valued and relied upon.
We must also foster mutual respect and resiliency. Adaptation to climate change is not a single problem to solve, but rather an enduring effort. Relegating communities to be passive beneficiaries robs them of the resiliency needed for the long term and fails to value their knowledge and skills as equal partners.
While global institutions and national institutions must accelerate support for adaptation, they do not need to control it. Millions of problem solvers around the world are capable of overcoming their unique obstacles. We need to ensure they have the support to do so.
EDITOR'S NOTE: Lobzang Wangtak is the co-founder of Navikarana and a glacier conservationist. Charlie Ashbaugh is employed by the University of Washington's Institute for Health Metrics and Evaluation (IHME). IHME collaborates with the Council on Foreign Relations on Think Global Health. All statements and views expressed in this article are solely those of the individual authors and are not necessarily shared by their institutions.