When Russia invaded Ukraine in February, a group of caregivers, who focus on people with disabilities, led an astonishing escape. Four Ukrainian women—Veronica, Oliana, Olena, and Tatiana—helped thirty individuals with profound intellectual and developmental disabilities take flight from the heart of war-torn Ukraine.   
As the war escalated and missiles rained down, the four knew that the individuals (whose ages ranged from teen to adult) at the residential facility where they worked would be at risk without their help. Severe intellectual and developmental disabilities meant that many of the residents were in wheelchairs and had significant mobility issues. Some residents were nonspeaking, some could not feed themselves, many were incontinent, and most required significant 24-7 care. Determined to bring all who could make the perilous trip to a safe place, the four caregivers devised a plan to leave their facility in the central town of Znamjanka—only a couple of hours drive from Dnipro, at the frontline of war—to go to Krasnobród, Poland.  
The group drove 500 miles in two days in a bus that belonged to their care institution in Znamjanka. It was February and there were no heaters and no toilets. They faced the minute-by-minute fear of roadblocks, crossfire, bombings, airstrikes, and other weapons of war—including rape and sexual violence—as they navigated an uncertain future.
"Individuals with intellectual disabilities remain the most at-risk demographic across the world"

David Evangelista
When they finally crossed the Polish border, the group was safer but still had a long way to go. From the Polish border, the caregivers secured smaller buses and volunteer drivers to help transport refugees to various locations. Eventually, the four caregiveers and the thirty individuals in their care found refuge in a small sixteenth century building converted into a short-stay respite for the elderly called the Sanatorium, in Krasnobród, in eastern Poland. Accommodations were basic and overcrowded for the refugees, but the two rooms filled with beds and blankets for the group were a certain improvement from the war-torn and dangerous conditions at home. 
Days after the group's arrival, the Special Olympics Unified with Refugees global program funded by Lions Clubs International Foundation, delivered food, water, clothes, and adult sanitation supplies. The Special Olympics in Poland and in Pennsylvania helped too.   
"Individuals with intellectual disabilities remain the most at-risk demographic across the world, and this only deepens in refugee and conflict settings," said David Evangelista, Special Olympics regional president and managing director for Europe/Eurasia.  
After his visit to the Sanatorium, Evangelista expressed his gratitude for the facility's efforts, for the greater community in Krasnobród, and for the four caregivers. But severe challenges remained. When Evangelista asked the center's management and Ukrainian caregivers what their most immediate needs were, they answered in unison: "Toilets."
The nearly three dozen refugees with disabilities and their caregivers shared just one toilet, one sink, and one shower. The caregivers faced a grim situation, and the very real possibility that severe illness due to a lack of adequate sanitation could rip through their vulnerable community.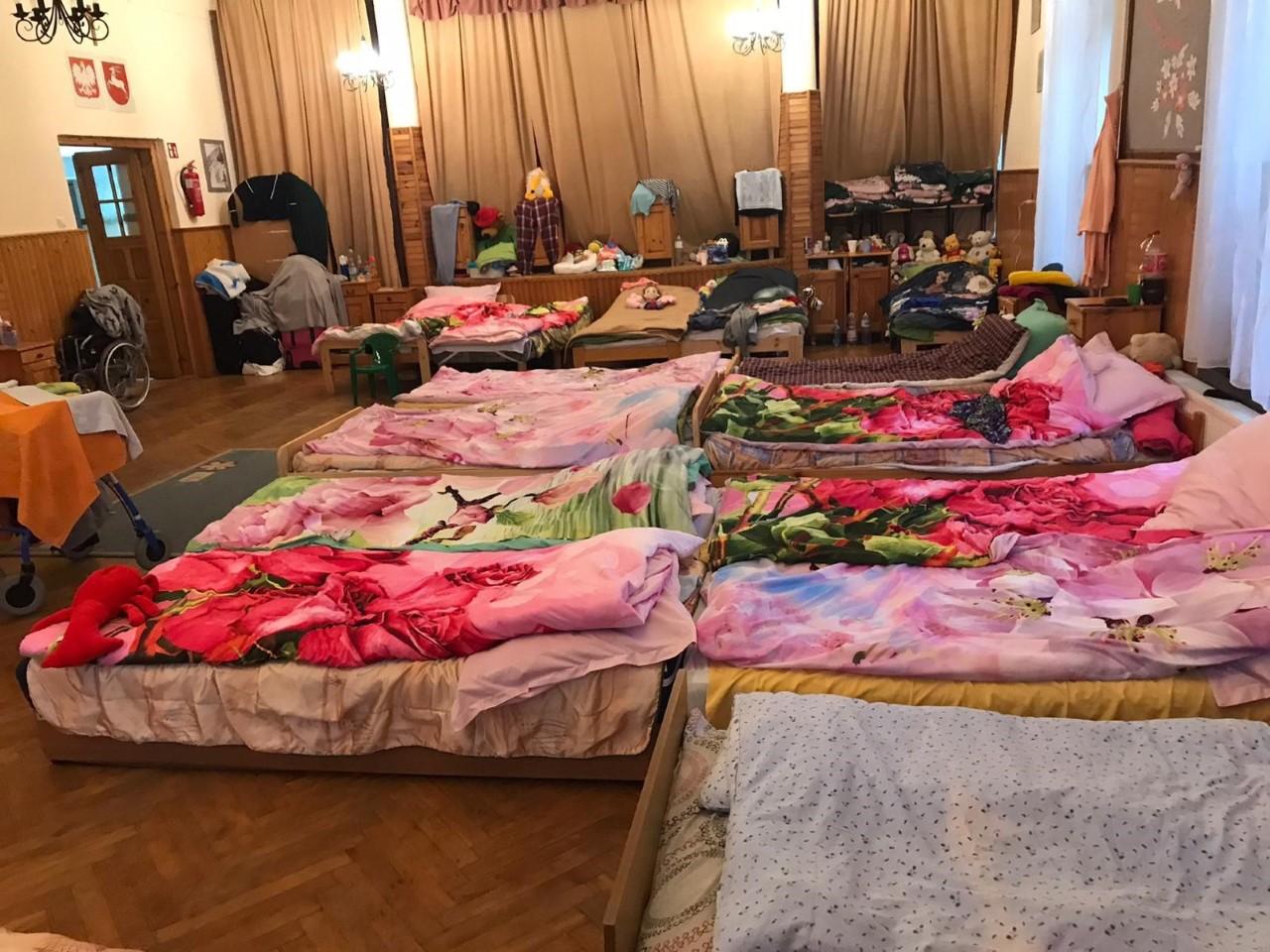 The need was clear: build three more toilets, two showers, and two sinks. The Sanatorium had plans drawn up and a contractor in place, but they lacked the necessary funds—$25,000 unencumbered by red tape that could be put to work immediately.  
An American philanthropist (who asked not to be named) and advocate for water, sanitation, and hygiene (WASH) was made aware of the situation and underwrote the one-off project. Within weeks, there were new toilets, sinks, and showers ready for the caregivers and their residents. Now, life at the Sanatorium has a far safer standard of living, and the dignity that all are entitled to, no matter who they are and where they reside. 
"We have had a hard road. It is still not easy. But this support shows us that change can happen," says Veronica, one of the Ukrainian caregivers. "We needed this more than one can imagine." 
Since the outbreak of the war in Ukraine, many nations have stepped up to help those with intellectual and developmental disabilities. Special Olympics Slovakia started a first-ever "Dream Day School," a day care center that opened this month and provides motor skill development, language lessons, physical therapy, and more for refugee children, with the added benefit of providing the refugee families—mostly mothers—time to look for employment. Its first two teachers are Ukrainian mothers of children with intellectual disabilities who now reside in Slovakia. 
Special Olympics Ukraine continues its work where it can. It was recently recognized at a 2022 United Nations General Assembly (UNGA) side event for its twenty-one years of service, even during war. Tedros Adhanom Ghebreyesus, director general of the World Health Organization, offered the keynote speech at the event and praised Special Olympics for playing "a vital role not only in promoting the health and well-being of people with disabilities, but also in promoting their inclusion and participation in communities."  
He said sport, by its very nature, "is about participation, bringing individuals, communities, and countries together, and bridging cultural, ethnic, and national divides. It promotes tolerance and respect. And it demonstrates what humans are capable of." 
The four Ukrainian caregivers' actions demonstrated similar qualities' and what all humans are capable of. They remain at the Sanatorium in Poland, meeting the needs of people in their care. 
AUTHOR'S NOTE: In war and in peace, as many as 200 million people globally live with intellectual disabilities; and billions still lack the fundamental health and dignity that comes with safely managed WASH: 2.2 billion people lack safe drinking water, 4.2 billion people lack sanitation, and 3 billion lack handwashing facilities.