Asenla Akang and her husband Akangmeren traveled over 3,000 kilometers from Nagaland, in northeast India, to the Christian Medical College Vellore, in southern India, for her husband's nasopharyngeal cancer treatment. The couple first drove up to Dimapur, a city two hours from their house in Kohima, then took two flights—to Kolkata and then Chennai—before a two-hour drive to their destination.
Over the course of his treatment, the first leg of which spanned more than four months, the couple stayed in hotels before renting a home near the medical college so he could be closer to his medical providers. After Akangmeren completed the first phase of his treatment, the couple moved back to Nagaland but revisited Vellore every three months, then every six months, and eventually once a year for check-ups.
Though arduous, the two were able to navigate the challenges they faced. Most people in India are less fortunate. Thousands from rural and remote parts of the country embark on the difficult journey to access cancer treatment in big cities every year.
Almost 70 percent of India's population lives in rural areas, but most of the country's cancer facilities are in a few major cities
India's Growing Cancer Burden
Cancer cases and deaths have steadily increased in India. Each year, more than one million Indians are diagnosed with the disease. Improvements in treatment facilities to meet growing needs have been limited to urban areas. Almost 70 percent of the Indian population live in rural areas, but most of the country's cancer facilities are in a few major cities.
"Access to cancer care goes down as soon as you go out of tier 1 cities [larger cities, including Chennai, Mumbai, and Kolkata]. In rural India, it is much lower than what it is in urban India," says C.S. Pramesh, director of Tata Memorial Hospital in Mumbai, one of India's oldest and largest cancer centers.
The result is that tertiary cancer care centers in cities are overwhelmed.
"We see about 45,000 new patients registered with us every year. Only around 15 percent are from the city, 25 percent come from other parts of the state, and nearly 60 percent of the patients come from other parts of India—a vast majority of whom travel far distances from northern, eastern, and northeast India for their treatments,"  Pramesh says.
It's the poorest patients who travel to large, publicly funded hospitals because of the subsidized care offered in these centers. The pavement outside big city hospitals becomes makeshift homes for patients. The COVID-19 pandemic highlighted the challenges people face when it comes to accessing cancer care. India's COVID lockdown left many stranded, while some decided to make their journeys back home on foot.
Apart from a looming cancer diagnosis, patients and families have to figure out the logistics of their stay, overcome language and cultural barriers, forgo regular incomes, leave children and other family members back home, and endure stigma associated with the disease. These hurdles lead to many patients choosing to discontinue their treatments. Hospitals and charitable organizations reserve some beds for patients and caregivers, but there still remains a large unmet need.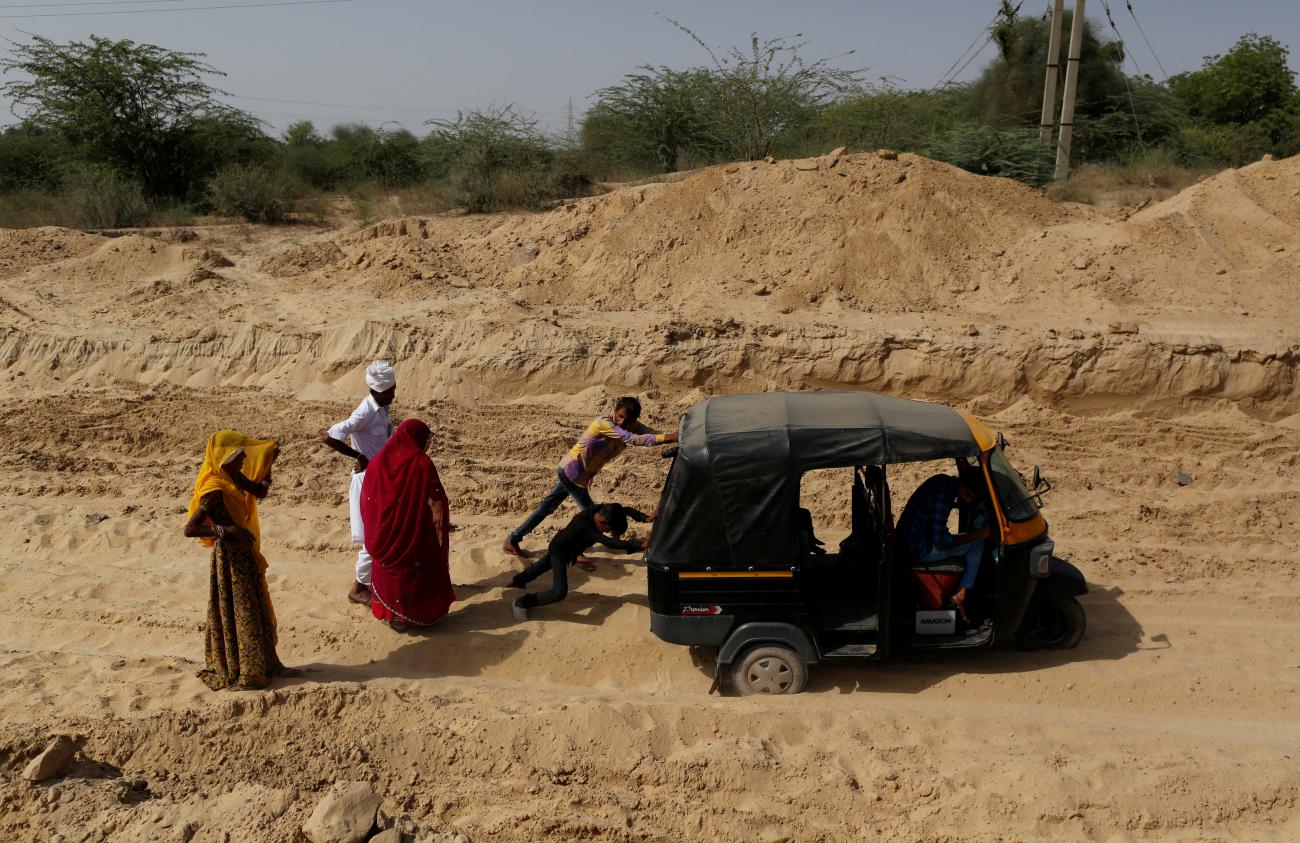 St. Jude India is one organization that provides shelter for children undergoing cancer treatment and their families who travel from rural India and small towns to urban cancer centers.
Anil Nair, CEO of St. Jude explains, "The long, drawn-out treatment makes staying in big cities like Delhi and Mumbai very difficult. If people live on the streets in unhygienic conditions, the patients who already have low immunity are likely to pick up infections."
Most children the organization serves require at least six to eight months of treatment, including chemotherapy almost every week, followed up by recurring checkups. In some cases, despite treatment, the cancer relapses.
Lack of Rural Health Infrastructure  
Access to cancer care facilities—including basic diagnostic tools like lab tests, blood work, and scans—is still sparse in many parts of India. Asenla Akang says there has been some progress in access to health care in recent years, but even today, if someone wanted to get a PET scan in Nagaland, they would have to travel five to seven hours to the nearest big cities, Imphal or Guhwati. Specialized treatment and surgeries available in select big hospitals require much more time and money.
According to one study, eight metro cities that are home to 10.9 percent of the national population (140.6 million people) use 38 percent (188 machines) of the total radio therapy devices in the country. The rest of the population (1,143.8 million) is left with 306 machines.
Oncologists—doctors who specialize in cancer care—are limited in number, and it is difficult to access them outside big cities.
"At last count, 50 percent of all oncologists in India were in just ten or twelve major cities. All the other places account for the other 50 percent," points out Pramesh.
50 Percent
At the last count, 50 percent of all oncologists in India were in just ten or twelve major cities
In India, a vast majority of people seek out help after the disease has already progressed. People first exhaust local options, visiting non-medical practitioners for treatment—village elders and shamans who use traditional remedies. Even when patients seek primary care, rural doctors occasionally dismiss symptoms due to superstition or lack of attention to symptoms, says Nair. It is only when the disease has advanced that many patients go to tertiary centers.
Solutions to Rural Cancer Care
In an effort to bridge the urban and rural cancer care disparity, the Tata Memorial Hospital has helped set up eight additional cancer centers in smaller cities. Two cancer centers were opened in Varanasi, in northern India. Now, two years later, these centers register almost 18,000 patients a year, a figure that demonstrates demand for cancer care in the region.
Pramesh says that India will need many more facilities in a hub and spoke model to decongest tertiary centers. Two to three hundred cancer facilities with beds can act as hubs treating all kinds of cancers, including rare and complicated cancers for every 40-50 million of the population. These facilities will each be connected to four spokes, smaller hospitals for less complicated cases that cover 10 million people each. "This is what we have proposed to the government," he says.
Another effort is the National Cancer Grid (NCG), a network of more 270 private and public cancer centers that standardize cancer care protocols so people can get quality care beyond a few centers.
Cancer Care Close to Home
In the last three decades India's cancer cases have doubled, and they are projected to double again by 2040. To accommodate this rise, India will need 7,300 oncologists.
While the incidence of cancer is lower in India than high income countries, India's mortality rate, 68 percent, is twice as high as in the United Kingdom and the United States.
Asenla deems herself lucky in the cancer journey she was able to undertake—she was physically fit to be a caregiver, and the couple could afford accommodation and air travel which reduced the four or five-day journey to one day. A friend working in Vellore helped them navigate cancer treatment in the hospital which at first seemed daunting.
For patients in rural and distant parts of India, the hurdles, especially the lack of cancer centers mean delays that cost them even their lives.
"If people have to travel even a few hundred kilometres, they often drop out or don't even come in for a diagnosis. There is a fair number of publicly funded hospitals, but they are far from where many people live. Care should be available close to their homes," says Pramesh.