Turkey is a staple in many families' Thanksgiving feasts, however, this year, some U.S. households might have to swap the bird for another protein or chose a smaller portion for their tables. An ongoing avian flu outbreak has resulted in the deaths of millions of turkeys this season.  
Avian flu affects all birds—not just turkeys—and spreads through their mucous, saliva, or feces. While humans rarely contract avian flu, the disease is often fatal in birds, and has resulted in the deaths of over six million turkeys since the most recent outbreak was detected earlier this year, on February 8. Even when birds do not contract the virus, farmers still cull all the birds in an infected flock to prevent the flu from spreading more. The result is fewer turkeys and higher prices.  
In September, the retail price for skinless turkey breast surged 112 percent higher compared to the same time last year, jumping from $3.16 per pound to $6.70 per pound. The price for a whole frozen turkey also leapt from $1.15 to $1.46 in that same period.  
Other factors contributing to the rising cost of the classic Thanksgiving food are the price of grain and transportation. Economic inflation and the ongoing war in Ukraine mean that it's now more expensive for farmers to feed turkeys and transport them for processing. Despite supply shortages and rising costs, however, an estimated 46 million turkeys are expected to be consumed on Thanksgiving Day.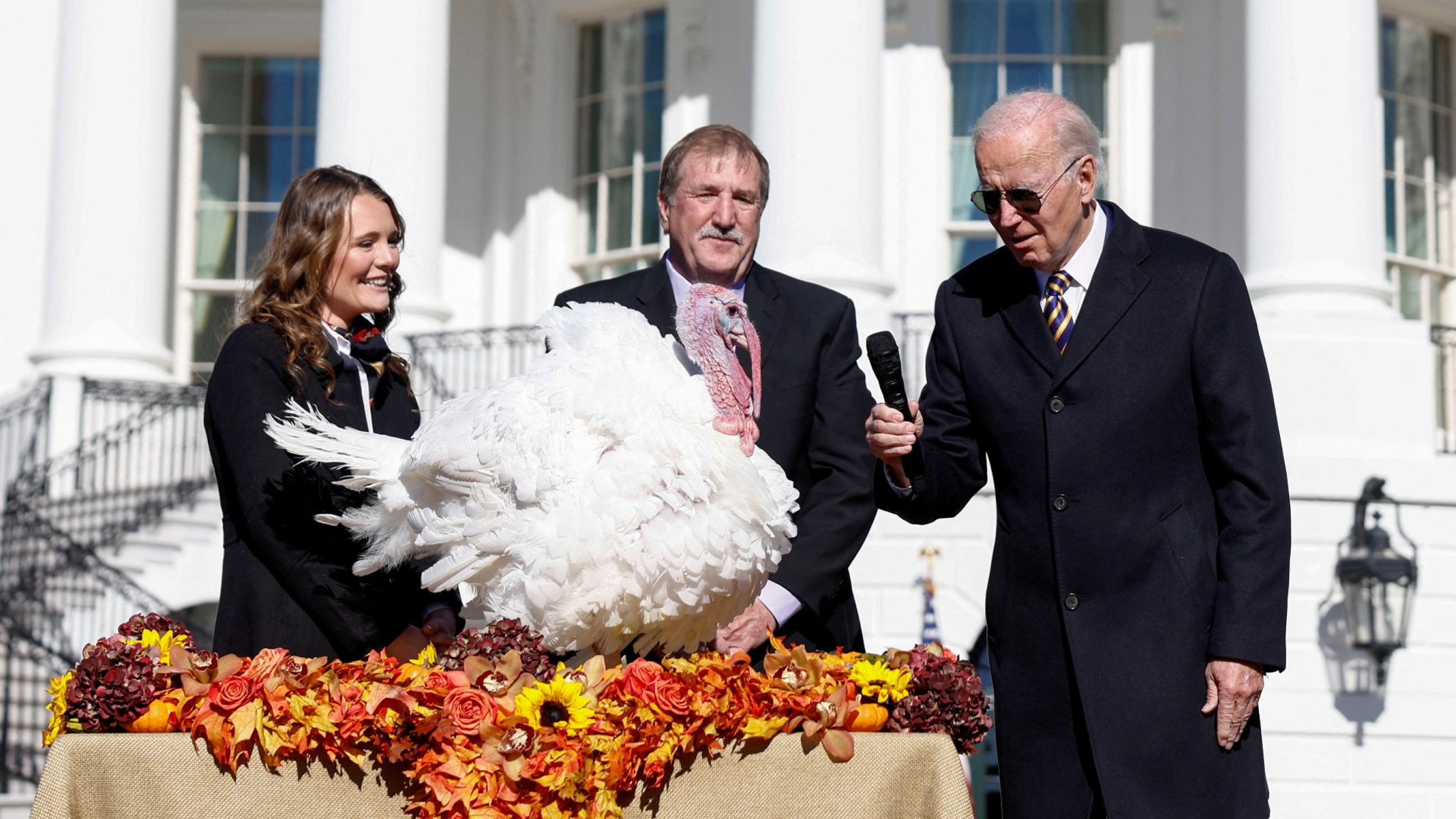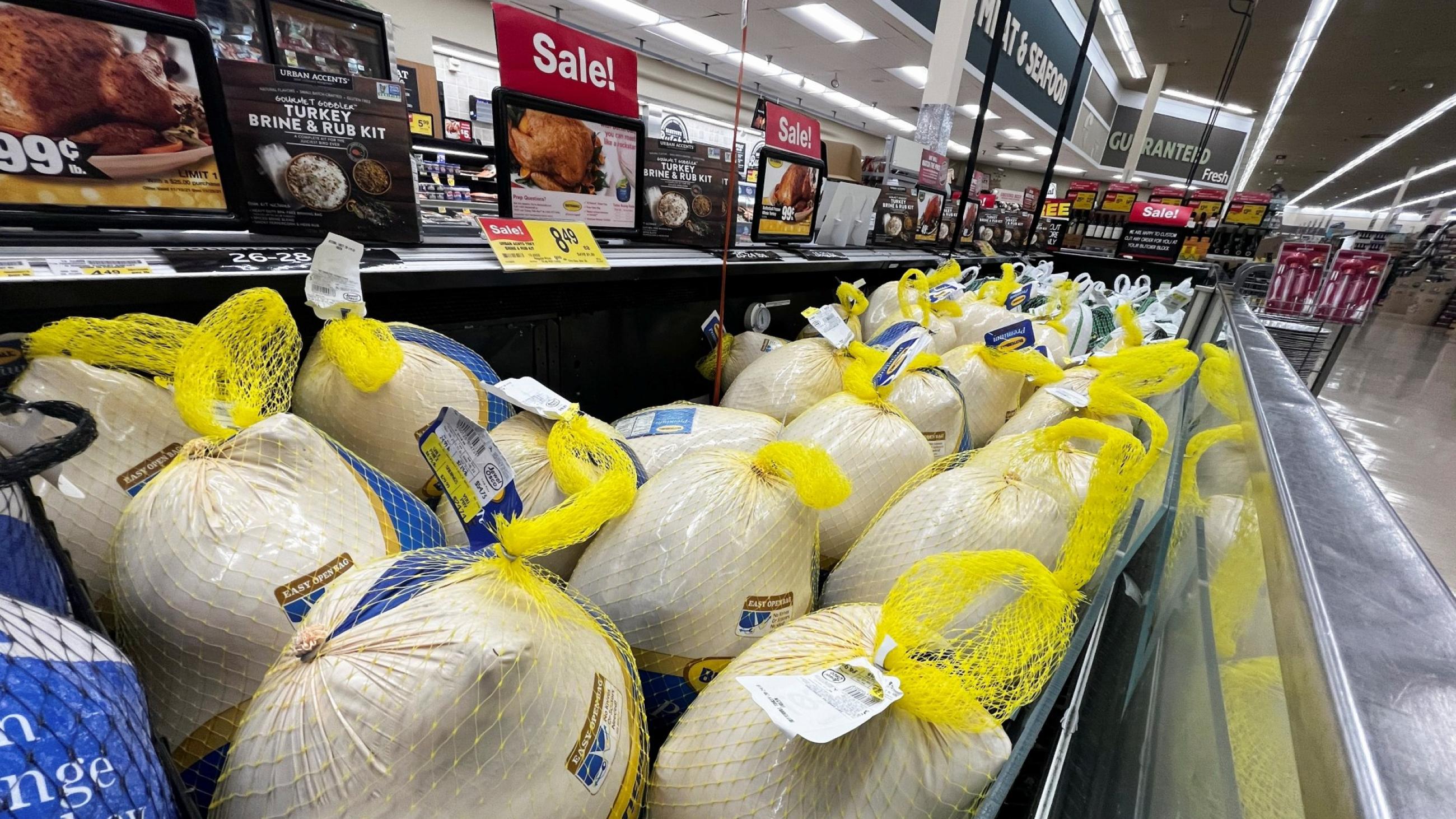 National Thanksgiving Turkey Presentation
Each year, before Thanksgiving, the U.S. president leads the National Thanksgiving Turkey Presentation, where he "pardons" a turkey, sparing it from becoming part of someone's feast.
President Joe Biden attends the annual ceremony to pardon Chocolate and Chip, the National Thanksgiving Turkeys, on the South Lawn of the White House in Washington, DC, on November 21, 2022.
REUTERS/Evelyn Hockstein

Elmwood Stock Farm
Mac Stone, owner of Elmwood Stock Farm, fills out feeders for heritage turkeys ahead of the Thanksgiving holiday in Georgetown, Kentucky, on November 16, 2021.
REUTERS/Amira Karaoud
Seven Acres Farm
Close living conditions make transmission of avian flu more likely.
Turkeys stand in their barn at Seven Acres Farm one day before the Thanksgiving holiday, in North Reading, Massachusetts, on November 22, 2017.
REUTERS/Brian Snyder
From Farm to Fancy
Two turkeys, who will serve as the National Thanksgiving Turkey and alternate, are seen in a hotel room ahead of the seventy-third annual National Turkey Presentation, prior to a press event to introduce them in Washington, DC, on November 23, 2020.
REUTERS/Hannah McKay
Prepped and Processed
Rising turkey prices mean that this year, many families' fowl will be smaller than in years past.
Turkeys are displayed for sale at a Jewel-Osco grocery store ahead of Thanksgiving, in Chicago, Illinois, on November 18, 2021.
REUTERS/Christopher Walljasper
Thanksgiving Overseas
Thanksgiving is not just celebrated by Americans at home. Each year, the Department of Defense sends Thanksgiving meals to military personnel placed overseas.
U.S. Vice President Mike Pence and his wife Karen Pence helped serve a Thanksgiving meal to U.S. troops in a dining facility at Camp Flores on Al Asad Air Base, in Iraq, on November 23, 2019.
REUTERS/Jonathan Ernst