Every year during the third week of September the United Nations General Assembly (UNGA) becomes center stage for high stakes diplomacy. After two years of pandemic-related disruptions, this year's gathering of world leaders was mostly in-person, with a wave of general debate speeches (the main event), side events, and hallmark gatherings—from Concordia to Clinton Global Initiative to Goalkeepers—crammed into a six-day stretch.
Though the war in Ukraine dominated the geopolitics of the week, member states and leaders came to New York with an urgency to address a range of challenges, including climate change, food and fuel insecurity, mounting debt burdens, and an "SOS" to reaccelerate progress on the Sustainable Development Goals (SDGs) due to the world proceeding at only one quarter the pace needed to reach the health-related SDGs by 2030. Undergirding all was the sense that multilateralism is in crisis, but not yet on life support—and it remains the best path to solve collective problems.
There were glaring reminders of the pandemic's economic and social fallout and its severe affect on the Sustainable Development Goals
Here are five takeaways from this year's general assembly:
The Road to Recovery Is Paved With an SOS
After two years of dominating the general debate, ending the acute phase of the COVID-19 pandemic did not feature prominently in leaders' speeches, but recovering from the pandemic did. Despite the World Health Organization (WHO) reporting nearly 10,000 fatalities from COVID-19 during the week prior to UNGA, world leaders did not spend much time on the dais in Assembly Hall talking about their approaches to ending the acute phase of the pandemic (save for mentions by the United States, Brazil, Canada, Singapore, and South Africa). The knock-on effects of the pandemic could not be ignored, however. From global economic downturn to steep education losses, there were glaring reminders of the pandemic's economic and social fallout and its severe impact on the SDGs.
In his remarks at the opening of the assembly, UN Secretary-General António Guterres said, "The SDGs are issuing an SOS. Even the most fundamental goals—on poverty, hunger, and education—are going into reverse."
There were, however, some notable discussions on the sidelines of the general debate, including one hosted by UN Secretary Guterres, WHO, UNICEF, and another in a series of ministerial meetings on the COVID Global Action Plan (GAP), co-hosted by the governments of the United States, Bangladesh, Botswana, and Spain. These and other panel discussions throughout the week emphasized the need for progress on turning vaccines into vaccinations, diversifying vaccine production and enabling supply chains, increasing vaccine demand, and strengthening the health workforce. However, in orienting toward preparedness for future pandemics, many conversations elided the need to still resolve stubborn challenges of this pandemic.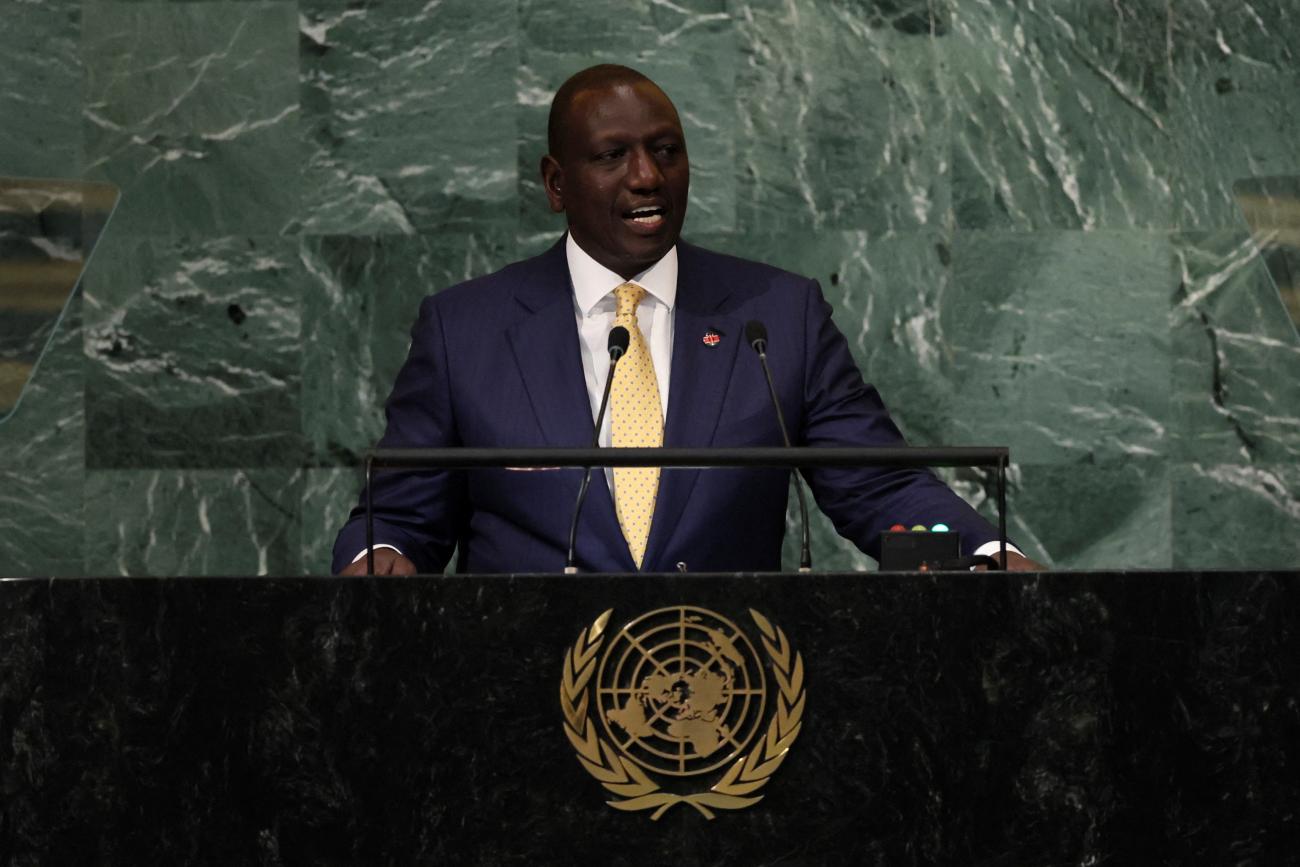 Reimagining Multilateralism
Strong emphasis was placed on the need to reimagine multilateralism to fit twenty-first century challenges, especially in relation to financing. In his remarks to the general assembly, Kenya's President William Samoei Ruto shared a vision for a new kind of multilateralism that is inclusive and works for everyone. "It is time for multilateralism to reflect the voice of the farmers, represent the hopes of villagers, champion the aspirations of pastoralists, defend the rights of fisherfolk, express the dreams of traders, respect the wishes of workers, and, indeed, protect the welfare of all peoples of the global south."
Rising food and energy prices, overwhelming debt burdens, spiraling inflation, and a lack of access to financing featured as prominent concerns throughout the general debate. Like the 2021 rallying cry of leaders on COVID-19 vaccine inequality (or vaccine apartheid, as many leaders then derided it), leaders called out a broken system and implored for reform of the international financial architecture and more inclusive decision-making in multilateral forums as the only path toward the intertwined goals of pandemic recovery, mitigating the climate crisis. and accelerating the SDGs—including those for health.
The secretary-general proposed an "SDG Stimulus," led by G20 economies, to massively boost finances for sustainable development to increase lending, provide debt relief and new allocations of special drawing rights, and to underwrite specialized funds like Gavi, the Global Fund, and the Green Climate Fund. Mia Amor Mottley, prime minister of Barbados, proposed similar strategies to support low- and middle-income countries in her Bridgetown Agenda, emphasizing the need to provide emergency liquidity and increase multilateral lending by $1 trillion. As noted below, with concerted attention on Universal Health Coverage (UHC), many countries will be crippled in their quest to achieve UHC without addressing these structural challenges.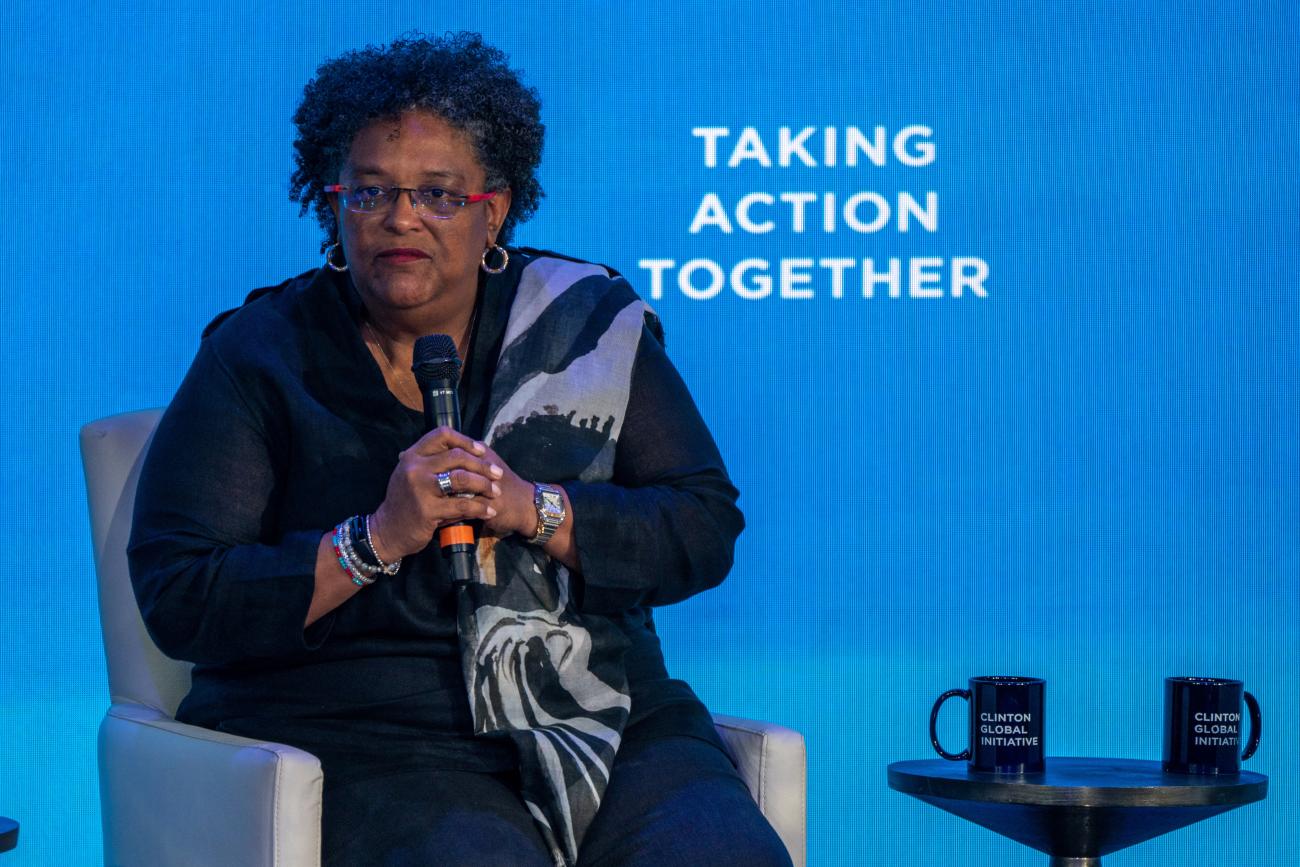 Record-Breaking Global Fund Replenishment
Despite falling short of its target, the Global Fund's record-breaking replenishment signified global commitment to a shared health agenda. Even in the face of widespread economic challenges and multiple global crises, the Seventh Global Fund Replenishment Conference raised $14.25 billion, the largest amount put forward for any multilateral health fund in history. This record-breaking pledge moment is a testament to the global commitment to fight three infectious killers—AIDS, tuberculosis, and malaria. Remarkably, most donor countries committed 20-30 percent more than their last replenishment contributions and implementing countries similarly increased pledges, some by as much as double. Several new donors stepped forward, as well. Yet, in part due to the United Kingdom and Italian governments withholding a pledge at the event, the replenishment fell short of its $18 billion target for its next three-year funding cycle (2023-2025), putting millions of lives at risk.
Against the backdrop of competing global challenges and a crushing week of priorities, the historic Global Fund replenishment included thirteen heads of state and government (including five of the G7 leaders) in person on September 21, 2022. This is an important symbol of world leaders' commitment to multilateral cooperation and partnership.
Bolstering Primary Care and the Health Workforce
Robust primary care and a resilient health workforce were viewed as necessary ingredients for stronger health systems, and these themes resonated across health-focused side events. At least half the world's population cannot access essential health services, and at the height of the pandemic, more than 90 percent of countries reported disruptions to primary care—with the heaviest disruptions felt by low- and lower-middle income countries. Unsurprisingly, investing in the health workforce and resilient primary care were key points for many during UNGA.
Despite falling short of its target, the Global Fund's record-breaking replenishment signified global commitment to a shared health agenda
Through a joint initiative of the African Union and Africa CDC during UNGA, political leaders across the continent adopted a new compact calling for greater investment in the health workforce. There were calls for gender transformative investment in the health workforce and health leadership as a cornerstone of enhancing preparedness for future pandemics.
From expanding access to immunization to preventing non-communicable diseases, UNGA participants resoundingly called for strengthening primary care, community engagement, and health communications as cornerstones to accelerate progress on the health-related SDGs.
The Kickoff
The 2022 UN General Assembly was the kickoff for a very active year ahead in New York, with three high-level meetings on health set to take place in 2023. Member states are increasingly converging around the importance of UNGA as a forum to cultivate political will, enhance collaboration, and mobilize resources for complex issues that cannot be solved by health ministries alone. In September 2023, a high-level meeting on universal health coverage will provide a comprehensive review on the implementation of the political declaration adopted at the inaugural UHC high-level meeting held in 2019. In early September 2022, member states added to the docket an additional high level meeting on pandemic prevention, preparedness, and response (date to be determined in 2023), which will seek to refocus highest-level political attention on pandemics as existential risks. The first high-level meeting on tuberculosis that occurred in 2018 will also see a follow-up in 2023.
With each of these high-level meetings entailing intensive preparations and negotiations by member states, and with a plethora of member state-led processes also occurring at the WHO in Geneva, it is imperative that these high-level meetings are complementary to health-focused processes ongoing in other settings. In his closing remarks at the Third Annual Ministerial Meeting of the Group of Friends for UHC, President of the General Assembly Csaba Kőrösi of Hungary, noted, "My goal is to ensure synergy between the high-level meetings on health planned for 2023 and the forthcoming SDG Summit. A holistic view on health is essential for the success of the Agenda 2030."