In 2008, Beijing welcomed the international community to a Summer Olympics that many, including people in China, saw as a landmark event in China's opening to the world and integration into the global system. Fourteen years later—on February 4—the Olympic torch was lit once again in Beijing, this time marking the start of the Winter Games. However, China's attitude is no longer one of openness, and a serious tone has rippled across the 2022 Winter Olympics.  
Though China was the first country to experience the COVID-19 pandemic, within four months, it effectively halted domestic spread of the novel coronavirus in April 2020. Since then, China has maintained a relatively COVID-free society through strict border closures, mass testing, high-tech monitoring, and harsh lockdowns, allowing most Chinese citizens to live a "zero COVID" life. The approach has been so successful that Chinese President Xi Jinping has staked much of his political legitimacy on the government's ability to maintain this zero COVID stasis as long as it is needed. However, the global spread of the highly infectious omicron variant and the concurrent arrival of 30,000 athletes from outside of the country, coaches, foreign media, and other event participants for the Winter Games poses perhaps the greatest threat to China's strategy yet.  
Fearful of experiencing the record-breaking COVID surge that plagued Japan during the Tokyo 2020 Summer Olympics—which the International Olympic Committee has stated was unrelated to the Games—Beijing has imposed even more stringent COVID control measures, creating what it calls a "closed loop" ecosystem. Some journalists in attendance have likened the health protocols to "dystopian fiction," while China has said the measures are necessary for a "streamlined, safe, and splendid" Games.  
Our slideshow peels back the curtain on what it takes to maintain a zero-COVID Olympics for athletes, participants, media, and staff.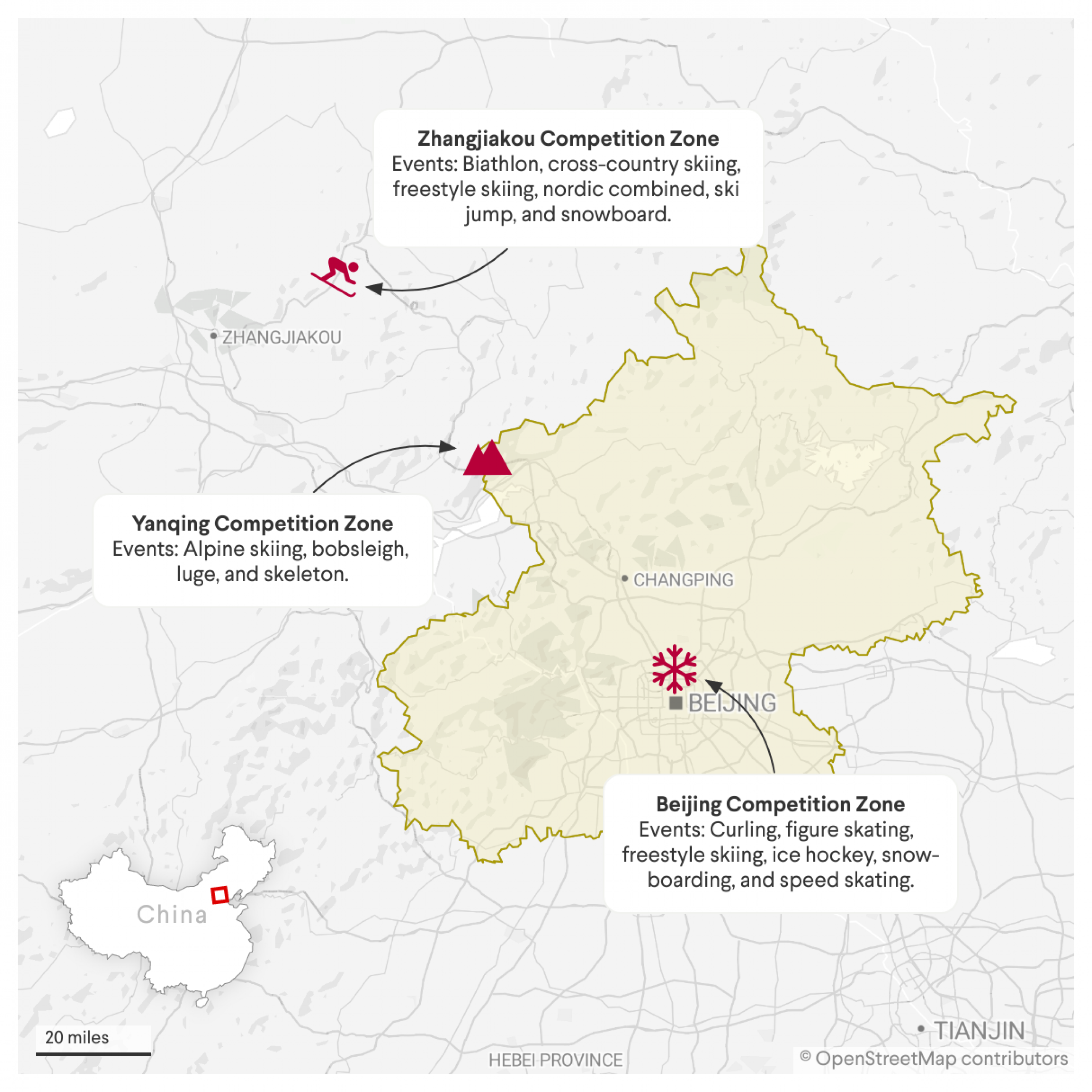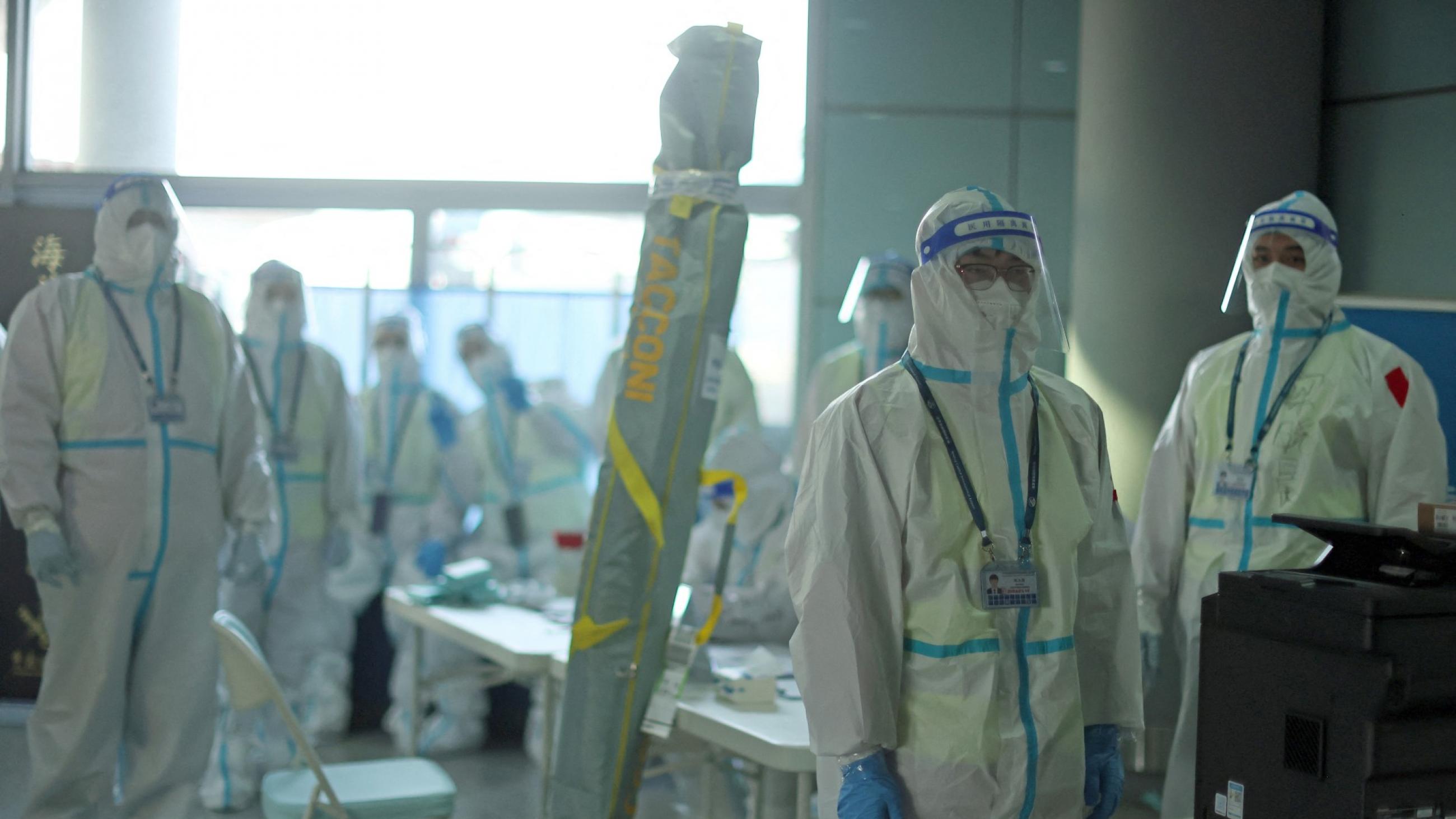 Nobody In, Nobody Out
To prevent unauthorized Chinese citizens from entering, and Olympic participants from leaving, paramilitary police stand guard at the limits of the "closed loop." Wire fences seal off the areas containing Olympic venues, media centers, and hotels from the rest of the Chinese capital.
REUTERS/Tyrone Siu
The Closed Loop
Beijing is hosting the Winter Olympics in three distinct locations: Beijing, Yanqing, and Zhangjiakou. Travel between the three sites—either by special buses, private car, or a dedicated Olympics bullet train—is limited to participants within the closed loop.
CFR/Samantha Kiernan
Guarded Hotels
Participants, media, and Olympic staff must stay in approved hotels within the closed loop. Officers are stationed at hotels to bar individuals from leaving hotel grounds without permission and to ensure that individuals departing for events have undergone COVID-19 screening protocols. Unlike in the Tokyo 2020 Summer Olympics, athletes are not allowed to venture out of the hotels, including for short walks, unless they're headed to an event.
REUTERS/Fabrizio Bensch
Entering the Loop
Foreign participants and media have to take specifically chartered flights to Beijing Capital International Airport, where they are met by health workers in full personal protective equipment (PPE). After taking a PCR test, they are transported on specially chartered transportation into the closed loop. Fully vaccinated individuals are not required to quarantine, but those who are not, must quarantine in special isolation hotels for twenty-one days.
REUTERS/Hannah McKay
A Leading Tester Worldwide
Since the start of February, China has conducted an average of more than 70,000 PCR tests per day just among Olympic participants and others in the closed loop. This volume of tests is greater than daily testing in over one hundred countries, including Colombia, Pakistan, and the Philippines.
Once in the closed loop, all participants and staff must test negative every twenty-four hours to be able to leave their accommodations.
REUTERS/Wolfgang Rattay
Robot Revolution
Beijing has embraced the use of robots in the 2022 Winter Olympics to limit human-to-human interaction. Robots move through the hallways of closed loop hotels to spray disinfectants against the coronavirus and clean floors. They also occasionally remind guests to wear masks and observe COVID protocols.
REUTERS/Wolfgang Rattay
COVID Cocktails
Some bartenders at the 2022 Winter Olympics are robots as well, but human bartenders still serve athletes and attendees, too—only, they're required to wear full PPE. Guests at a Zhangjiakou hotel were served cocktails by bartenders and waiters in full protective gear at the start of the Games.
REUTERS/Emily Roe
Sterile Room Service
Even in hotels where all individuals test negative for the virus, Olympic staff and volunteers often wear full PPE when they interact with guests. Here, staff deliver plastic-wrapped room service in a Zhangjiakou hotel, but robots have also been reported to deliver room service.
REUTERS/Emily Roe 
Cooking Machines
Beijing is deploying robotic cooking machines in various dining halls to help prepare and deliver meals to guests within the closed loop. The robotic cooking machine delivers food directly to diners (the pink cone descending from the ceiling).
REUTERS/Fabrizio Bensch
Divided Dining
Guests who are not under quarantine or in isolation can eat in dining halls throughout the closed loop, but plastic barriers separate diners from each other.
REUTERS/Eloisa Lopez 
Protected Sales
Staff members wear protective clothing, face masks, gloves, and face shields as they prepare food for sale at the National Speed Skating Oval.
REUTERS/Fabrizio Bensch 
Tests Too Sensitive?
Several European teams have criticized the stringency of China's isolation protocols for athletes that test positive. The Finnish ice hockey team even accused China of violating player Marko Anttila's human rights by keeping him in isolation for twenty days.
Anttila originally tested positive on January 18 but was negative before arriving in China. However, in Beijing, where PCRs are set to a "very sensitive level" (a cycle threshold of 35), he tested positive again and was forced to isolate.
REUTERS/Thomas Peter
Staff Also Cut Off From the World
China selected 19,000 volunteers and staff to serve the Beijing Olympics. They entered the closed loop system in early January, after being trained in competition rules, mental health support, and epidemic prevention. They cannot leave the closed loop until March, when they complete a twenty-one-day quarantine following the end of the Games.
REUTERS/Tyrone Siu
Isolated Lunar New Year
Olympics staff and volunteers had to spend the Lunar New Year, which began on February 1, away from loved ones, because they were not allowed to leave the closed loop during the holiday. Lunar New Year is the most important holiday in China and typically a time of gathering and celebrating with friends and family.
REUTERS/Edgar Su
Reunions Through Glass
One member of the Winter Olympics medical staff, Dr. Ding Hongtao (right), was able to see his girlfriend (left) in early February after she obtained an event ticket. The visit—albeit through several glass screens—was their first-time meeting in person in several weeks.
REUTERS/Susana Vera
Limited Attendance
Beijing has severely limited the number of spectators at athletic events. In January, China canceled all ticket sales for the Olympic and Paralympic Games. Instead, game organizers selected attendees from a pool of applicants, many of whom are rumored to have ties to major sponsors. Before each event, attendees must also undergo COVID screenings that can take up to seven hours.
REUTERS/Brian Snyder
Regular Cleaning
Even with limited attendance, Olympic staff clean facilities regularly. Here, they wipe down the seats of the ice-skating arena in the National Speed Skating Oval of the Beijing Competition Zone.
REUTERS/Susana Vera 
PPE, Even Outdoors
At many events and trainings, Olympic staff and volunteers wear head-to-toe protection gear. Even at outdoor locations, such as Big Air Shougang—an open-air sports stadium that hosts freestyle and snowboarding events—staff members can be seen wearing masks, gloves, face shields, and other PPE.
REUTERS/Fabrizio Bensch 
Maintaining Zero COVID
Only time will tell whether these protocols are sufficient for China to maintain zero COVID throughout and beyond the Olympics. Early signs suggest its strict measures, including more than one million COVID tests, and the closed loop concept, are keeping COVID "under control" in Beijing's pandemic Olympics.
REUTERS/Evelyn Hockstein