Four years ago, during my annual gynecological exam, the nurse practitioner palpated a lump in my left breast.
"Did you know about this?" she asked, placing my hand over the hard mass.
"No," I replied. Though it was impossible to miss. I hadn't been checking my breasts. I felt fine. I was a healthy 27-year-old. Or so I thought.
A sonogram, mammogram, and biopsy later, I was diagnosed with stage IIB breast cancer. At nearly six centimeters, my tumor was the size of an egg. Within days of my March 2017 diagnosis, I began fertility preservation treatments. A few weeks later, I underwent surgery to retrieve my eggs for freezing. By April, I had already started my first of 16 rounds of chemotherapy, which concluded in August. In September, I had a double mastectomy. By the end of December, I had completed 25 rounds of radiation.
"If the year was 2020 instead of 2017, the outcome of my story would have likely been quite different"
If the year was 2020 instead of 2017, the outcome of my story would have likely been quite different. I probably would have postponed or altogether cancelled my checkup, as many young people did this past year, in fear of contracting COVID-19. Unchecked, my cancer could have advanced to stage III or IV. Missed or delayed screenings can lead to diagnoses of cancers at a later stage, when they are more difficult to treat and sometimes incurable. If my cancer wasn't caught when it was, who knows if my tumor would have responded so well to treatment (after chemo and radiation, a residual tumor of only one-and-a-half centimeters was removed during surgery). Who knows if I would still be here today.
Though delaying and avoiding routine medical care has been common in the COVID-19 era, it's nothing new for millennials. With cancer as the second-leading cause of death worldwide and cancer rates in young adults on the rise, this behavior concerns me.
Millennials—today's 25-to-40 year-olds—account for 27 percent of the global population (about 2 billion people). In the United States, though we're into health and wellness with juicing and yoga, we don't regularly see the doctor. When we're sick, we self-diagnose using WebMD. If we're really sick, we might visit an urgent-care center, if we can make room in our busy schedules. But many of us tend to skip routine wellness appointments, where cancer screening and diagnoses often begin. In 2018, the Kaiser Family Foundation polled 1,200 randomly selected adults across the nation and found 45 percent of 18-to-29-year-olds and 28 percent of 30-to-49-year-olds don't even have a primary care doctor (compared to 18 percent of 50-to-64-year-olds and 12 percent of age 65 and older).
I'm guilty of skipping plenty of physicals over the years. However, I have been getting women's wellness checkups—which generally include a breast exam, pelvic exam, and pap smear—since my early twenties. My mom was diagnosed with breast cancer at 43, and though genetic testing showed her cancer wasn't hereditary, I wanted to play it safe. According to screening recommendations by the American Cancer Society (ACS) and other organizations, at the time of my diagnosis I was still six years away—10 years younger than my mom's age at diagnosis—from when I should start receiving mammograms.
"At the time of my diagnosis I was still six years away—10 years younger than my mom's age at diagnosis—from when I should start receiving mammograms"
Primary care physicians (and gynecologists for women's health) are positioned to promote preventive medicine like cancer screenings because their specialty involves ongoing relationships with patients. They intimately know our medical history and see us even when we're feeling healthy. Of course, the benefits need to be weighed with the risks. More cancer screening of young people is a complex, controversial proposition. According to the ACS, nearly 80,000 U.S. adults ages 20 to 39 are diagnosed with cancer each year, accounting for only about 5 percent of all cancer diagnoses. So, most of the time, a suspicious finding does not mean cancer. For example, most breast lumps found in young women are benign tumors called fibroadenomas. Patients presenting with abnormalities can be subjected to an unnecessary slew of tests and procedures, which can lead to false-positive results and over diagnosis. As critics of increased screening point out, being told you have cancer when you really don't or being diagnosed with an illness that would not cause problems if left untreated causes emotional anxiety for patients and places economic burdens on the health-care system. Aware of these risks, doctors do their best to avoid them.
But what about the value of saving lives? Until we have better screening methods, we need to ensure people like me don't slip through the cracks. With recent cancer trends in young people, doctors need to be especially vigilant for outliers. One study found rates of cancer in people ages 15 to 39 increased by almost 30 percent between 1973 and 2015. Another study reported the rate of cancers in this age group has increased by about one percent every year over the past decade.
More alarming are the trends in cancer death rates among young adults. Overall, these rates have declined by one percent each year between 2008 and 2017. However, for some cancers, they've plateaued. That's what researchers analyzing breast cancer data from the National Center for Health Statistics recently found. As they reported in their retrospective study published in February 2021 in Radiology, the number of U.S. women dying from breast cancer steadily decreased for all age groups (20- to 79-year-olds) from 1989 to 2010. After 2010, the breast cancer death rates in women ages 40 to 79 continued to decline, meaning fewer women in this age group were dying year after year. Yet, in the 20-to-39 age group, the same number of women continued to die each year. The researchers believe a rise in metastatic (stage IV) breast cancers, or cancers spreading beyond the breast, is behind this age-related discrepancy. Rates of metastatic breast cancer also increased in the 20-to-39 age group by more than 4 percent each year since 2000. Metastatic breast cancer is considered incurable, with a five-year survival rate of 22 percent.
The study's corresponding author, R. Edward Hendrick, clinical professor of radiology at the University of Colorado School of Medicine, thinks a shift in public attitudes is behind the rapid rise in advanced-stage breast cancers in young women. Through the 1990s, the U.S. Preventive Services Task Force and other organizations recommended doctors and women themselves regularly perform breast exams. However, organizations dropped these recommendations as research—"poorly conducted randomized controlled trials mostly conducted outside the United States," as Hendrick puts it—showed breast exams provided no clear benefit in catching breast cancer. In May 2003, the ACS made clinical breast exams and breast self-exams for women ages 20 to 39 optional. Public service announcements went by the wayside. In turn, awareness of catching breast cancer early in women too young for mammography waned.
"If young women are not regularly seeing their doctors, then doctors are not performing clinical breast exams"
As Hendrick pointed out, one obvious difference exists between older and younger women: many women over 40 are regularly screened through mammography, while those under 40 rarely are, unless they're considered high risk. So, the higher rates of advanced breast cancers and flatlining of breast cancer death rates in women in their twenties and thirties are likely due to this lack of screening.
Offering mammograms to younger women may help change this course but wouldn't be a perfect solution. About half of all women—and more commonly premenopausal women—have dense breasts, characterized by fibrous and glandular (instead of fatty) tissue that appears white on a mammogram. Tumors also appear white, making it difficult to distinguish between normal breast tissue and cancer. Because of my dense breasts, my large tumor was obscured on the mammogram but clearly seen via ultrasound and magnetic resonance imaging (MRI).
If young women are not regularly seeing their doctors, then doctors are not performing clinical breast exams. Maybe young women are still performing breast self-exams or the newer concept of breast "self-awareness," which promotes a familiarity with how one's breasts normally look and feel, as opposed to monthly scheduled checks; maybe they're not.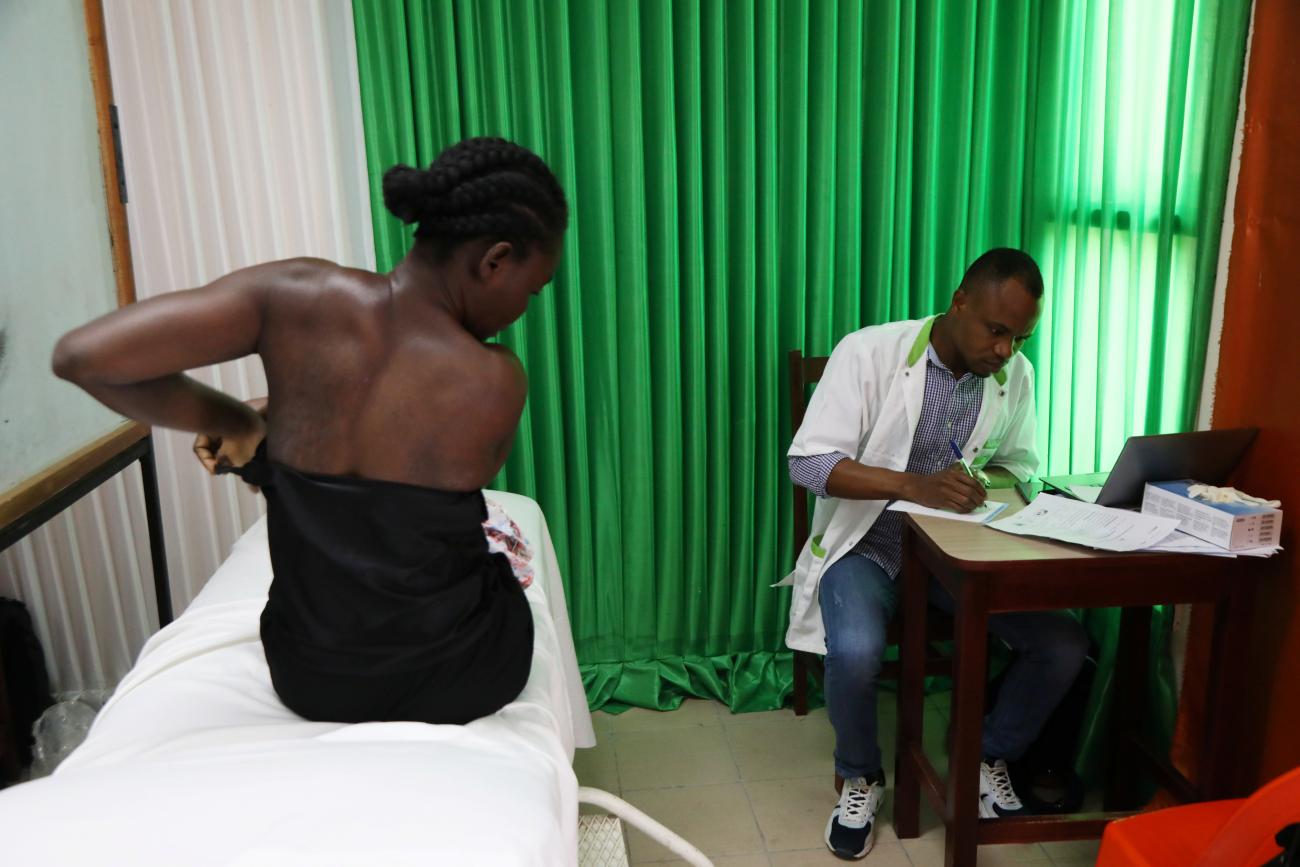 These worrisome statistics aren't limited to breast cancer. For other cancers, including colorectal and endometrial cancers, death rates have increased in young people. In individuals ages 20 to 39, cancer is the fourth-leading cause of death (behind accidents, suicide, and homicide) and the leading cause of disease-related death. Of the 80,000 15-to-39-year-olds diagnosed with cancer in 2020, the ACS estimated about 9,000 would die.
"Cancer in young adults is still rare, but when it happens, it seems to grow faster," explained Dr. Electra Paskett, the Marion N. Rowley Designated Chair in Cancer Research and director of the Division of Cancer Prevention and Control at the Ohio State University College of Medicine.
Paskett is now leading a study funded by the National Cancer Institute to investigate the impact of COVID-19 on cancer prevention and screening behaviors. Though preventive screening numbers have somewhat rebounded to pre-pandemic levels, Paskett remains concerned.
"There have been many reports on the reduction of screening tests and HPV [human papillomavirus] vaccination over the last few months," said Paskett. "People are still afraid to go to the doctor, some have lost jobs and health coverage, clinics have closed, and those homeschooling children can't get to appointments."
"My fellow millennials, here's my public service announcement to you: A routine wellness exam saved my life. Don't skip yours"
In analyzing survey data from approximately 10,000 individuals with and without cancer, and cancer survivors, Paskett will consider age-related effects—including whether young adults are any more or less likely to get screened during the pandemic.
"If adolescents and young adults are less likely to go the doctor and get screened, we would see a stage shift and more deaths," said Paskett, who believes encouraging young adults to undergo routine care will require "multilevel interventions."
"Facilities have to send out reminders to patients, providers need to reassure and reach out to patients for exams, and patients need education about the need to get screened as well as that it's safe. Public service announcements geared to each age group would also be helpful."
My fellow millennials, here's my public service announcement to you: A routine wellness exam saved my life. Don't skip yours.