When a man in Hyderabad, India, came down with typhoid, he and his family had to borrow ₹5,000 (rupees)—the equivalent of about $70—from his employer, the owner of a tea shop, to pay for lifesaving medical care. The man recovered, but to pay back the loan, his family had to pull their six-year-old son out of school to work in the tea shop as security for repayment until the boy's father could return to his job. The child worked twelve-hour days washing dishes and was given just one meal per shift.  
The boy's mother recounted this story to co-author Mukti Bosco while Mukti was completing her master's degree. Mukti's professor instructed her to gather information from low-income community members about a time when they faced a health emergency. The experience and the family's story moved Mukti to found a nonprofit organization called Healing Fields in 2000, that equips women with tools to help prevent and treat health problems in their communities. 
The Institute of Medicine defines public health as "what we, as a society, do collectively to assure the conditions for people to be healthy." But Healing Fields's approach to improving the health of people in India does not prescribe universal solutions. Transforming the world requires creating problem solvers within villages who can identify root problems—through evidence and empathy—and build solutions. The organization works with women from rural and resource-poor states in India, and through training and mentoring, provides them with ways to improve health care and the health of people in their villages. They are referred to as community health entrepreneurs (CHEs). CHEs collect data on illnesses and health-related behaviors, identify health challenges using the data, and devise solutions to create positive change. In addition to improving health, CHEs earn income by selling basic health products, including sanitary napkins, nutrition sachets, and soap. Approximately 82.7 percent of women trained by Healing Fields report increased income.  
83 Percent
Almost 83 percent of women trained by Healing Fields report increased income
CHEs develop an evidence-based approach to understanding local health needs. They collect data on topics ranging from the availability and use of toilets among households to information about people's health conditions. For example, one CHE, Kalawati Devi, identified that a specific pocket of her community was suffering from chronic diarrhea and found a contaminated shared water source. She then educated the community on how to make water safe for consumption.  
Another CHE, Meena Singh, from Uttar Pradesh, reported through her data collection that "a lot of toilets which were built in the villages were valued more as dry and enclosed spaces and used for storing items such as fodder for livestock or fuel for cooking," instead of using them for their intended purpose. In response to these findings, Singh educated members of the community about the purpose and benefits of toilet use, helping them learn that "defecating in the open can be hazardous" to health. Singh also helped build new toilets in her village. Overall, CHEs have facilitated the construction of nearly 50,000 toilets. 
The tools that CHEs use to collect data are often basic—from simple paper registers to free and low-cost digital surveys accessible on mobile phones. Creating and owning this kind of community-level data allows them to identify trends and problem areas. Creative analytic thinking does not require advanced education. Many women are semi-literate, but they are trained to use the simple survey forms in order to collect needed information, and the forms are in their local language.
Healing Fields has trained more than 6,000 CHEs in as many villages across ten states, reaching 7.5 million individuals. Their work sits in three pillars: catalyzing behavior change, creating access to health services and entitlements from the government, and community leadership. These factors affect determinants of health and the burden of disease. At the core of CHEs' work is an understanding of the linkage between visible adverse outcomes, like high rates of non-communicable diseases—including diabetes, anemia, and hypertension—or social issues, such as domestic violence, and their diverse root causes.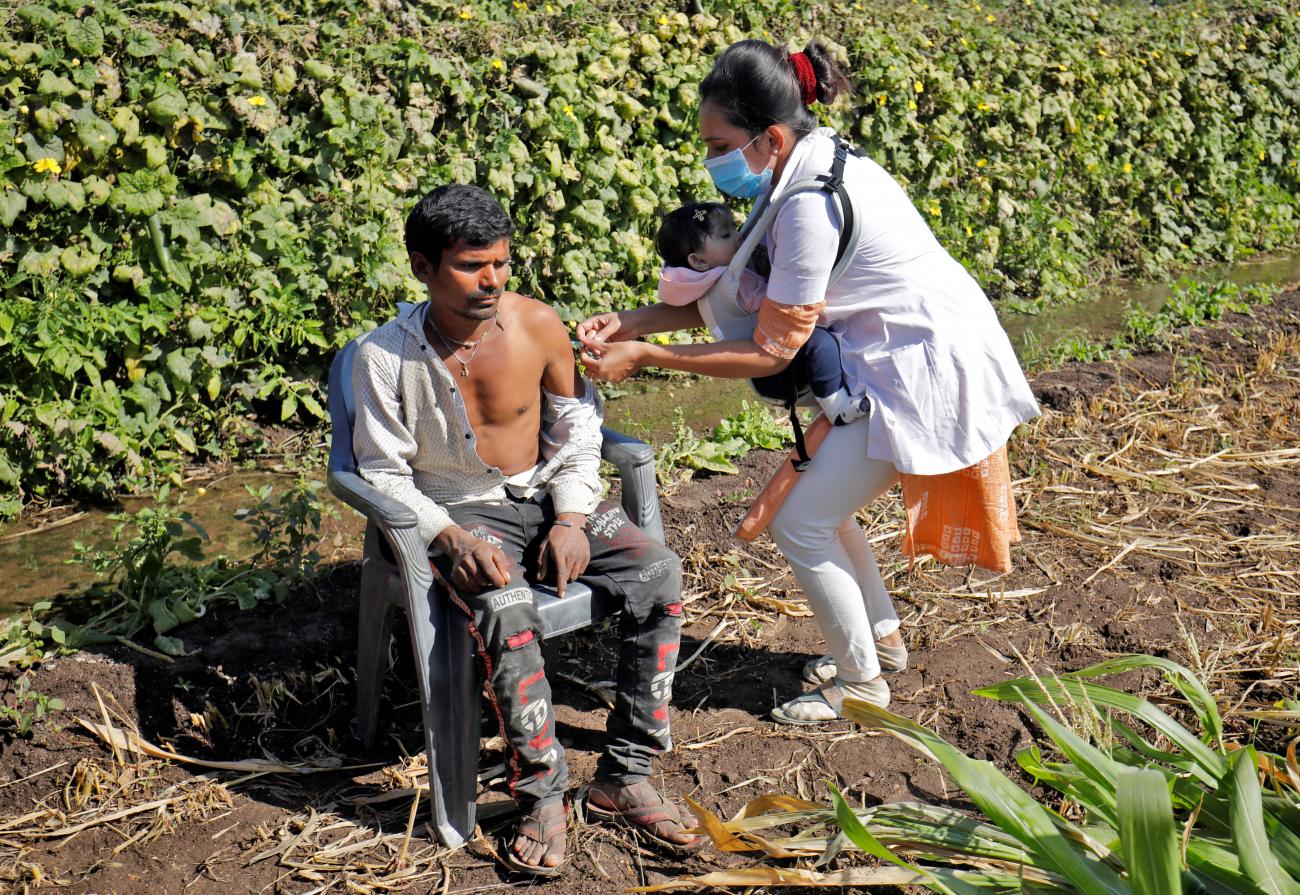 For CHE's, community understanding is paired with knowledge about improving health outcomes through behavior change. A community's well-being relies on addressing the social determinants of health within the community, such as education, food security, social inclusion, and access to affordable health services. And human behavior is the most important influence on health outcomes. Behaviors such as tobacco use, alcohol consumption, physical activity, nutritional habits, sexual behavior, and stress-coping mechanisms account for more than 40 percent of variations in health outcomes. An embedded change agent is best positioned to influence these patterns. For example, in some communities, there are superstitions related to pregnancy and eating certain foods. Some proteins, like meat, and fruits, like papaya, are considered dangerous during pregnancy according to local beliefs. CHEs lead health education around preventive health, nutrition, sanitation, and health-seeking behaviors. Their communities elevate them as leaders, telehealth facilitators, and influencers. According to an analysis by the TATA Institute of Social Sciences conducted in 2017, approximately 94 percent of community members covered by a CHE regularly practice improved health behaviors.  
Through the pandemic, CHEs facilitated over 300,000 vaccinations and provided food to more than 10,000 families
CHEs help bridge other gaps in their local health ecosystems. For example, in Bihar, CHE Usha Gupta led health education sessions on the use of sanitary napkins. Without access to pads, women were using rags that cannot be washed and dried in public and that are shared between women in the family—practices that can lead to infection. Cost was a barrier for many women in her village, so Usha began providing women with sanitary pads on credit. She was tracking illnesses, so she made a point to give them to women experiencing urinary tract infections. Through this strategy of awareness generation, women understood the positive health outcomes. Now, Usha sells sanitary pads to 90 percent of the women in her village.  
During the COVID-19 pandemic, CHEs used their skills to keep their communities safe and nourished. They conducted community surveys, maintained logs to achieve complete COVID-19 vaccination, and tracked vulnerable community members who lost income in order to help facilitate their access to emergency rations provided by Healing Fields Foundation. Through the pandemic, CHEs facilitated over 300,000 vaccinations and provided food to more than 10,000 families. COVID-19 strengthened their communities's respect and acceptance of them as agents of change for health. 
Even the most remote villages with the fewest resources are able to build resilient communities if provided with health education and support. Training women to collect and analyze data creates a network of people capable of tackling local health challenges, identifying local solutions, and it empowers the women themselves to be leaders in their communities