The availability of the Moderna and Pfizer mRNA vaccines, shown to be 95 percent effective in preventing severe disease, have raised hopes of reaching herd immunity. Some political and public health leaders have argued that if we vaccinate 70 percent or 80 percent of the global population we can effectively end further transmission. But even countries fortunate enough to procure sufficient quantities of vaccine may never reach herd immunity, in which case COVID-19 could become a seasonal affliction that comes each year. Many factors will be determinative – some already well understood and others not. While it's possible to reach herd immunity by next winter, it seems increasingly unlikely we will do so, and in light of that we all need to shift our expectations.
Herd immunity occurs when individuals in a population have developed sufficient immunity so that, even in the absence of behavioral interventions such as mask wearing and social distancing, the average new case passes the disease on to fewer than one other person, and transmission can no longer be sustained. Regardless of whether the population develops immunity from vaccination or past infection, at that point they can return to the social interaction norms of the pre-COVID-19 world.
Even countries fortunate enough to procure sufficient quantities of vaccine may never reach herd immunity
Because COVID-19 is seasonal, the level of immunity necessary to stop transmission in the summer will be much lower than the level of immunity required in the winter. Because different population have different baseline frequencies of social interaction, we should also expect levels of herd immunity will vary by community.
For many low and middle-income countries, a scarcity of vaccine supply will likely prevent them from achieving herd immunity in 2021. The United States has considerable vaccine purchase agreements, in addition to its population's cumulative exposure to the virus over the last year, and may reasonably expect to reach herd immunity in the summer months — but may still fall short of a winter-level of herd immunity.
In countries fortunate to have sufficient quantities of vaccine, four factors will be critical in determining whether they achieve herd immunity.
First, if the population is hesitant to get vaccinated, it could halve coverage: in the United States, surveys of adult Facebook users indicate that approximately 25 percent will refuse the vaccine and a further 25 percent are uncertain. Assuming that half of the uncertain people can be persuaded to be vaccinated, 62.5 percent  of the adult population will be covered. (The vaccine is only currently approved for adults , so this would cover less than 50 percent  of the total population). Vaccine hesitancy may be even more impactful in countries such as Kazakhstan where 70 percent of the population are unsure about vaccination or unwilling to be vaccinated.
70 Percent
Seventy percent of the population in Kazakhstan are unsure about vaccination or unwilling to be vaccinated
The second factor is the protective impact of the vaccines. If half the U.S. population were vaccinated, what share would be immune? The Moderna and Pfizer vaccines are highly effective at preventing severe disease but there is very limited evidence as to whether they prevent infection or infectiousness. The Astra Zeneca vaccine is less effective, and in a subset of trial participants appeared to block infection in around half of those vaccinated. Early data from Israel suggest that the fraction protected from infection may be between 30 and 60 percent. In our modeling at the Institute for Health Metrics and Evaluation, we estimate that vaccines are half as effective at blocking infection as they are at preventing severe disease.  To further complicate this picture, a vaccine may fail to prevent infection yet still reduce patients' infectiousness, but no data are currently available to assess this.
In the United States, if we assume that by vaccinating half of the population by the fall we render a quarter of the population immune, and combine that with those immune through previous infection, we get to levels of overall immunity of 40 to 50 percent. Most high-income countries will have similar experiences. This level of immunity may be enough for summer herd immunity, but is unlikely to prevent a third wave in the winter of 2021 — even if due to the high clinical efficacy of the vaccines in preventing severe disease, we would expect there to be far fewer deaths.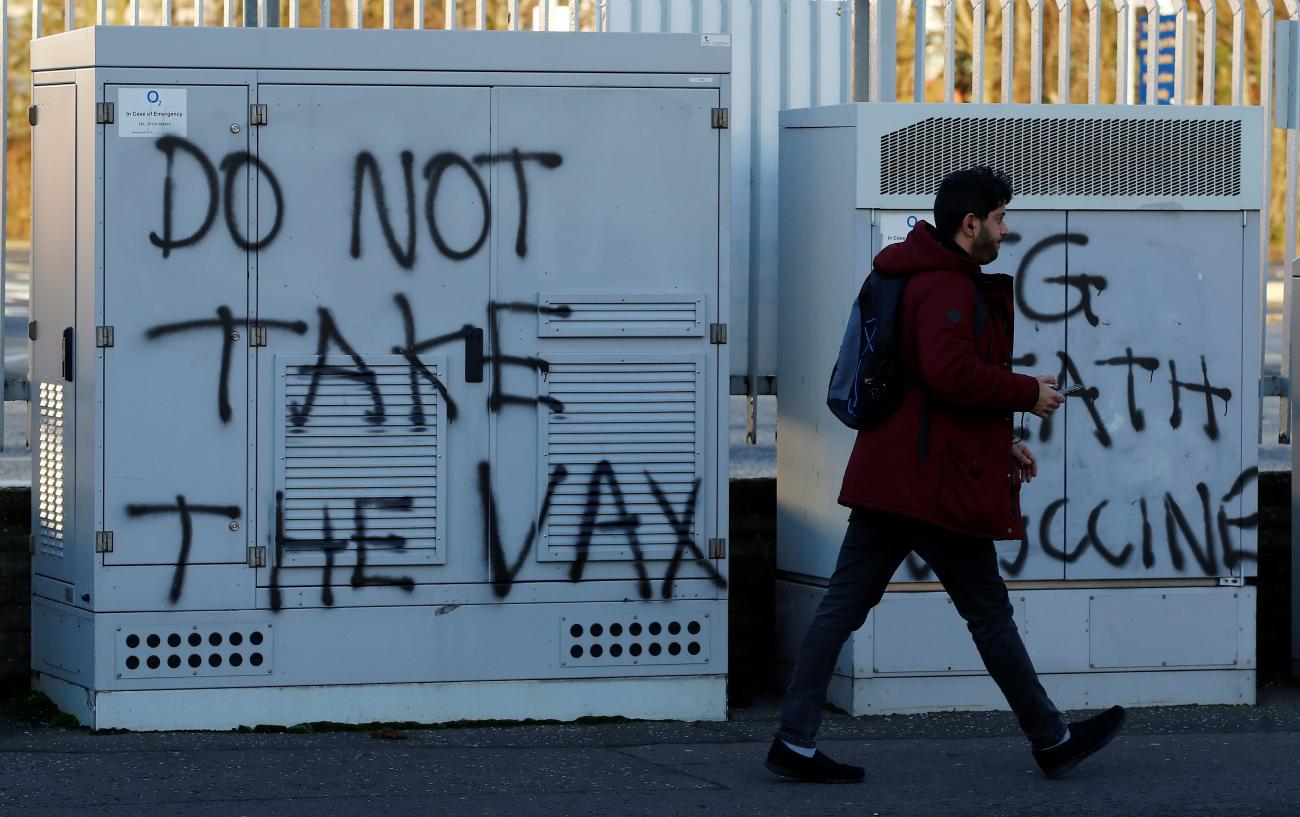 A third variable is the spread of new viral variants, such as B.1.1.7 (first identified in the United Kingdom) and B.1.351 (first identified in South Africa), whose higher transmissibility raises the threshold needed to reach herd immunity. Available evidence suggests these variants will become dominant within two to five months. Moderna reports that their vaccine produces 20 percent of the neutralizing antibodies for B.1.351 that it did for the original virus; this may render the vaccine less clinically effective, and less effective in preventing infection. Rapid spread of B.1.1.7 in Portugal in recent weeks indicates that other countries presages its arrival in other countries in the Northern Hemisphere. These variants can extend the current winter surge later into the spring, and also make it more difficult to achieve herd immunity in order to prevent a third wave. Randomized clinical trials or effectiveness studies to test vaccines' actual clinical effectiveness against the variants will be critical for determining the path to herd immunity.
The very real prospect of COVID-19 becoming a chronic seasonal affliction
Finally, if immunity from infection or vaccination wanes over time, a real possibility, the level of cumulative infection and vaccination required to achieve herd immunity will also be higher, increasing the likelihood that COVID-19 becomes a seasonal disease like flu. So far, we do not have data to model for this.
Reaching winter herd immunity is still possible. It hinges on reducing vaccine hesitancy to very low levels, producing an effective vaccine for children, using vaccines that protect against infection and infectiousness, controlling more transmissible variants, and the hope that immunity achieved through infection or vaccination do not wane too quickly.
But if it is possible, it nevertheless seems unlikely. Facing the very real prospect of COVID-19 becoming a chronic seasonal affliction, we may need to consider more long-term behavioral changes to dampen transmission, such as wearing masks every winter. Governments and the public need to plan for the real possibility that COVID-19 will need to be managed on an ongoing basis, while making every effort to get to herd immunity in the short-run.