The World Health Organization declared measles eliminated in the United States more than 20 years ago, but cases of the virus have crept back up more recently and the country saw nearly 1,300 cases in 2019. A similar story has unfolded in the European Union, where numerous outbreaks have occurred throughout the past decade. Low vaccine coverage has led to higher case counts and has increased the likelihood of resurgence of the virus, which typically hits in childhood causing a rash and fever, among other symptoms.
In the United States, measles cases crept up to nearly 1,300 in 2019
Countries that have eliminated measles, such as the United States and the United Kingdom, should have strong enough systems in place to prevent ongoing transmission. However, the measles outbreaks that occurred in these countries in 2019 revealed that even post-elimination countries must remain vigilant. These outbreaks almost cost the United States its elimination status, and did cause the United Kingdom to lose its elimination status.
While measles case counts in the United States and European Union are relatively small, they can still have wide-reaching effects. The disease is extremely infectious, with a single person able to infect up to 18 others in a population with no immunity to measles (by comparison, someone with COVID-19 usually infects between three and seven others in a fully susceptible population). In the 2014 outbreak at Disneyland in California, one measles infection ultimately resulted in 147 total cases, spreading beyond California to other states.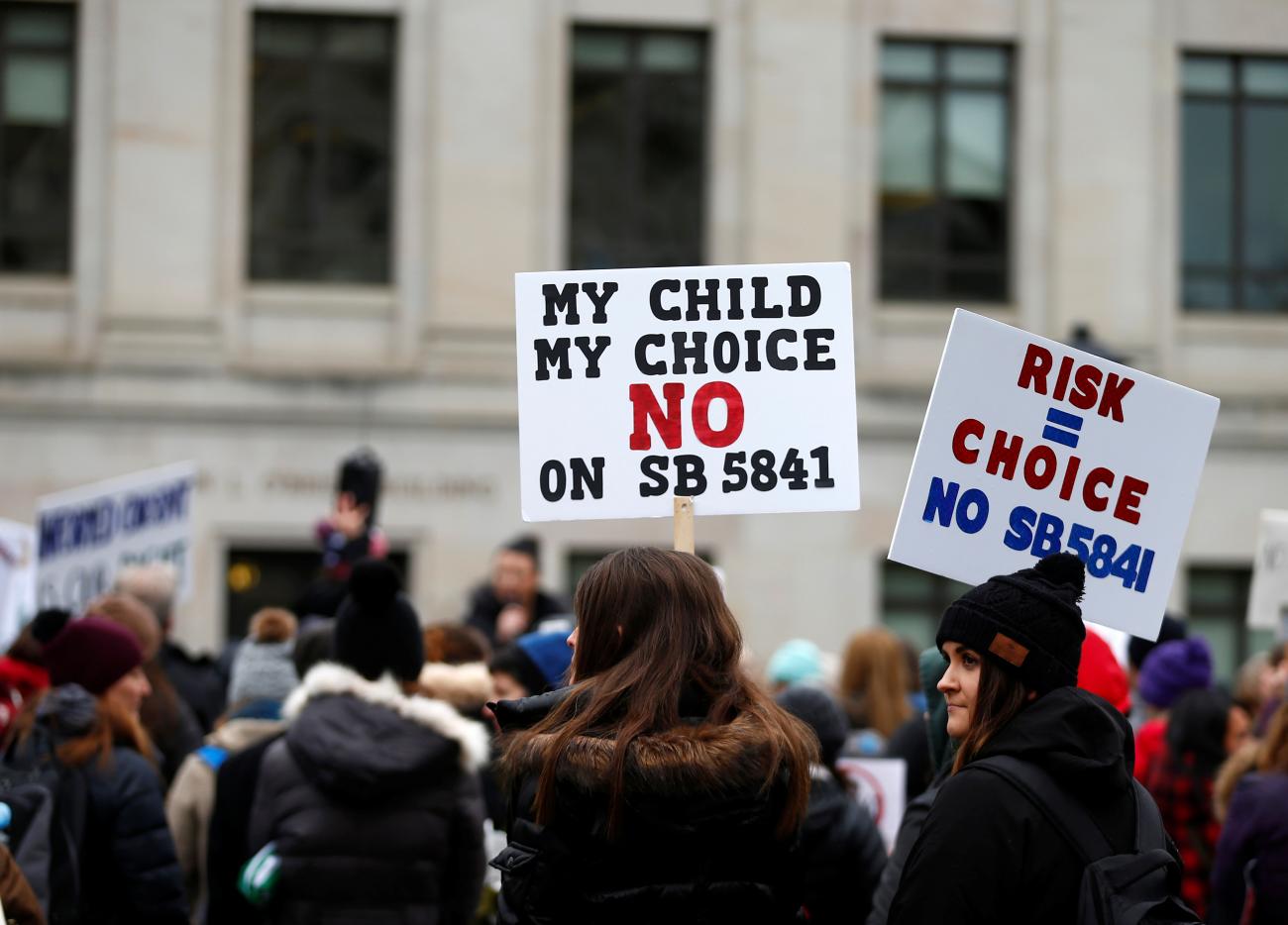 When Vaccination Wavers
Because measles is so contagious, a high number of individuals within a population need to be immune to the disease to maintain herd immunity. High and equitable vaccine coverage is essential: global organizations and countries often aim for 95 percent coverage with two doses of the measles vaccine. Dosing schedules vary by country—vaccines are given at an earlier age in countries with high risk of the virus. In the United States, a drop of just 5 percent in measles vaccine coverage can lead to a threefold increase in annual cases and a financial burden of $2.1 million on the public sector.
From the years 1990 to 1995, measles cases in the United States plunged by 99 percent, effectively eliminating the disease thanks to widespread child immunization programs. But in the last several years, decreasing vaccine coverage, coupled with cases from travelers to and from the United States, have set off an increasing number of outbreaks.
In 2019, 88 percent of infections were found in tight-knit communities with low vaccine coverage where highly infectious diseases like measles can spread quickly. For example, in 2014, one community in Ohio where immunization rates were low experienced more than half of the measles cases reported that year. The remaining cases came mostly from unvaccinated travelers, who may have visited countries where the disease is still common.
Inequities in access to immunization help drive low vaccine coverage, as well. In the United States, missed vaccination opportunities, financial challenges, parents' limited ability to take time off, and difficulty finding transportation are important access barriers that need to be addressed. For example, parents who do not have insurance that covers routine immunizations may not know about the Vaccines for Children Program that will cover the cost of routine immunizations for eligible children. High vaccine coverage is important, but just as important is equitable distribution. In the United States, persistent disparities by race, insurance status, and household income indicate that work remains to address the damage done by systemic racism and ensure equitable access.
Vaccine hesitancy is another factor that keeps people from vaccinating their children and themselves. Mistrust in health-care systems or certain strong principles drive vaccine hesitancy, according to Heidi Larson, Director of the Vaccine Confidence Project at the London School of Hygiene & Tropical Medicine.
"Sometimes it's because people believe in other things more, not that they don't believe in the vaccine, but that they have a different value," Larson told Ashish Jha, dean of Brown University School of Public Health in an interview posted on YouTube last year.
Larson also acknowledged the staying power of rumors such as a study published in The Lancet in 1998 that was later retracted that linked the MMR vaccine to a higher risk for autism in children. Despite being discredited, the study had a negative effect on parents' confidence in immunizing their children and it is still cited as a reason not to vaccinate. A high percentage of people in the United States who refused the measles vaccine also cited religious reasons.
Measles in Europe
Europe has also struggled to contain measles. In 2004, nearly every country in the European Union reported low measles incidence rates. However, a resurgence starting in 2010 prompted the European Vaccine Action Plan, which set targets to have 95 percent of the population receiving a first dose of the measles vaccine and 90 percent receiving the second dose by the end of 2017. Not all countries met this goal, and further outbreaks occurred in 2018 and 2019.
Two countries—the Czech Republic and Greece—lost their previously earned elimination status and contributed a total of 1,221 cases in 2019. Other nations in the European Union show a similar trend, with an uptick in cases in 2019, resulting in a total of nearly 20,000 new cases—up about fivefold from 2015.
In Europe, outbreaks appear to have sparked increases in vaccination and vaccine confidence. Countries such as France, Greece, Italy, and Slovenia all saw improvements in these two measures following large outbreaks.
Larson noted in her interview with Brown's Jha that people weigh the perceived risk and benefit of a vaccine, and "when the disease is imminent and tangible, you're much more willing to put up with that risk."
However, others, including the Czech Republic, Finland, Sweden, and Poland, experienced decreases in vaccine confidence in the same period. Research from the Vaccine Confidence Project shows a number of factors linked to vaccine confidence, such as age (those over 65 tend to have higher confidence) and confidence among general practitioners, which equates to higher confidence in the general public.
Larson also noted the importance of cultivating relationships between health-care providers and patients, making space for patients to voice their concerns and ensuring that patients feel heard.
"If they feel like you care and there's a trust relationship and you've demonstrated that you care about their whole life, not just giving them a jab so you check that off and somebody earns a dollar... I think that will already start shifting ground," Larson said.
According to Vaccine Confidence Project research, the majority of European citizens still believe in the importance, effectiveness, and safety of vaccines, but it is important to continue monitoring sentiments for decreases in confidence.
In the United States, outbreaks have also often prompted increases in vaccination. For example, in the Williamsburg neighborhood in New York City, vaccine coverage among children rose from 79.5 percent to 91.1 percent in 2019 due to concerted efforts to promote vaccination following a measles outbreak in the area. This outbreak started when a child contracted measles while traveling abroad, spurring 649 cases after returning to the United States.
Similar to Europe, measles outbreaks in the United States have prompted policymakers to change vaccination laws, which have increased vaccination coverage and decreased outbreaks. A measles outbreak in Washington state in 2019 originated in one under-vaccinated area, Clark County, resulting in 72 cases and prompting the governor to declare a state of emergency. At the time of the outbreak, Clark County recorded only 78 percent measles vaccination coverage, and coverage as low as 40 percent in some schools. At the time, the law in Washington allowed religious and philosophical/personal belief vaccine exemptions for children entering school. But the 2019 outbreak prompted policymakers in Washington State to change the law, removing the philosophical exemption.
Outbreaks in other U.S. states have also prompted policymakers to eliminate philosophical exemptions for children entering school, notably in California and New York.
How COVID Tripped Up Vaccination
The COVID-19 pandemic caused the largest disruption to immunization programs in recent history, leaving millions of children unvaccinated or under-vaccinated against measles in 2020. Despite decreases in vaccine coverage, countries reported few cases of measles. Precautions taken to mitigate the spread of COVID-19, like masks and social distancing, may have prevented other infectious diseases from spreading, but in places where mask-wearing drops off, lower vaccine coverage could create the perfect storm for future outbreaks.
To prevent these resurgences, we must work towards addressing vaccine hesitancy by encouraging clinicians to build trust with their patients and discuss vaccination early and often, increasing efforts to contain measles once introduced into a community, and requiring vaccinations before traveling to regions where vaccine-preventable diseases are common.
The COVID-19 pandemic has clearly demonstrated that controlling disease spread requires a global effort, and progress at one point does not guarantee progress forever. We must continue adapting measles vaccination programs to communities' needs, and enable all countries to achieve measles elimination.
EDITOR'S NOTE: The authors are employed by the University of Washington's Institute for Health Metrics and Evaluation (IHME). IHME collaborates with the Council on Foreign Relations on Think Global Health. All statements and views expressed in this article are solely those of the individual authors and are not necessarily shared by their institution.
Special thanks to Adrienne Chew, Jon Mosser, Katie Leach-Kemon, and Maja Pašović for editing and fact-checking this post.