With zero-COVID hurriedly dismantled by the government in China in December 2022, this year's "Chunyun," or Spring Festival travel, in China began as COVID infections were reportedly reaching 80 percent of the nation's population. One resident of Tongcheng County in Hubei Province—on the border of Hunan and Jiangxi Provinces, with a population of around 500,000—shared his experiences during this holiday season. 
The Spring Festival travel season this year runs from January 7 to February 15 and Lunar New Year runs from January 22 to February 5, and the beginning of the season marked a surge in deaths due to a COVID-19 wave. An estimated two billion trips will be made during this travel season, according to China's transport authorities. Air travel during the Spring Festival season so far has seen a 94 percent increase compared to 2022, when China was still under zero-COVID restrictions.  
"On the [45 minute] drive to Yunxi Village, I saw so many mourning tents," he said.  
In rural China, tents are set up outside a family's house to mourn a death in the family. In Yunxi Village, there are about a dozen families with mostly elderly relatives who stay in the village year round, and this resident has heard of two deaths among those families and many more in surrounding villages. One house in a neighboring village on the river lost three family members to COVID. 
Rural areas in China were predicted to be especially vulnerable to COVID-19 deaths and complications, as the population is older and has low access to medical resources. About 24 percent of rural China is over the age of 60, compared to 18 percent in cities. In 2011, 650 million people lived in rural areas and 700 million lived in urban areas. By 2022, that figure was 491 million and 920 million, respectively.  
Zeng Guang, a former chief epidemiologist at the Chinese Center for Disease Control and Prevention, had expressed concern earlier this month that "a large number of people are left behind in rural areas including the elderly, the sick and the disabled, and the medical conditions are relatively poor."
"Rapidly Passing the Peak" 
Some experts predicted in December that COVID infections in China would peak after Lunar New Year, but it seems like this first post-zero-COVID wave peaked earlier than expected. Ali H. Mokdad, an epidemiologist and the chief strategy officer of population health at University of Washington, said that their models at the Institute for Health Metrics and Evaluation (IHME) "took into account that some [preventative] measures would be put in place to slow the spread" after the end of zero-COVID.  
"We assumed that the authorities will not let it rip, but would have policies to spread [out] the infections," Mokdad said. "They did not, and this is why we have seen a rapid rise in a short time."
In December, the phrase "rapidly passing the peak" started making rounds on Chinese social media. The idea was to get 80 to 90 percent of the population quickly infected by Lunar New Year, which would bring about enough immunity to rip the Band-Aid off the economic and social impact of COVID. 
"After China reopened, everyone got COVID and is happy [that things are reopen for travel]," the villager said. "We go everywhere and don't wear masks anymore."
Government bureaus like the Department of Transport of Guangdong Province are still sending text reminders to tell people that "after Spring Festival travel, returning traveler's numbers are increasing… practice personal protection and wear a mask on your journey." Some other residents who haven't yet gotten infected or have high risk conditions said that they continue to wear their masks.  
CCTV New Year's Gala for Lunar New Year is a televised show with one of the world's largest audiences and most of China tunes in with their families, a family tradition since 1983. After two years of audiences shown wearing masks, this year is the first where shots that panned to the live audience showed no masks in sight. 
Funeral Traditions Cut Short 
For the 10 days leading up to Lunar New Year on January 22, the Tongcheng resident said that he was "very busy helping" with funeral preparations for families and friends in the villages. Many of the rural elderly who passed away from COVID died at home. One pulmonologist in downtown Tongcheng County who does not wish to be named said that they are "busy as usual" and hadn't seen many COVID patients from the villages.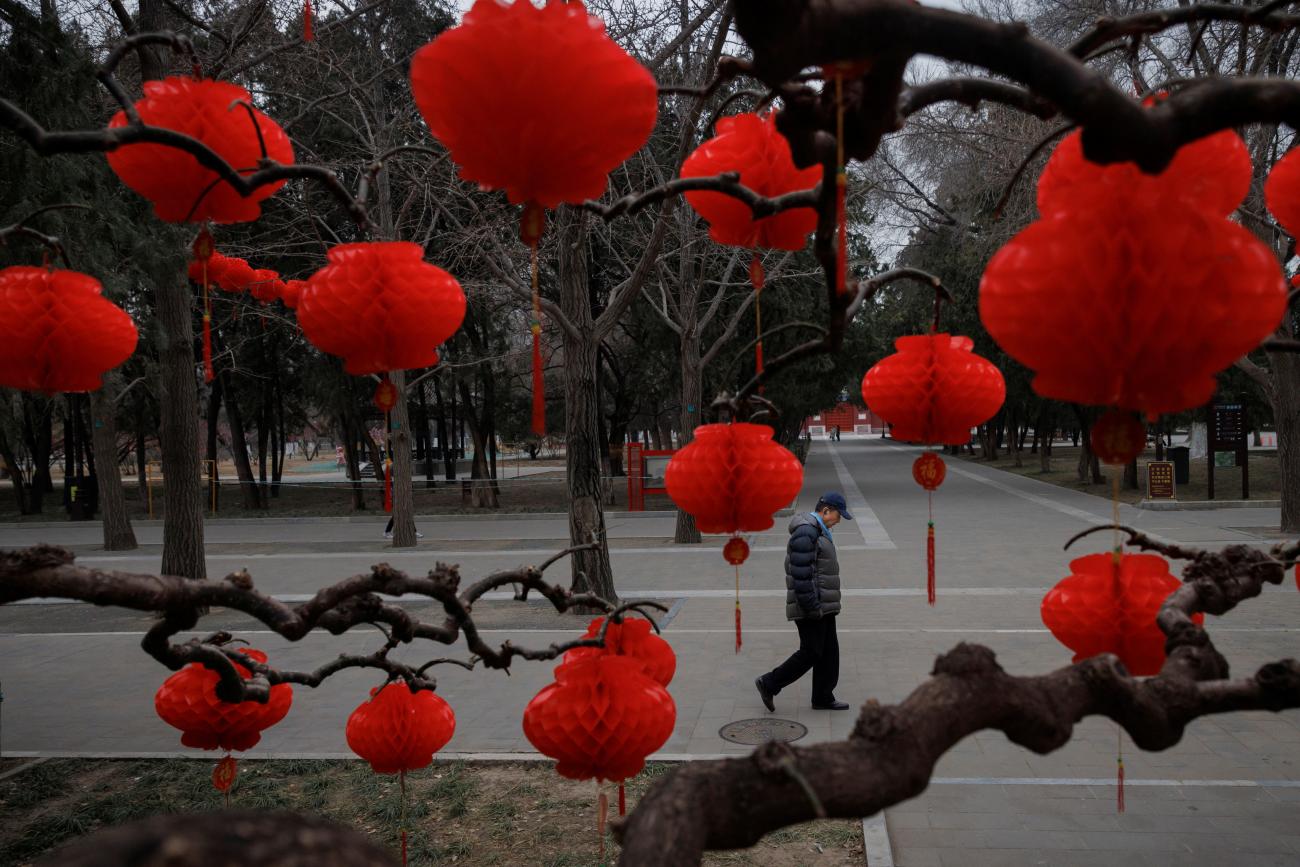 Rural Chinese people frown upon cremation and some family members choose and dig out an auspicious site for their grave well before they're in their 80s. Funeral ceremonies in rural China vary widely and are elaborate and multi-day ordeals that invoke a long list of traditions and practices that are a blend of Taoist, Buddhist, and Chinese folk religion. Each county and region in China has differing funeral rituals.  
In Tongcheng County, Bansu is a traditional funeral custom where relatives of the deceased have to keep vigil and accompany the deceased for their last night to comfort their soul in heaven. The Taoist priest spends hours singing the evil spirits away and a music group accompanies him. Fake money and paper items must be burnt to send the deceased off with riches.  
"The Taoist priests were booked up, the bansu weren't available, and even chefs were completely booked," the Tongcheng resident said. "There was so much to do."
With such a large wave of deaths in rural areas, many of these funeral traditions are cut short or unattainable completely.  
"Normally, you could have the Taoist priest sing for all day, as long as you want, but now they have to go quickly from house to house," another villager said.  
"There is no data, no one knows. We only know that a lot of people 'hung up,'" he said. 
'Hanging up' is a euphemism in Chinese for death. As of January 19, China's official count for COVID deaths is 73,000, but is likely magnitudes higher. 
Lunar New Year celebrations carried on without many of the matriarchs and patriarchs of rural families.  
Even local physicians in Yunxi Village and Tongcheng County were not spared from the COVID wave crowding the hospitals. One was a respected village doctor who was 78-years-old with diabetes who tested positive with COVID, but didn't go to the hospital because it was too full. After a few days, it was too late and he had passed away.  
EDITOR'S NOTE: The author's family is from the village featured in this story and is connected to the sources in the article.