The end of the pandemic is in sight, or so pronounced the World Health Organization (WHO) in December 2020. But, for whom? While vaccination campaigns have started in some nations, those efforts will take months to complete to bring back normalcy. For much of the world, the timeline is even longer, with low- and middle-income countries expected to wait until 2022 or even 2023 to gain widespread access to these life-saving vaccines. An end to this crisis may feel more palpable, but no one is yet out of the woods—especially those most vulnerable to the pandemic and its aftershocks.  
A uniquely vulnerable group of people, who have been largely uncounted, and thus insufficiently supported, are LGBTQ+ communities around the world. Efforts have been slow to collect data on how this group is affected by the pandemic, yet COVID-19 has amplified their existing vulnerabilities, just as it has for other minorities—hindering participation in the informal economy, upon which LGBTQ+ people disproportionately rely for work, exacerbating mental health crises, and impairing access to quality health services. While the pandemic has not affected LGBTQ+ people in uniform ways, governments incorporate lessons learned in 2020 about sexual health, privacy, state power, and gatherings to advance more inclusive and effective COVID-19 responses.
Access to Sexual Health Care and Medications
In 2020, medical supply chains around the world faced unprecedented disruptions, leading to price volatility, disruptions, quality concerns, and shortages. These failures hurt everyone but pose particularly acute threats to the health of LGBTQ+ people, many of whom are dependent on medications for HIV treatment or prevention or for gender-affirming care, including hormone therapy and gender reassignment surgery.
In 2020, the antiretroviral (ARV) drug supply chain was hit particularly hard. In the early months of the pandemic, WHO found that international shipping disruptions, travel restrictions, and lockdowns impacted ARV production and distribution by major producers in India. UNAIDS similarly reported that barriers and shocks to the medical supply chain threatened the production, distribution, availability, and cost of such medicines in low- and middle-income countries, with over 70 countries reporting risk of stock-out and 24 reporting critically low-stock. Without access to these medications, gay men and other high-risk groups for HIV face greater chance of worsening HIV infection—a threat that is particularly concerning given HIV's understudied association with adverse COVID-19 health outcomes.
Beyond supply chain issues, coronavirus-induced lockdowns and economic recessions have affected LGBTQ+ peoples' ability to receive care. In October and November 2020, UNAIDS researchers conducted a global, online survey of 12,600 lesbian, gay, bisexual, transgender, and intersex people via a social networking app. The survey, which is under finalization, found [PDF] that 20 percent of respondents were unable to meet their basic needs due to loss of income, and 12 percent of respondents who had ever taken pre-exposure prophylaxis (PrEP) were no longer using it. In the United States, LGBTQ+ individuals reported decreases in provision of gender-affirming care, including hormone therapy and surgeries—in some cases due to services being labeled elective or nonessential. Similarly, UNAIDS found that HIV prevention services for gay men and men who have sex with men decreased in several countries, such as South Africa, Honduras, and Cambodia. A notable exception was Kenya, which declared its HIV prevention services essential and actually saw increases in clients accessing care from March to July.
In the coming year, countries that proved highly dependent on global supply chains for medicines or lockdowns for COVID-19 control should rethink their approach to LGBTQ+ health. States should declare HIV prevention and gender-affirming care to be essential and support continued access to necessary medications such as ARV drugs, PrEP, and hormone therapies, even in the case of financial hardship by the patient. Furthermore, states and international institutions should aim to support and secure supply chains to ensure that lockdowns and international travel restrictions do not unnecessarily disrupt the production or distribution of these crucial medicines, particularly to high-risk or vulnerable groups.
Privacy Concerns and Contact Tracing
Technology was one of the mixed success stories from 2020. Countries such as China, Singapore, and South Korea successfully employed digital contact tracing apps to combat the spread of COVID-19, but at the risk of threatening individual privacy rights. This concern is particularly acute for LGBTQ+ people, whose whereabouts, contacts, health status, and social activities could be the basis for increased discrimination or persecution.
South Korea, which has been widely praised for its response to the novel coronavirus, confronted this tension between contact tracing and LGBTQ+ privacy in May 2020. After visiting Seoul's Itaewon district, a neighborhood known for its gay bars and clubs, a 29-year-old man tested positive for COVID-19. In the weeks that followed, Korean officials identified additional infections among the man's contacts and other nightclub goers, which seeded a larger outbreak that ultimately included 246 cases throughout the country. Yet, fears over a homophobic backlash threatened containment efforts: many clubgoers initially hesitated or even refused to submit to contact tracing, worried that such efforts would potentially "out" them to their families and workplaces, where they might face discrimination against which they have little legal recourse [PDF].
Although South Korea still employed invasive contact tracing—including cellular location and GPS data, credit card payment history, drug utilization review, public transportation records, and closed-circuit television footage—, the government took steps to protect individuals' privacy and incentive people to get tested. South Korean authorities anonymized testing, consulted with local LGBTQ+ groups, and advertised testing directly to the LGBTQ+ community. Ultimately, the country contained the outbreak, but not without exposing the unique sensitivities and fears of the LGBTQ+ community.
Questions of privacy are graver in Singapore, where consensual sex between two men is a crime punishable by up to two years in prison. Recently, the Singaporean government granted police access to contact-tracing data, violating earlier pledges to protect citizens' data. While Singapore's anti-gay statute [PDF] is rarely enforced, the law was upheld by the High Court of Singapore as recently as May 2020 and continues to intimidate gay men and influence how Singaporeans view homosexuality. By allowing law enforcement agencies to have access to contact-tracing data, the government disincentives LGBTQ+ peoples' cooperation in contact-tracing efforts, increasing their risk of infection, and exposes them to legal risk.
Thus, as states look to expand or maintain contact-tracing, they should consider the privacy of all citizens, particularly the LGBTQ+ community, and work to make public health campaigns inclusive. Where possible, states should anonymize data, preserve privacy, and keep sensitive information between individuals and public health officials. Failing to do so deters LGBTQ+ participation and exposes the community to social, professional, and even legal discrimination or violence.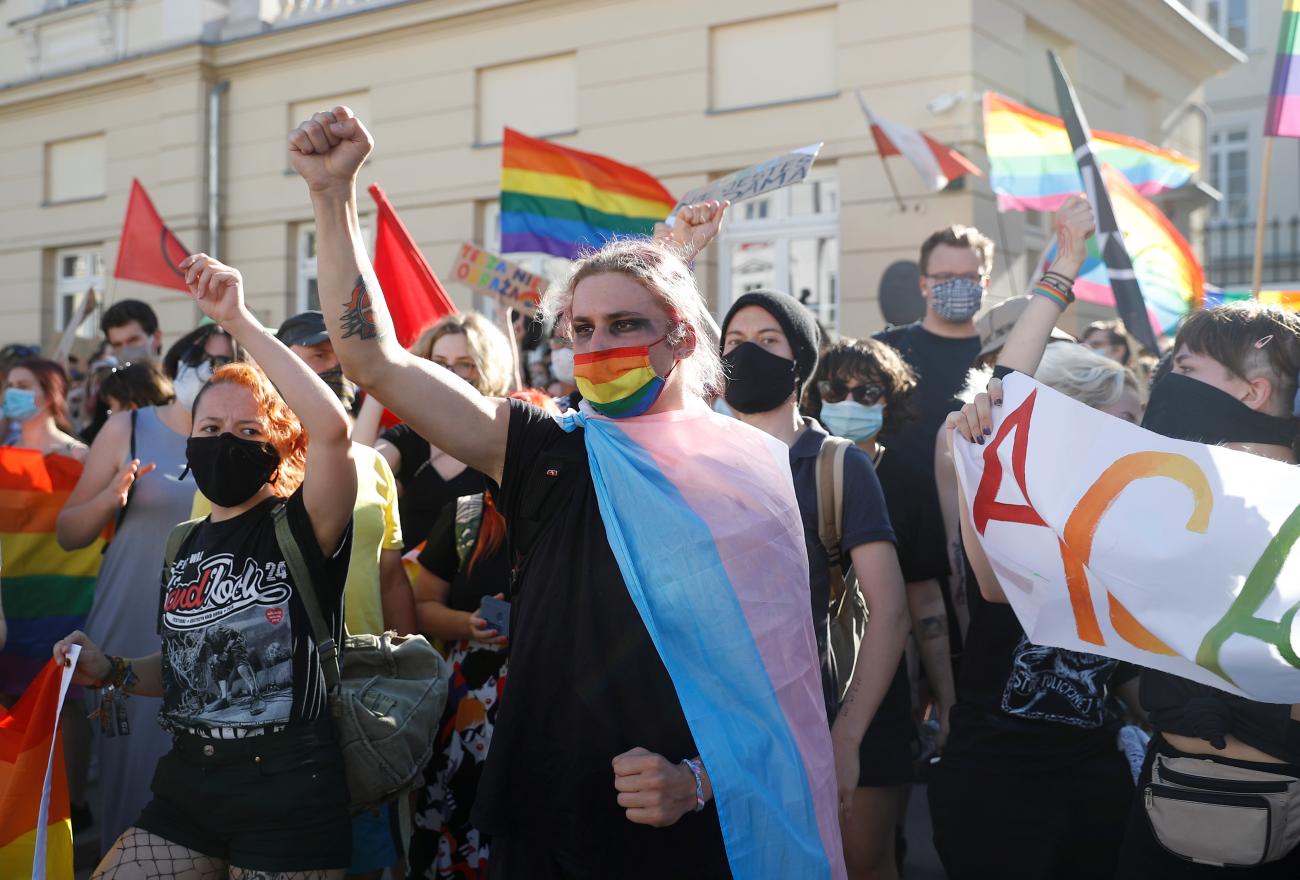 Consolidated State Power and Rights Violations
With COVID-19 spreading uncontrollably, both democratic and authoritarian governments have used public health concerns as justification to enact laws that further concentrate power in the state and restrict citizens' freedoms and rights. While backsliding on the protection of human rights is worrisome for all groups, it is particularly problematic for LGBTQ+ people. In at least 70 countries, consensual, same-sex sexual acts are criminal offenses; nine have criminalized expressing a transgender or gender nonconforming identity. In many other countries, same-sex relations are legal but strongly disapproved of by large portions of society or even government officials.
These unfriendly or anti-LGBTQ+ governments have wielded expanded powers to target LGBTQ+ individuals during the pandemic or abridge their rights. In Uganda, for instance, local authorities used laws enacted to prohibit public gatherings as justification to raid a LGBTQ+ youth shelter. In Panama, where gender-based quarantine rules required men and women to isolate on alternate days, transgender individuals were profiled by local police, accused of breaking the law for supposedly failing to quarantine on the "correct" day, and even arrested or fined.
When governments use COVID-19 or expanded state power to target LGBTQ+ people, the international community should be quick to condemn such abuses and encourage offending states to respect LGBTQ+ rights. If this condemnation fails to deter those governments, LGBTQ+-friendly states and organizations could consider good governance conditions for COVID-19 aid, like the European Union has to address worsening power abuses and anti-LGBTQ+ and gender actions by Hungary and Poland. Other international groups and organizations dominated by similarly LGBTQ+-friendly countries, such as the G7 or its members, could explore attaching related requirements for financial or in-kind aid to incentivize fair treatment of LGBTQ+ communities. However, these conditionality measures are unlikely to be universal antidotes for state abuse or discrimination and may instead foster anti-LGBTQ+ backlash. The EU effort, for instance, has become bogged down in the EU Court of Justice, and Hungary and Poland are treating demands for "rule of law" as a European culture war. Though imperfect, such conditionality measures should not be ruled out. They offer the potential to hold offending, autocratic states accountable, draw international attention to LGBTQ+ rights, and incentivize more equal treatment and legislation.
Pride and Other Gatherings
In 2020, hundreds of Pride celebrations around the world were either canceled completely or forced online due to COVID-19 safety concerns. Often taking the form of public parades, marches, or street festivals, Pride is an annual celebration of the LGBTQ+ community and an expression of its members' dignity and equality. In addition to the promotion of community visibility and solidarity, these events are vehicles to express political grievances and fight for equal rights on a local and global scale. Canceling Pride does more than eliminate an event; it damages the LGBTQ+ community's sense of identity, belonging, and security, and restricts its means of political expression. Missing Pride also costs local tourist economies significant revenue: Pride events attract attendees from around the world, part of an estimated $218 billion annual LGBTQ+ travel industry.
Given increased efforts to abridge the human rights of LGBTQ+ individuals amid a worldwide economic depression, there will be significant pressure from local communities to host Pride events in 2021. But it remains unclear whether Pride events can safely happen in the upcoming year and, if so, under what conditions. Many of the world's largest Pride events, from São Paulo to New York City, occur in countries where COVID-19 rages unchecked. Vaccines offer some hope, but their roll out may not be fast enough to allow for universal, in-person Pride in the near term. As cities, travelers, and LGBTQ+ communities consider Pride in 2021, last year's experiences offer lessons worth considering.
First, if in-person Pride can be held safely, it should be. A handful of countries with low transmission levels have held or seem likely to hold official, in-person events: Taiwan in October 2020 and perhaps New Zealand and Australia in February/March 2021. In other countries achieving rapid widespread vaccination, such as Israel, domestic conditions may be safe enough for in-person events. But even where conditions are "safer," Pride should be held outside, and participants should remain masked and distanced.
If transmission is too high or vaccination campaigns incomplete, countries should explore or continue to host Pride events virtually, as many did in 2020. Although the online format limits the interactivity of the event, it greatly expands the reach of Pride, allowing those in unaccepting households, communities, or countries to participate in unprecedented ways. Virtual platforms will prove crucial while travel bans and restrictions remain in place and vaccination progresses unevenly, forcing many LGBTQ+ individuals to remain in unwelcoming or even dangerous situations. Maintaining Pride, whether in person or virtual, is necessary for continuing momentum for the global LGBTQ+ rights movement.
A New Response Begins Now
In a numbers-driven pandemic, where public health and social measures and vaccine distribution plans are based on collected data, what is not measured does not get managed. Unfortunately, the world has made little progress collecting information on how COVID-19 impacts the LGBTQ+ community. Without this data, policymakers risk overlooking how the pandemic has affected LGBTQ+ communities, including exacerbating existing vulnerabilities and creating new challenges. Until sufficient data is collected and analyzed and to ensure that effective support is managed and provided, states, nongovernmental organizations, international institutions, and policymakers must understand and draw from LGBTQ+ experiences in 2020. They must craft targeted policies to address vulnerabilities, counter discrimination, and support LGBTQ+ communities. They must act now to prepare for and support LGBTQ+ peoples in the next and future phases of this pandemic.