Eating five servings of fruits and vegetables a day has been standard health advice for decades—and for good reason. Data show that eating 400 grams of fruit and vegetables a day (five 80-gram servings) can lower the risk of heart disease, stroke, and certain cancers. But not everyone has equal access to fresh produce. For many people in low- and middle-income countries, reaching the recommended number of servings is challenging. The cost of fruits and vegetables is often higher than that of processed foods and supply may be limited in many places. There is change on the horizon, however. New findings from the Institute for Health Metrics and Evaluation (IHME), reported in Nature, show that just two servings of fruits and vegetables a day can provide similar health benefits as eating five (eating five is still better, though). These foods can be cooked in a variety of ways to ensure every taste palette finds a way to get the recommended amount of produce to help reduce the risk of severe illness.  
To illustrate how some people fit in their two servings of vegetables a day, we compiled a slideshow featuring individuals and communities across the globe harvesting, buying, and eating their "greens."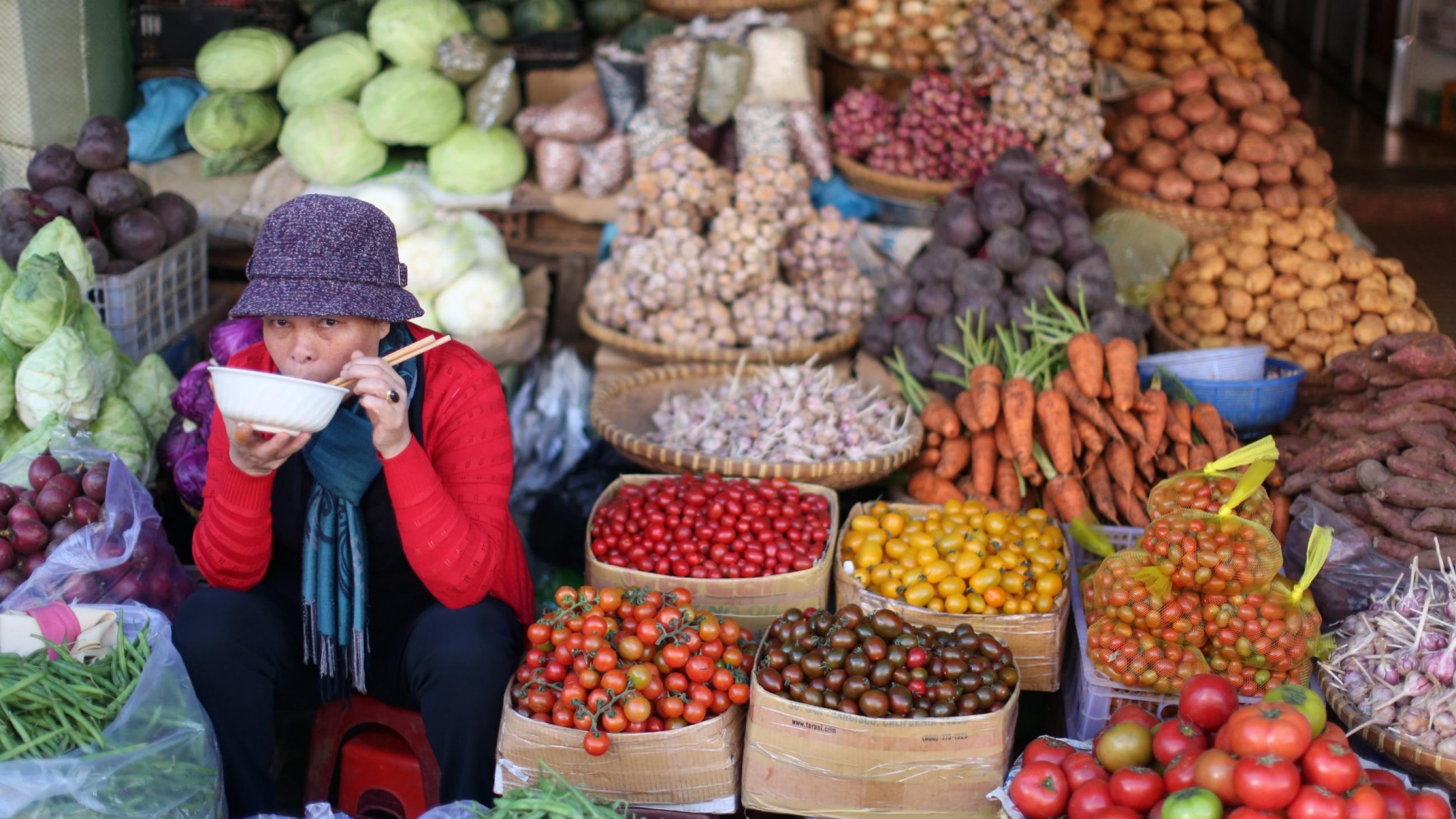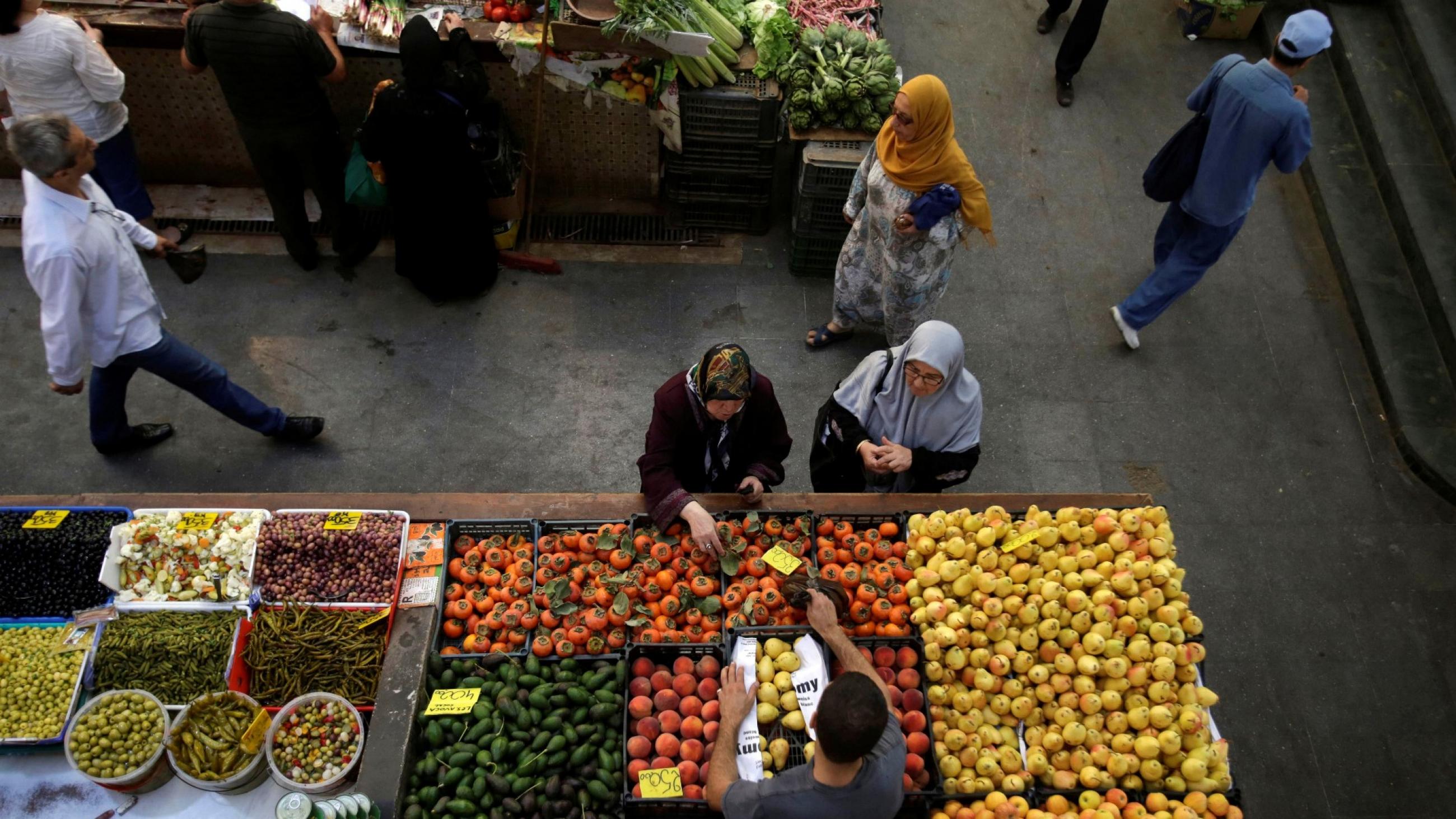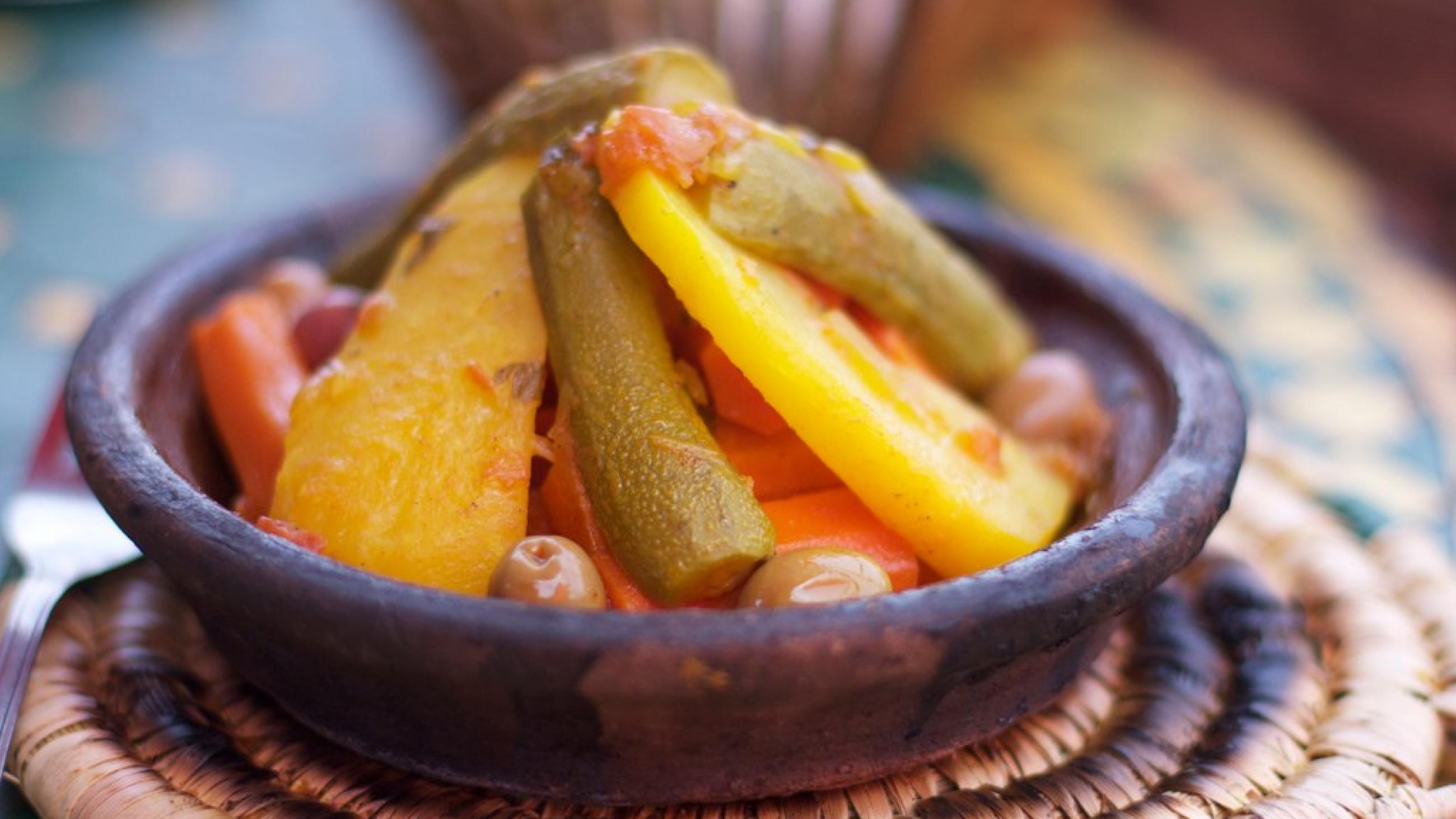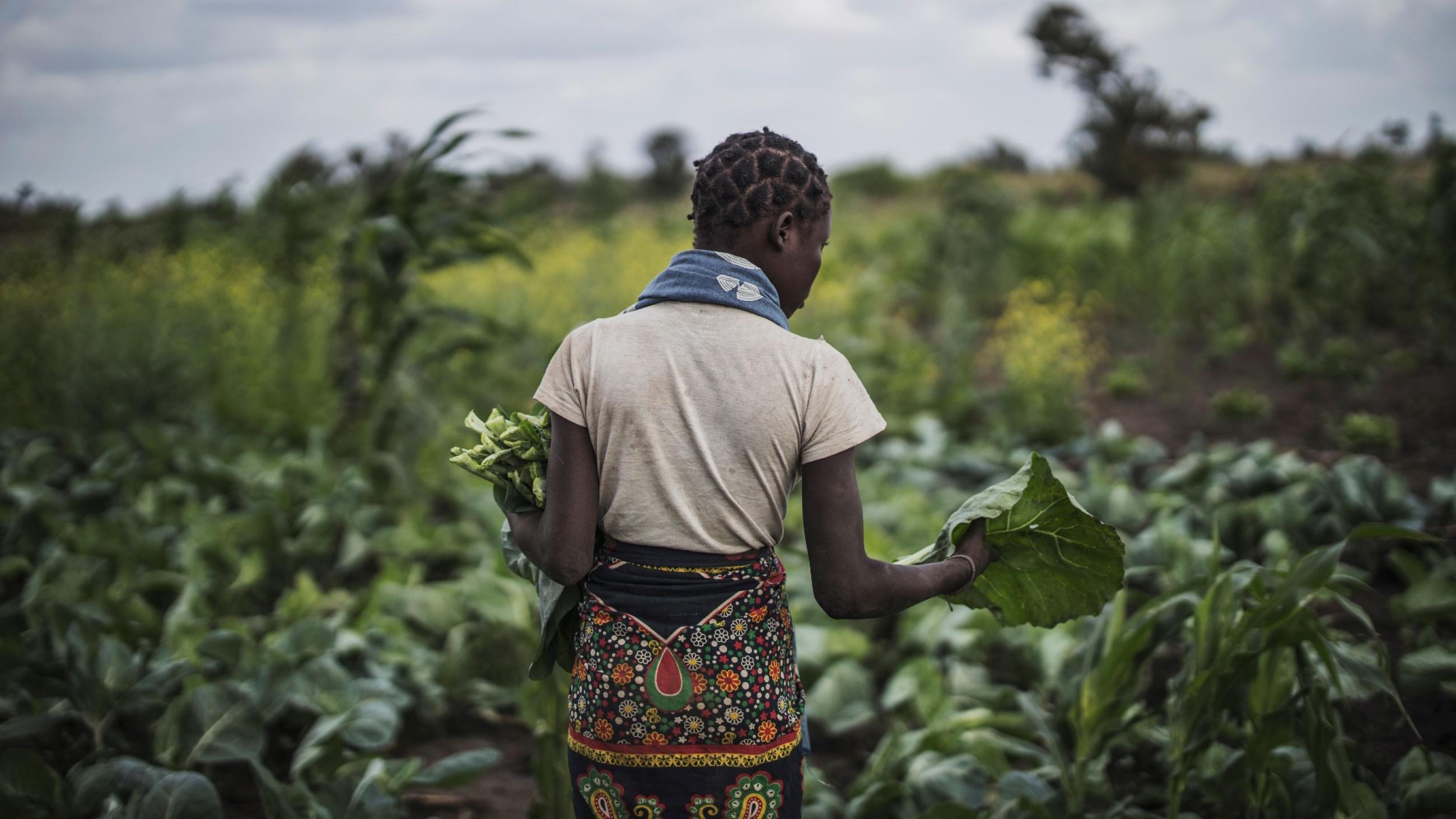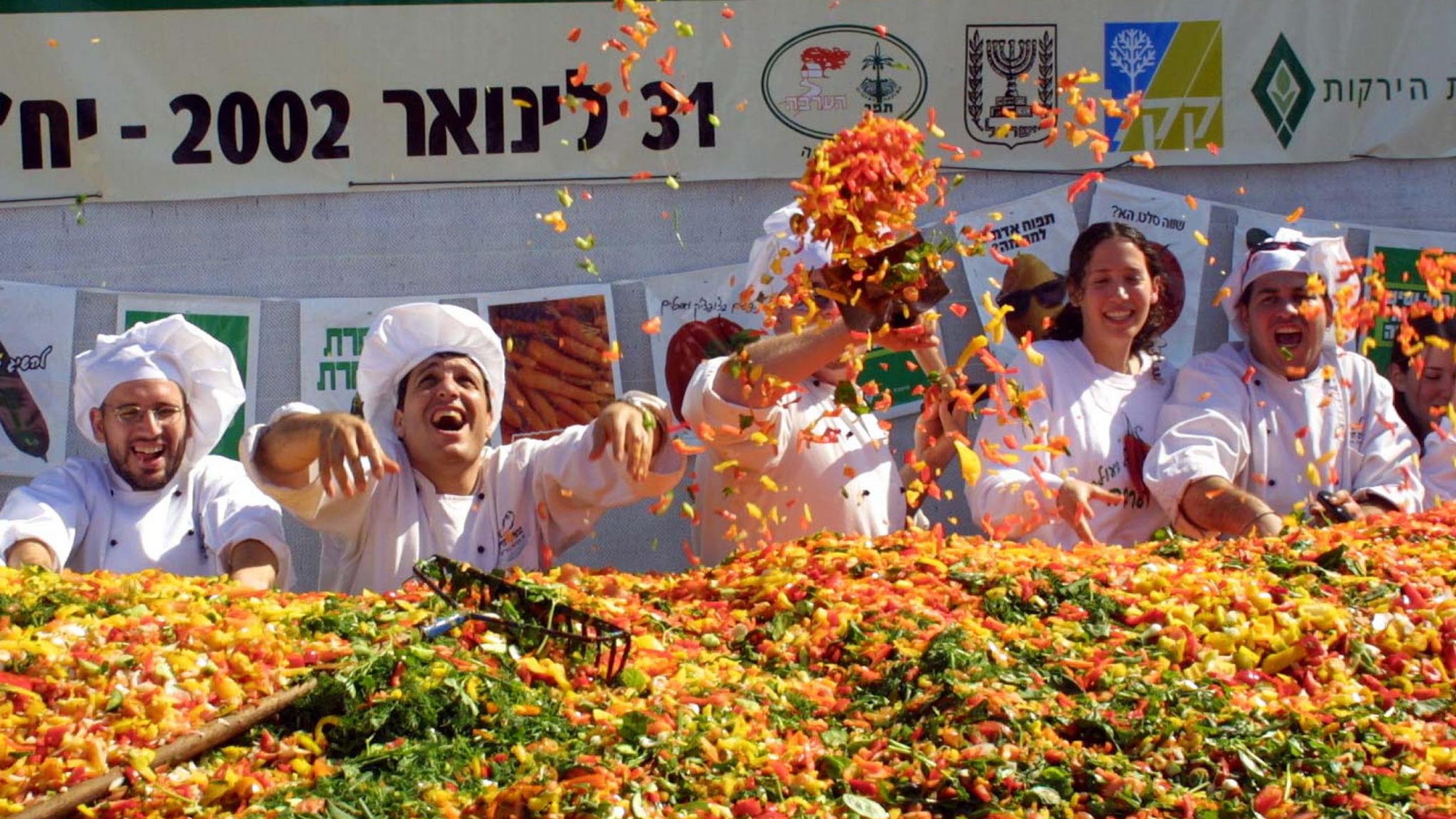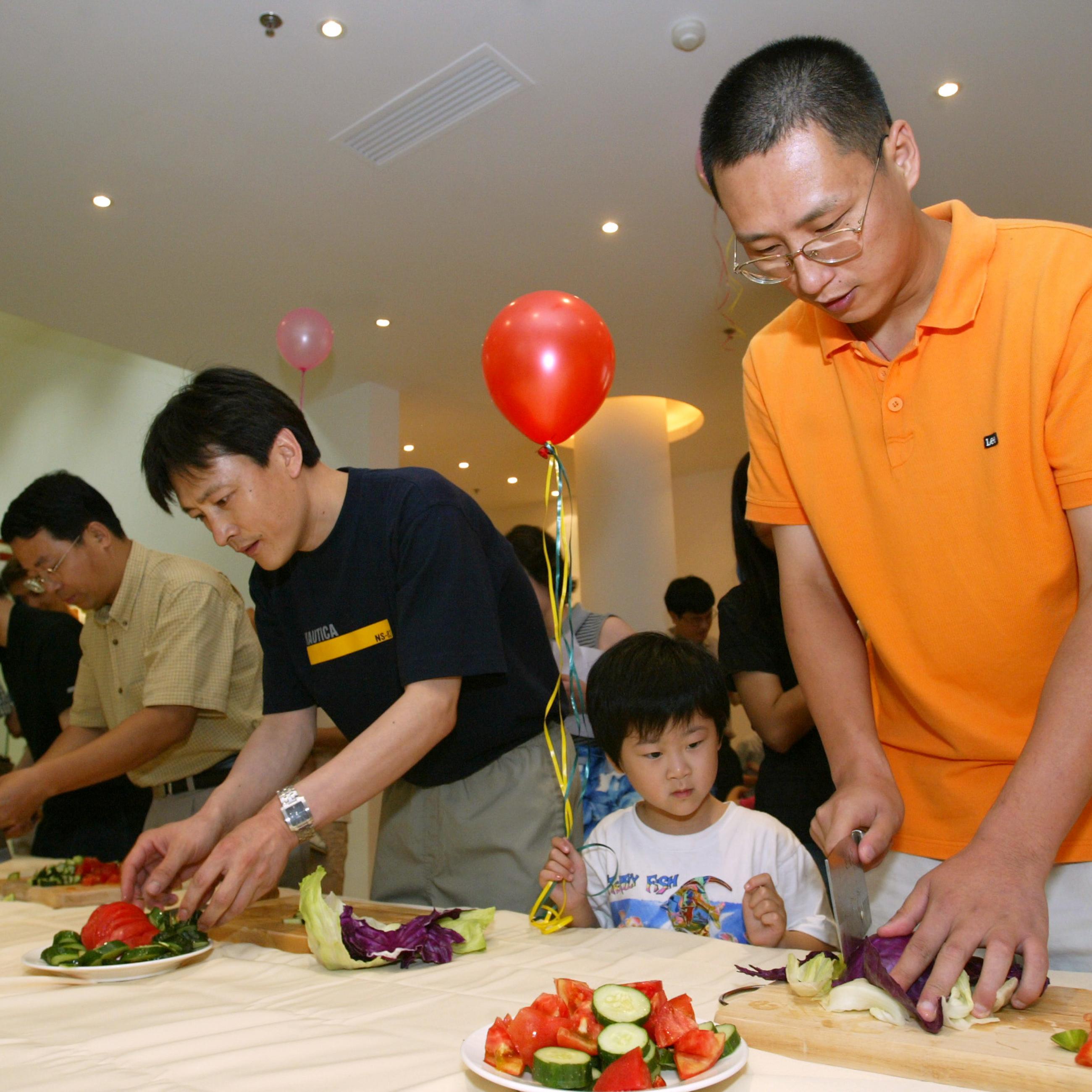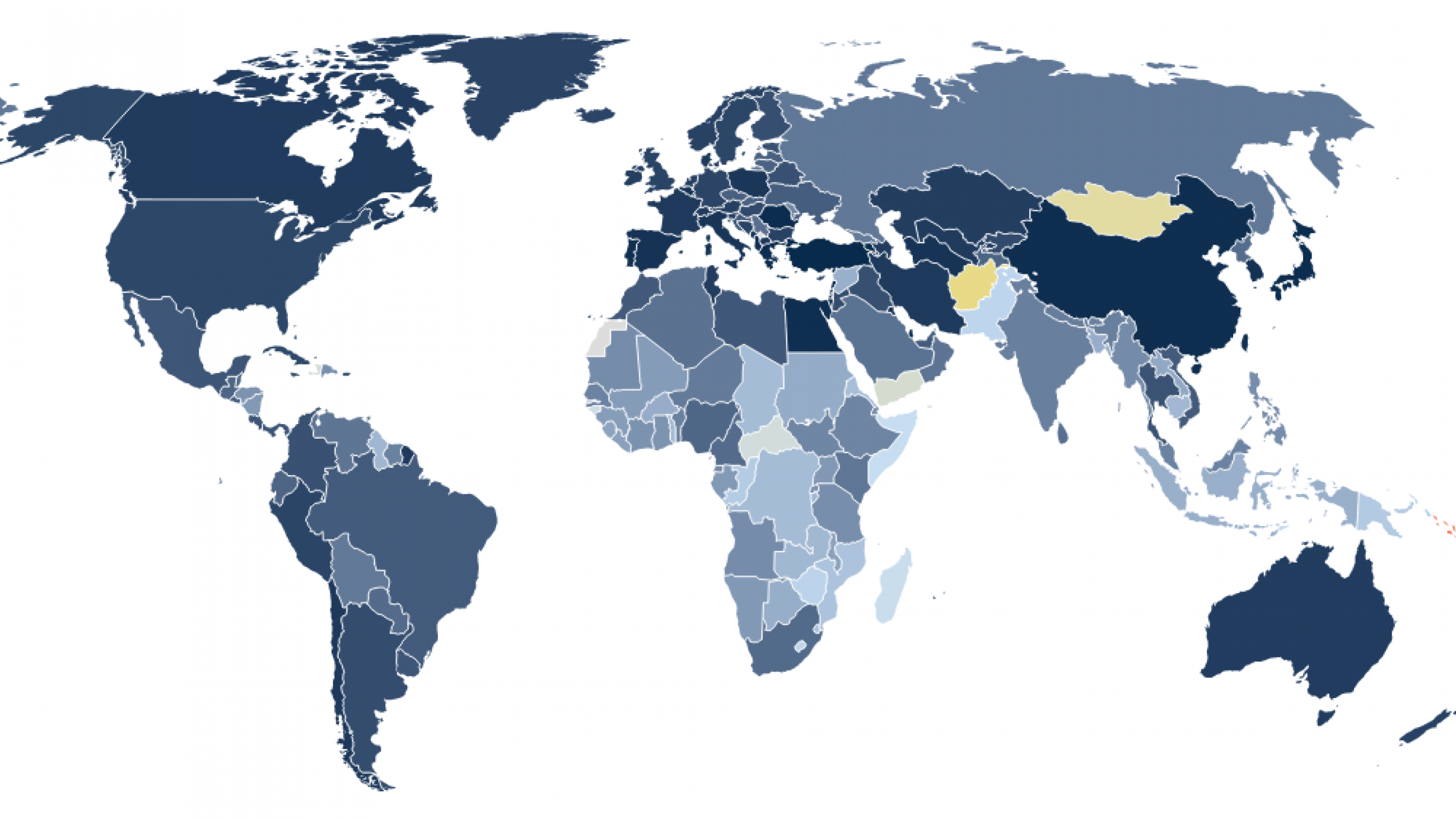 Vietnam
Vegetables including water spinach, kohlrabi, and cabbage are featured ingredients in many traditional Vietnamese dishes.
A female fruit vendor sits at her kiosk in a market, in Dalat, Vietnam.
Godong/Universal Images Group via Getty Images
Tunisia
Vegetables are a cornerstone of many dishes across the Maghreb region in North Africa. Rather than shopping in a grocery store, people often purchase fresh produce from local street vendors.
A woman buys vegetables from a vendor on the first day of Ramadan, the Muslim holy fasting month, in a market downtown in Tunis,Tunisia, on June 18, 2015.
REUTERS/Zoubeir Souissi
Algeria
People buy vegetables and fruits in a market, in Algiers, Algeria, on October 15, 2017.
REUTERS/Ramzi Boudina
Morocco
Tagine (pictured) is a traditional North African stew named for the uniquely shaped pot it's cooked in. Its base is often composed of hearty vegetables including potatoes, carrots, onions, and garlic that are seasoned with regional spices, such as paprika, cumin, coriander, and cardamom. Some variations are prepared with meat, such as lamb or beef.
Flickr/Rob Taylor
Mozambique
Leafy greens are found in many dishes, including Matata, a stew made with shellfish, peanuts, tomatoes, and spinach.
A young woman picks vegetables from an agricultural garden in a field where the Catholic organization CARITAS provides counseling to the farmers affected by cyclones, in Tica, near Beira, Mozambique, on August 21, 2019.
Marco Longari/AFP via Getty Images
Israel
Getting your vegetables can be fun. Israeli chefs celebrate after preparing a giant salad, setting a new world record in Araba, Israel, on January 31, 2002.
The salad of peppers, tomatoes, cucumbers, and an oil dressing weighed more than three tons (3020 kg), beating the former world record (2476 kg) set by chefs in the United Kingdom.
REUTERS/Alberto Denkberg
China
Israeli people are not the only ones competing to create the biggest and best salads. Chinese fathers compete in a "Salad Making Contest" at Tsinghua Garden residential estate to celebrate Father's Day in Shanghai.
REUTERS/Claro Cortes
Brazil
Carlos Antonio de Barros holds beans during the harvest day in the Horta de Manguinhos (Manguinhos vegetable garden), the biggest urban garden in Latin America, part of the project "Hortas Cariocas," developed by Rio de Janeiro's Environment Secretary in the Manguinhos favela, in Rio de Janeiro, Brazil, on December 3, 2021.
While beans were not included in the Nature study, they can be part of a vegetable-rich diet, say nutrition experts. They are high in folate, potassium, iron, and magnesium.
REUTERS/Pilar Olivares
Sudan
Eggplants are a cornerstone of many dishes in Sudan, including salata aswad, an eggplant peanut butter dip commonly eaten with bread.
"I came to Tuti in 1988 because the land here is the best for agriculture and close enough to supply markets, and it makes for a good income," says Mussa Adam Bakr (R), 48, who farms a plot of land next to a mud brick factory, collects eggplants with his workers on his field on Tuti Island, Khartoum, Sudan, on February 14, 2020. Throughout the year the Tuti earth produces all sorts of vegetables like potatoes, onions and aubergines.
REUTERS/Zohra Bensemra
France
Sibylle, a biotechnology engineering student, poses with Orgeval yellow courgettes, chives, parsley, broad beans, and spring onions from the vegetable kitchen garden installed on the roof of the Maison de la Mutualité building in Paris, on July 23, 2013.
This rooftop urban vegetable patch is managed by Sibylle for the French Chef Eric Castandet to supply fresh seasonal produce to the restaurant Terroir Parisien, which is located on the ground floor of the building. Green spaces are currently emerging in French cities and have sprouted up on the flat roofs of towns all over the world as part of a growing trend of urban agriculture that parallels an increased concern about the origins of our food.
REUTERS/Philippe Wojazer
Mexico
Vegetables are often included in celebrations across cultures. While not included in the new Nature study, corn is fiber-rich and contains B vitamins and numerous minerals needed for good health.
Corn cobs are pictured during the Corn and Milpa Fair in the Zócalo square as people celebrate Día Nacional del Maíz (National Corn Day), in Mexico City, Mexico, on September 29, 2022.
REUTERS/Henry Romero
Deaths per 100,000 due to a Diet Low in Vegetables
For 2019, the map shows that the deaths per 100,000 people due to diet low in vegetables (age-adjusted) were lowest in Israel, Turkey, and Monaco, and highest in Solomon Islands, Nauru, and Afghanistan.
Click here for an interactive version of this map.
IHME/Global Burden of Disease Study, 2019