Music has undergone repeated transformations during the last few decades as people disbanded their record, cassette, and CD collections in favor of MP3s and then subscriptions to streaming services. But fans may now find themselves brushing the dust off their turntables ever since folk music giants Neil Young and Joni Mitchell pulled their content from Spotify over a COVID controversy.  
In January, Young and Mitchell took a stand against the proliferation of COVID-19 disinformation on Spotify's The Joe Rogan Experience podcast by breaking away from the streaming service. They've since been joined by musicians Graham Nash, Nils Lofgren, India Arie, and podcasters Roxanne Gay and Brené Brown. These contributors are using their platforms as cultural icons to amplify the concerns of hundreds of medical professionals who coauthored an open letter to Spotify in December. The letter entreated Spotify to implement a misinformation policy that would curtail podcast host Joe Rogan's ability to spread harmful falsehoods about COVID-19 to his audience of 11 million.
I am doing this because Spotify is spreading fake information about vaccines—potentially causing death to those who believe the disinformation

Neil Young, musician
Rogan has a concerning track record of dubious COVID claims and questionable medical guests. Objections have also arisen over Rogan's wild claims about race and use of racial slurs. One COVID-related episode of particular concern features the commentary of Robert Malone, a physician who has been suspended from Twitter for spreading COVID-19 misinformation. Among other claims, Malone has sown doubt about the safety and efficacy of mRNA vaccines, the type of vaccine used to fight COVID-19. Rogan has also irresponsibly promoted the antiparasitic drug ivermectin, even though the U.S. Food and Drug Administration has not approved or authorized it for treating COVID-19. His discouragement of vaccination is especially alarming given the fact that, according to recent U.S. research, unvaccinated adults had a five times higher risk of infection than adults fully vaccinated (including a booster shot), and the risk of death was significantly higher in unvaccinated people.  
The issue of vaccination and health information holds particular importance for Young and Mitchell—now in their seventies—who both survived polio as children. Their experiences as survivors of a debilitating disease that, according to the World Health Organization, has been eradicated in all but two countries (Pakistan and Afghanistan) due to mass vaccination is just one of the reasons Young and Mitchell don't take kindly to Rogan's conspiratorial and unfounded diatribes.  
"I am doing this because Spotify is spreading fake information about vaccines—potentially causing death to those who believe the disinformation being spread by them," Young wrote in a letter to his record label about his decision to pull his music. Spotify accounts for 60 percent of his streaming revenue.  
But for Spotify and Joe Rogan, the profit margins remain high. Rogan's contract with Spotify is valued at over $100 million. And while the exodus of artists like Young and Mitchell is certainly a hit to Spotify's standing, Rogan and Spotify are unlikely to part ways. This week, Spotify's CEO Daniel Ek issued an apology addressed to the company's employees, but stood by Rogan, saying that although his words were "incredibly hurtful" he did not feel that silencing Rogan was the answer.  
The episode highlights a terrifying reality: spreading COVID-19 disinformation is extremely lucrative. Researchers from the Center for Countering Digital Hate (CCDH) have discovered that sixty-five percent of all misinformation about COVID-19 vaccines comes from just twelve people. Dubbed the "Disinformation Dozen," these twelve have amassed large sums of wealth from the sale of books, products, and other content posted on social media. Thanks in part to the CCDH's report and pressure from the White House, Facebook and YouTube removed the twelve accounts and other anti-vaccine information. While Twitter strengthened its rules against spreading COVID-19 misinformation, its five-strike policy allows such views to proliferate.  
Imran Ahmed, CEO and founder of the CCDH, criticized Spotify for what he sees as "layers upon layers of immorality," whereby Spotify commissions, produces, distributes, and profits from harmful content without taking any responsibility for its impact. But he also believes that Spotify's short-term avarice will have longer-term repercussions for its brand. 
We need the companies that power our information environment to not make it so easy for lies to drown out the truth

Jennifer Nuzzo, Epidemiologist at Johns Hopkins
As for Rogan, he has since promised to be more balanced in his future programming and to invite experts more in line with the scientific consensus on vaccination. Spotify has attempted to improve transparency by publishing its content guidelines and placing content advisory flags on podcasts and other media that contain COVID-19 information. It has also removed more than seventy episodes of Rogan's podcast that contain COVID-19-related falsehoods or racist language.  
But many feel that the measures are insufficient. Epidemiologist and CFR Senior Fellow Jennifer Nuzzo points out that it's not a fair fight. "There are common sources to these lies that get spread far and wide thanks to the algorithms that power social media and search engines. Public health and medical experts can't possibly combat mis- and disinformation on their own. We need the companies that power our information environment to not make it so easy for lies to drown out the truth," said Nuzzo.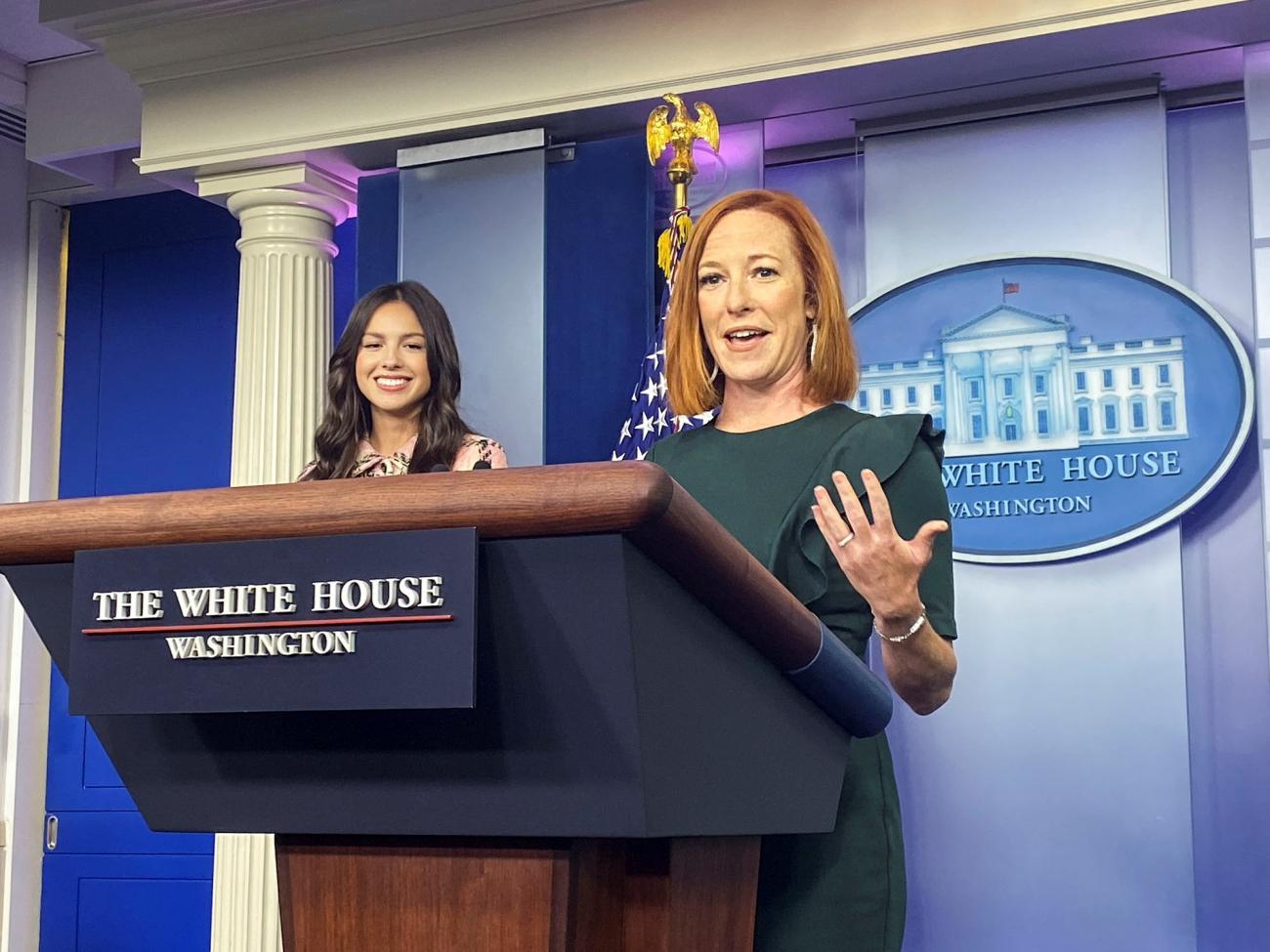 White House spokesperson Jen Psaki also commented on Spotify's decision to label its COVID content, saying, "This disclaimer, it's a positive step, but we want every platform to continue doing more to call out mis- and disinformation, while also uplifting accurate information."  
The White House is no stranger to harnessing the power of celebrities to help disseminate science-based COVID-19 messaging. In July 2021, teen pop icon Olivia Rodrigo visited the White House to encourage her peers to get vaccinated.  
Because Rogan's podcast is exclusive to Spotify, Spotify is expressly sponsoring his subversive content. This contrasts with Amazon Music, and YouTube Music, and "the new home of Neil Young," Apple Music, which all function more like content retailers. Listeners who want to continue to enjoy the music of these artists and stand in solidarity with them might consider changing their subscriptions. After all, as Neil Young has pointed out, "the music sounds a lot better."