Last November after Denmark discovered that a COVID-19 mutation had transferred from humans to mink and then back to humans, the country killed all 17 million of its mink. But in the United States, where since August there have been at least 16 outbreaks among mink in four states, the authorities still haven't disclosed the results of genetic sequencing from infected mink, and little external action has been taken. In contrast to Denmark and other countries that quickly and openly shared data, the U.S. Department of Agriculture has been tight-lipped. As U.S. mink farming continues, do Americans have reason to worry?
The outbreaks of COVID-19 in mink did not surprise Garry Adams, Professor of Veterinary Pathobiology at Texas A&M University. Felines and mustelids – mink, ferrets, weasels, badgers and wolverines – have viral receptors similar to humans. In fur farms mink also typically live in close quarters, housed in groups of tens of thousands, making them an ideal environment for transmission.
17 Million
Denmark killed all 17 million of its mink after discovering that a COVID-19 mutation had transferred from mink to humans
By contrast, cats are less concerning as a source of interspecies transmission. Although they are good hosts because they have similar viral receptors, domestic and zoo cats generally live one or two animals per location, effectively practicing physical distancing, and are low risk.
Transmission between species always deserves careful, proactive study, according to Scott Weese, a veterinary infectious disease expert at the University of Guelph in Ontario, Canada. Since infections in animals can create a reservoir for spread back to humans or be a source of spillover to adjacent wild animal populations, farmed mink pose long-term risks. These risks are probably low, he thinks, but "it's better to look and find out than hope for the best."
The more mutations, the more risk, according to Jim Musser, Chair of Pathology and Genomic Medicine at Houston Methodist Hospital. When viruses jump to a new species, random mutations that are a regular byproduct of viral replication may survive better in the new cellular environment where host receptors differ slightly. A mutation that allows even one virus to adapt, survive, and pass on its genes equals evolutionary success, says Musser. A mutated strain that passes back to humans may increase transmissibility or severity of disease, or render vaccines and antibody treatments less effective.
Denmark's worrisome mutation appeared last summer. Genetic sequencing results show that farmed mink were passing a variant with a mutation in the virus's spike protein back to humans. Worryingly, when mixed in a test tube, antibodies taken from people who had recovered from COVID-19 didn't completely neutralize the mutant virus. Antibody neutralization tests like this simulate how an immune response works in the body, leading scientists to believe that this new variant could render new vaccines ineffective.
Continued mink breeding during an ongoing COVID-19 epidemic involves a significant risk to public health
Danish officials published a detailed risk assessment with an emphatic conclusion: "Continued mink breeding during an ongoing COVID-19 epidemic involves a significant risk to public health, including the ability to optimally prevent COVID-19 with vaccines."
Officials isolated northern Denmark, culled all farmed mink, and—through extensive testing, sequencing, and contact tracing—eradicated the mutant strain in humans in a matter of weeks.
Drawing conclusions about the significance of the Danish mutation is difficult, says Lee Riley, Professor and Chair of the Division of Infectious Disease and Vaccinology at the University of California, Berkeley. He points out that the interaction between a mutated virus and antibodies in a test-tube isn't equivalent to what would happen in a human body. Furthermore, the ultimate test was whether the Danish mutation would make vaccines ineffective in large populations over time, and since the mutation was eradicated, this question will remain unanswered.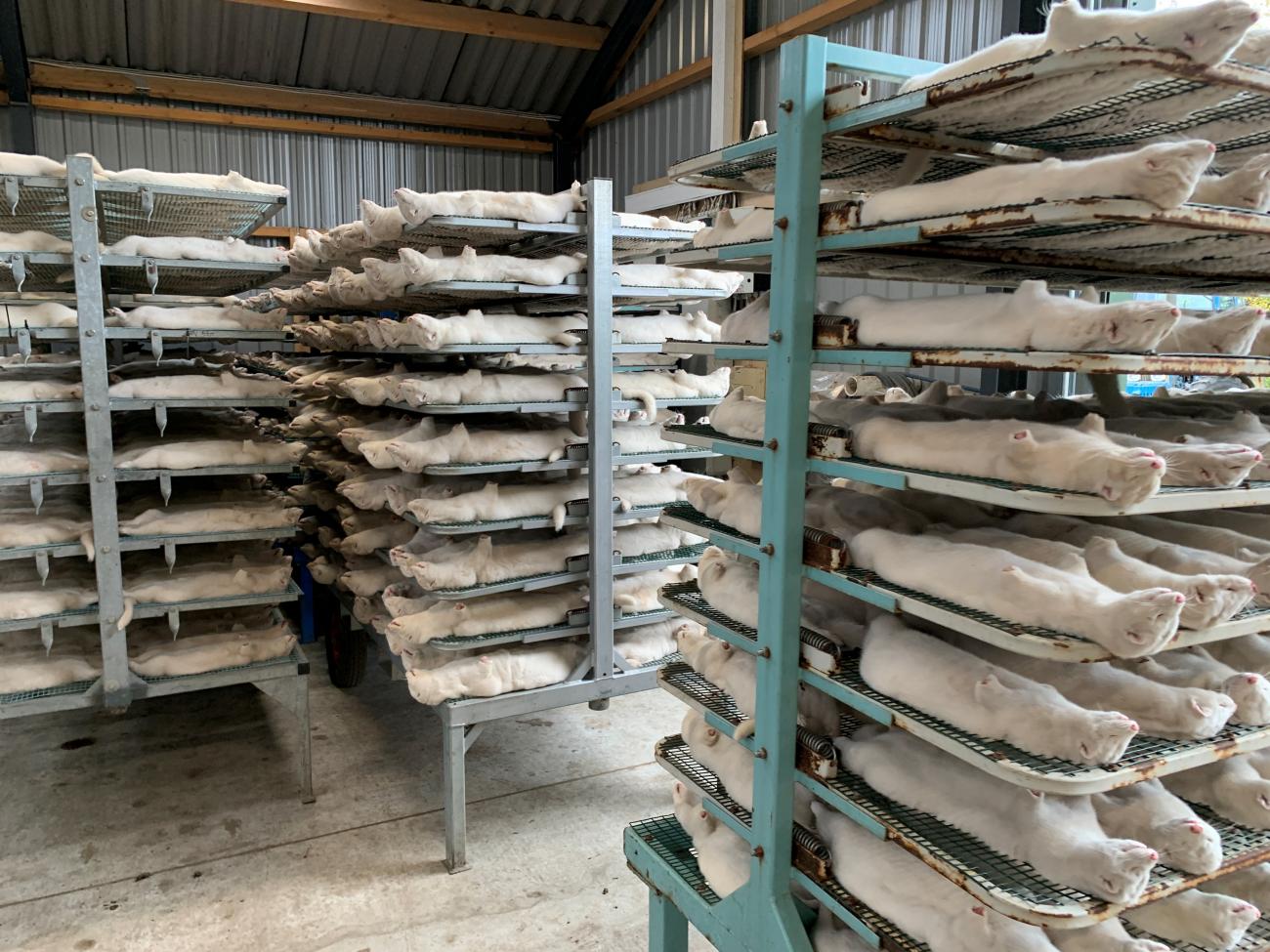 Most recently two mink farms in British Columbia, Canada reported infections, and the regional health authority immediately published a comprehensive management plan. In a matter of weeks, Canada released the results of whole genome sequencing (which found a single mutation), concluding: "Neither the mutation nor the outbreak present an increased risk to human health at this time." Farming was allowed to continue with increased biosecurity.
Farming also continues in the United States, but with limited information about mutations.
Last summer SARS-CoV-2 infected mink in Utah, Michigan and Wisconsin, killing half the population on some farms. Oregon recently reported new farm outbreaks and some infected farm mink escaped into the wild.
Neither the mutation nor the outbreak present an increased risk to human health at this time
According to Wisconsin State Veterinarian, Darlene Konkle, U.S. outbreaks are managed by a collaboration between the Centers for Disease Control, the U.S. Department of Agriculture, and state veterinarians. Wisconsin and other states responded by quarantining affected farms, and increasing farm biosecurity elsewhere.
Surveillance testing, however, is not a regular part of the U.S. response. Outbreaks are only discovered when farms and local veterinarians notice sick animals or excess deaths. And months after the first infections here, full results of whole genome sequencing are still not available.
In response to multiple requests for detailed genomic information, a USDA spokesperson said only that the Danish mutation is not present. This leaves out whether other mutations are present, or were even looked for. 
While mutations may be just one of many developments which complicate the control of COVID-19, Dr. Musser thinks that only full scientific understanding allows us to respond to new information in a meaningful way. Since the beginning of the pandemic, problems with testing have left us flying blind.
"No army on earth would ever go to war without knowing everything about the enemy," he said.
At Texas A&M, Dr. Adams thinks mink could help understand COVID-19 and immunity in humans. He agrees that lack of transparency is a problem.
No army on earth would ever go to war without knowing everything about the enemy
"Full information over the long term is needed to develop the next generation of tools. It's what allowed us to get a vaccine in a year. If we understand better, it's more plausible we can find a way to live with this." He suspects outbreaks are likely to continue wherever mink are farmed. Since a new generation of mink will be born in the United States this spring, the mink-COVID-19 story may not be over.