On the morning of April 25, 2023, forty-nine-year-old American, Dr. Bushra Ibnauf Sulieman, took his father to get dialysis treatment in Khartoum, Sudan. When Sulieman returned home, he opened his front door and was greeted by someone who was likely a criminal from the recently emptied Soba Prison nearby. 
"No one knows exactly what happened, but he was stabbed once in his neck and once in his chest," Mohamed Fath Alrahman, a colleague of Suileman, recalled. 
Sulieman was subsequently taken to a University of Khartoum–affiliated hospital, the same university system that he taught and mentored young doctors. One of his students was responsible for confirming his death.
"As my colleague told me, it was a tragic scene with tears and crying all over the area," Alrahman said. "They started to panic about the death of one of their role models."
Leading Up to Sulieman's Death
In the months before Sulieman's murder, tensions had been rising between Sudan's army and the paramilitary Rapid Support Forces (RSF) who together toppled the civilian government in 2021. After fighting between these factions broke out on April 15, 2023, the long-considered safe city of Khartoum suddenly and unexpectedly became a war zone.
"Sudan has known civil war since the 1950s, but to have it at the heart of the country is very new"

Yasir Yousif Elamin, president, SAPA
"Sudan has known civil war since the 1950s," said Yasir Yousif Elamin, president of the Sudanese American Physicians Association (SAPA). "But the war was usually in the peripheries of the country. To have it at the heart of the country is very new."
Elamin, who lives and works in the United States and went to the same medical school as Sulieman, said that SAPA works with doctor unions in Sudan to issue daily reports tallying the deaths of civilians, attacks on hospitals, and human rights abuses. Organizations like SAPA have been also appointed as official mouthpieces for Sudanese doctors, who have sporadic internet connection, he said.
Michelle Gavin, a senior fellow for Africa Policy Studies at the Council on Foreign Relations, noted that doctors have long played a prominent role in the Sudanese Professionals Association—an alliance of unions of doctors, journalists, and lawyers—which was an "incredibly important part of the initial uprising" in the Sudanese Revolution in 2018.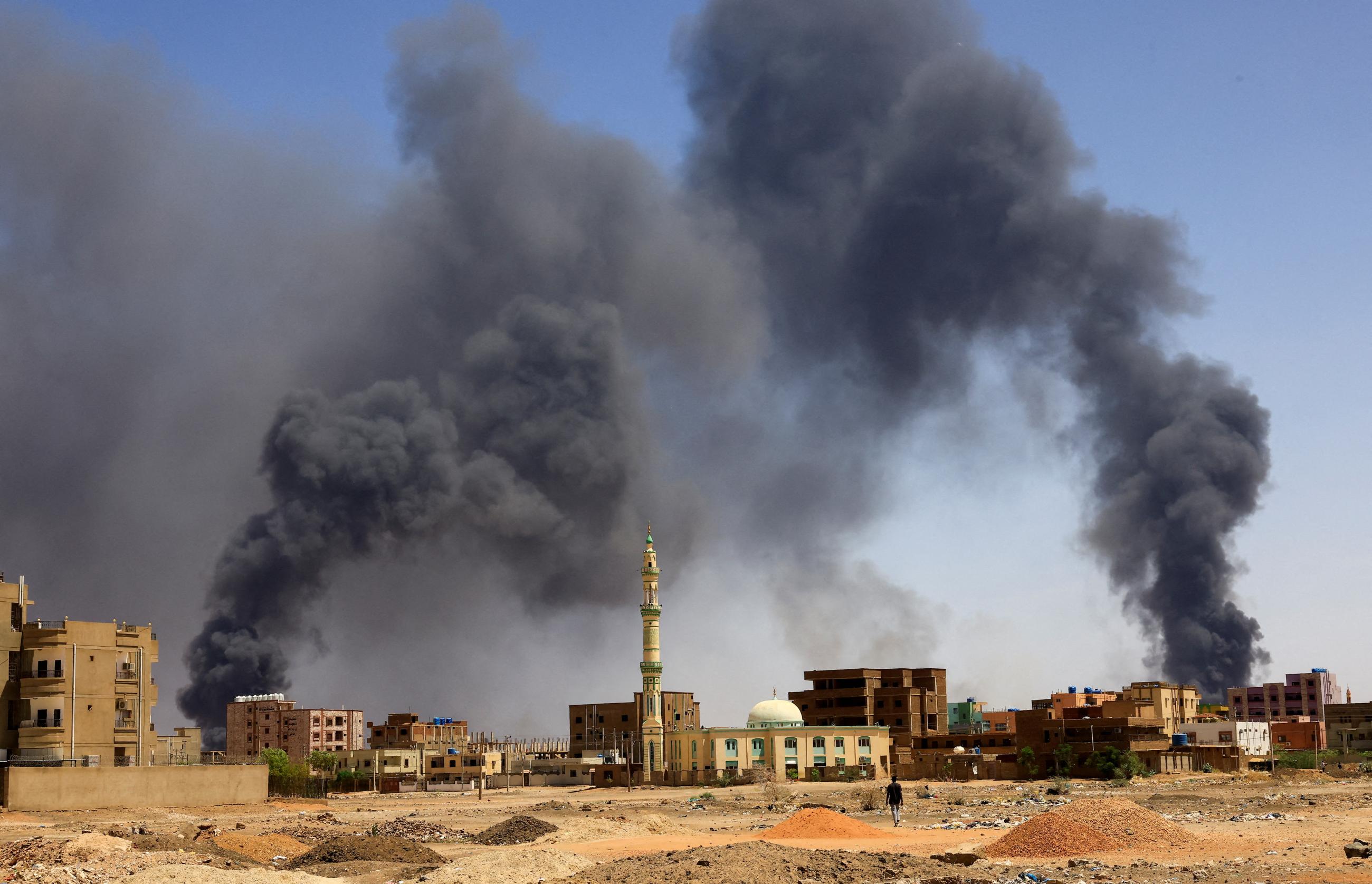 "Until now, it's been Sudanese medical professionals who've been releasing data to the international community about how many protesters have been killed as people have continued to come out onto the streets to agitate for civilian roles and democratic governance," Gavin said.
Doctors on the Front Lines
In 2018, Khartoum was often touted as one of the safest cities in Africa. Now, health-care workers are grappling with an entirely different reality. The fighting between RSF and the army meant that a degree of lawlessness took over the capital and people were being robbed and attacked. 
Alrahman, the general manager of SAPA-operated Al Nada hospital who recently worked with Sulieman in nearby Fedail Hospital, shared what it was like going to work as a doctor in Khartoum.
"You can hear the fire all around, you can hear the shooting, you can hear your heartbeat, you can hear the airstrikes all around the hospital in the area," Alrahman related.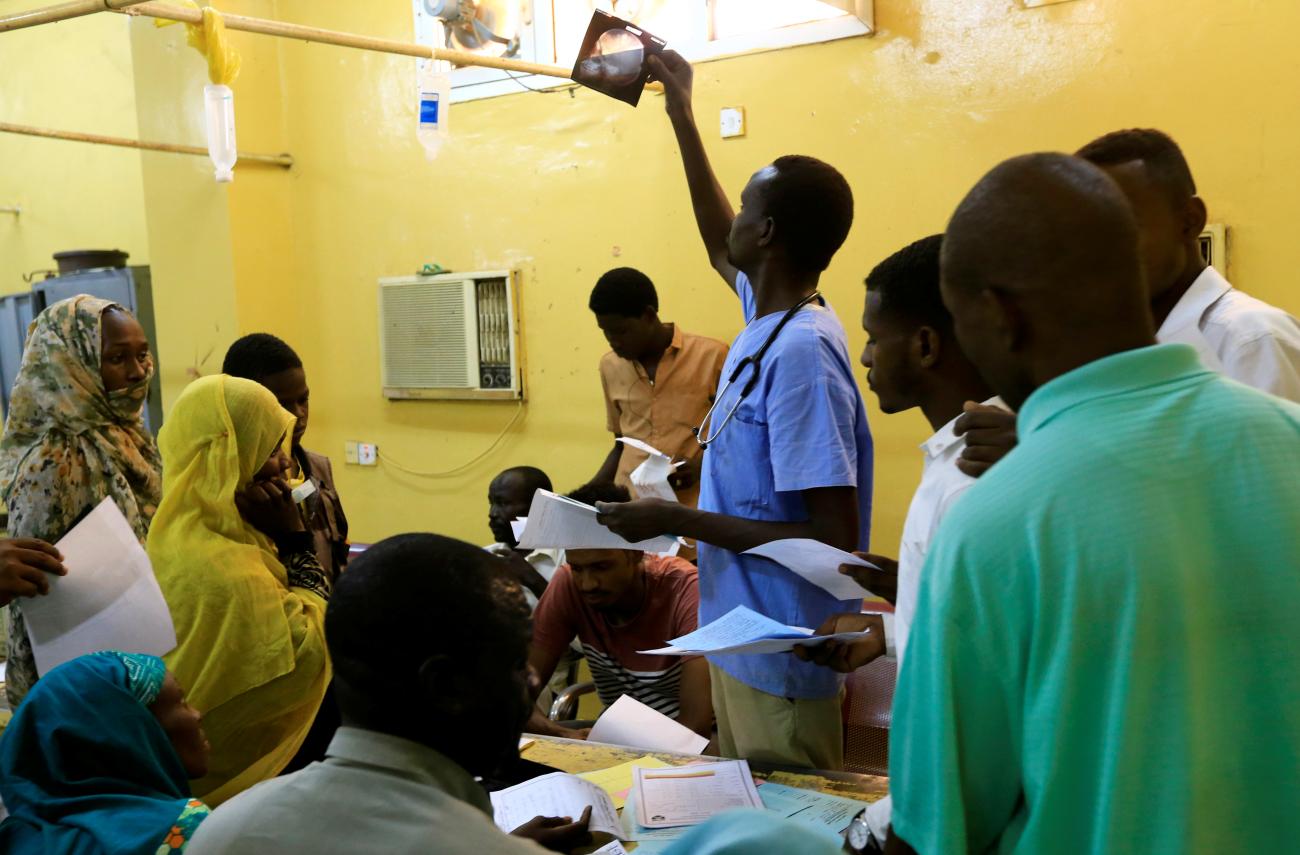 In the last weeks of Sulieman's life, physicians around Sudan had to adjust their practice to a rapidly evolving fighting zone.
Alrahman, a pediatrician born and raised in Sudan, no longer has his normal pediatrician rounds and clinic. The hospital he works at now only receives emergency cases, and he remains on call after his emergency room shift.
"To my understanding, [Sulieman] may have been planning to go at least to a different city after things got so bad in Khartoum, but he was killed before he was able to do that," Elamin said.
Health-care workers continue to flee Khartoum, but SAPA and its affiliates maintain operations in the safer areas of the city. 
An Already Collapsed System
Elamin doesn't know how much longer hospitals in Khartoum can hold out. In a recent conversation, a director of one of Khartoum's mental hospitals said that the fighting noises were getting closer to the clinic and that the number of patients coming to seek care has decreased because of it. Sulieman was the most prominent doctor who died, but at least thirteen other health-care professionals have lost their lives in the conflict, Elamin said.
Sudanese doctors are asking for a cease-fire and assurance that hospitals will not be targeted, included in the war zone, or taken by either warring side, he said. Even before the war, the health system in Sudan was weak and depended largely on international aid. Because of recent political conflicts, these systems have only further deteriorated. 
"The health-care system in Sudan is not collapsing—it is collapsed," Alrahman said.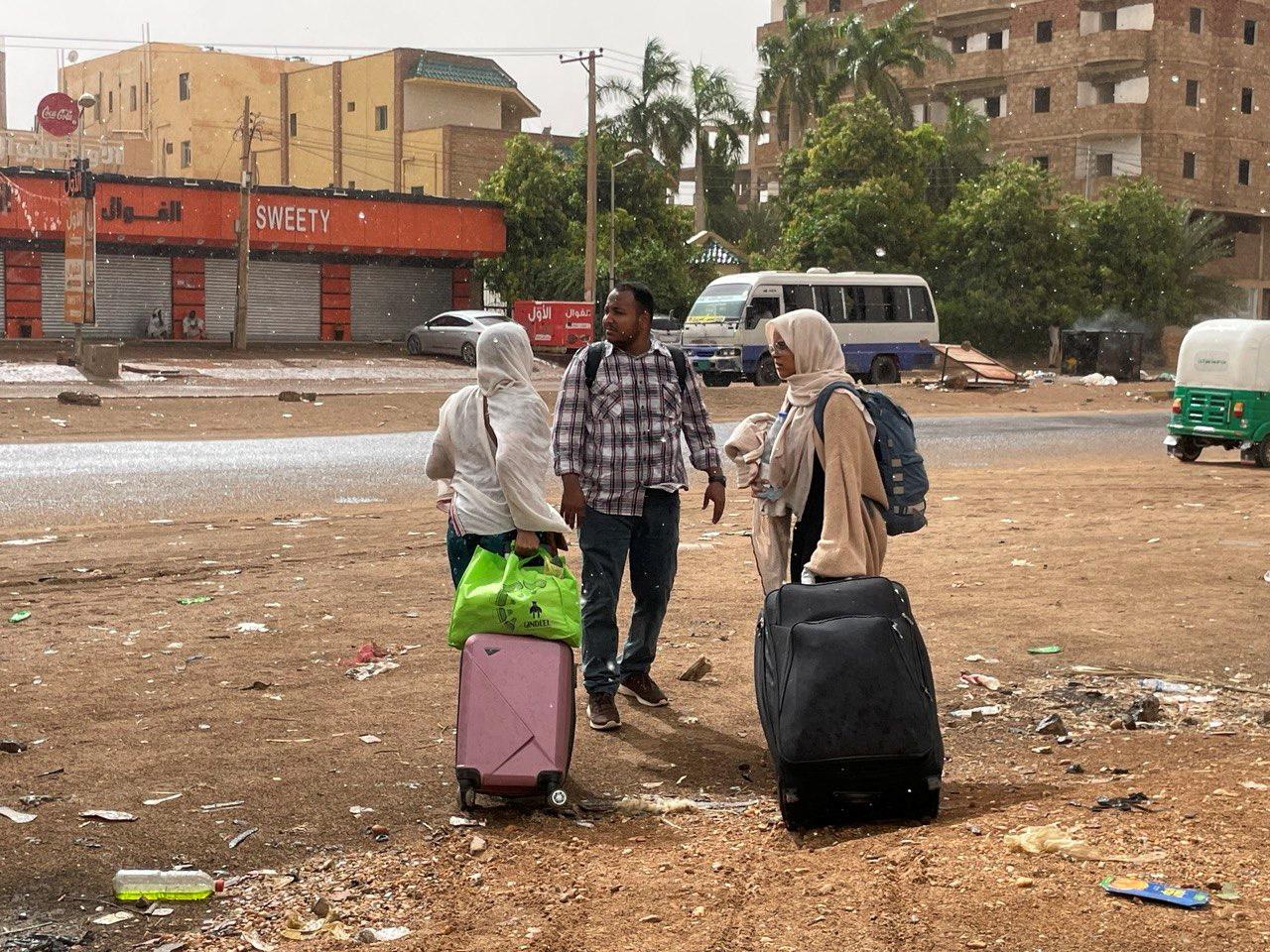 By SAPA's count, at least fourteen hospitals have been bombed in this conflict and two-thirds of the health-care system is now nonfunctional. Such risks to medical staff are causing many medical facilities to shut down. Alrahman estimates that about 92 percent of the hospitals have shut down, 85 percent of private clinics are shuttered, and all of the primary health-care centers have closed.
"What's keeping things running now in Sudan, relatively, is that the Sudanese community is trying to build these community-type collaborations where many [health-care workers] are working for free and people are even exchanging medicines," Elamin explained. 
Organizations like SAPA help Alrahman's hospital provide free services. In the past week, he said they helped deliver 140 babies. The United Nations Population Fund estimates that 24,000 women will give birth in Sudan in the coming weeks. 
He said that his hospital is stable for now, but major challenges include skyrocketing prices, increasing operational costs, and growing demand for medical staff. Mercy Corps teams estimated that the price of basic necessities in Khartoum have seen a 134 percent increase and the cost of fuel has gone up by more than 1,000 percent.
The worst part, he said, was the uncertainty. "No one can guarantee if anyone will be safe, and we are just praying and asking God for his help in this time of crisis."
13
At least thirteen other health-care professionals have lost their lives in the conflict
Diaspora's Role in Health-Care Development
Ten years ago, Sulieman moved back to Khartoum to look after his parents and has since practiced as a gastroenterologist, traveling between Iowa and Khartoum. Born in the United States, Sulieman joined a minority of diaspora medical professionals who chose to give up working in a high-resource environment to provide care in their home countries.
Before his death, Dr. Sulieman was known as one of the pioneers of gastrointestinal endoscopy in Sudan—particularly liver endoscopy—and taught those complex surgical techniques to local physicians. Sudan has more than thirty medical schools, but most Sudanese doctors complete their subspecialty training outside the country.
Physicians like Dr. Sulieman who come back from abroad contribute greatly to the development of modern medicine in Sudan, Alrahman said. 
"By far, he was the best gastrointestinal endoscopy [physician in] Sudan . . . one of the best across all of Africa," he said.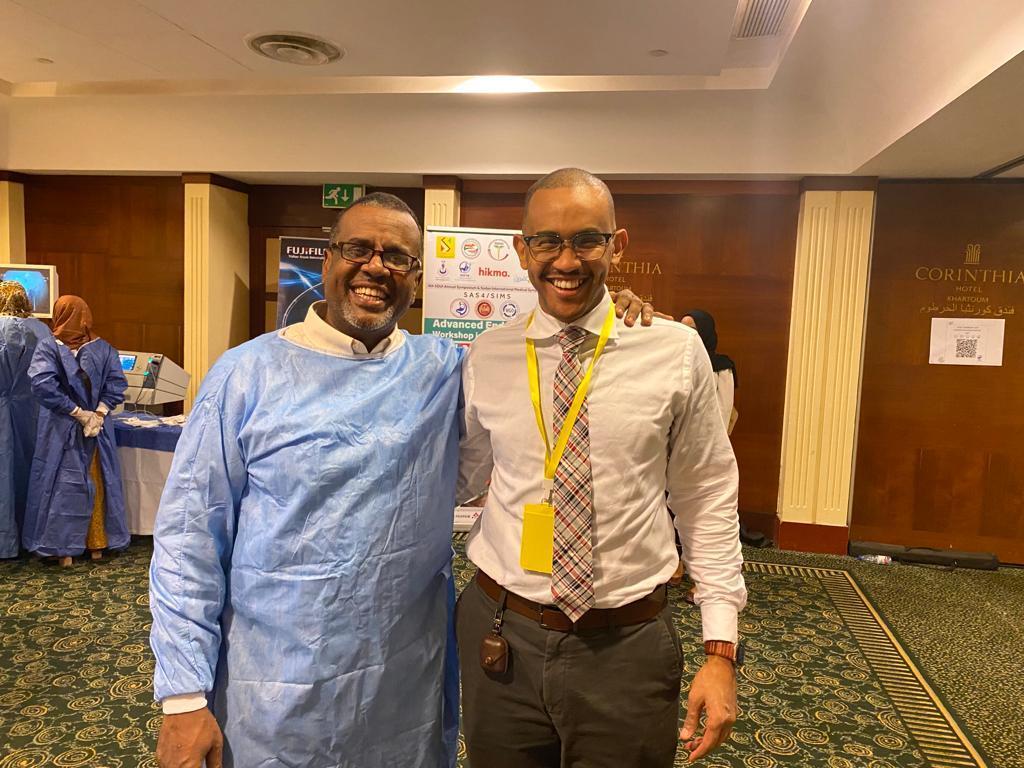 Alrahman estimates that 60 percent of physicians in Sudan are trained locally and that the other 40 percent trained abroad. Elamin adds that the majority of Sudanese doctors have spent some time abroad and that most physicians trained overseas typically do not return to Sudan.
The majority instead go off to practice in more lucrative regions, including the Gulf and the United States. Those doctors who trained abroad were influential in the transitional government, Elamin said. 
Elamin felt that both he and Sulieman were lucky to have been able to come to the United States, earn a good wage, and live a good life. "We need to give back both to America and to Sudan," he said.
In the United States, SAPA runs clinics for underserved communities and the broader diaspora community has marched to the White House, made hefty donations to SAPA, and written letters to Congress. In Sudan, since the fighting began in April, SAPA opened an internally displaced persons clinic in Madani, where thousands of people are fleeing from Khartoum, 200 kilometers away.
The Call for Home
Sudan's medical community is close knit and Sulieman's death was felt throughout the fragile health system. 
Elamin practiced in Sudan until 2007, and then moved to the United States. He visits Sudan for occasional talks and goes back once or twice a year, including in January, before the fighting began in Khartoum. 
When asked why might Sulieman relocate to Sudan, Elamin said that his life was all about being a true servant leader.
As for what draws Elamin back to his homeland—"the way the Nile smells," he said of the river that runs through the heart of Khartoum. 
"That's something I miss dearly about Sudan."