Andriy was shot 11 times in March and Ukrainian doctors managed to remove five bullets, but the rest required a complicated operation, Agnieszka Poźniak with Polish Medical Mission told her followers in an April 24 Facebook post.
But after surgery, the 34-year-old man from Kharkiv had increasing difficulty walking and his wounds were worsening. With logistical help from Toronto-based disaster-relief charity Canadian Medical Assistance Teams (CMAT), he was transferred successfully from western Ukraine to a surgical hospital in Salzburg, Austria.
Andriy is just one of more than 3.3 million refugees who have fled Russia-besieged Ukraine to Poland since February 24, 2022. Although the first refugees were relatively healthy, the threatened escalation of the situation in Ukraine may soon "bring about a mass exodus" of sicker refugees, says Valerie Rzepka, CMAT's executive director.
While the first refugees from Ukraine were relatively healthy, the ongoing war there may soon bring "a mass exodus" of sicker refugees
As a physician on CMAT's initial team, I arrived in Poland on March 13 aiming to provide medical care to Ukrainian refugees. Since returning, I've had a chance to reflect on lessons learned from the stories of refugees, volunteers, and my own experience. Providing health care in Ukraine's conflict zone is like a game of cat-and-mouse in which we constantly chase the evolving needs of refugees—needs that in turn, are shaped by the events of the unfolding war.
Our initial work was supposed to be in Hrebenne, a crossing on the Polish side of the border with Ukraine. However, after arriving to a chaotic scene of nonprofit organizations competing for clinic space, and in light of Poland's remarkable humanitarian response to the influx of refugees, CMAT shifted its attention to the Ukrainian side of the border. There, people were suffering from exposure to cold temperatures and bottlenecks in border lineups had led to deaths earlier in the war.
With logistical support from the Folkowisko Association, a Polish folk festival organizer that was providing aid, we rotated in 12-hour shifts to install and run a primary care clinic at Krakovets, a Ukrainian border crossing where thousands of refugees come through every day.
Anxiety at the Ukraine Border
Many came to our clinic with complaints of headache, high blood pressure, and heartburn. While much of their discomfort could be relieved by medication, the cause was the anxiety that arose from family separation—a common theme among refugees I saw.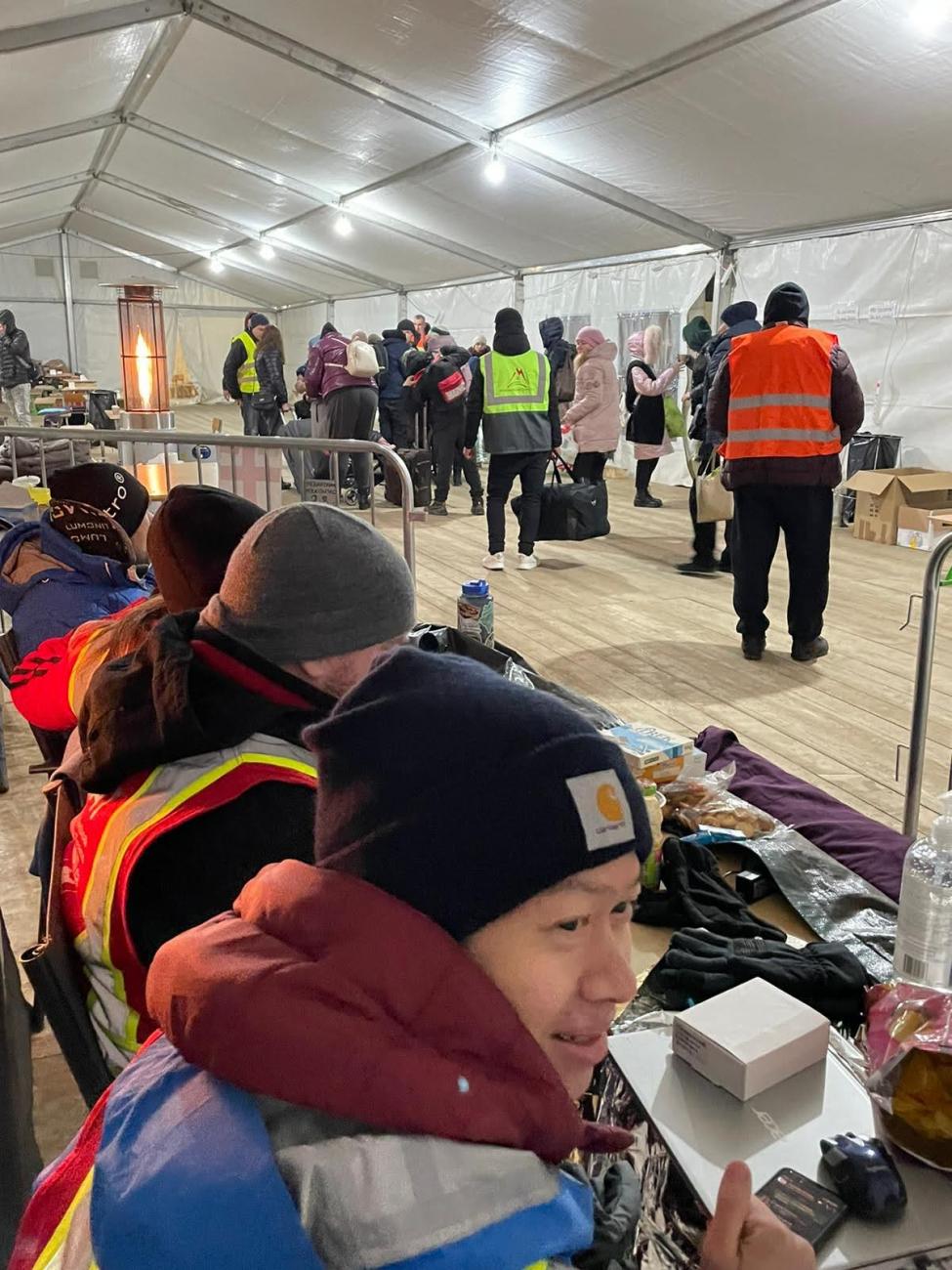 When 69-year-old Alina found out her son and two grandsons would have to fight in the war, she had one reaction: "I cried. I cried a lot."
The retired ice cream maker from Dnipro in Central Ukraine met her husband, Gino, while she was studying ice cream-making in Italy, where he ran a gelato shop. Now, leaving Ukraine as refugees, they reminisced about the sweet stability of times past.
Alina described the dread of waiting for her son and grandsons to phone. "They call me every morning just to say that they're okay. If they don't call, I start to get nervous," she said.
Also from Dnipro was Tatyana, a 40-year-old journalist who arrived with her two daughters, ages four and 11. She said she had not seen her mother, who lives in Russian-occupied Luhansk in eastern Ukraine, near the border with Russia, for eight years. Tatyana said she was distressed to leave behind family in order to seek stability for her daughters in another country. Her elder daughter understands that Ukraine is at war, but her younger daughter just kept asking, "Can we stop hiding in the basement?"
Resilience Among Ukrainians
Despite high tensions, there was also a theme of resilience among the Ukrainians I met.
Anastasia Hulvanskaya, a 27-year-old IT talent sourcer from Kyiv, assisted CMAT as an interpreter during our first weekend in Krakovets. She said that on February 24, she awoke to the sound of an explosion, signaling the start of the invasion. During the first few hours, she and her husband sought refuge in a veterinary clinic converted into a bomb shelter.
Her younger daughter just kept asking, "Can we stop hiding in the basement?"
Her manager at work asked her to relocate to more stable Lviv in western Ukraine, where she and other members of the local Jewish Messianic Congregation decided to set up a tent in Krakovets to support refugees. "We share food, we share good words, hot drinks—it's great," she says.
Hulvanskaya, a former midwife, says volunteering helps her to keep focused on positivity. "I can't take a gun in my hand. I don't want to kill people. But I can do some good."
My two weeks on CMAT's first team in Ukraine went by quickly. Recognizing an ongoing need to support Ukrainians in western regions of the country, CMAT has amassed a roster of hundreds of volunteers, including physicians, nurses, paramedics, and logistics personnel ready to rotate in on short notice. A new team comes in every two weeks.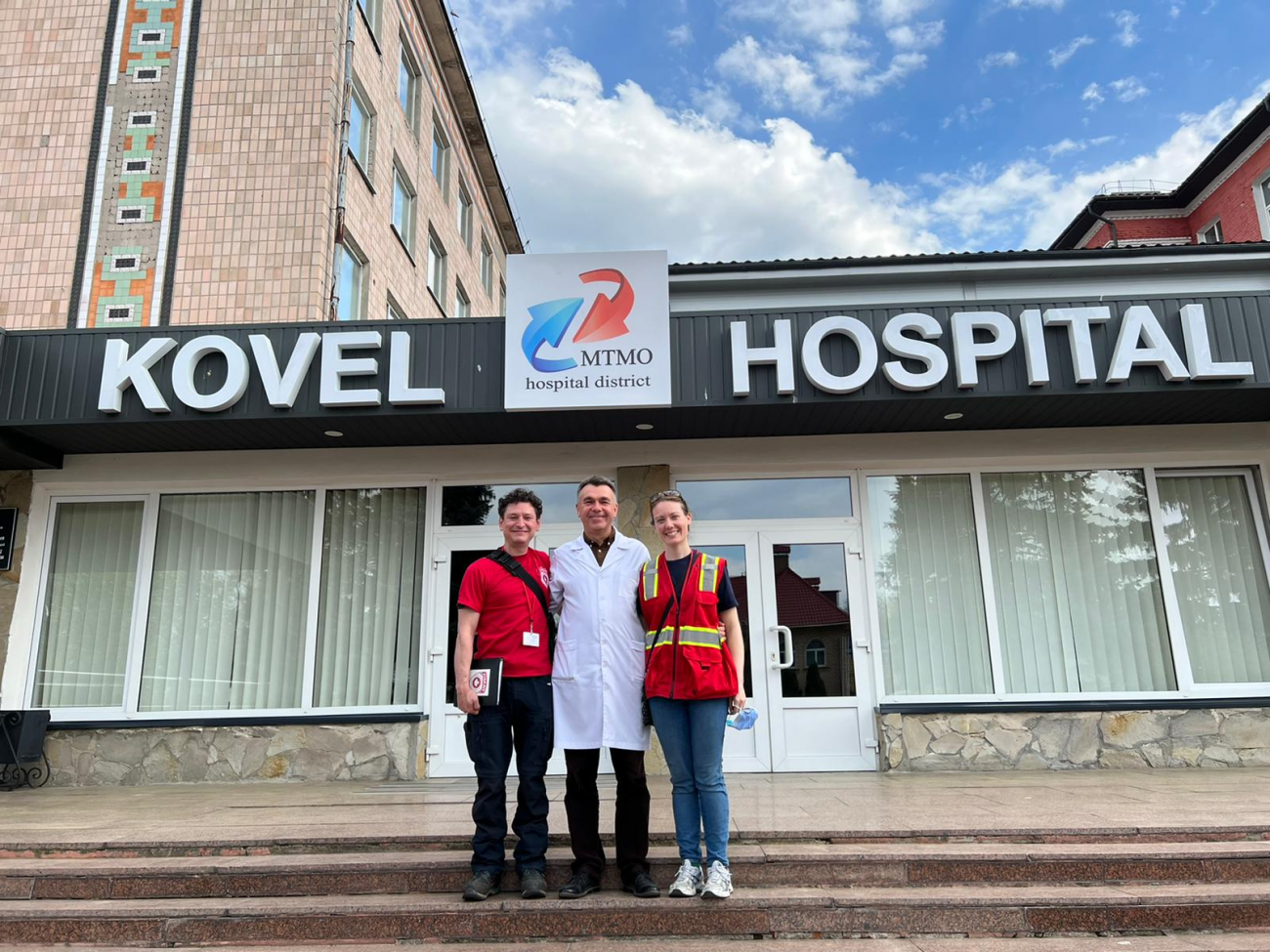 Shifting the Focus to Internally Displaced Persons
David Thanh, team leader of CMAT's fourth and fifth teams on the ground, says their focus has shifted to providing medical care to Ukrainians displaced in their own country. The United Nations refers to them as "internally displaced persons" (IDPs) and the war has generated about 7.7 million of them in Ukraine. Thanh, a search-and-rescue and mobile clinic specialist from Squamish, B.C., explains the reason for this shift. "To inundate a community with a whole bunch of new members seeking medical care is overtaxing their (health-care) system," he says.
Thanh's teammate Sarah Scott, an emergency physician from Comox, B.C., says one of CMAT's mobile clinic sites is a converted college dormitory that houses more than 400 IDPs. Scott says the IDPs lack primary care services such as well baby checks. One mother brought her 7-month-old daughter to the clinic, concerned that she wasn't yet rolling over. After some history gathering, the mother revealed that she seldom put her daughter on the floor, which she thought was unsafe.
The baby is "always in a hammock every day. She just needs practice," counseled Scott, who advised a follow-up visit in a month.
Although CMAT plans to deploy teams until at least the end of June, Scott says she is worried that the health status of IDPs will deteriorate as the war drags on. "The health needs are just beginning to arise. It's easy for us to be involved early on when the conflict is in the spotlight. The main message is that we can't forget about them," she says.