Thailand is one of the top agricultural producers in the world, with crops ranging from rice and tapioca to pineapples and sugar. But this high production comes at a cost to human health. Agricultural burning—the use of fire to clear land for planting and removal of excess biomass—is common in Thailand and in 2019, it accounted for approximately 32,200 premature deaths.
Fires from agricultural burning are the world's largest source of black carbon, which threatens both human and environmental health in many ways. Known legally and colloquially in Southeast Asia as "haze," chronic air pollution blankets Thailand's national capital of Bangkok from November to February each year, largely to the detriment of low-income households and outdoor workers who cannot insulate themselves in purified indoor settings. By contrast, northern Thailand experiences the worst effects of agricultural burning between February and April, disrupting agricultural and tourism livelihoods, and adversely affecting community health. The seasonal and uneven spatial dispersal of air pollutants within Thailand creates hidden health impacts that disproportionately affect already vulnerable groups in Thai society.
Research suggests that severe air pollution reduces average life expectancy by two years in Thailand. But the country's air pollution problem extends well beyond its national borders to affect people in neighboring Cambodia, Laos, and Myanmar, and vice versa.
Two Years
Research suggests that severe air pollution reduces average life expectancy by two years in Thailand
Using Thailand as a case study on the political and economic causes of agricultural burning, as well as an example of the difficulties involved in ending it, in this piece, I examine the burning of three crops: sugarcane, rice, and maize (corn).
 Sugarcane production in Thailand shows why agricultural burning persists despite its detrimental effects. Thailand's sugarcane industry, which relies on biomass burning to accelerate harvesting, creates more than 1.5 million jobs nationwide and generates revenues of about $6 billion annually. Thailand exports around 70–75 percent of its sugar to low-tariff Association of Southeast Asian Nations (ASEAN) countries and ranks second globally, behind Brazil, in the export of sugar. Industry competition is institutionalized by the Cane and Sugar Act, which legislates a quota system and distribution mechanisms between growers and millers. With wealthy owners of sugar companies holding the balance of power in this industry, the Thai government, as a Thai financial sector consultant asserted, has taken "a kid gloves" approach to environmental governance since "setting back billionaire families is not exactly this government's priority."
Sugarcane Bane
The environmental consequences of sugarcane production for air quality are severe. Sugarcane burning accounts for between 60-67 percent of production, and incomplete combustion emits toxic black carbon into the air. In past years, because crop burning takes place during the cooler, high-pressure months of November to April, there is little wind to disperse the smoke, resulting in chronic haze pollution over Thailand's northeast and central provinces where sugarcane is grown.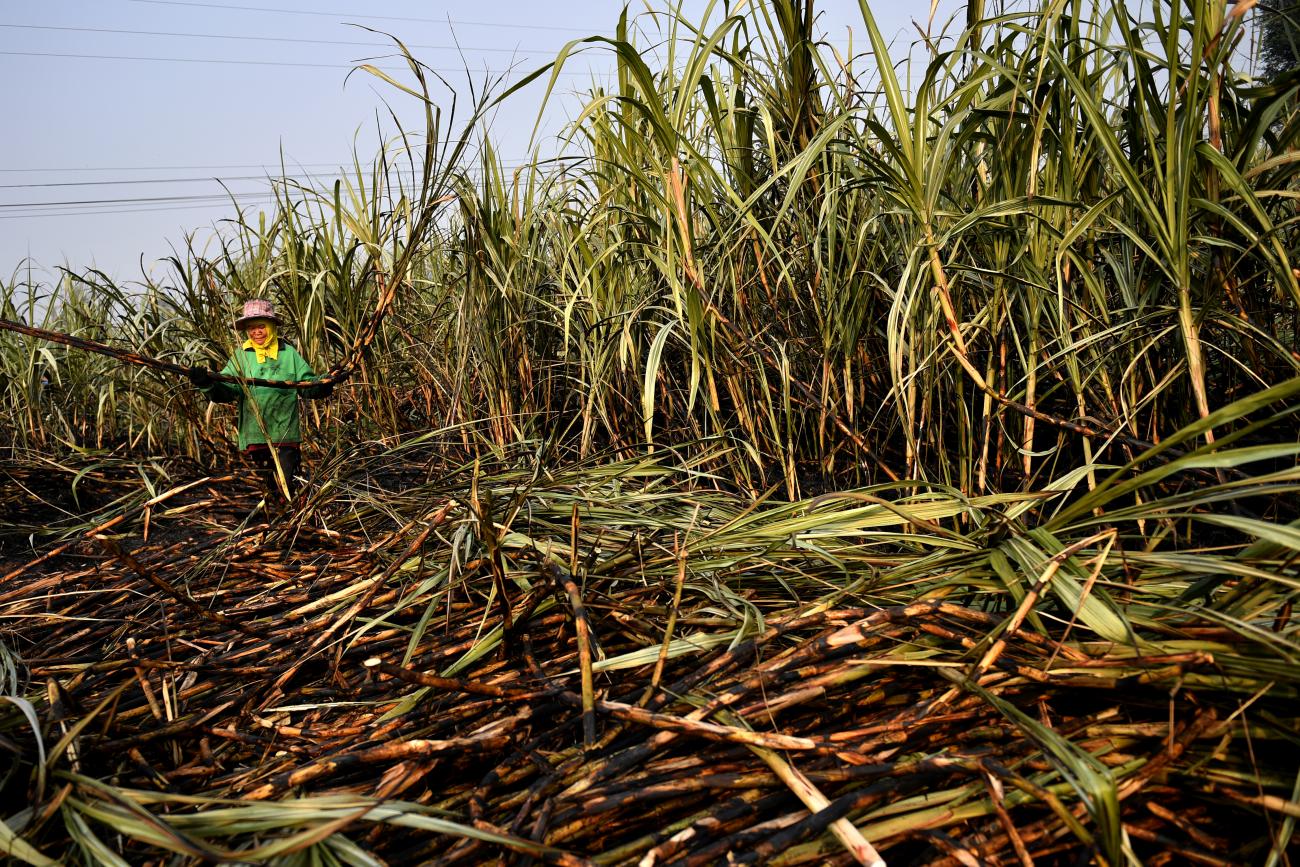 Because the Thai government neither provides any financing or other mechanisms to encourage non-burning methods of disposing of agricultural waste nor does it stipulate a minimum wage for cane cutters, smallholders with fluctuating incomes and ongoing production costs are forced to pollute their own homelands. Rather than offer sustainable livelihood alternatives, such as subsidizing the use of machinery to clear excess biomass, the government tends to comply with the requests of agribusiness companies and farmer groups to relax the percentage of burnt sugarcane that they can then legally sell.
Farmers say burning is cheaper, faster, and requires less labor than mechanized harvesting machines, which are used less than 10 percent of the time. As an Agricultural Promotion Department officer explained to me, "The [harvesting] machine is very expensive. Most farmers are poor. They won't use it." Many hired cutters refuse to work if they are unable to harvest using burning methods because they are paid by output rather than hourly wages. Farmers locked into contract farming schemes also feel pressured to deliver sugarcane on time to the millers. For these reasons, even after the Ministry of Agriculture imposed a burning ban in 2019, numerous sugarcane farmers have circumvented it by burning their fields at night.
Burning Rice
Another major contributor to Thailand's air pollution is the rice industry. Thailand is one of the top three global rice producers and the sector employs around 3.7 million farmer households to cultivate 10 million hectares (more than 38,000 square miles), and burns over 4 million tons of rice straw annually, with the emissions dispersed throughout the central, lower northern, and north-eastern provinces. A Ministry of Environment and Natural Resource officer stated that farmers "grow rice three times per year. Every time they burn waste, it causes air pollution in Bangkok." Lacking time and machinery to clear their lands between growing cycles, farmers resort to burning as the fastest method to remove excess biomass and kill pests and weeds.
Burning is cheaper, faster, and requires less labor than mechanized harvesting machines, which are used less than 10 percent of the time
Cutting Corners for Corn
In maize production, too, contract farmers frequently circumvent government bans on agricultural burning to meet production targets set by private agribusinesses. This constitutes a form of slow violence as it jeopardizes the health of contract farmers while reinforcing unequal power relations to their long-term detriment as a short-term strategy to avoid indebtedness. Smallholder farmers with limited access to agricultural lands have also become increasingly indebted to large agribusinesses since 2012 due to falling global commodity prices, combined with fluctuating yields and reduced government subsidies. Consequently, they are under continual pressure to produce high-yielding crops to repay debts instead of investing in sustainable technologies and mechanized methods of clearing land that do not rely on the use of fire.
At the transnational scale, Thailand's northern and northeastern provinces in particular suffer from the impacts of transboundary haze from agricultural burning in neighboring countries, especially the burning of maize. A Bangkok-based environmental science professor estimated that the majority of maize-burning hot spots "are located outside Thailand, about 70 percent. They are all in our neighboring countries."
All maize-producing countries in mainland Southeast Asia, including Thailand, have sought to accelerate national production in recent years to meet growing regional demand, especially from China, which uses maize to feed livestock for meat consumption. Thai agribusiness conglomerates that profit from this boom in maize exports have been protected from liability by successive Thai governments. For example, maize became the main cash crop in Myanmar due to industrial maize contract farming schemes promoted by Charoen Pokphand (CP), Thailand's largest private company, to supply China's chicken-feed market. In the sugar industry, Thailand's major producers, Mitr Phol Sugar, and Khon Kaen Sugar Industry, have both expanded into Cambodia and Laos with plantation-style operations spanning tens of thousands of hectares.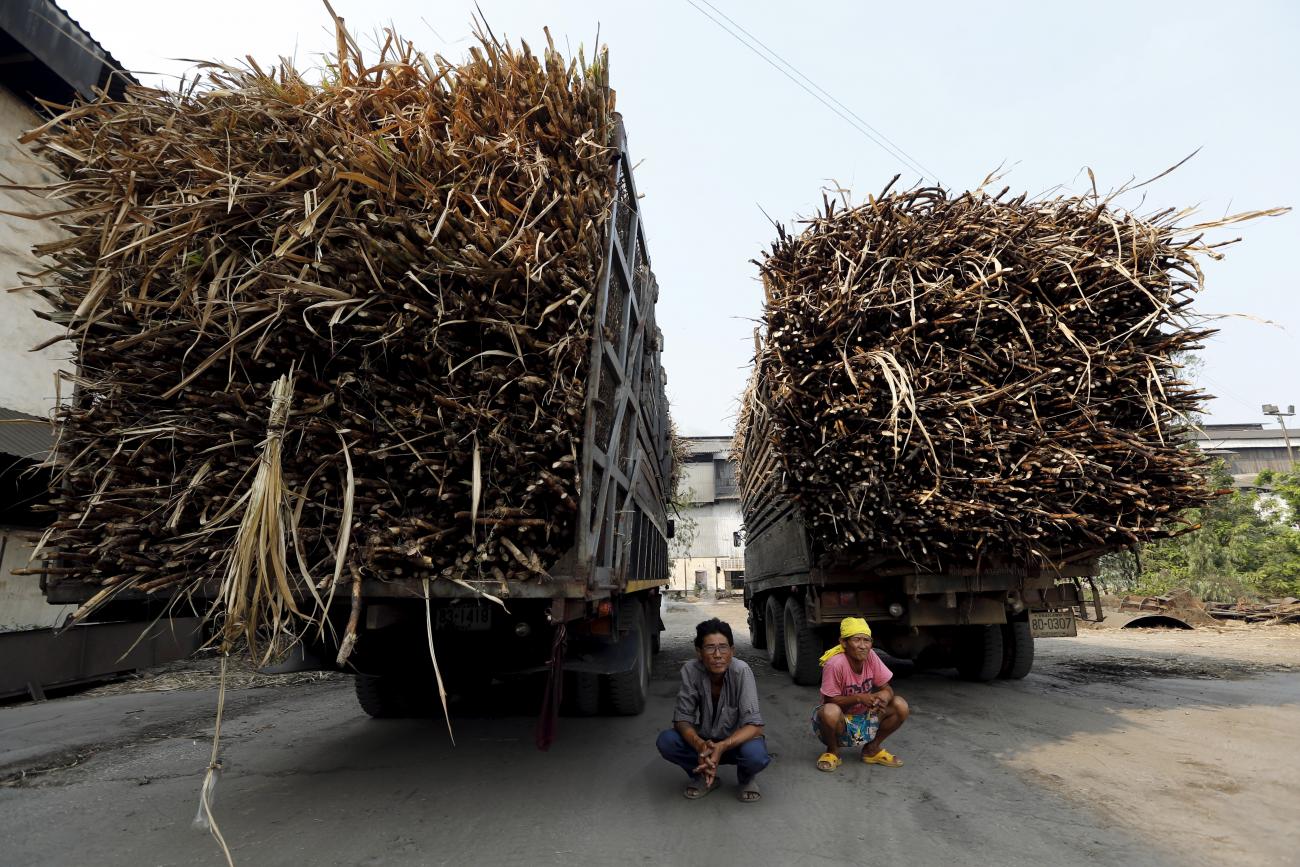 To date, there have been virtually no public campaigns to boycott maize, sugar, or sugarcane, or discussions to penalize transgressions of sustainable industry standards by these corporations. Instead, indebted smallholder farmers, who themselves must bear the heavy costs of agricultural pollution and other forms of air pollution, continue to be cast as the primary perpetrators and threatened with legal action.
Air Pollution Inroads
Fortunately, during the current growing season, which began in November, air pollution in major Thai cities, such as Bangkok and Chiang Mai, has been less severe. As satellite data show, reduced agricultural burning in recent months has contributed to this. One reason for the decrease is that Myanmar military operations and transportation restrictions in Shan State have disrupted agricultural production and in turn reduced burning. Another likely possibility is that export of maize and other crops from Laos and Myanmar to China has been adversely affected by COVID restrictions and border controls. Within Thailand, there have been some efforts by both the central and local governments to run a managed burn program using satellite data. However, according to a number of experts, the major cause of reduced PM2.5—fine particulate matter—levels is that recent rainfall levels have been unusually high due to La Nina and other weather factors.
There have been virtually no public campaigns to boycott maize, sugar, or sugarcane, or discussions to penalize transgressions of sustainable industry
So, reduced air pollution levels are likely more a blip than a long-term trend. What is needed in the longterm is new legislation. In particular, the Clean Air Act submitted by the Thailand Clean Air Network, a group of volunteers, and which garnered over 26,000 signatures, seeks to reduce air pollution by addressing these underlying structural issues of burning. This citizen-driven bill also addresses transboundary air pollution: it has a penalty clause for Thai entities who contribute to transboundary haze.
While legislation will not entirely solve the problem, it would provide a foundation for a formal recognition of air quality as a vital human right, thereby improving protection from and fairer compensation for unhealthy exposures to air pollution. What is also needed is a higher minimum wage, government investment in alternative crops, and financing schemes and training programs to enable farmers to adopt non-burning harvesting methods.