In 2012, India introduced a set of rules, commonly referred to as the Film Rules, that restricted tobacco content in movie theaters and on television broadcasts. These regulations were recently expanded to video-streaming platforms such as Netflix, Amazon Prime, and Disney+ Hotstar, on which streamers are required to provide video- and text-based health warnings whenever tobacco is depicted. As digital media has grown in popularity, tobacco marketing has followed viewers to these platforms, requiring a public health response.   
India's update to its Film Rules is praiseworthy, and with streaming services projected to reach 4.2 billion people globally by 2027, it reflects not only the long-standing importance of protecting consumers from tobacco marketing, but also the reality of doing so in the twenty-first-century media landscape. 
Globally, sixty-six countries ban the tobacco industry from advertising in print, on billboards, and via television and radio. However, India is the first to regulate tobacco on streaming platforms — serving as a model for other countries on how to adapt advertising regulations for the digital age.  
70 Percent
An analysis of 298 films made there found that 70 percent contained at least one on-screen appearance of tobacco
India's Decades-Long Fight to Curb Tobacco Imagery  
The tobacco industry has long placed its products in films to promote and normalize tobacco use. India is the world's largest film producer. Between 1994 and 2003, an analysis of 298 films made there found that 70 percent contained at least one on-screen appearance of tobacco. A study by the global health organization where I work, Vital Strategies, and researchers at Imperial College London found that tobacco imagery in Bollywood films declined sharply after India introduced comprehensive tobacco control regulations in 2003, which included the first restrictions on marketing. Tobacco imagery later rose but after the Film Rules were enacted in 2012, the use of tobacco imagery in Bollywood films declined again.  
Decades of research has shown that tobacco marketing causes people to use more tobacco, and that comprehensive, well-drafted national limits on tobacco advertising reduce tobacco use and thereby prevent disease and death. But in today's digital environment, a growing number of people — especially youth — are exposed to unhealthy products through aggressive, often-underhanded marketing tactics. A recent report by STOP, a tobacco industry watchdog composed of academic and public health organizations, showed how a single Netflix documentary about Formula 1 racing, Drive to Survive, displayed embedded tobacco ads for more than a billion minutes of streaming. A study in India of ten streaming series popular among young people there found that 57 percent of episodes included tobacco use.  
The good news is that governments and media companies have new tools and policies at hand to proactively reduce this marketing.  
At Vital Strategies, we developed the Tobacco Enforcement and Reporting Movement, or TERM, to monitor tobacco marketing via social media and online news. TERM has identified both overt and surreptitious tobacco marketing, including the use of surrogate marketing, a bait-and-switch tactic in which nontobacco products that bear identical branding and packaging as their sister tobacco products are advertised with impunity. TERM has also found movie posters shared to social media that feature famed actors smoking, in roles that associate tobacco with adventure and bravery.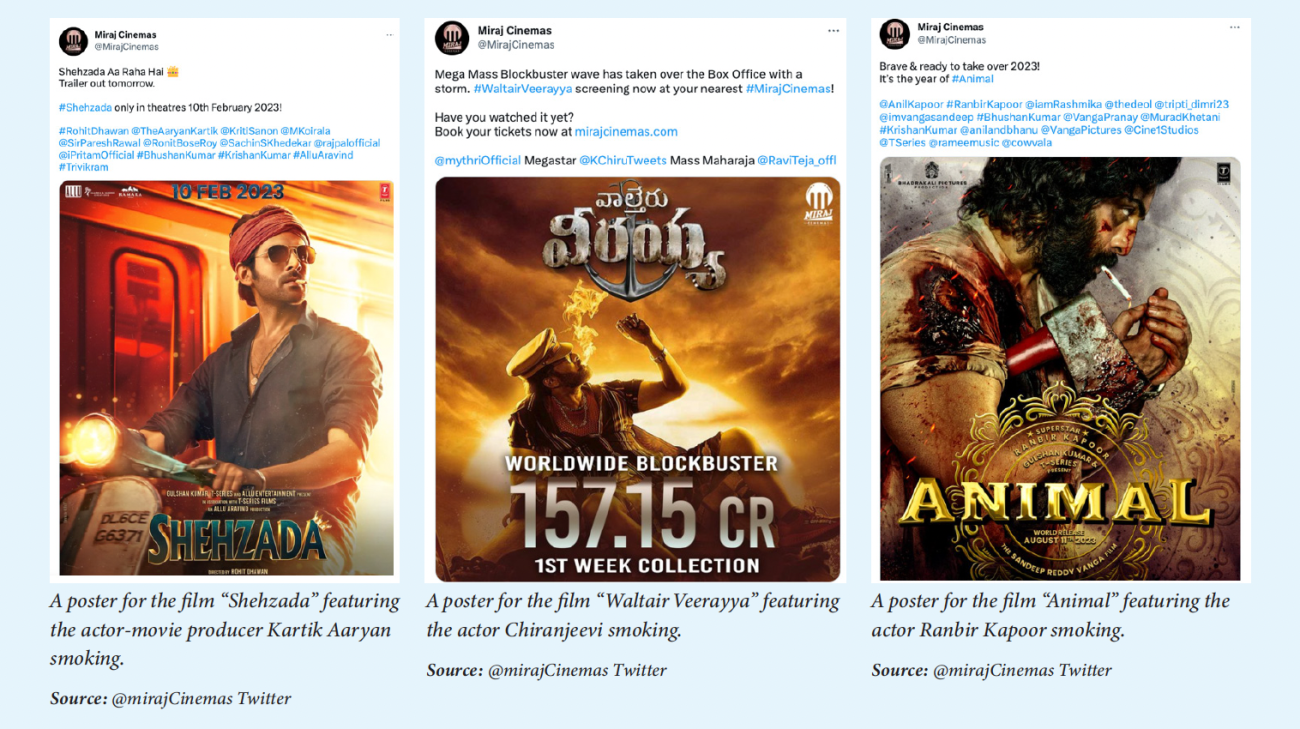 India's Film Rules cleverly reclaimed the narrative on tobacco in entertainment media by mandating that content that depicts tobacco also feature health warnings. This includes both public service announcements and audio-visual disclaimers about the harms of tobacco use at the beginning and in the middle of content, and a static health warning displayed on the screen whenever tobacco is visible. The industry, though, has pushed back fiercely. To build public support to prevent such rules from being rolled back, health officials should use all available platforms to educate the public about the importance of these measures.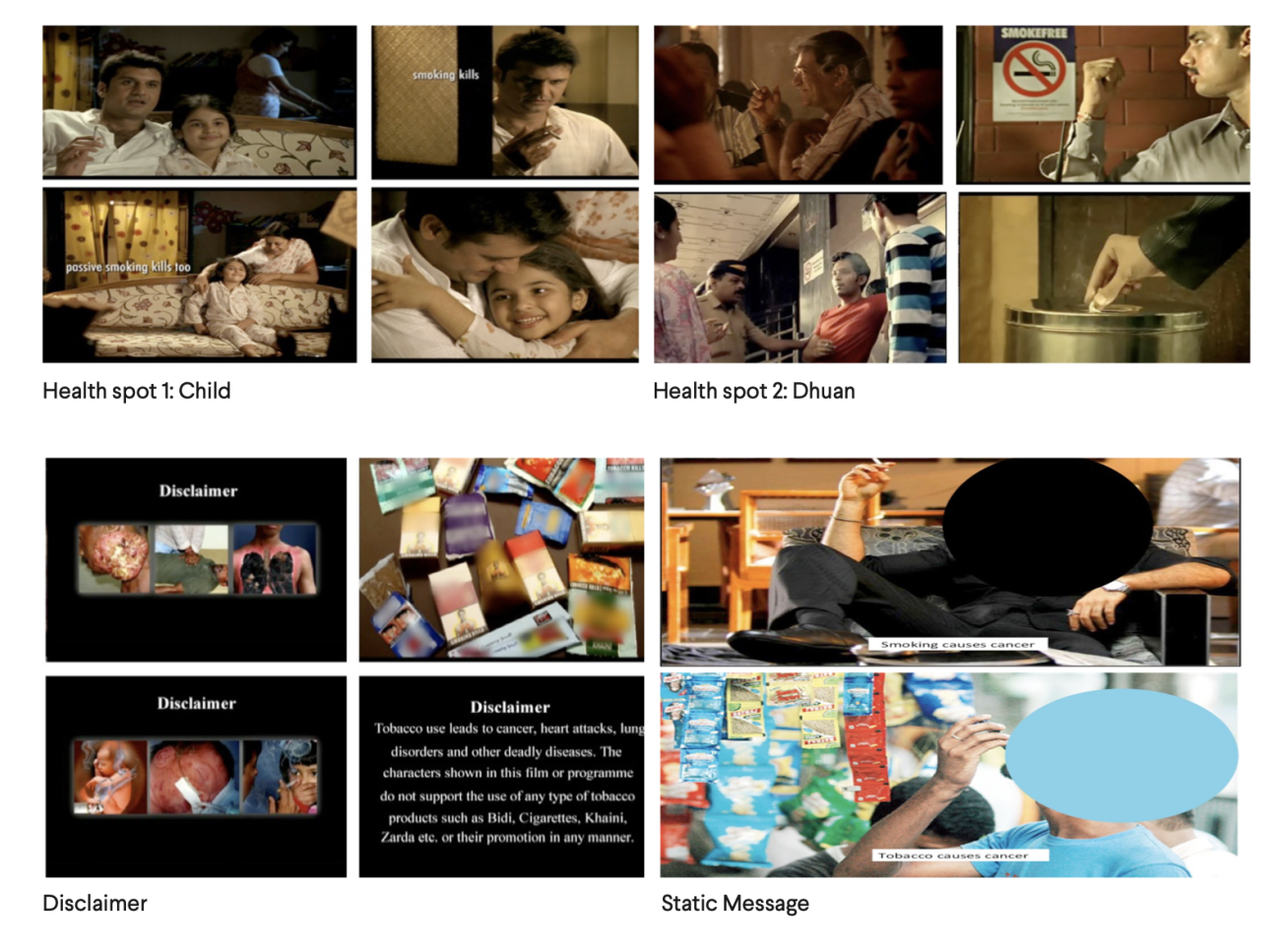 Even after regulations are enacted, they need to be effectively implemented, which requires collaboration across government agencies, media stakeholders, and civil society organizations. It's also necessary to evaluate levels of compliance with the regulations, any reductions in the prevalence of tobacco imagery, and effects on tobacco consumption, particularly for youth. Partnerships with civil society organizations and academic institutions in particular can play an important role in monitoring and implementation. Digital media monitoring systems like TERM can allow stakeholders to identify loopholes that are being exploited by the tobacco industry, and enable governments to strengthen regulations.  
If countries implement and enforce regulations on tobacco marketing including on digital platforms, engage the public, and rigorously review their progress, the process can serve as a model for curbing the promotion of other unhealthy commodities, including alcohol and ultra-processed foods, which is becoming more prevalent. A comprehensive approach to tackling the marketing of unhealthy commodities in entertainment media ought to be a cornerstone of safeguarding public health worldwide, and India's Film Rules provide a path to follow.