In August, President Donald J. Trump signed an executive order to halt residential evictions during the COVID-19 pandemic, and shortly thereafter the CDC announced that "eviction moratoria… can be an effective public health measure utilized to prevent the spread of communicable disease." But in spite of these orders evictions have continued and filings by large landlords have actually increased. The situation may get much worse: the CDC's nationwide eviction moratorium is set to expire on December 31, 2020. With viral transmission expected to reach unprecedented levels in the coming months, the country's housing crisis could not be graver.
While the pandemic has exacerbated the housing crisis, the threat of eviction is not a new problem for many Americans. Prior to the COVID-19 pandemic,  20.8 million renters were already cost-burdened, nearly half of all renter households, leaving many struggling or unable to afford other necessities including food, transportation, and medical care. On average, 3.6 million eviction cases are filed every year, often because of a failure to pay rent.
3.6 M
On average, 3.6 million eviction cases are filed every year, often because of a failure to pay rent.
But the difference between eviction and staying in one's home can be narrow. Per the Eviction Lab, a research group at Princeton University, the amount of debt owed is often less than one month's rent. In states such as Virginia and Delaware, a fifth of eviction judgements were made on debt less than $600. In North Carolina, debts of that amount or less accounted for nearly a third of the judgements.
The COVID-19 pandemic has brought about the biggest unemployment rate in the United States since the Great Depression, and without swift action, the country's eviction crisis could undercut public health efforts nationwide. The Congressional Research Service reports the unemployment rate reached record levels in April 2020, with each state facing rates higher than were seen during the 2008 recession. With job growth falling to its slowest pace since the spring, the COVID-19 pandemic has worsened nearly every aspect of housing instability. As of last month, according to the Census Bureau's Household Pulse Survey, an estimated 12.4 million adults living in rental housing were behind on rent. And that burden is not falling across the population evenly. Thirty-one percent of Black renters and eighteen percent of Latinx renters were behind on rent payments, compared to twelve percent of white renters. This stark racial divide mirrors and threatens to exacerbate inequities of the U.S. pandemic experience as well, with Black and Latinx COVID-19 mortality reaching rates six times higher than those for whites in certain age categories.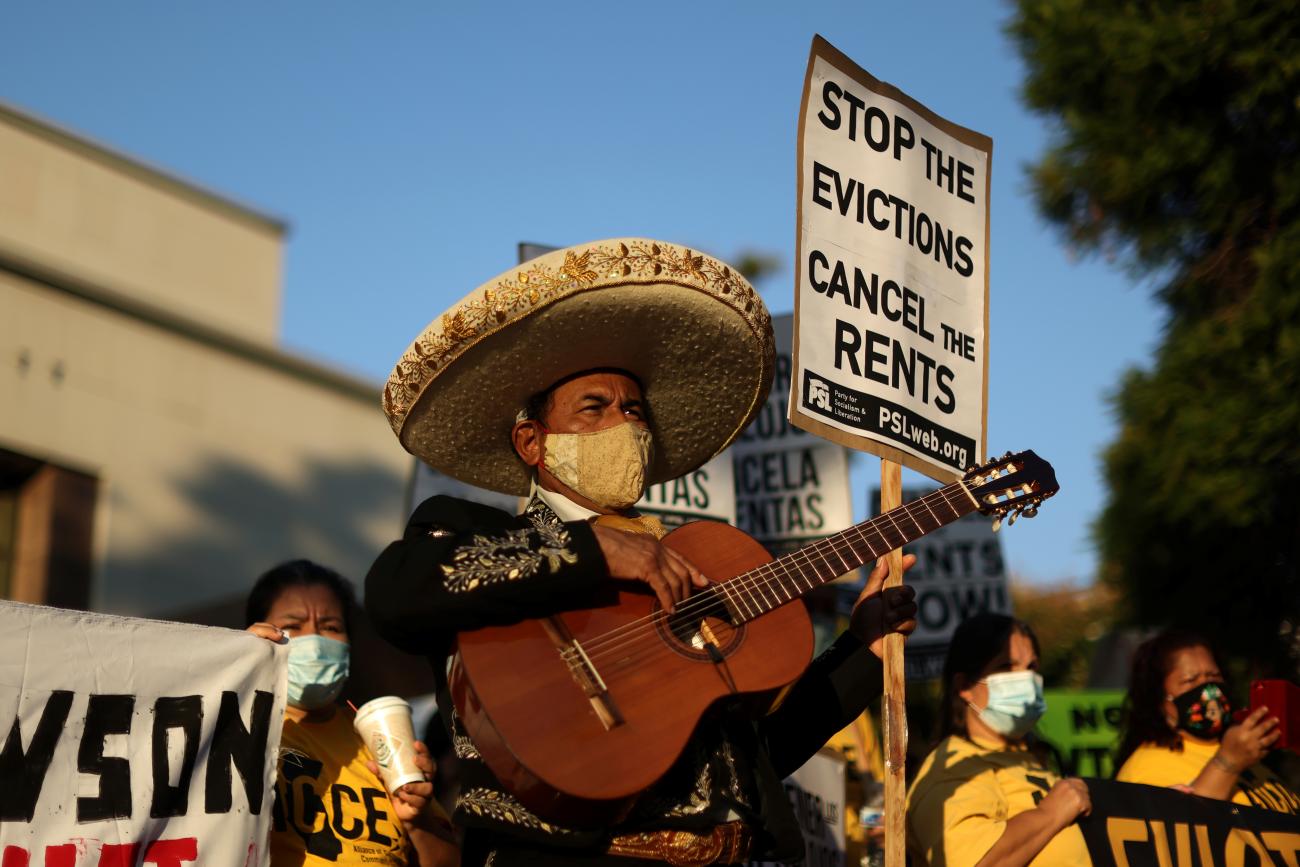 Congress responded by quickly passing the Coronavirus Aid, Relief, and Economic Security (CARES) Act which  authorized one-time payments of $1,200 for eligible households in addition to supplementary unemployment benefits. It is estimated to have prevented another 12 million Americans from falling into poverty.
But eviction rates have continued rising steadily. As local and federal moratoriums expire, an estimated 30–40 million Americans could be at risk of eviction in the next several months, placing them at higher risk of COVID-19 transmission and hospitalization. Those affected are already burdened by an array of negative health outcomes, including a higher burden of chronic mental and physical health conditions, as well as higher rates of infectious diseases.
Evictions could affect community safety as well: While public health authorities emphasize the need to practice social distancing, evictions instead result in families having to crowd into homeless shelters, move in with other families, and take up unsafe jobs to make rent. In these situations, it is far harder to socially distance, putting more people at risk, and exacerbating infection rates. Epidemiologists have modeled the impact of continued evictions, finding that in some cases, even a two percent eviction rate could increase the cumulative COVID-19 prevalence by fifty percent or more.
A two percent eviction rate could increase the cumulative COVID-19 prevalence by fifty percent or more
The data shows that this is already happening. A recent study compared U.S. states and found the lifting of eviction moratoriums was associated with a sixty percent increase in COVID-19 incidence and mortality, resulting in 400,000 excess COVID-19 cases and 11,000 deaths already.
Figure 1 tells a similar story. It shows the level of COVID-19 incidence for counties in New York state divided by their historical eviction rates. The eviction rate is defined as the number of homes receiving an eviction judgement as a proportion of occupied renting households. The eviction rate for each county has stayed relatively stable over time. We see that counties with the highest historical eviction rates also have the highest COVID-19 incidence. Even controlling for median income levels in these counties, the relationship remains statistically significant.
Accounting for income, a one percent increase in the eviction rate is associated with an increase of 611 cases per 100,000 residents, suggesting that eviction rates have a direct relationship with infection. In other words, even when comparing counties that are at similar income levels, the counties with higher eviction rates had  higher incidence of COVID-19, suggesting that it is evictions themselves that are driving spread of the virus.
The relationship between evictions and COVID-19 transmission should be at the forefront of policymakers' minds as we head into 2021. Operation Warp Speed, composed of an array of federal agencies from the Department of Health and Human Services to the Department of Defense, promises to deliver 300 million doses of COVID-19 vaccines starting in January 2021. However, most of the public is unlikely to receive a vaccine until later in the spring, and the threat of eviction will continue to hang over millions of renters whose needs are unmet by a patchwork of local and national relief efforts.
Prominent medical groups across the country continue to advocate for a national moratorium on evictions, but blanket policies like the CDC's have little to no effect on suspending evictions. In order to prevent a profound exacerbation of the nation's housing and COVID-19 crises, city, state, and federal agencies need to seriously examine the role housing stability plays in maintaining public health and welfare and take coordinated steps to protect Americans in the safety of their homes.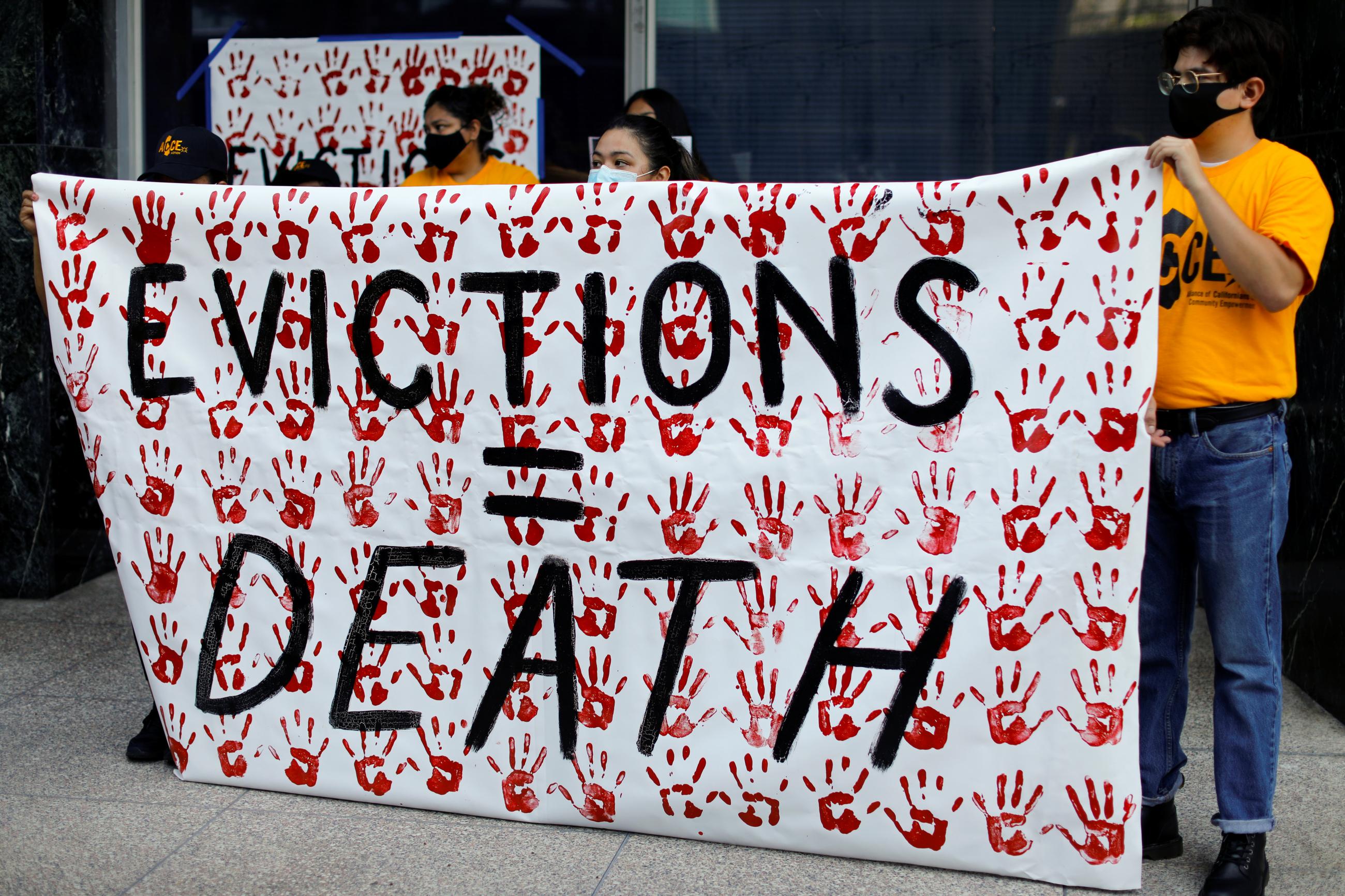 EDITOR'S NOTE: On December 21, 2020, U.S. Congress passed a stimulus package extending the national eviction ban through January 31, 2021.