On Saturday, October 7, 2023, Hamas, a Palestinian militant group, launched an attack on Israel that killed over 1,400 people. Since then, the conflict has expanded with the Gaza Strip caught in the crossfire. With over 8,000 people presumed dead in the territory and many others injured, humanitarian aid workers have been working to address the damage of the war on civilian health and are working to support those in need. 
Unfortunately, aid has been slow-coming and tied up in political dealings. So far, only a limited number of trucks carrying food and supplies have been able to enter the Gaza Strip. Israel has also banned fuel, which is needed to keep hospitals running, from entering the Gaza Strip on the assumption that it could "aid the Hamas war effort."   
To help ease the humanitarian crisis, U.S. President Joe Biden pressured Israeli Prime Minister Benjamin Netanyahu "to immediately and significantly increase the flow of humanitarian assistance to meet the needs of civilians in Gaza," on a phone call earlier this week. Now, sources say that as "many as one-hundred trucks a day could soon be moving into the strip." 
As people in Gaza await relief, we hope to bring attention to the status of humanitarian aid in the Gaza Strip. 
The Status of Humanitarian Aid in Gaza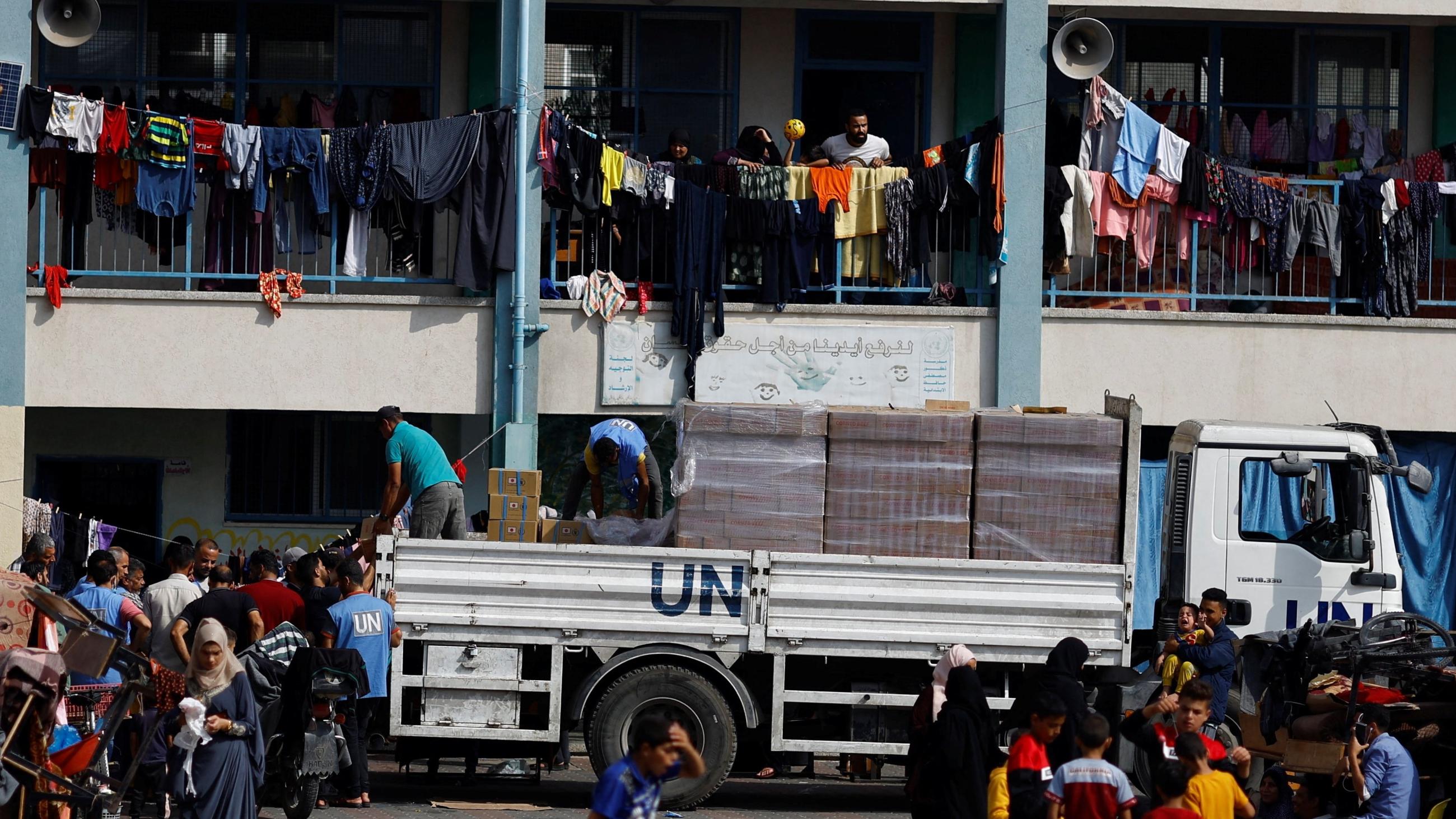 Aid Awaits Access
Trucks carrying humanitarian aid to Palestinians wait for an agreement on the Rafah border crossing to enter Gaza, in the city of Al-Arish, on October 15, 2023.
There have been several diplomatic efforts as the situation in Gaza has become what UN Agencies call "catastrophic."
REUTERS/Stringer
A Team Effort
Egyptian Red Crescent members coordinate aid for Gaza at Al Arish Airport, on October 20, 2023.
As more aid trucks line up that border, Israel demands thorough checks of the shipments which has been described "cumbersome" as it need to be unloaded then reloaded before being allowed entry into Gaza.
REUTERS/Amr Abdallah Dalsh
Aid Arrives, But Is Highly Limited
Aid trucks arrive at a UN storage facility in the central Gaza Strip, on October 21, 2023.
This is one of twenty trucks that brought in supplies to Gaza with food and enough drinking water for 22,000 people for one day according to the United Nations.
REUTERS/Mohammed Salem
Lack of Supplies Takes a Toll
Red Crescent workers sort aid before being distributed to Palestinians in Khan Younis in the southern Gaza Strip, on October 23, 2023.
Due to desperation among those trapped in the Gaza Strip, some people broke into the warehouses where those supplies were stored to take food and other basic supplies before they could be distributed.
REUTERS/Ibraheem Abu Mustafa
Distribution Begins, But Quickly Dwindles
Palestinians, who have fled their homes due to Israeli strikes and took shelter in a UN-run school, receive aid distributed by the United Nations, in Khan Younis in the southern Gaza Strip, on October 23, 2023.
Though food and supplies are slowly trickling in, it is not nearly enough to support the population that is trapped in Gaza.
REUTERS/Mohammed Salem
Medical Aid Finally Arrives
Medical workers wait to take injured Palestinians, who will receive treatment in Egyptian hospitals, at the Rafah border crossing with Egypt, in the southern Gaza Strip, on November 1, 2023.
The World Health Organization (WHO) is working with the Egyptian Health Ministry to support these medical evacuations.
REUTERS/Ibraheem Abu Mustafa
Children in Need of Medical Attention
Palestinian Ameer Joma, who was injured in an Israeli strike, waits with his father in an ambulance to be transported to Egyptian hospital for treatment, at the Rafah border crossing in the southern Gaza Strip, on November 1, 2023.
The WHO expressed the serious need for medical attention for injured civilians, many of them are children.
REUTERS/Arafat Barbakh
Many Injured, But Many Also Need Life Sustaining Care
A man stands next to an injured Palestinian, who will receive treatment in an Egyptian hospital, at the Rafah border crossing with Egypt, in the southern Gaza Strip, on November 1, 2023.
As of November 1, 2023, only eighty-one people have been able to cross into Egypt for medical treatment. Many people are injured, and others need life sustaining treatments for conditions like diabetes and cancer.
REUTERS/Ibraheem Abu Mustafa