Jiayang Fan was on the phone talking in Chinese as she walked outside to take out the trash. A man looked at her and began to hurl insults, mocking her language. He blamed her for the start of the pandemic, making it clear he despised her for speaking Chinese. She was stunned. She had lived in the United States her entire life– This was the first time she feared for her safety. Coronavirus cases are not the only numbers that are surging throughout the United States. Since the onset of COVID-19, thousands of Asian-Americans have been followed, yelled at, harassed, and attacked.  
The FBI has reported the highest amount of racially motivated hate crimes in over a decade. Their most recent 2019 Hate Crime Statistics report included 7,314 reports of criminal incidents motivated by bias against race, ethnicity, ancestry, religion, sexual orientation, disability, gender, and gender identity. Over 50 percent of these reported hate crimes were said to be racially or ethnically related. The Asian Pacific Policy and Planning Council and Chinese for Affirmative Action has reported more than 2,100 anti-Asian American hate incidents in the United States between March and June of 2020. 
2,100
There was more than 2,100 reported anti-Asian hate incidents in the United States between March and June of 2020
However, many hate crime victims are hesitant to report assaults because they are unsure how to report the incident or are afraid to perpetuate harassment. Advocacy groups aim to curb this underreporting by developing their own reporting systems. The Asian Pacific American Advocates (OCA National Center) and A3PCON Coalition created Stop AAPI Hate, a hate reporting form, to encourage victims to report assaults. Stop AAPI Hate shows over 2,800 cases of self-reported anti-Asian hate crimes from the onset of COVID-19. 
Throughout the pandemic, economic and political tension between China and the United States has intensified. Americans doubted China's reporting of the virus's impact and questioned the validity of its reported case numbers. Americans looked to media and news outlets for answers about the pandemic and found news stories and social media posts riddled with anti-Asian sentiment, from politician's speeches to hateful posts on social media. Asian-Americans living in the United States began to share stories of racist encounters from death threats to glares at the store. This negative media coverage not only led to public outcry against the Chinese government, but also widespread discrimination and hate crimes against Asian-Americans in the United States. 
This phenomenon isn't new – singling out people groups and blaming them for misfortunes is deeply woven into the human experience. The country of origin is frequently blamed for the entire pandemic or is incorrectly identified as the origin. In 1957-1959, the H2N2 virus, or "Asian Flu," was first reported in Singapore in 1957. The outbreak resulted in an outlash of anger toward people of Asian descent. Americans frequently label influenza strains after origination locations, encouraging subtle discrimination against these people groups. Simply calling the strand the "Asian Flu" identified the illness with Asian-Americans, much like the term "Chinese virus" was used to describe COVID-19. The addition of an ethnic name to a virus makes it more difficult to separate Asian/Asian Pacific Islander identities from an illness with a negative connotation.
Singling out people groups and taking the blame for misfortunes is deeply woven into the human experience
There have also been discriminatory policies enacted within the United States which negatively impacted Asian Americans. The Chinese Exclusion Act of 1882 prohibited the immigration of all Chinese laborers to the U.S. Regulations for Asian-Americans, such as obtaining certificates to remain in the country, persisted until 1943, when all exclusion acts were repealed. During these years, the number of Chinese Americans living in the United States sharply decreased. During World War II, President Franklin Roosevelt signed Executive Order 9066, sending Japanese Americans to internment camps because they were perceived as a national security threat. These instances labeled Asian-Americans as an outsider group and further inhibited them from establishing an identity as an American.  
The polarizing effects of the media have also caused strife within the United States. The U.S. 2020 presidential election was a divisive factor during the COVID-19 pandemic, as the virus was a major topic of debate between candidates. Politicians were challenged as the deaths of Americans skyrocketed and health-care systems became overwhelmed. In a study analyzing the mention of COVID-19 in the press, researchers concluded that the New York Times, a U.S. publication, and the Global Times, a Chinese publication, both politicized the virus and worded headlines to push a political agenda. 
This shifted outlook toward China is reflected in global vaccine procurement initiatives. China has signed bilateral deals and promised generous donations of Chinese-developed vaccines to numerous countries. Despite its aggressive outreach effort, it has faced backlash from country leaders due to delays in promised vaccine shipments. Citizens from receiving countries have also expressed doubts in the Chinese-manufactured vaccine efficacy, especially in Brazil after Bolsonaro's claim that "there are other vaccines that are more trustworthy."  According to a survey done by pollster Datafolha, 22 percent of Brazilians reported unwillingness to take a Chinese manufactured vaccine at the end of 2020, showcasing a peak level of Chinese vaccine rejection in the country. Rising suspicions of China's vaccines reveal that China is not winning the trust of the world.
Discrimination during pandemics can be combated on both a personal and macro level. Advocacy groups emphasize the facts that being Asian American is synonymous with being American. Education and storytelling have the potential to humanize or dehumanize the Asian-American culture at a time when misunderstanding is the norm. Storytelling has proven to be effective, and organizations continue to spread personal anecdotes through social platforms. Throughout the pandemic, social media consumption is at a peak. Asian American celebrities have spoken out against hate speech with posts on their personal accounts to raise awareness about discrimination. Campaigns to stop the spread of hateful rhetoric have been effective in the past and can be especially influential when spearheaded by prominent Asian Americans.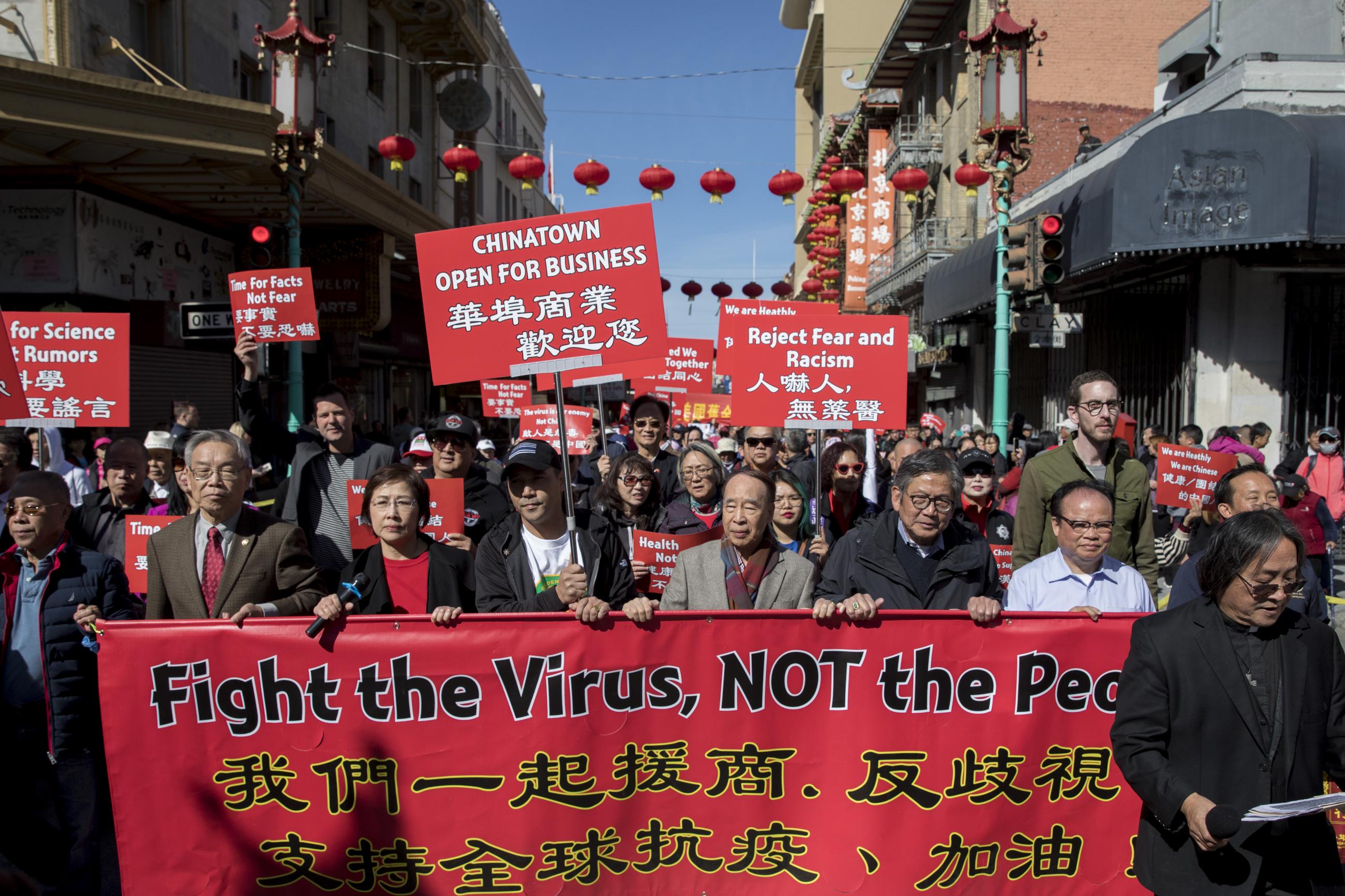 Most Asian American advocacy groups don't currently advocate for legislative change, focusing their efforts instead on mental health awareness, better social services and grassroots community efforts. Asian Americans Advancing Justice (AAJC) advocates for a restorative, healing approach rather than a prosecutorial one. AAJC, in partnership with Hollaback!, launched a bystander intervention training to train people how to deescalate situations when they witness discrimination. The program aims to empower communities to safely intervene and has trained around 15,000 individuals.  
People crave a sense of unity and normalcy during a worldwide crisis
Unfortunately, there are limitations to interpersonal change. Issues as complex as discrimination require multiple solutions. Breaking the pattern may lie in convincing populations that it is in their best interest to avoid blaming people groups. Discrimination prolongs the effects of a pandemic because it shifts the focus away from pandemic response and adds a new national issue. The fastest route to returning to normalcy is to work as communities and abandon the out-group mentality. It's easier to blame a person that can be seen, but the virus is the true enemy. On a national level, policies should focus on the eradication of virus and avoid racially discriminatory language. Governments should not demonize groups of people or other countries. Language used by politicians and the media should be neutral and factual rather than framing a people group as responsible for the commonly felt scourge of the pandemic. By taking this pragmatic approach and looking inward, politicians can craft communication plans that focus on public health by decreasing case numbers. 
The virus does not discriminate. The solution is to focus on education and eradication of the pandemic. Fear and distrust of others muddles the path to better public health. The solution will take all people groups fighting a common enemy.