Nepal's official COVID-19 infection count passed the half-million mark on May 22, 2021, almost sixteen months to the day since its first recorded case—a 32-year-old Nepali returning from Wuhan. The second case, two months later, precipitated a nationwide lockdown, which saw international flights suspended, the borders with India and China sealed, and severe restrictions imposed on movement and services. 
During the first wave of COVID-19 in Nepal, cases peaked on October 21, 2020 at 5,743, and daily deaths hit a high of 30 on November 4, 2020. However, the first-ever national seroprevalence survey conducted in October 2020 found that 14 percent of the country was already infected, indicating significant undercounting.
While Nepal's lockdown worked to contain COVID-19, the measures had severe consequences on the economy
While the lockdown worked to contain COVID-19, the strict measures had severe consequences on the economy. According to one study, more than half of all businesses were reported to have closed down, and tens of thousands of workers lost their jobs. 
Urban daily wage earners were the most vulnerable. Rural households, however, could fall back on subsistence farming in order to feed their families. At the time, the World Bank Country Director for Nepal, Faris Hadad-Zervos, warned those in the informal sector—which comprises over 50 percent of enterprises in Nepal and includes business such as street vendors and flea markets—of the dire risks of falling into extreme poverty.
Lockdowns took a heavy toll on children and child poverty soared. A joint UNICEF and Save the Children report estimated that the number of children living in poverty in Nepal grew from 1.3 million children pre-pandemic to 7 million as a result of the economic lockdown.
After the first COVID-19 wave peaked in late October 2020, cases ebbed to a low point by the end of February 2021. Learning important lessons from the first wave, Nepal took many steps to improve its health system. For example, Nepal's first case of COVID-19 was confirmed after a sample was sent 1,900 miles to Hong Kong for analysis, but now Nepal has the capacity to test for the virus at home and is able to process more than 20,000 samples a day. Initially tracked on paper and reported through email and phone, COVID-19 data then migrated to an online recording system, and finally to real-time data collection via computers. Decision makers now have access to reliable data that enables them to respond to the emergence of hotspots.
7 Million
Children living in poverty in Nepal as a result of COVID economic lockdowns
Beyond testing and data collection, the government has invested in other areas to bolster Nepal's pandemic response and preparedness. The Ministry of Health expanded the number of hospitals designated for infectious disease treatment from one at the beginning of the pandemic to more than one hundred today. In May 2020, the government of Nepal formulated the Health Sector Emergency Response Plan, forming "Case Investigation" and "Contact Tracing Teams" at local levels, which brought together multisector response teams with important actors from public health, laboratory, medical, government administration, and security services. Further coordinating national communications, health authorities raised public awareness of the importance of social distancing, mask use, and frequent handwashing through the use of mobile phone messaging.
But as COVID-19 infections receded last November, public precautions lapsed to dangerous lows. With the decline in the number of cases, a semblance of normal life resumed with large political rallies, marriage ceremonies, and festival celebrations. Schools and colleges re-opened with little to no social distancing. 
During this period, the country's progress in public health stalled. Quarantine centers, isolation centers, testing centers, and contact tracing activities all but came to a halt. The daily number of COVID tests dropped to less than 5,000 tests per day by March 2021. Initiatives to increase ICU beds, ventilators, and oxygen supplies were put on hold.  And efforts to purchase vaccines from other countries did not yield results.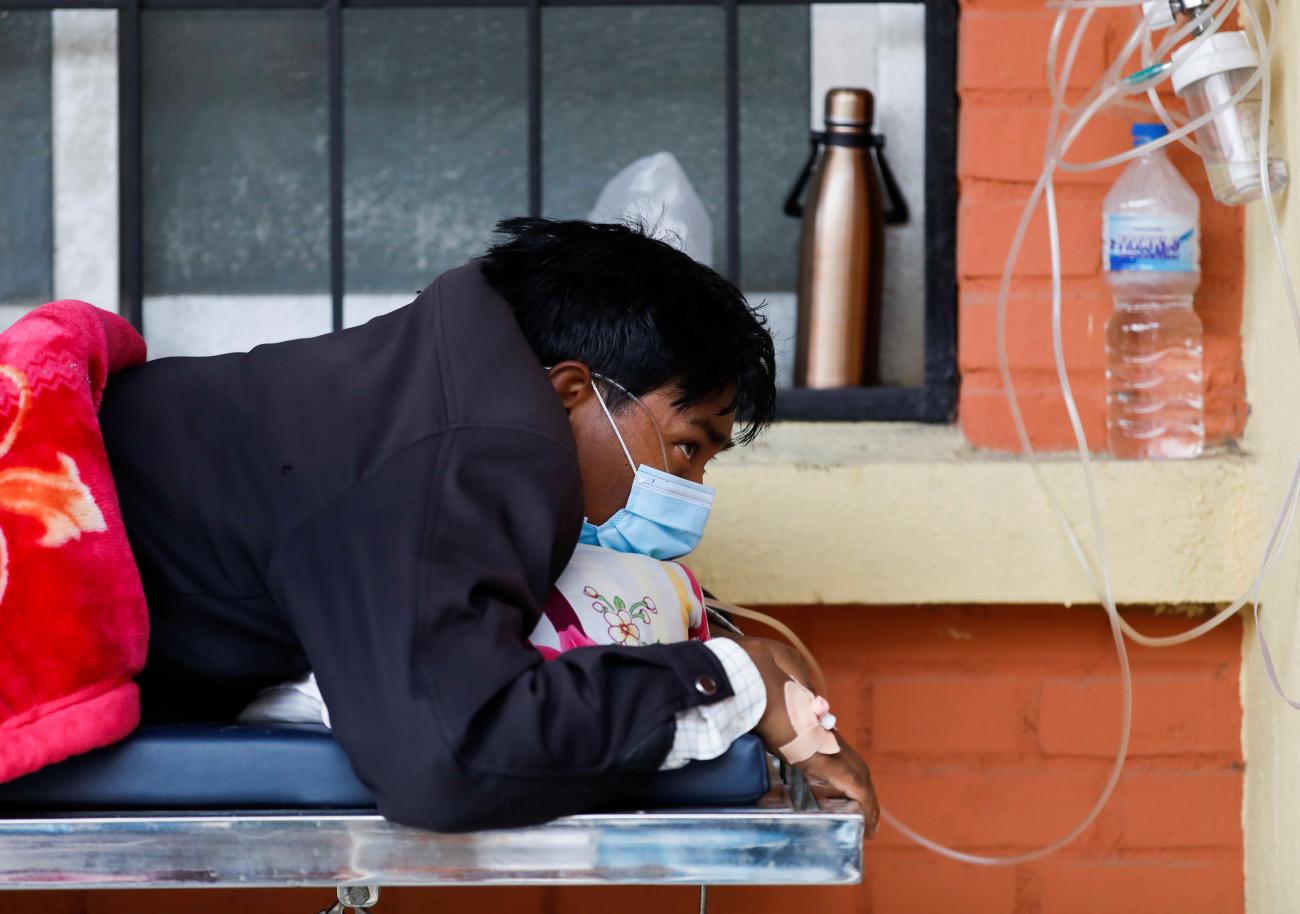 In the meantime, the government of Nepal decided to open the world's highest mountain to climbers, issuing 377 permits amid the pandemic, in an effort to balance the economic impacts with the public health risks of importing additional COVID-19 cases. Pre-COVID, Nepal's tourism sector supported over a million jobs. Over 80 percent of the population around Everest rely on mountain tourism, and one lost mountaineering season is a year's wage lost for many workers. 
As Nepal anticipated the return of a sense of normalcy, India, its neighbor to the southwest, began to experience a surge in early March 2021. Sharing a long, porous border, it was inevitable—given Nepal's relaxed public health standards—that a second wave which started in India would engulf Nepal, as well. In early April, more than 50,000 Nepali pilgrims, including Nepal's former royals—King Gyanendra and Queen Komal—traveled to northern India for Kumbh Mela, a Hindu festival attracting millions. While there, the former king and queen contracted COVID-19 and were admitted to hospital several days after their return to Nepal. 
Even then, reluctant to reenter lockdown, Nepal could not effectively enforce closures of educational institutes and public spaces, leading to a near exponential growth in cases. With the second wave, a higher proportion of COVID-19 cases have required critical care, stretching the country's health system beyond its limits. Less than a decade ago, images of earthquake victims and destroyed buildings from 2015 still haunt Kathmandu residents, but present-day scenes of packed crematoriums mark yet another tragedy that will leave an indelible mark on the nation. 
Nepal is now struggling to contain a second wave of COVID infections and is experiencing an acute shortage of oxygen, ICU beds, and ventilators. When the second wave started, there were only 1,162 ICU beds and 476 ventilators for Nepal's population of 30 million—fewer per capita than India. 
With the shortage of oxygen, hospitals failed to admit patients in need of critical care despite having ICU beds available. The shortage of oxygen cylinders became so bad that the New York Times reported relief groups have been asking Himalayan expedition organizers to bring back all oxygen cylinders from the mountains as the climbing season winds down. 
The second wave of COVID-19 in Nepal has affected primarily younger adults with more than 50 percent of tests in this age group coming back positive, and this percentage is expected to rise. However, the lower infection rate among elderly and frontline health workers is mainly due to the government prioritizing them for vaccination, an intentional effort that has succeeded in protecting some of the most vulnerable people. 
In preparing for a possible third wave of COVID-19, Nepal must improve its oxygen and vaccine supply chain. Nepal was among the first countries to initiate vaccinations with the plan of delivering 45 million doses to cover 72 percent of the population within three months. However, progress toward that goal has been limited. The supply chain broke down when the Serum Institute of India failed to deliver previously agreed upon and paid for Covishield vaccine doses after it was ordered by its own government to halt exports as part of India's efforts to combat the pandemic. Negotiations with other countries have thus far failed. 
COVAX has asked Nepal to choose vaccines other than the Indian-produced Covishield, leading the government of Nepal to ask the United States, United Kingdom, European Union, China, and Russia to help meet the shortfall. On May 26, China agreed to donate an additional one million doses of vaccine to Nepal. The vaccine landscape is complicated in Nepal due to electricity supply and infrastructure issues—vaccines requiring extreme cold chain storage are difficult to maintain.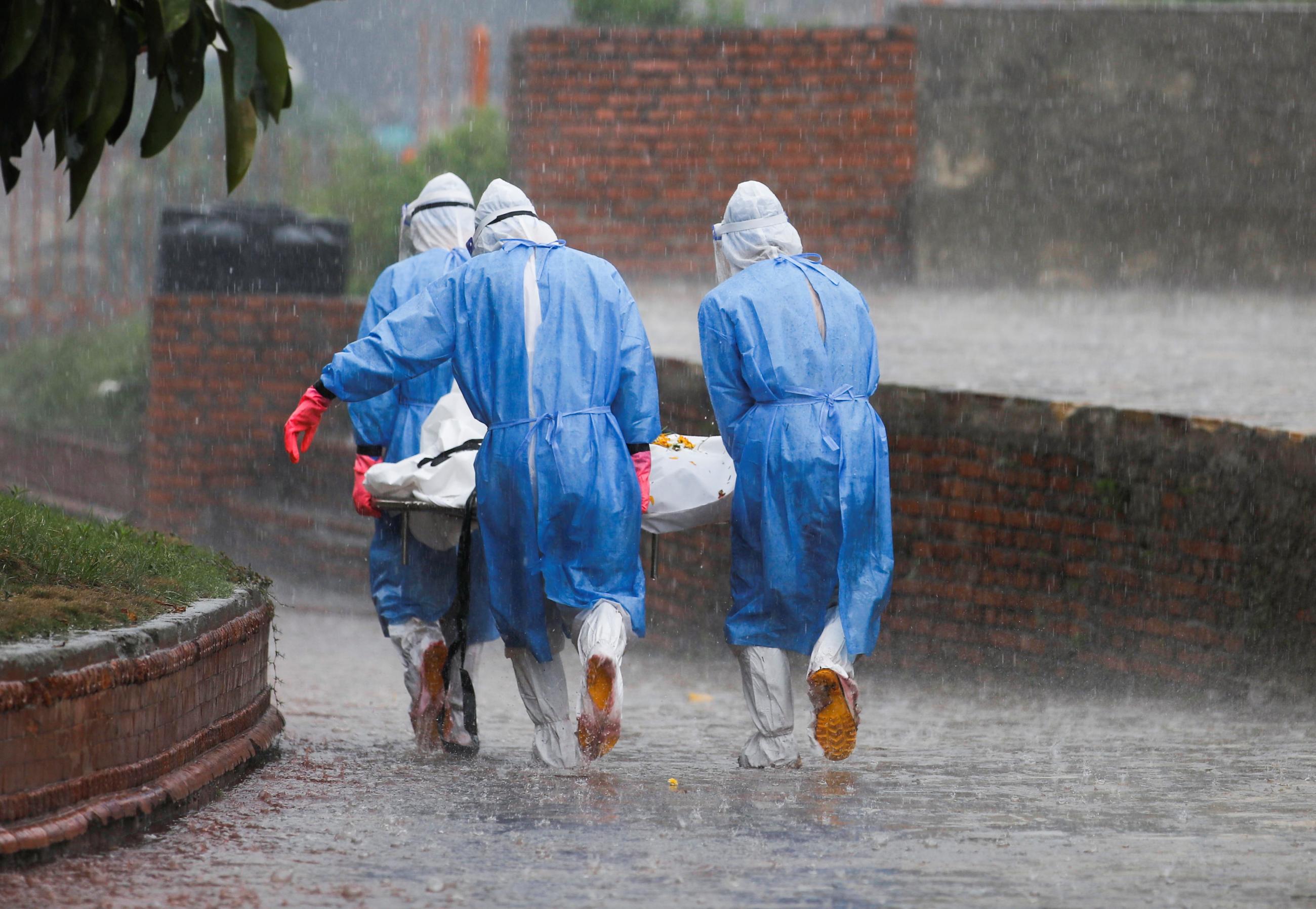 Just days before the half million cases landmark was passed in late May, Rudra Singh Tamang, the director general of Nepal's Department of Tourism, told Time, "Around one hundred people have scaled Everest last week. Everything is fine."
But reports of COVID-positive climbers being medevaced from Everest Base Camp tell a different story, striking at the very heart of the country's national symbol. COVID-19 has adversely affected the livelihoods of indigenous people such as Sherpas, who rely on mountaineering and trekking work, as well as Nepali migrant workers forced to return from India during the COVID-19 pandemic. 
The lack of transparency surrounding events on Everest, and the use of scarce resources to supply the hobby of wealthy foreigners is both a literal and metaphoric snapshot of Nepal's failings in its handling of the COVID pandemic. Earning a daily wage to feed one's family often requires sacrifice, but a desire for normalcy has driven politicized communication about the waning risks of COVID-19 without foresight that a small cluster of infections can lead to a disastrous avalanche of deaths.
When Nepal's first COVID-19 wave receded, it appeared that the government had made it to the Hilary Step on Everest, the point where making the summit appears within reach. But as climbers who have ventured into the Himalayas know, sometimes to their cost, high winds and whiteout conditions can arrive unexpectedly, and then lives depend on planning, resources, and a good supply of oxygen.
In this humanitarian crisis, Nepal now needs vaccine support from the global community so that it can avert further damage and revive its already fragile economy.
ACKNOWLEDGEMENTS: The authors would like to thank Tim Exton, William Dangel, and Katherine Leach-Kemon from the Institute for Health Metrics and Evaluation (IHME) for their contributions to this article.