Most forms of dementia, a group of memory-robbing brain conditions, have no cure. Despite decades of investment in research, multiple promising drug candidates have fallen short. The lack of a cure, coupled with insufficient person-centered services for patients, is perhaps what makes a recent forecast predicting a coming wave of dementia so foreboding. 
The number of people living with dementia is expected to nearly triple in the next 28 years worldwide. In a recent paper published in The Lancet Public Health, researchers from the Institute for Health Metrics and Evaluation (IHME) at the University of Washington forecasted that the number of people living with dementia would grow from 57.4 million people globally in 2019 to 152.8 million in 2050. An aging and a growing population are the main drivers of the forecasted increases, but trends in smoking, high blood sugar (a hallmark of type 2 diabetes), high body mass index, and years of education also factor into IHME's model. 
The rapid growth of the number of individuals living with dementia is sobering. But these forecasts do not mean an epidemic of dementia in 28 years is inevitable. Policymakers can address dementia by placing emphasis on investment in research for effective therapeutic drugs, focusing on the prevention and control of risk factors, and scaling up support and services for patients and caregivers. 
57 million
57.4 million people were living with dementia in 2019 worldwide, a number expected to triple in the next 28 years
Back to the Drawing Board for a Cure 
Researchers have primarily focused on treating Alzheimer's disease, the most common type of dementia, by reducing an abnormal protein, beta amyloid, which builds up and forms toxic plaques in the brain. One recent drug that targets beta amyloid is the much-debated aducanumab, which in 2021 became the first drug the Food and Drug Administration, the United States' regulatory agency, approved for Alzheimer's disease since 2003. But global drug regulators in the European Union and Japan expressed concerns about aducanumab's inconsistent clinical trial results, in line with researchers' doubts that the removal of amyloid plaque is clinically beneficial.
While many of the drugs in the pipeline predominantly focus on removing beta amyloid, other drugs in development take different approaches, such as targeting the tangles formed by another abnormal protein, tau, or reducing inflammation in the brain. Researchers are also exploring a less expensive approach: repurposing existing drugs. For instance, sildenafil, an FDA-approved therapy for treating both erectile dysfunction and pulmonary hypertension, was recently identified as a potential candidate. Ultimately, the development of effective treatments to help people with dementia hinges upon fully grasping the causes and biology of dementia, and investing in this research is a worthwhile priority.  
The Risky Business of Health Policy 
Besides funding dementia drug research, countries can enact policies addressing risk factors to reduce the anticipated jumps in the number of people with dementia. Policy changes can have a wider impact than promoting individual behavior changes. New Zealand—which is expected to see a 127 percent increase in the number of individuals with dementia by 2050, according to IHME's forecasts—has taken encouraging strides in this regard, especially on smoking. 
The country has worked to decrease tobacco use for decades, and in December 2021, it announced an unprecedented plan to phase out tobacco smoking and ban the sale of tobacco products to anyone born after 2008. The nationwide policy can serve as a model in diminishing the number of existing smokers, devising a future free of tobacco use, and lessening the risk of people developing not only dementia but other diseases as well. 
Other countries have also developed measures that could have a positive effect on two other dementia risk factors. As of 2020, over 73 countries have adopted taxes on sugary beverages, simultaneously generating revenue and improving people's health. Taxes that increase the price of drinks with high sugar content may discourage consumers from buying them and subsequently lessen their risk of developing high blood sugar and a high body mass index. 
Dementia Services for Patients 
With the number of individuals with dementia expected to rise dramatically, health-care systems must prepare accordingly and provide adequate care in nursing homes and other facilities. Patients with dementia are at an increased risk of hospitalization, and destigmatizing hospice care—generally recommended for patients with six months or less to live—could go a long way toward providing terminally ill patients with a better quality-of-life. 
Some countries have also previously explored alternative, person-centered long-term care options. The "dementia village," a type of community designed specifically to accommodate the needs of people with dementia, is one such model. The Hogeweyk in the Netherlands, funded in part by the Dutch government, became the world's first dementia village in 2009. The residents are able to move freely within the complex and exert some autonomy, such as shopping at the village grocery store or walking around the outdoor areas. The dementia village design strives to create a sense of "normal life" through more comforting, familiar surroundings than traditional nursing homes to reduce stressors for people with advanced dementia. This model of care was subsequently adopted elsewhere, including by facilities in Germany and Australia. 
Support for Dementia Caregivers 
It would be remiss not to address the time, energy, emotional investment, and unpaid care that caregivers provide while looking after a relative or friend with dementia. Unpaid caregivers often dress, bathe, feed, and take loved ones with dementia to medical appointments—all of which can take an emotional and physical toll. Research from Kenya and Brazil suggests that equipping caregivers with increased knowledge of dementia and training about person-centered care could benefit both caregivers and the people to whom they provide care. 
Clinical trials are currently testing group therapy interventions to improve caregivers' mental health. To aid caregivers, the French Association of Carers created a network of "caregiver cafes" in 2003, expanding to 190 cafes across the country by 2018. Not only do the meetings allow caregivers to exchange their experiences, psychologists and social workers are present at these gatherings to address their well-being.  
The notion of losing one's cognitive functions is a fear for most individuals. According to a global survey conducted in the 2019 World Alzheimer Report, 95 percent of the general public think they could develop dementia at some point in their lifetime. Their trepidation highlights how daunting the forecasted tripling of the number of individuals with dementia worldwide by 2050 is, and it emphasizes the need for the global health community to increase research and improve care now.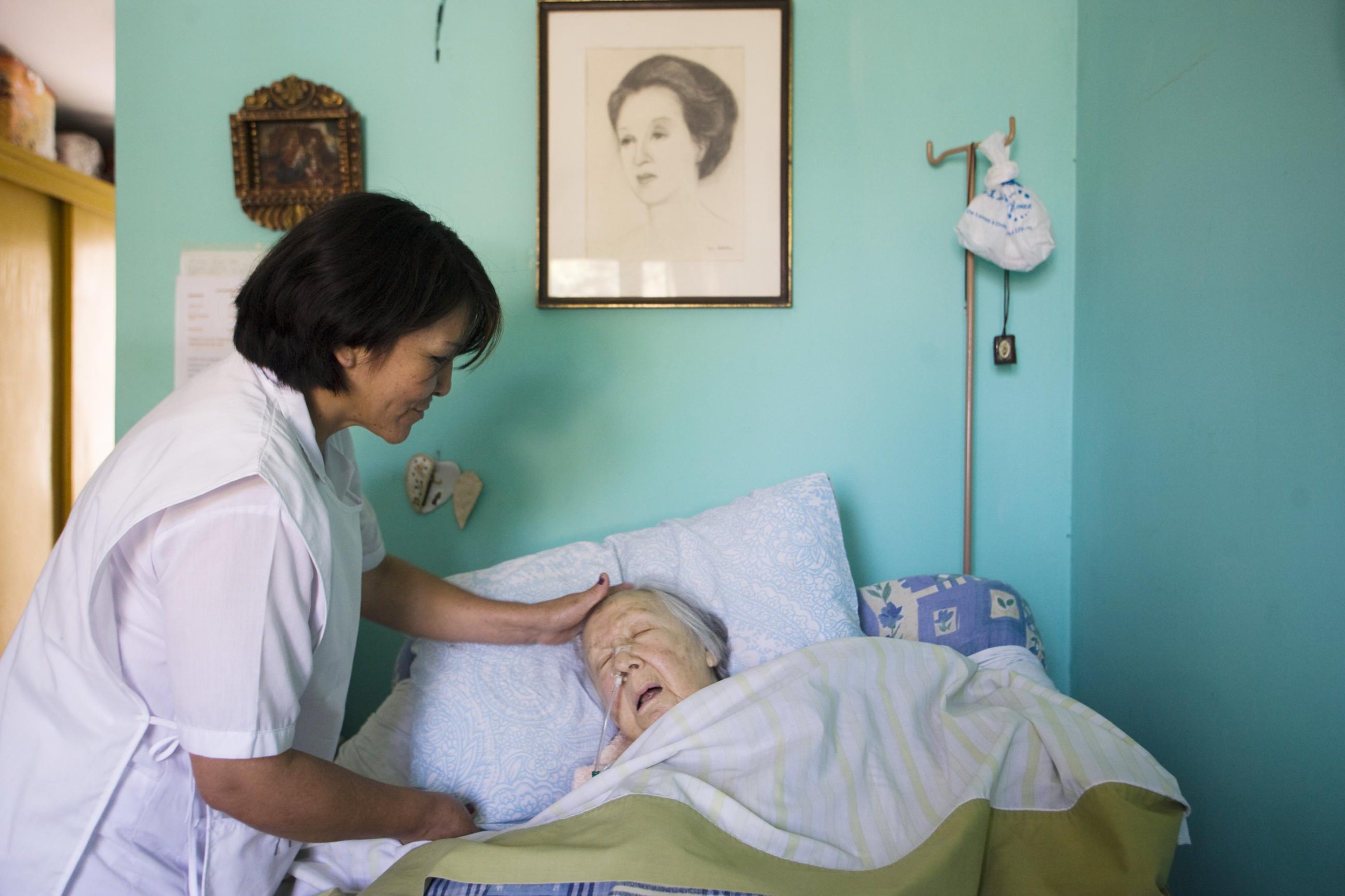 ACKNOWLEDGEMENTS: The authors would like to thank Rebecca Sirull for fact-checking assistance and John Gallagher, Maja Pašović, and William Dangel for providing insights. 
EDITOR'S NOTE: The authors are employed by the University of Washington's Institute for Health Metrics and Evaluation (IHME), which leads the Global Burden of Disease study and produced the global dementia prevalence forecasts described in this article. IHME collaborates with the Council on Foreign Relations on Think Global Health. All statements and views expressed in this article are solely those of the individual authors and are not necessarily shared by their institution.