In late February 2023, Cambodia reported that two people had contracted bird flu, sparking concern that the avian influenza virus might become transmissible between humans and spark another pandemic. The influenza A (H5N1) virus, which has been killing millions of birds worldwide and perennially crosses to other species, has long been viewed as a likely source of the next major human outbreak, having the potential to spread globally even faster than the SARS-CoV-2 virus, causing even more sickness and death.  
H5N1 influenza viruses, which are endemic in wild waterfowl, have a specificity for binding to cellular receptors in birds and do not replicate well or transmit efficiently in humans. Most human infections terminate with the primary case and do not transmit to close contacts.  
As human and bird interactions increase, however, the likelihood of zoonotic transmission grows. The first confirmed bird-to-human transmission of these viruses occurred in Hong Kong in 1997, though seroprevalence studies in the same region suggest a substantial number of mild or asymptomatic infections among people who work closely with poultry. In Cambodia, where highly pathogenic H5N1 influenza viruses have been detected in wild birds since 2003, fifty-eight cases of human infection and thirty-eight deaths have been documented, a fatality rate of 66 percent. The February cases are the first since 2014.  
66 Percent
Since 2003, 58 cases of human infection and 38 deaths from H5N1 have been documented, a fatality rate of 66 percent
It used to take months to identify the pathogen, conduct genomic analytics, perform contact tracing, and alert the world of a potential outbreak of concern — but enhanced global surveillance capabilities, new genomic sequencing technologies, and real-time data sharing in publicly accessible databases have changed all that. This time, scientists at the Institute Pasteur Cambodia (IPC) and Cambodia's National Institute of Public Health were able to share their findings globally within twenty-four hours of collecting the first clinical specimen. They quickly tempered concerns by confirming that virus collected from one of the patients, an eleven-year-old girl, was from a group of influenza viruses endemic in birds in the region and thus likely to have been transmitted without a human intermediary.  
The girl died on February 22. The next day, twelve of her close contacts were screened for infection. The following day, the analyses confirmed her father as the second case, but he remained asymptomatic and the eleven others tested negative. Subsequent genomic analysis of the virus from the father indicated that he was likely exposed to the same infected bird rather than a case of human-to-human transmission. 
This capacity to rapidly detect and share information about index cases and animal reservoirs is critical. The World Health Organization established the Global Influenza Surveillance and Response system more than seventy years ago to develop and share protocols for exactly this purpose.  
The IPC is a good example of what it takes to do this right. In 2007, it became Cambodia's National Influenza Center and in 2013 was designated a WHO H5 Regional Reference Laboratory. It conducts human seasonal influenza surveillance and detected one of the only influenza outbreaks during COVID-19, leading to development of the 2021 – 2022 Northern Hemisphere influenza vaccine composition.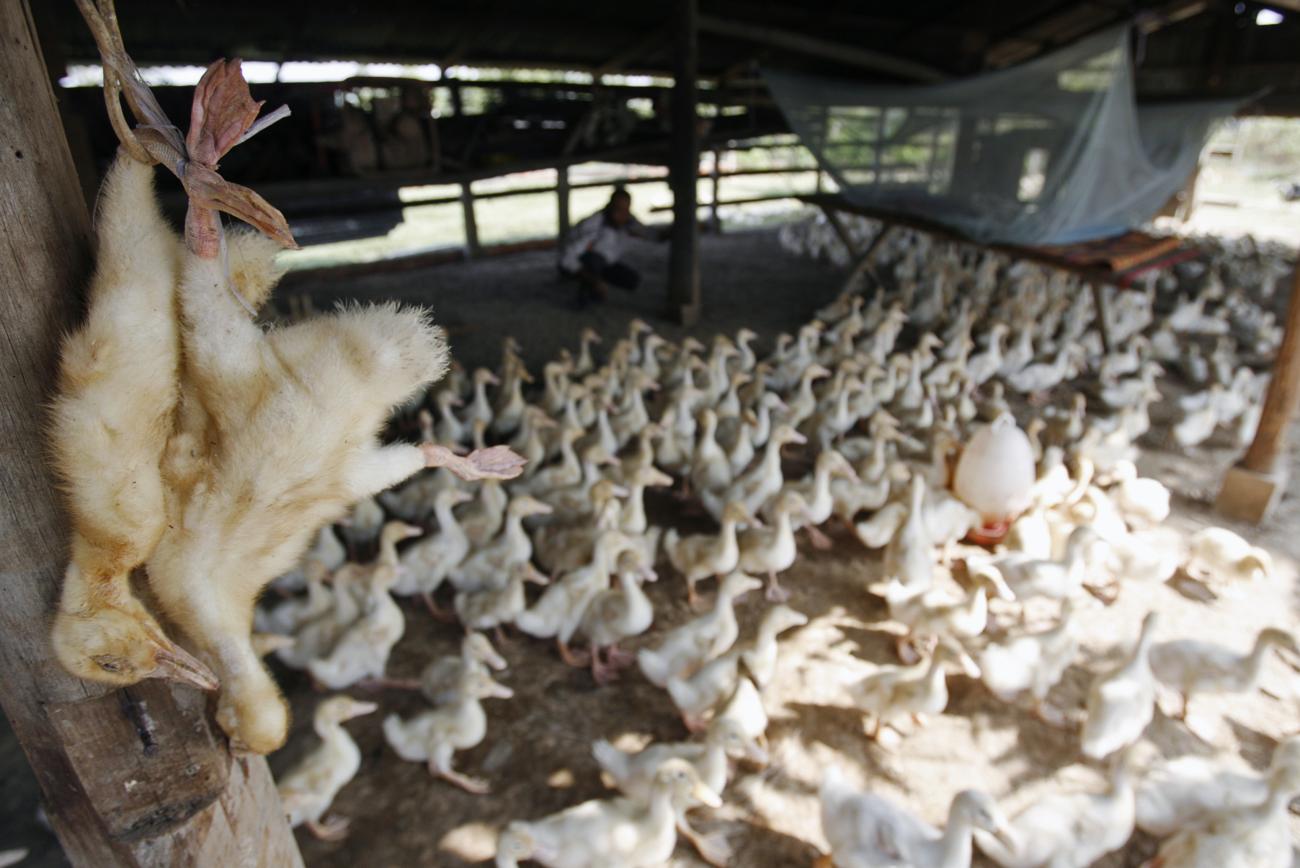 The IPC has also been actively involved in avian influenza surveillance since the virus was detected in Cambodia in 2004. With funding from the United States, it began conducting longitudinal surveillance of birds and humans in live bird markets in 2017. That has allowed it to report changes in viral prevalence and subtype, as well as human exposure risk. The IPC uses novel techniques to sample air and waste water in high-risk interfaces such as live bird markets, swine slaughterhouses, and bat caves.  
Thanks to this approach, the IPC has proven capable of detecting emerging pathogens sooner than traditional epidemiological approaches. It rapidly detected and responded to cases of other worrying viruses over the last couple years.  
Although the quick work of virologists should give us all some comfort, this incident exemplifies the benefits of local, regional, national, and global collaboration, which enabled the WHO to deliver stockpiled H5N1 influenza vaccine to Cambodia last week to prepare for any new cases.  
Each outbreak should be a lesson for dealing with the next because every second between detection and response could mean exponential spread of the virus and in the outbreak's ultimate economic, social, and public health impact. 
A next pandemic is a certainty. Global health leaders should prioritize global early warning systems, rapid diagnostic capabilities appropriate for any pathogen, platforms for quickly developing and producing vaccines and drugs, and stronger health-care systems, including a global health-care workforce. Global collaboration, transparency, and data-sharing are essential to any effective public emergency response.