Last week, Israeli Prime Minister Benjamin Netanyahu declared war on Hamas—an Islamist militant group—after it coordinated a surprise assault in southern Israel that resulted in more than seven hundred casualties, mostly civilians. Hamas, which has administered the Gaza Strip since it won the Palestinian parliamentary elections in 2006, has spent the duration of its time in power at odds with the Israeli government. For sixteen years, Israel, alongside Egypt, has placed the Gaza Strip under a sea, land, and air blockade, restricting residents' mobility and limiting their access to electricity and clean water. Now, as the war compounds with the blockade, nearly 2.1 million Palestinians in Gaza are facing an exacerbated humanitarian crisis.  
An area of about 139 square miles, Gaza is one of the most densely populated places in the world. It also has a sizably young refugee population—almost half of Gaza's population is under the age of eighteen—that endures high rates of poverty (53 percent) and unemployment (46.4 percent). Those numbers are only expected to climb as Israeli military airstrikes decimate homes and neighborhoods. Human rights organizations have called Gaza an "open air prison." 
Nearly 2.1 million Palestinians in Gaza are facing an exacerbated humanitarian crisis
What Is Playing Out? 
On Friday morning, Israel's military called to evacuate more than one million Palestinians from northern Gaza in anticipation of a ground invasion Israeli forces would soon carry out. The mass exodus of Palestinians to the southern part of the territory that borders Egypt was hammered with airstrikes there. For the Palestinians in northern Gaza, packing up their belongings and heading south raised the question of whether this was their Nakba (Arabic for "catastrophe" and how Palestinians refer to their displacement in 1948), and whether they would ever return to their homes. As of October 17, an estimated 1,400 Israelis have been killed by attacks from Hamas along with more than 2,750 Palestinians killed and another 9,700 wounded from Israeli airstrikes in Gaza. A doctor at Al Shifa Hospital in Gaza remarked, "the smell of blood is everywhere."  As Israeli military attacks on Gaza continue, the largest morgue in Gaza is already overflowing with bodies. Medics have run out of places to lay patients and more corpses are still being recovered from the rubble of collapsed buildings by family and friends digging with their bare hands.  
The massive loss of life is only growing. Reports have shown that, of those killed in Gaza so far, 447 are children and 248 are women. Now Gaza is struggling with a health crisis that is beyond repair. On Thursday, the World Health Organization (WHO) announced that hospitals in Gaza were at a "breaking point." The WHO documented thirty-four attacks on localities delivering medical services, resulting in the death of eleven health-care workers and damages to twenty ambulances and nineteen health-care facilities. It called for an end to hostilities to deliver the proper health services and medical supplies to the Palestinians of Gaza, and reiterated that every "lost hour puts more lives at risk." The WHO also addressed Israel's repeated orders to evacuate northern Gaza, where twenty-two hospitals are treating approximately two thousand patients, stating, "according to the rules of warfare, civilians, hospitals, schools, clinics, and United Nations premises cannot be targeted." Some include newborns in incubators and patients in intensive care units. Other aid groups have emphasized the "untold human suffering" that will surmount in Israel's siege of the territory.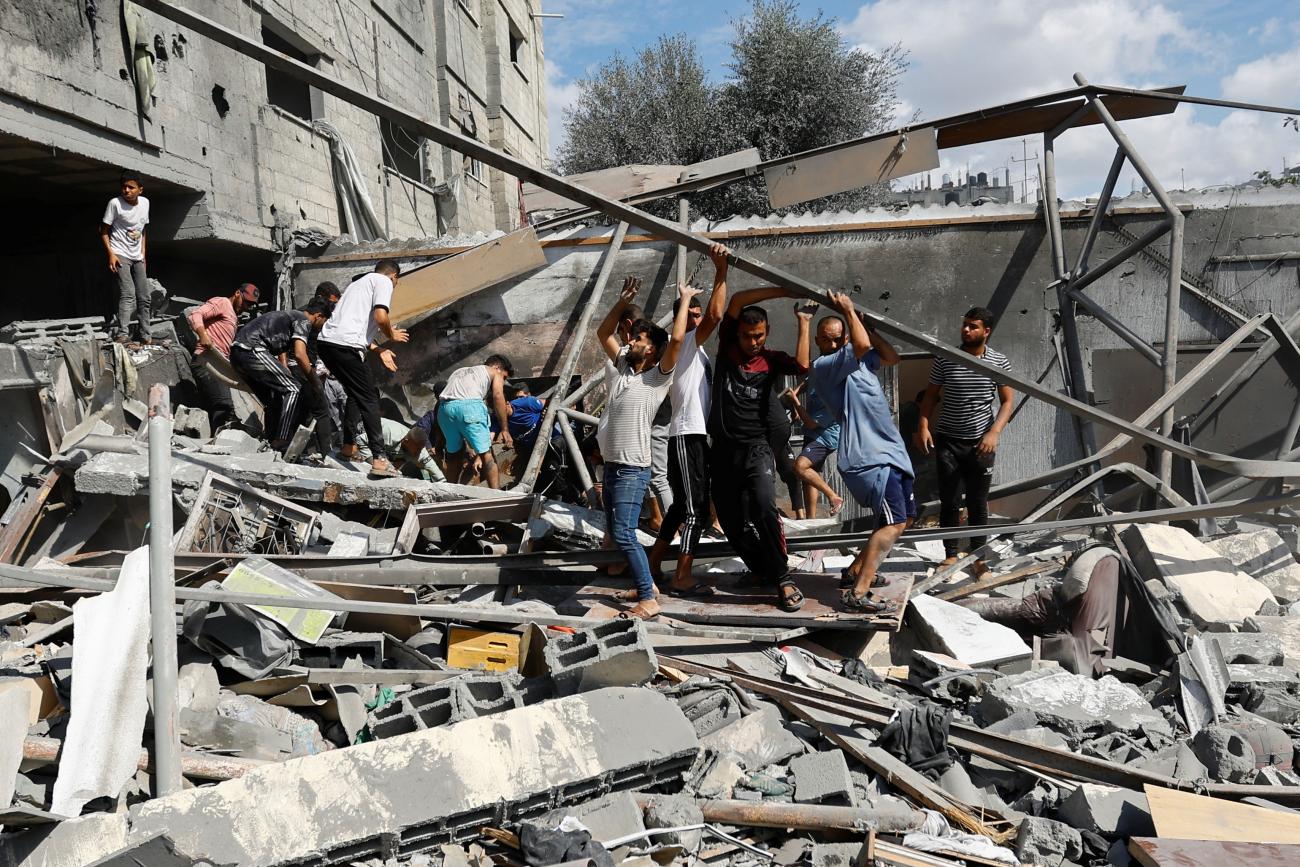 Gaza's already fragile health-care system will soon cease to function because of the lack of electricity, fuel, and medical supplies. Last week, Israeli Defense Minister Yoav Gallan announced the "complete of siege" of Gaza, which will halt food, fuel, water, and medical supplies from entering Gaza. Following that statement, the World Food Program warned that current food stocks in Gaza will last less than a week "because of damage to roads, infrastructure, and insecurity." Even before Israel declared war on Hamas, 95 percent of Gaza's population had inconsistent access to clean water and electricity. On average, electricity in Gaza is available for only eleven hours per day.  
The Gaza branch of Doctors Without Borders has announced that Al Awda hospital in the northern part of the territory is "still standing" after bombs were dropped nearby. Doctors Without Borders is aware that the situation remains hectic and chaotic, and it called on Israel to "cease the indiscriminate bloodshed, withdraw the evacuation order, and protect health care facilities and civilians." Hamas and Israel have blamed each other for the blast on Al-Ahli al-Arabi hospital in Gaza, which killed hundreds.
The events that have unfolded before audiences are beyond words. When the smoke of a blast vanishes, what is left is rubble. Rubble that covers thousands of killed civilians, many of whom are children and victims of a war and occupation that is no fault of their own.