In early March 2020, Pastor Temitope Balogun (T.B.) Joshua, founder and leader of the Lagos-based Synagogue Church of All Nations (SCOAN), one of Nigeria's most popular Pentecostal churches, announced to his congregation that coronavirus, "the fearful virus plaguing the world, will end on 27th March 2020."  
Following reports at the time of heavy rainfall in Wuhan, China, Pastor Joshua added that "the purpose of this rain is to wipe out this epidemic called coronavirus and it will continue to the end of this week." 
When March 27, 2020, arrived and the epidemic showed no sign of abating, even after the rain in Wuhan had subsided, Joshua (who later died on June 5, 2021) revised his prediction, saying that he had been "misled" by the Holy Spirit, and that the original prophecy was meant only for Wuhan, the generally acknowledged epicenter of the COVID-19 virus.  
The late Joshua was not the only Nigerian "man of God" who struggled to get his story about COVID-19 straight, but his saga provides a lens into the wider role of spirituality in the public's reaction to the epidemic in Nigeria and other parts of Africa. Nor indeed were "Men of God" unique in their befuddlement, especially in the early stages of the epidemic. One of the enduring mysteries of the COVID-19 pandemic in Africa is the gulf between scientific projections on the rates of infections and deaths, and reality. For instance, in April 2020, a United Nations Economic Commission for Africa (UNECA) report projected that Africa could witness 300,000 deaths in that year alone "even under the best-case scenario." Citing modeling from Imperial College, London, the report also estimated that under the worst-case scenario, Africa could see 3.3 million deaths and 1.2 billion infections. The estimated cost of the latter scenario, according to the report, was $446 billion. 
Across Africa, religion and religious leaders played an important role in shaping public attitudes toward the pandemic
As of June 2022, the total reported COVID-19 infections and deaths in Africa stood at 12,237,000 and 255,000 respectively. South Africa, with close to four million reported COVID-19 and over a hundred thousand deaths, was a continental outlier.  
While scientists remain divided over an explanation for the chasm between estimates and what actually occurred during the pandemic in Africa—particularly the disparity between high numbers of infections and a low death toll—what cannot be doubted is that, against a backdrop of preexisting heightened spiritual awareness and state delegitimization across Africa, religion and religious leaders played an important role in shaping public attitudes toward the pandemic.   
To be sure, this was not a new thing in Nigeria where, as recently as 2003, religious actors negatively influenced public reaction to the World Health Organization (WHO) polio eradication campaign in the northern part of the country. Sundry spiritual agents championing various "alternative treatments" and "therapies" continue to shape popular understanding of the HIV/AIDS pandemic. 
Although, globally, health and public health emergencies are religiously freighted to varying degrees, the Nigerian case is instructive for at least three reasons. As mentioned, Nigeria continues to see the authority of religious figures dramatically enhanced, in contradistinction to a region-wide retreat and diminution in the power and prestige of the state. Particularly in recent times, increased trust in religious leaders has been directly correlated to distrust of the state and government officials. The deterioration of health-care infrastructure (the chief impulse behind the grim COVID-19 projections mentioned earlier) has created a vacuum for the emergence of religious actors who tout "spiritual diagnoses" and "cures" for biomedical ailments. With a doctor to patient ratio of 1:5,000, Nigeria's health-care indicators are among the worst in Africa, while the country loses at least $1.5 billion every year to medical tourism. 
Consistent with Pentecostalism's capture of the religious domain and the social imagination in Nigeria, Pentecostal "Men of God" have emerged as the first line of "protection" for many Nigerians. They serve as existential micromanagers who pronounce freely—and carelessly, according to some—on matters of life and death, and their prophecies about politics and the economy and everything in between are widely heralded. This pastoral license to proclaim was, as a matter of fact, the all-important backdrop to T.B. Joshua's failed prophecy on the end of the COVID-19 pandemic.  
"God is using the coronavirus to prove to the world that he is still almighty God" and that "only those whose time has come will die"

Pastor Enoch Adeboye
Insofar as the start of a new year in Nigeria is typically ushered in with a rash of prophecies by the leading Pentecostal pastors, there was nothing extraordinary about the beginning of 2020. But as COVID-19 gradually snowballed into a global emergency, becoming by some distance the defining event of the year, it became increasingly clear that the pastors had some explaining to do. Joshua's hasty prophecy was dictated in part by a need to rectify the situation by imposing a narrative on a global health catastrophe that no member of the pastoral elite had seen coming. Yet, he was by no means the only member of the Nigerian pastoral elite who struggled to put a narrative stamp on a pandemic that threatened to undermine said prophecy by challenging its putative prophetic accuracy.  
Pastor Enoch Adeboye, general overseer of the Redeemed Christian Church of God (RCCG) and Nigeria's most influential Pentecostal pastor, is another example. Having also omitted the year's biggest event from his "prophecy for 2020" [the closest he came was a call for "hard" prayers lest 2020 turned out "like a child that is having CONVULSION" and "Earthquakes in many Places that it has never happened before," Adeboye came up with different, often contradictory, explanations for the pandemic. In March 2020, when relatively little was still known about COVID-19, he claimed that "God is using the coronavirus to prove to the world that he is still almighty God" and that "only those whose time has come will die."
In October 2021, against the backdrop of public anxiety about the safety of the COVID-19 vaccine, he enjoined his congregation: "Rather than live in fear, get vaccinated." In May 2022, after a European trip where he apparently discovered that the majority of the people had shunned the use of face masks, Adeboye declared: "If malaria is killing 200,000 and COVID-19 has not been able to kill 2,000, I think malaria is deadlier than COVID-19."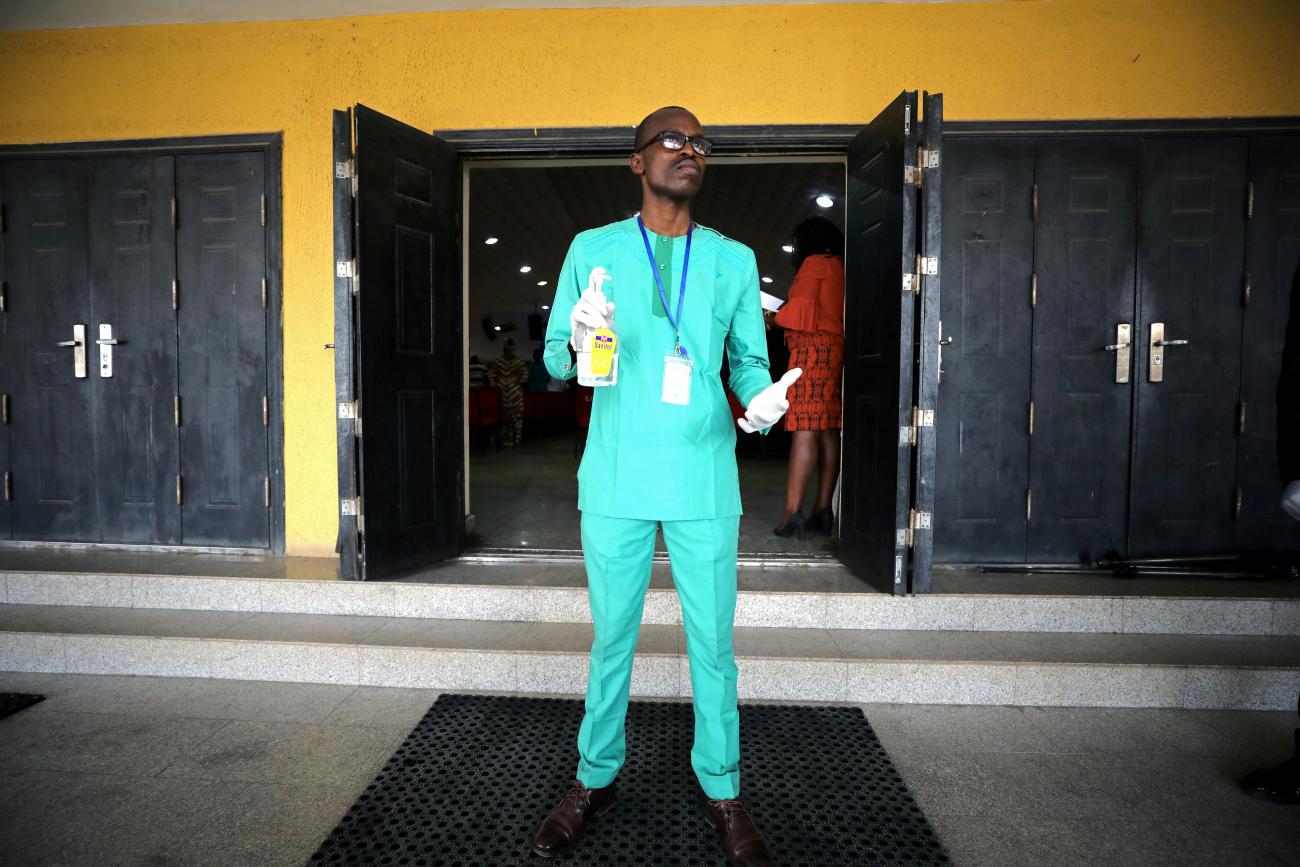 Overall, the bulk of false pastoral discourse seemed to evolve in tandem with the state of medical knowledge about the virus, public uncertainty about its deadliness, frustration with the sketchiness of government palliatives, and continuing apprehension about the safety of the vaccine. For the pastoral class, there was a clear imperative to balance maintenance of their precious control over their congregations with concession to the authorities' shifting policy directives aimed at bringing the pandemic under control.     
Tension between Nigeria's religious leaders and state officials flared up early in the pandemic over the latter's directives on lockdowns and social distancing. The directive was a blow to churches especially because it translated into an interdiction of physical contact between pastors and their church members. Across Nigerian megachurches, physical interaction between pastors and church members is crucial to the projection and consolidation of pastoral power. For pastors, being heard is as important as being seen. Lockdowns were a direct threat to the survival of many churches, especially those where, absent the necessary digital technologies, financial contributions and donations from church members are still largely paid and collected in cash.   
This corporate need by churches for physical bodies—preferably in the same location—was a major driver of pastoral reaction to state directives regarding COVID-19. While the majority of pastors vacillated between defiance and compromise with state-issued COVID directives, some were implacable in their hostility. 
Oyakhilome claimed that "what killed people in Wuhan, China, was not the virus, it was the 5G."
The reactions of Chris Oyakhilome, founder and leader of the Lagos-based Christ Embassy, and David Oyedepo, general overseer of the Ota, Ogun State-based Winners Chapel, typified those who responded with hostility. Both were, from the start, opponents of the Nigerian government's stay-at-home order, which Oyakhilome, without evidence, portrayed in a sermon as part of a "global cover-up" to install 5G cellphone towers in Abuja and Lagos, the country's administrative and economic hubs respectively. Oyakhilome also claimed that "what killed people in Wuhan, China, was not the virus, it was the 5G." He was sanctioned by UK media regulator Ofcom for "airing unsubstantiated claims" about the pandemic, while fellow men of the cloth Poju Oyemade (The Covenant Nation, in Lagos), Sam Adeyemi (Daystar Christian Centre, in Lagos), and Matthew Ashimolowo (Kingsway International Christian Centre, in London) criticized Oyakhilome and debunked his claims. 
Claims that COVID-19 was caused by cellphone towers using 5G technology were not uncommon at the beginning of the pandemic and have been linked to dozens of arson attacks on cell towers across Europe. Across Africa and other parts of the world, the supposed pernicious effects of 5G cellphone towers were absorbed into longstanding popular eschatology on microchips and the coming of the anti-Christ.          
For his part, Oyedepo declined to take the COVID-19 vaccine and strongly warned his congregation against "this deadly thing circulated round the country, because it has not been duly tested." He also claimed, again with little evidence, that the manufacturers of the vaccine intended to kill Africans.  
"They wanted Africa dead. I heard them say it. When we didn't die as they proposed, they brought out this vaccination scheme. You need to hear their proclamation that Africa will lack spaces to bury corpses," he said. Oyedepo rounded off with a touch of megalomania, instructing the government that "They should come to me to find out how to deal with COVID-19 at no cost."
By referring to "their proclamation that Africa will lack spaces to bury corpses," Oyedepo aimed to draw attention to initial grim projections by various international bodies on the expected impact of the pandemic on Africa, projections that, from all indications, have been off-the-mark. Like Oyedepo, many religious leaders have pounced upon this same idea to suggest that COVID-19 was part of a Western strategy to depopulate Africa, and that the "miraculously" low death rates on the continent was proof that God was on Africa's side. No less significantly, by asking the government to "come to me to find out how to deal with COVID-19 at no cost," Oyedepo was aiming to kill two birds with the same stone: to affirm supposed pastoral power for miraculous healing and to re-impose clerical control over COVID-19 by relocating it from the realm of the secular to that of the spiritual.  
The highlighted tensions between the needs of religious leaders and the imperatives of public health on the social terrain of a pandemic reaffirm certain axioms about state-society relations in a Nigerian-African context: There is a continued centrality of spirituality to decision-making on the most important (and perhaps not so important) matters, including health care. And the decreased authority of the state has corresponded to the increased power of nonstate agents and spaces, raising questions about the real location of political power. Clerical power to challenge and dispute the state's narrative was as much about this transfer of authority as it was about the clerical elite's determination to demonstrate it. While the pastoral class as a cohort intervened decisively in shaping public discourse around COVID-19, its reaction was by no means uniform, as there were important differences over how to engage with the state, and whether or not to take the vaccine. Accordingly, intra-clerical struggles were as important as contestation between religious leaders and the state. In any event, pastoral positions seemed to grow and adjust alongside evolving medical knowledge about the virus.  
The exiguity of public trust in the state suggests that people may continue to put their faith in charismatic religious leaders, and that, simultaneously, the state will have to work with them in order to reach the people. That this is consequential for how we think about shaping public policy on health goes without saying.