At the end of May 2022, Guatemalan siblings Greysi Sanjay, 23, and Oswaldo Sanjay, 26, gathered their family together to tell them about an opportunity that would bring them greater socioeconomic security; they sought the American dream, what they believed would be "a life of peace in the pursuit of happiness." Little did they know that one month later, this long-awaited dream would leave them among the few survivors of one of the deadliest tragedies involving people migrating to the United States.
Guatemalan siblings Greysi Sanjay, 23, and Oswaldo Sanjay, 26, were seeking better work opportunities and "a life of peace" in the United States
The siblings grew up in the modest village of Santo Domingo Xenacoj, in the department of Sacatepéquez, in central Guatemala. Here, over 80 percent of the population lives in extreme poverty, according to the National Institute of Statistics (INE). Most speak the Mayan language of Kaqchikel and only achieve the equivalent of a first-grade education (if enrolled in a school). To make a living, they engage in farming, and household work, or take up low-paying jobs. While Greysi helped her mother with house chores, Oswaldo worked in the textile industry.
"They wanted to prove to my parents that by immigrating to the U.S. they could make a better life for themselves," says Anibal Sanjay, 19, one of their five brothers.
So, in May 2022, the siblings left behind Central America and started their journey toward Mexico. There, they spent several weeks in clandestine places and cities where the narcos of the most imposing drug cartels spread panic. From the start, Greysi and Oswaldo began experiencing trauma and feeling extremely tired and hungry. However, their desire to reach U.S. soil was more significant. Eventually, on June 22, 2022, they ended up following the orders of a human trafficker who promised to transport them to San Antonio, Texas, inside a trailer truck. However, to their shock, when they entered the truck, the number of people inside was massive. During the trip, the temperatures reached between 140- and 160-degrees Fahrenheit.
On June 27, their mother was expecting a call from them. But it never came. Their family knew Greysi and Oswaldo were going to San Antonio, but they were not sure how they were getting there. The evening approached and Anibal recalls, "The news came out that there had been a tragedy in a trailer with migrants and we started to have that feeling that they were there."
After 48 hours without learning anything about their whereabouts, Anibal called the Guatemalan consulate in the United States and managed to speak with some people who "asked me for pictures of my brother and sister, and they finally found them hospitalized in an unstable condition," he says.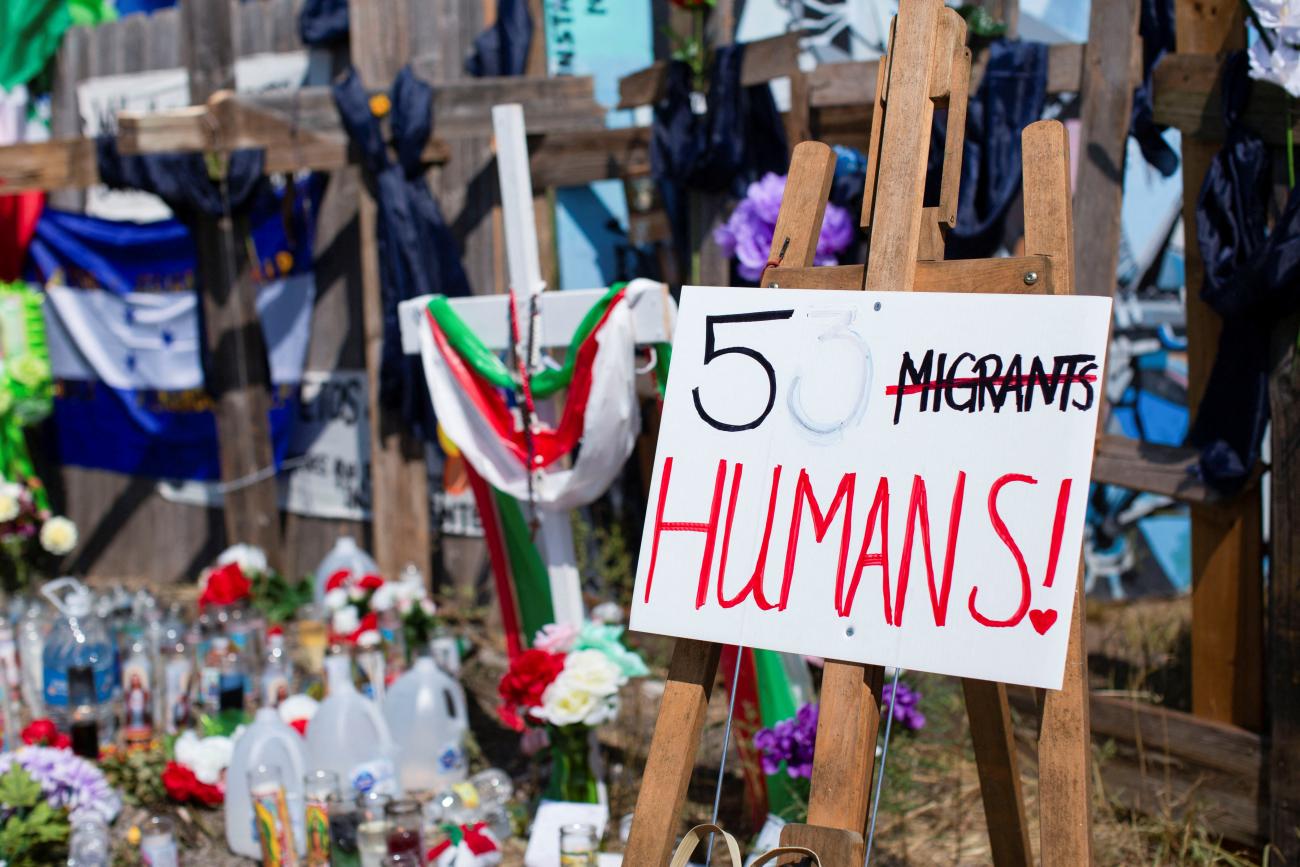 What Greysi and Oswaldo experienced inside the truck is devastating. Indeed, it's worse than the threats, violence, and persecution they were escaping from in Guatemala. When the temperature inside the trailer exceeded 100 degrees Fahrenheit, many inside realized that the driver wouldn't open the trunk, and some began to die after fainting.
"The dead bodies began to fall on top of my sister Greysi and when my brother Oswaldo saw this, despite being on the brink of fainting and without any strength, he began to pull them away," Anibal says.
Fifty-three people from El Salvador, Guatemala, Honduras, and Mexico passed away that day. The driver, a Texas resident, and one other were indicted for their involvement—on counts of transporting and conspiring to transport immigrants illegally resulting in death, and for conspiring to transport immigrants illegally resulting in serious injury, according to a Washington Post report.
"Unfortunately, the tragic San Antonio truck case wasn't the first incident of incomprehensible and avoidable death due to human trafficking. There will be criminal elements willing to exploit vulnerable and desperate men, women, and children who wish only for a better life elsewhere," says Victor Romero, professor of law at Penn State University and a writer on immigration policy.
Words aren't enough to describe the trauma they suffered.
"For a long time, my brother was in a coma. He had many nightmares because it was a moment of torture. The trailer was too hot. People inside were desperate to get out, and the dead began to expel a smell of burning meat," says Anibal.
He believes that what helped his brother and sister survive is that Oswaldo tends to be more patient and calmer. By knowing how to react during a crisis, he says Oswaldo helped his sister. On the other hand, she has a stronger character and fought afterward to keep them from being deported to Guatemala after recovering in the hospital.
In July, following their release from the hospital, the siblings were transferred to Tennessee to stay with an acquaintance of Greysi, and they are in the process of obtaining a humanitarian visa to remain in the United States. Both attend therapy to help them slowly heal from their disturbing experience.
"But it's still difficult for them and for us to forget what happened," says Anibal.
"They don't leave for fun or adventure… these are people with determination. They believe in, and embody, the American dream"

Ernesto Castañeda, Immigration Lab, American Univ.
The journey to the United States is traumatic for many immigrants—even for those who do not go through what Greysi and Oswaldo experienced. But receiving mental health care to heal is complicated because for many in the Latin Ameircan community, there is a lot of stigma surrounding mental health.
"They often think that therapists are solamente para los locos (only for crazy people). At the same time, it can be cathartic for them to share their story because this may be the first time that someone has provided a safe environment, free from judgment, to share what happened," says Cecilia Racine, a psychological evaluator for immigration cases, at the Immigration Evaluation Institute.
Anibal says when they realized that Greysi and Oswaldo were alive, it was joyful and heartening.
"Greysi and Oswaldo told me not to neglect my mother and that I should stay with her and help her in any way I can," he recalls. But he confesses that he would consider immigrating to the United States despite what happened to his siblings. "To be honest, I would take the risk and go for the journey. It's difficult to find job opportunities in Guatemala and everyone in my town is very poor," Anibal says.
Indigenous populations live with the legacies of exclusion and displacement, and for some, farming is no longer a feasible way to make a living, explains Ernesto Castañeda, founding director of the Immigration Lab and researcher on migration at American University, in Washington, D.C.
"They don't leave for fun or adventure. So, if they tried once, they'll try again. These are people with determination. They believe in, and embody, the American dream," adds Castañeda.
Looking at his surroundings and admitting that he loves his town and parents despite the relentless poverty, Anibal dreams that one day in the future, he his 14-year-old brother, the youngest member of the family, will be able to give their parents what they never had. He believes they can accomplish this by joining their siblings in the United States. Even though he admits that his parents will disapprove of this decision.
"My father is very clear about a saying that we have here. It notes that nobody can't take your dreams away from you," he says.
To ensure that family members such as Anibal and his younger brother are peacefully reunited with their immigrant siblings, Greysi and Oswaldo, the United States visa and asylum system needs to be reformed.
"Immigrants contribute to their communities and local economies. Having a system that puts human dignity at the center [of the immigration process] is a place to start," says Daniel Jenks, professor of sociology at American University, in Washington, D.C. This includes shifting a focus from border militarization and enforcement to making a logical legal entry system, speeding up asylum claim process and allowing for more refugees, and opening up pathways for youth to reunify with family members in an orderly and safe fashion, Jenks says.